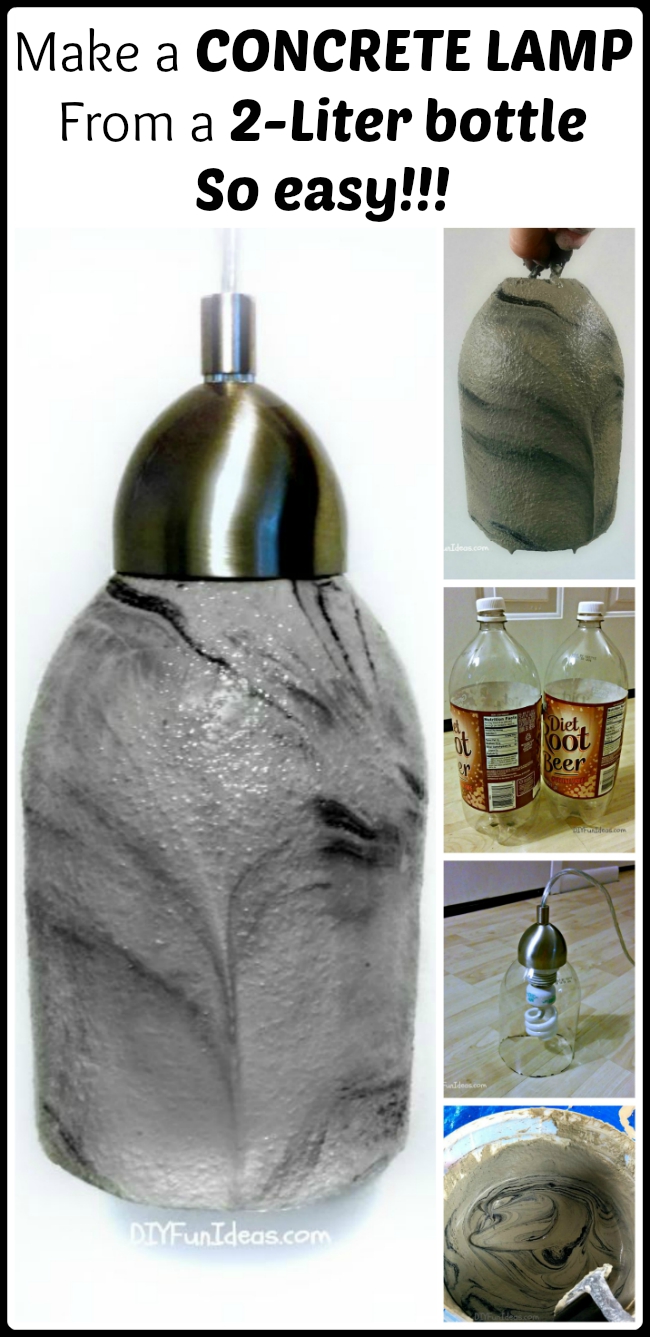 Concrete love continues here with my easiest yet concrete project: DIY concrete pendant lamps made from 2-liter bottles and Rapid Set® Cement All®. And when I say easy, I'm talking super ridiculously easy. Here's the short version of the tutorial: dip your bottles into your Cement All® mix.
See what I mean? But I'll give you the extended version and take you through the juicy details.
Now, I know I've said this before, but I am in love with working with concrete. I know the word "concrete" may seem intimidating to some, but that couldn't be more off. I've found that it's one of the easiest mediums to work with, especially when you're using Rapid Set® because all you do is mix with water and go. Plus, it's so quick drying (no waiting 24 hours) and lots stronger than tradition concrete. And you don't have to stick with concrete grey, you can add any color to your mix and different inlay materials, like glass or pretty stones or pennies or anything your heart desires.
I've used Rapid Set® to make so many things including concrete planter hands and an outdoor container garden planter. I coated an old formica vanity with it for a gorgeous updated look. I used it to make some modern industrial bar stools, a concrete clock, coasters with glass inlay, candle sticks, and even a super fun and scary Halloween tombstone! So I'm not kidding when I say easy.
So let's get on with the tutorial…
First, decide on the type of pendant lamp fixture you want. You can use either hard wired hardware, like I did, or a lamp kit that plugs into the wall.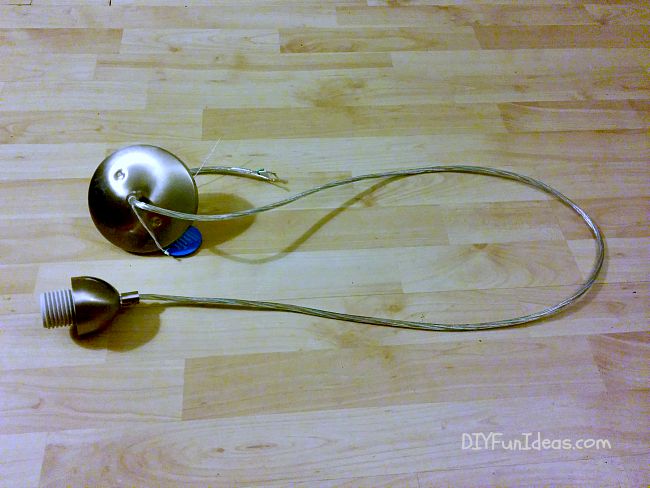 Then grab some 2-liter bottles.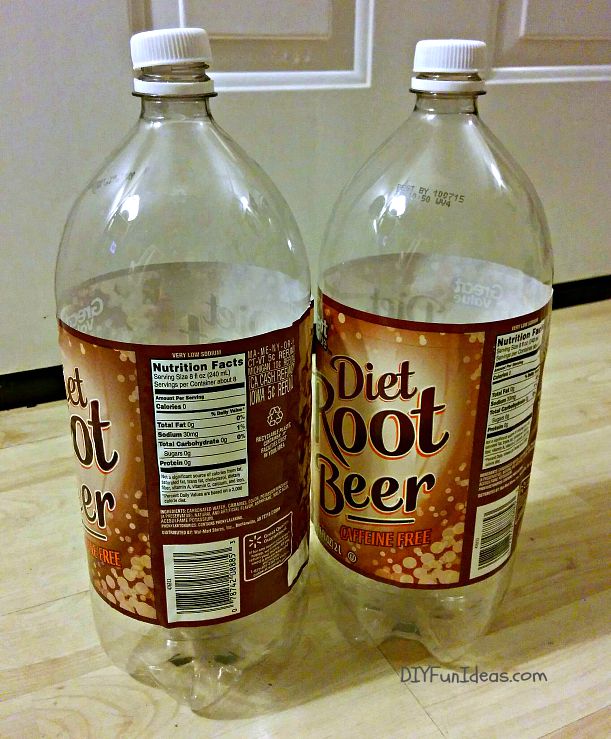 Empty works best.  :-)
Remove the labels.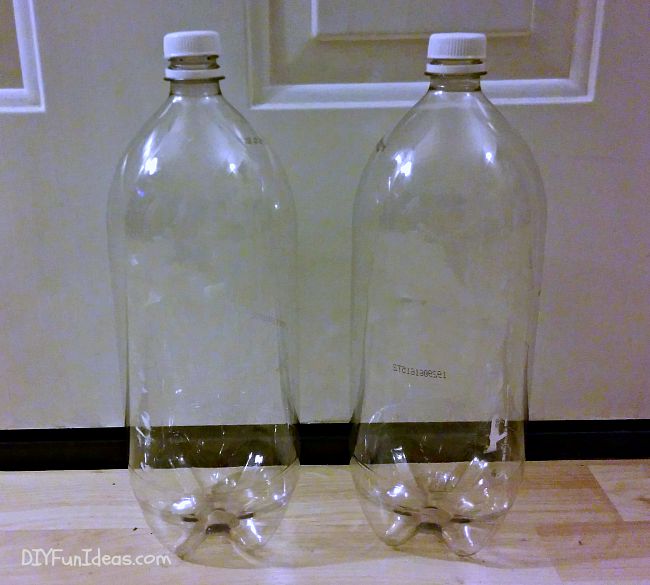 And cut off the top near the spout.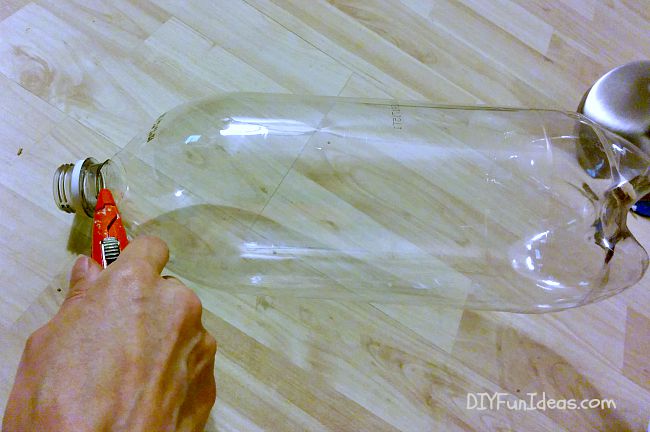 A utility knife makes cutting really easy.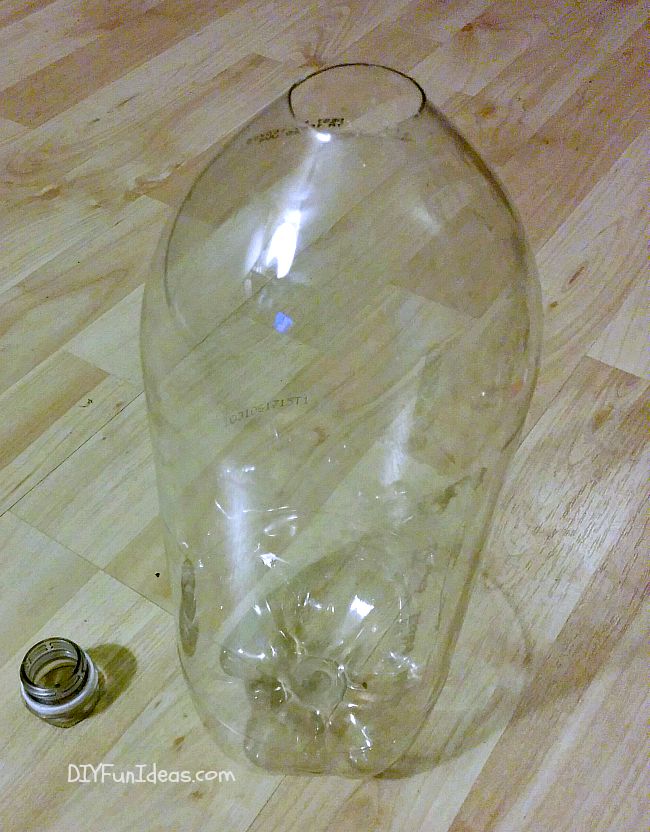 Use your utility knife to cut off the bottoms of your bottles.
Place the pendant lamp head over the bottle opening and use a marker to outline the width of the hardware.
Cut along your dotted line and make sure your fixture fits into the opening.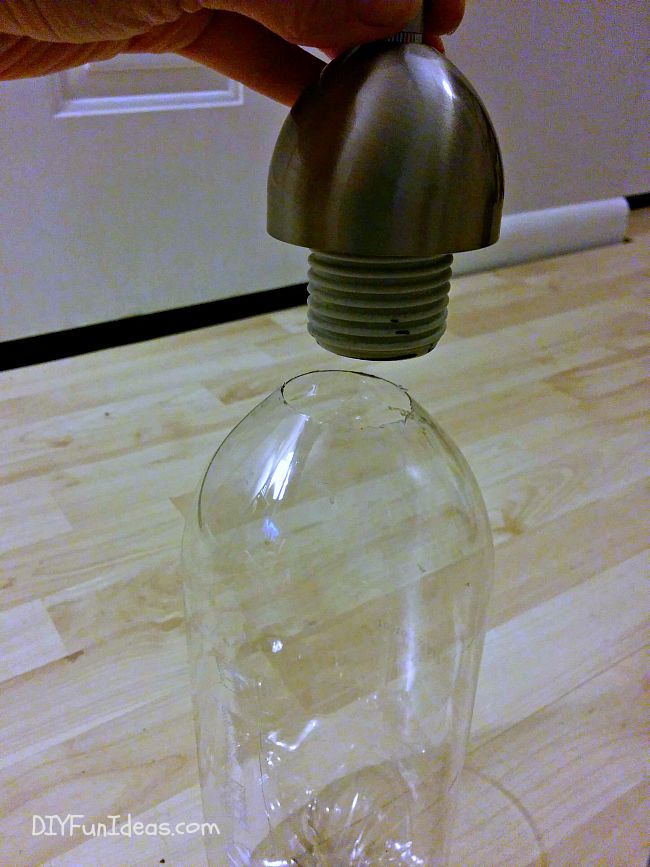 Your fixture should fit together like this…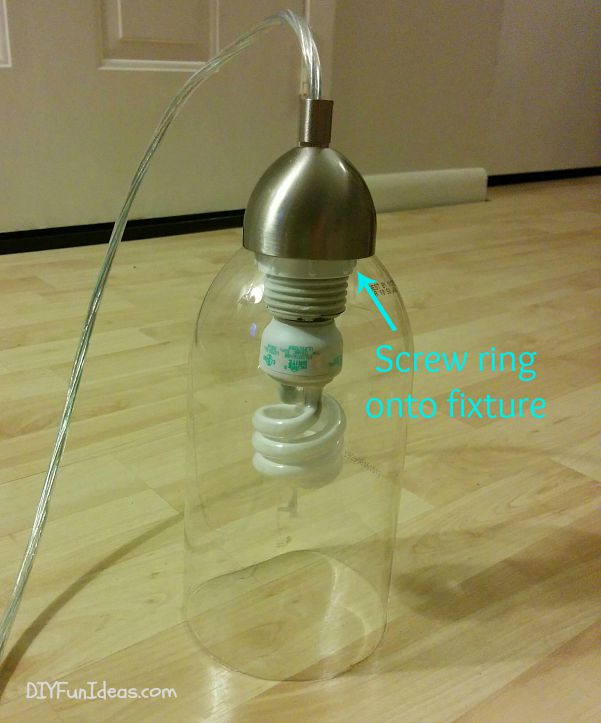 There's a ring that screws onto the fixture from the inside of the lamp that will hold your lamp cover to the hardware.
Once you've made sure everything fits together, decide how tall you want your lamp to be.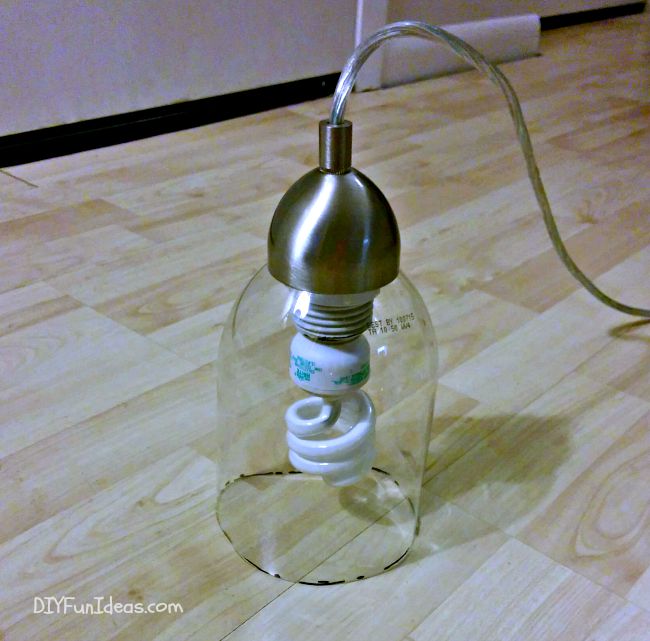 I cut two extra inches off the bottom of my bottles to get a height that I liked.
Once you're satisfied with your lamp cuts, remove the hardware and sand the bottle with some coarse grit sand paper. Sanding will help the concrete adhere to the plastic.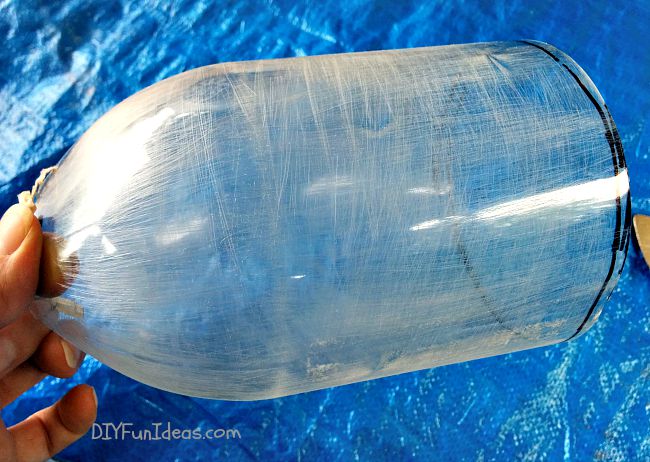 Next, make two small puncture holes at the top of your lamps and thread a wire or string through the holes and secure. I used a twist tie. Fancy, huh? This will give you something to hold on to while you're dipping your bottles.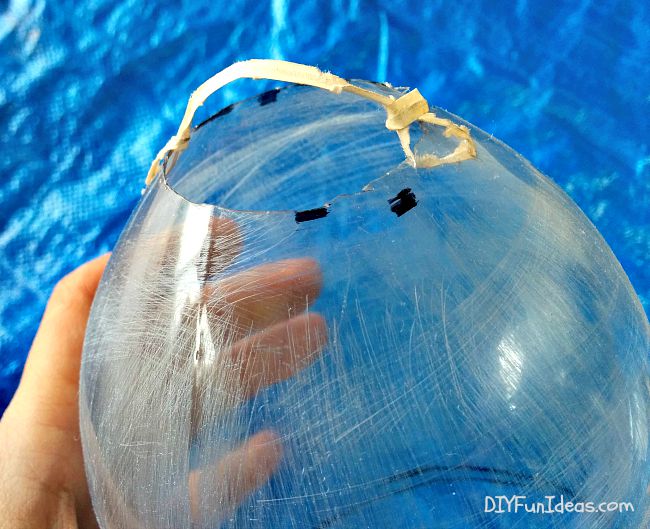 Now it's time to mix up your Rapid Set® Cement All®.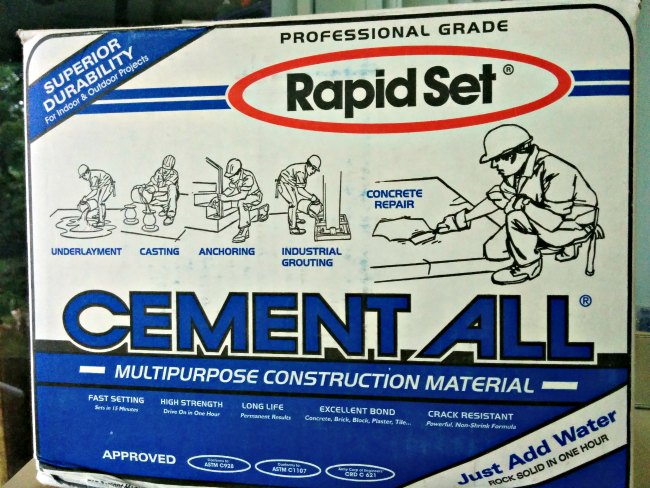 First add water to your mixing container, then add the Cement All®. I used about two cups of Cement All®. You want your mix to be pretty fluid, so adjust the two ingredients as necessary to get a fluid consistency.
You can make your lamps any color by adding color pigments to your mix. If you choose to add color, add you pigment to the water before adding the Cement All®. This will ensure that the color gets evenly distributed throughout the mix. I chose to stick with the natural concrete color, but I have a vision in my head of making these in cobalt blue. How pretty would that be!
Another option for coloring your concrete pendant lamps is to add color after your concrete dries by applying a color stain to your finished piece. I'm totally loving this purple concrete stain!
I thought it would be cool to give my lamps some texture so I also added a handful of sand to my mix to give it some texture. But if you prefer a smooth finish, then skip this step.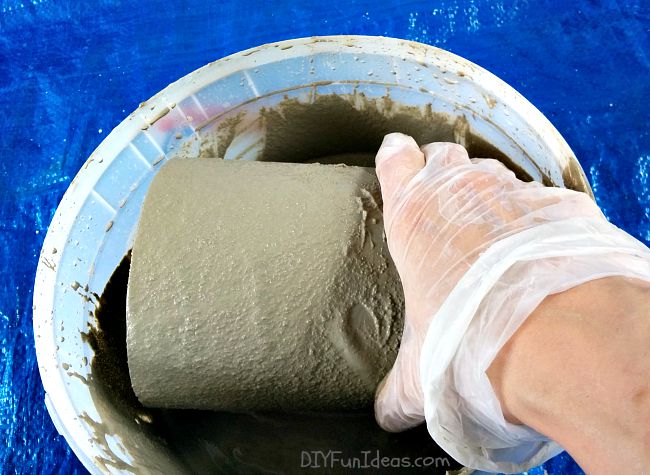 Next, dip your bottle into the Cement All® and roll it around to make sure the inside gets a good coating. This will insulate the lamp against heat created by light bulbs.
Obviously, the outside of the bottle will get covered too. So at this point you can leave your lamp as is or give it a marbled finish.
For a marbled finish, drop about a teaspoon of color pigment powder into the remaining mix. I used a black pigment, but any color will work.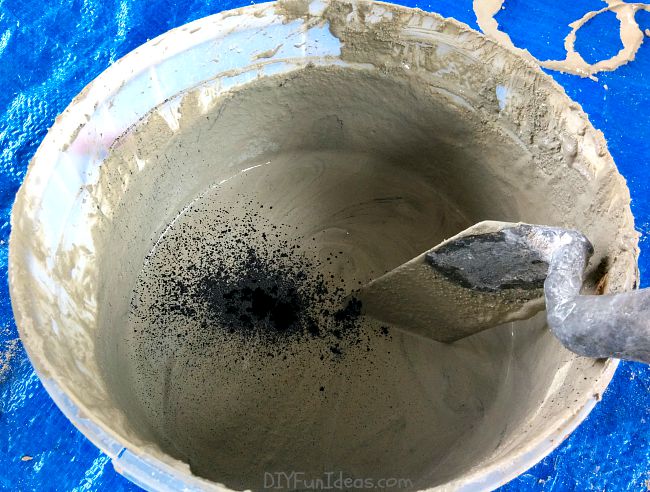 Then use a trowel or paint stick to gently swirl the color.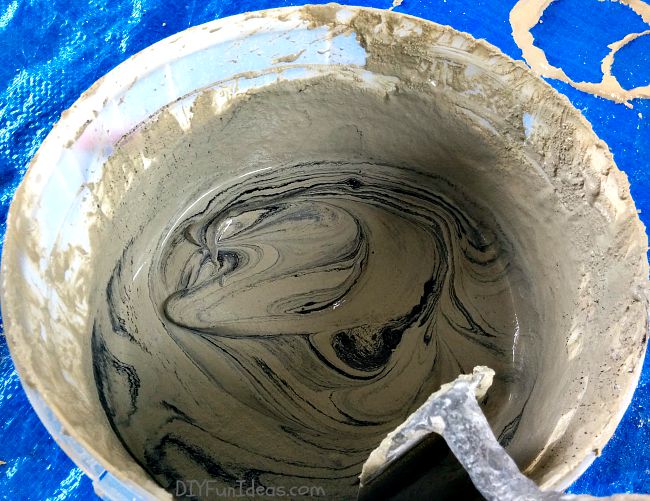 Don't mix too much. You want those swirls defined so they'll transfer well to your lamp.
Place your bottle back into the mix so that the surface of the bottle just touches the mix. Roll your bottle over the surface of the concrete, then gently lift the bottle out using the wire you attached earlier. Avoid touching the outer concrete surface.
Here's my first lamp as I pulled it out of the mix…
Run your finger along the bottom to remove any drips from your lamp. Then hang to dry.
Here's my very sophisticated hanging method…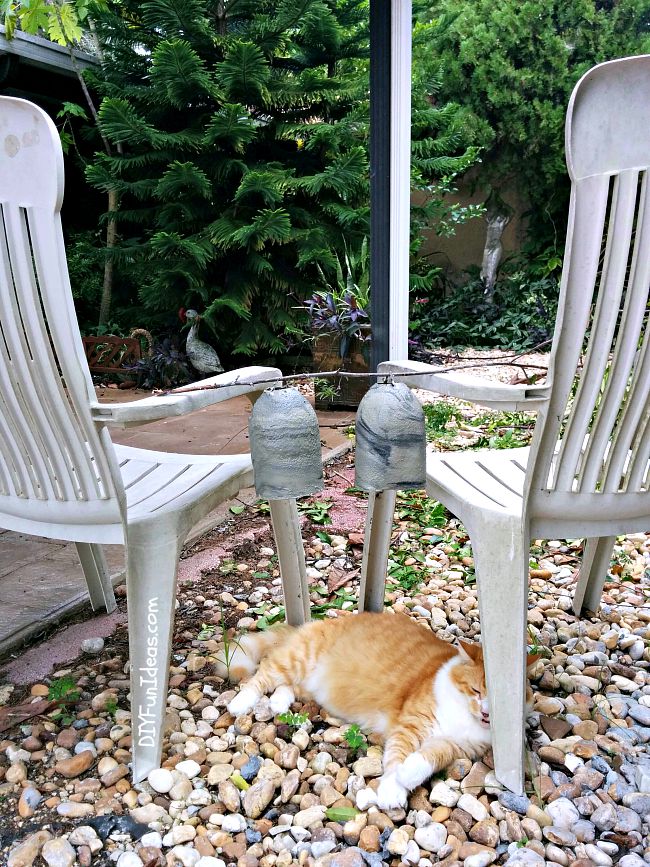 Yes, that's a stick balanced on two chairs with BooBoo lounging below. BooBoo's a good dog. Seriously, I taught him to sit and to fetch. Plus, he's a total attention hog lapdog. Actually, my theory is that he's a transgenderspecies dog that was born into a cat's body.
Okay, enough puppy love. Back to the tutorial…
Once your concrete is dry, you can either keep that raw concrete look or apply a sealer, which will help bring out any color you added and give it a nice satin or gloss finish. Use a small paint brush to apply sealer.
Most sealers will go on white, but dry clear.
Finally, re-attach your hardware.
There you have it, your new DIY concrete pendant lamps!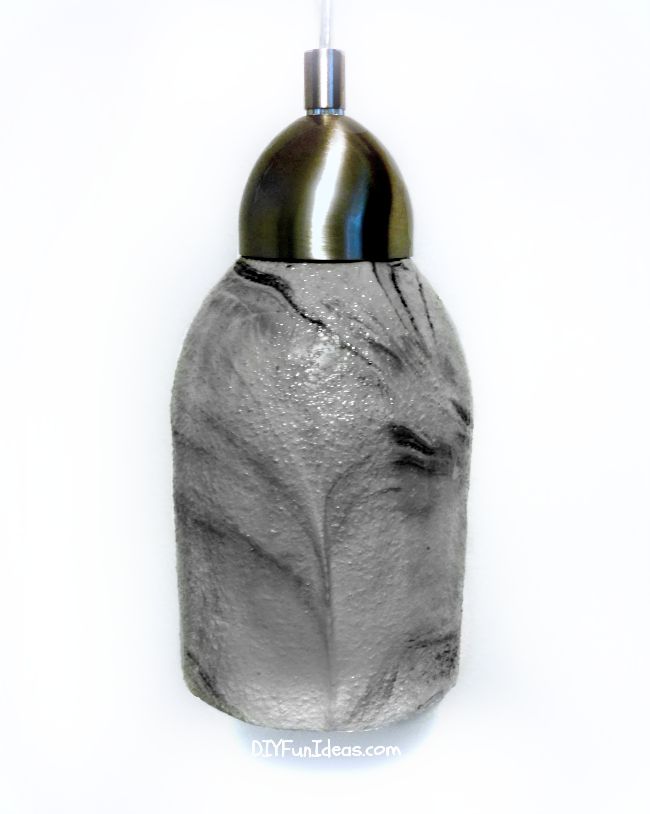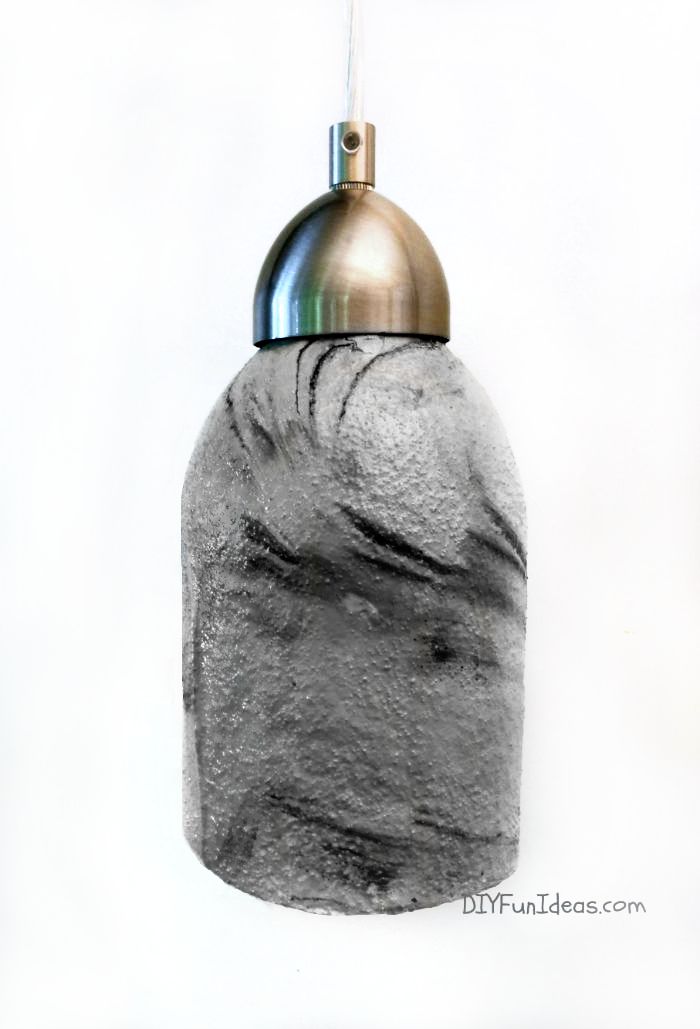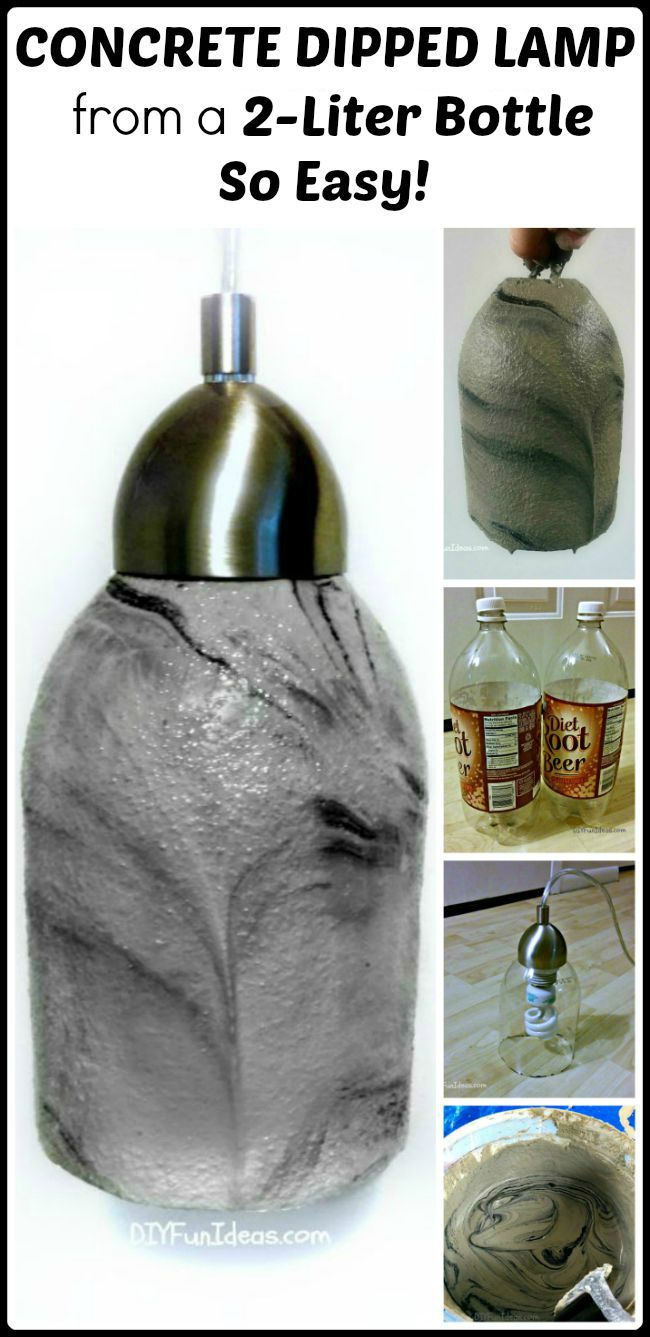 This post was written in partnership with CTS Cement! Check out their fun concrete projects on Pinterest!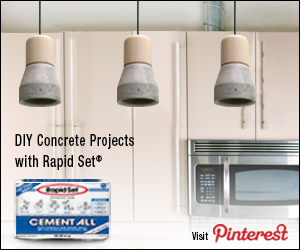 And for more fun DIY concrete projects…

That's all folks!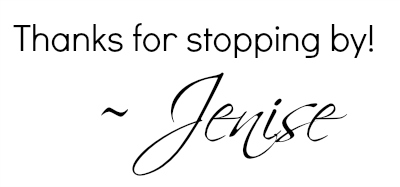 This post linked to some of these totally fabulous blogs and Remodelaholic.