Hi friends! Thanks for stopping by today. I can't wait to share my latest project. I probably say that for each post, but I can't help it. It's completely true. I get so excited when I make something new that I just can't wait to share it! But before we go on, PLEASE SIGN UP FOR EMAIL ALERTS (in the right margin) so you never miss a fun DIY!

Now first, I must tell you that I have been having this infatuation with all things concrete. I'm completely fascinated with it and I'm finding that there are so many fun things I can make with it.
Technically, what I use for my "concrete" projects is really cement, but a lot of people use the descriptors concrete & cement interchangeably, so call it what you will and in the mean time I'll just call it awesome.
My concrete of choice has been Rapid Set Cement All. In my Concrete Planter Hands project post, I talk about how I found this product and I have to admit that I've become a life long fan. It has amazing strength, it dries very quickly (I don't have to wait a week for it to cure), and it's made for casting. Perfect. BTW, this NOT a sponsored post. I just love the stuff.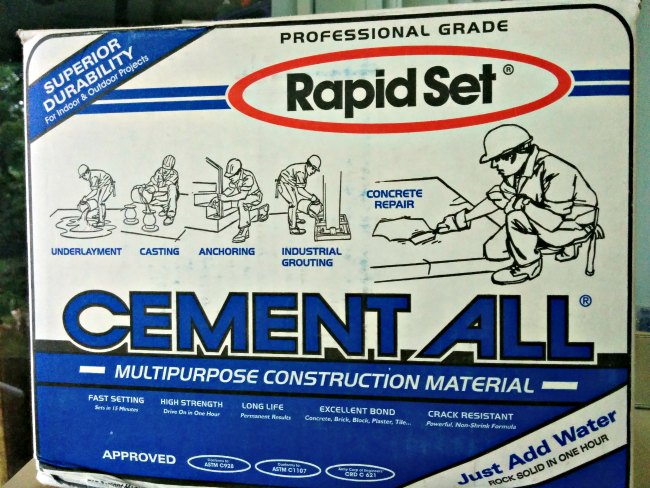 So this past weekend I made concrete tea light candlesticks. I've come across some really cute short concrete tea light candleholders, but personally I prefer the look of tall candles. Yet, I also love the convenience of tea lights that you can just pop in. So I came up with these tall concrete tea light holders. Just pop in a new tea light when the old one burns out and you still have a tall "candle." And the best part is that these concrete tea light candlesticks are so easy to make. So on with the tutorial…
You will need:
1)   Emptied paper towel rolls & some flat cardboard
2)   Rapid Set Cement All & water
3)   Oil to prevent your concrete from sticking to the cardboard mould. (I used vegetable oil, but WD 40 would probably work fine too)
4)   Tea light candles
5)   Glue gun or other means to adhere rolls to flat cardboard surface
Directions:
First, cut the emptied paper towel rolls to desired height. I varied the height for each candle stick.
Adhere the paper towel rolls to the flat cardboard. I used a glue gun to adhere the rolls. Make sure the surface is completely flat so that the candles don't end up with a wobbly bottom.
Coat the inside of the paper towel cardboard rolls with oil. This will help to make for easy release of the concrete from the cardboard.
Next, mix your concrete/cement following the packaging instructions. For the Cement All mix, you mix 4 parts cement to 1 part water until smooth. Then start filling the emptied paper towel rolls with the cement mix. I used a large plastic scooper. After every scoop or two, tap the roll down a few times on a hard surface to make sure the cement settles and doesn't leave any empty spots/air pockets.
When the rolls are near full, take a tea light candle and press it into the cement until it is flush with the top of the roll. Cement will spurt up the sides and fill in any empty spots. The candles tend to pop back up so you may need to hold down the candle for a minute until it stays settled. Then take a straight edge and swipe it across the top to remove any excess cement.
Repeat this process with each roll. The cement I used tends to start hardening pretty quickly, so I mixed separate batches for each roll so I wouldn't run into any hardening issues while still working the roll.
One of my rolls did pop open while filling (far right roll in above image), which really bummed me out. So a good way to make sure that doesn't happen to you is to wrap a few pieces of duct tape around the rolls before filling to give them extra strength.
When the cement dries, you can start peeling the cardboard off. According to the packaging instructions, I only needed to wait an hour, but I didn't come back to them until several hours later. Note that different cements will have different drying times, so make sure to follow the specific instructions for the product you use.
Finally, peel off the cardboard. Peeling off the cardboard is similar to opening a package of refrigerated crescent rolls. There were a few places where the cardboard stuck a little bit. I'm guessing I must have missed those spots when oiling. It wasn't a big deal, though. I just had to scrape the cardboard off on those areas. But you can avoid that by making sure you get good oil coverage.
I was thrilled with how my concrete tea light candle sticks turned out. I ended up with four really nice ones. Then my brother, Max, came along.
The tea lights I used came in a thin aluminum casing, so I was using a needle nose pliers to pull the candles and casings out from the concrete. I had a little trouble with one, so my brother looks at me, rolls his eyes, reaches his hand out and says, "Gimme." I hand over both the concrete stick and the pliers to him and just as I say, "Careful, the concrete is very thin surrounding the candle," I hear *POP* and little bits of cement drop to the floor. Thanks Max.
He felt really bad and immediately ran out to the store and got me some crazy glue. Needless to say, I now only have three concrete tea light candle sticks. Thanks Max.
The lesson learned here is don't trust your brother be careful removing the aluminum casings.
So there you have it, DIY concrete tea light candle sticks. I'm obsessed with concrete and I have a bunch more concrete project ideas floating around in my noodle. So I'll be experimenting with some new concrete ideas soon and sharing. In the meantime, check out my DIY Concrete Planter Hands!

Till next time!
Cheers,
Jenise
This post linked to some of these totally fabulous blogs and here.