Hey DIYers, I'm back with another fun project, a DIY hanging herb garden…industrial style. The design for my DIY hanging herb garden was inspired by a vertical planter from artist, Susie Frazier.
Obviously, you don't need to stick with herbs for your vertical hanging garden. You can use it for any kind of plants. But I've been wanting to start an herb garden for quite some time so this was perfect. So let's get right into the tutorial…
I started by cutting four 12″x12″ squares from some reclaimed wood I had in the garage.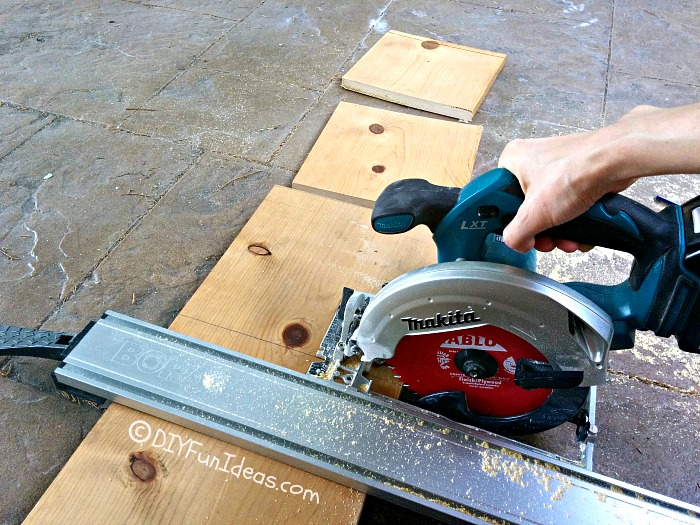 I always use my Bora Clamp Edge Saw Guide whenever I cut with my circular saw. It's the only way I can cut a perfectly straight line.
Next you'll need to cut a circle in the center of each wood square to fit your planters. Use a hole saw if you have one. I don't have one so I improvised. I needed 5″ circles so I used a big jug of coconut oil to outline my circles.
I cut a small pilot hole into each circle…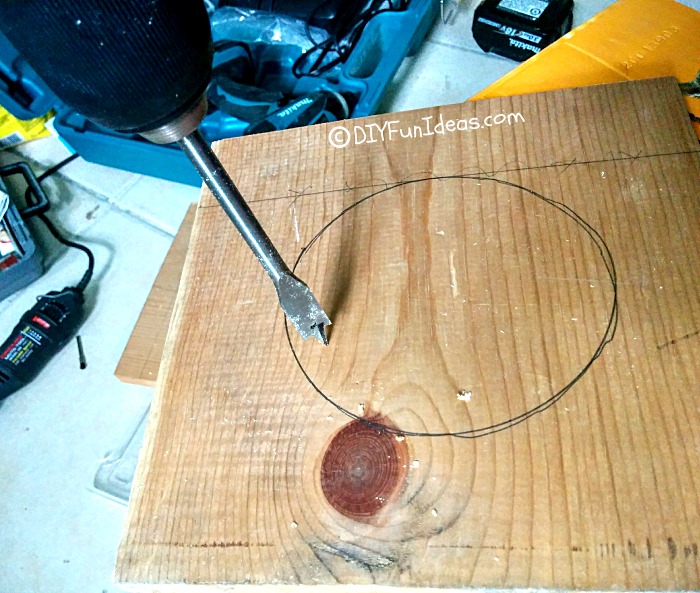 Then used the pilot hole to start cutting out the circle using a jig saw.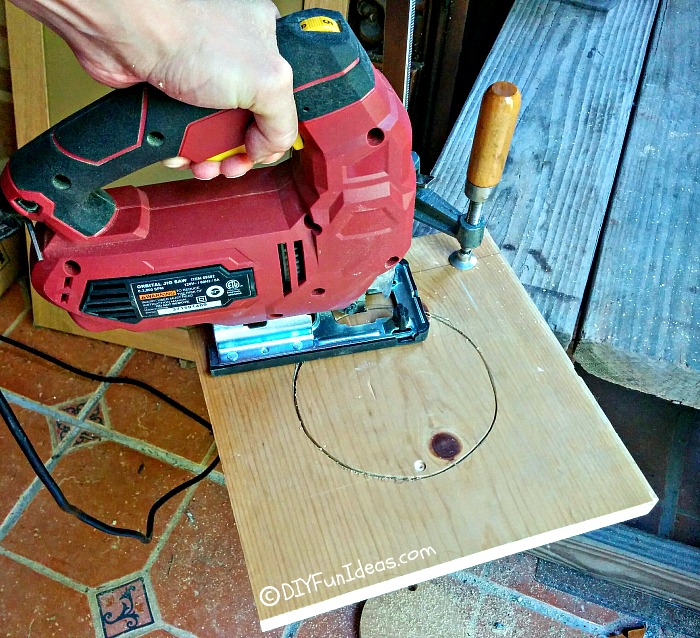 For safety, before making any cuts make sure to use a vice clamp to secure your wood square to a solid, immovable surface.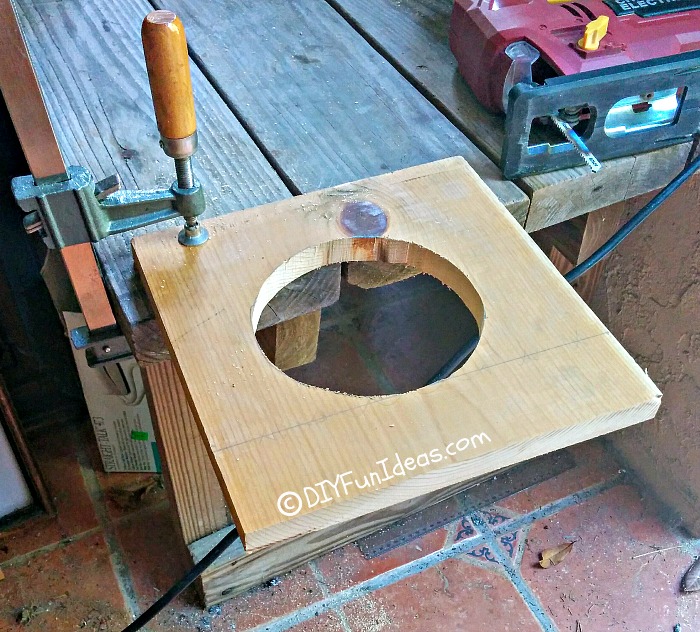 Sand down to a smooth surface. I used a random orbital sander, but you can also sand by hand if you don't have a sander.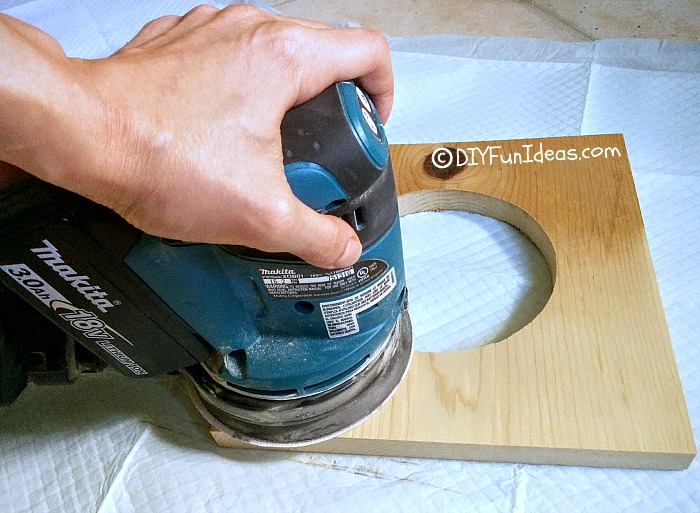 I have to admit that my circles didn't turn out perfectly round so I used a rotary tool to shave down the uneven sections. You can also hand sand down any uneven areas.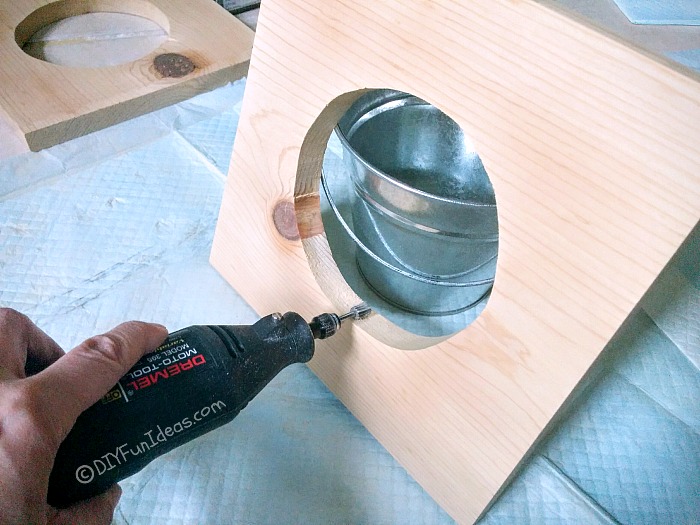 Next align all of your wood squares and drill a single hole in each corner all the way through all three wood squares.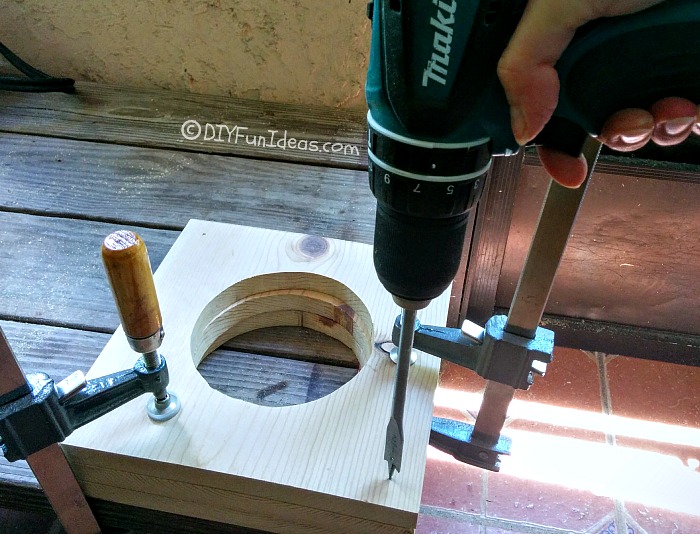 You want to make sure all corner holes line up so that everything looks symmetrical when you thread your rods through the holes.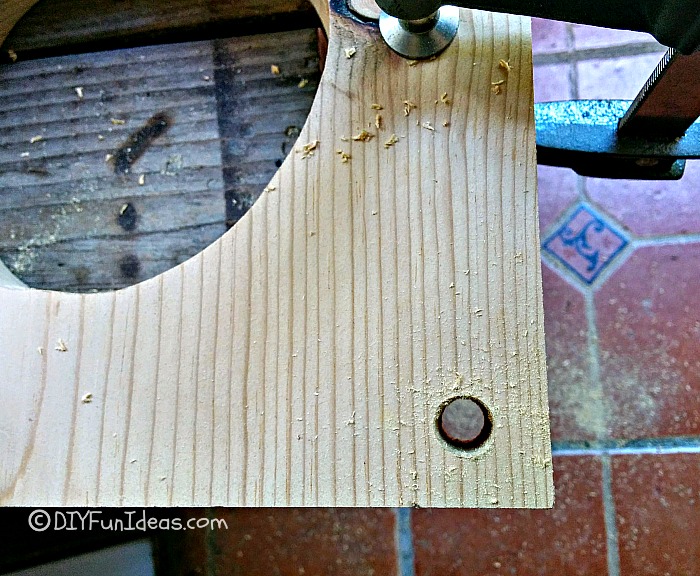 If you want to add some rich color, stain your wood. I used a stain in Colonial Maple color. When staining, brush on the stain and immediately wipe off the excess using a clean cloth. I only used one coat, but if you want a deeper color, add additional coats.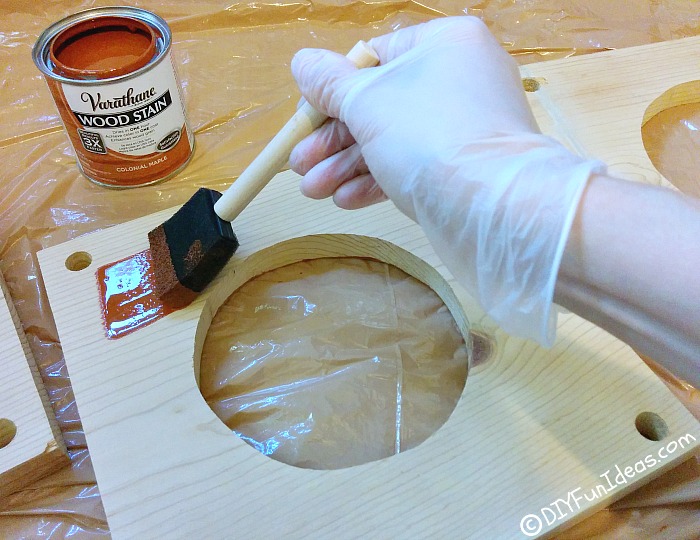 My stained wood looked a little dull so I finished the wood off with a top coat of semi-gloss polyurethane, which made it look perfect.
After the wood is prepared, gather up your hardware. You'll need:
1. Three small galvanized buckets
2. Four 36″ length 3/8″ threaded rods
3. Twenty 3/8″ nuts
4. Twenty-four 3/8″ washers
5. Four 3/8″ cap nuts
I also picked up some screw eyes to hang the planter, but then found an alternative way to to attach my wire.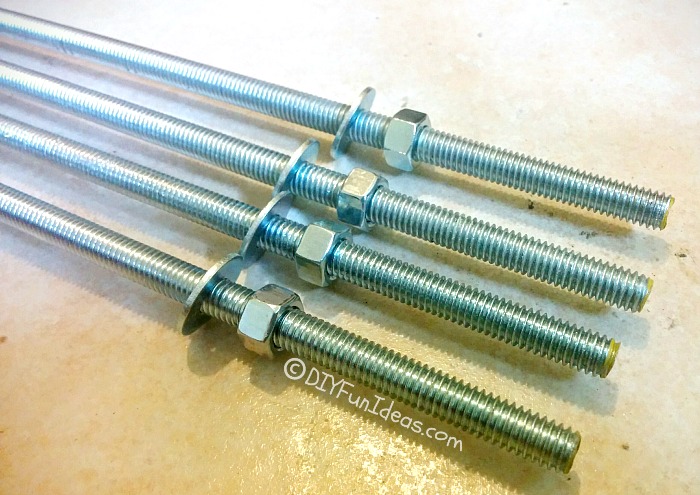 Now it's time to start putting it all together. You'll be using one rod in each of the four corners of the hanging planter. From the bottom up, here's the order of how to thread the rods:
Bottom level: Nut, washer, wood, washer, nut
Middle level : Nut, washer, wood, washer, nut
Top level: Nut, washer, wood, washer, cap nut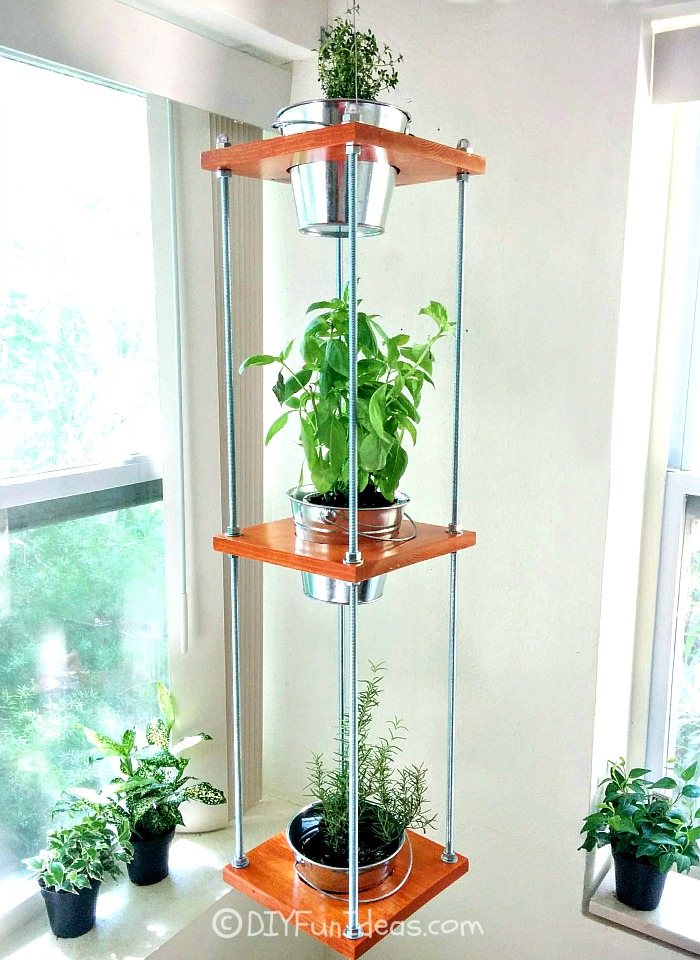 To hang the planter, I wrapped picture hanging wire under the top washer on two opposite corners and then screwed the cap nuts on really tight to hold the wire in place. Alternatively, you can screw in some screw eyes, but my pieces of wood looked so nice that I didn't want to put additional holes in it.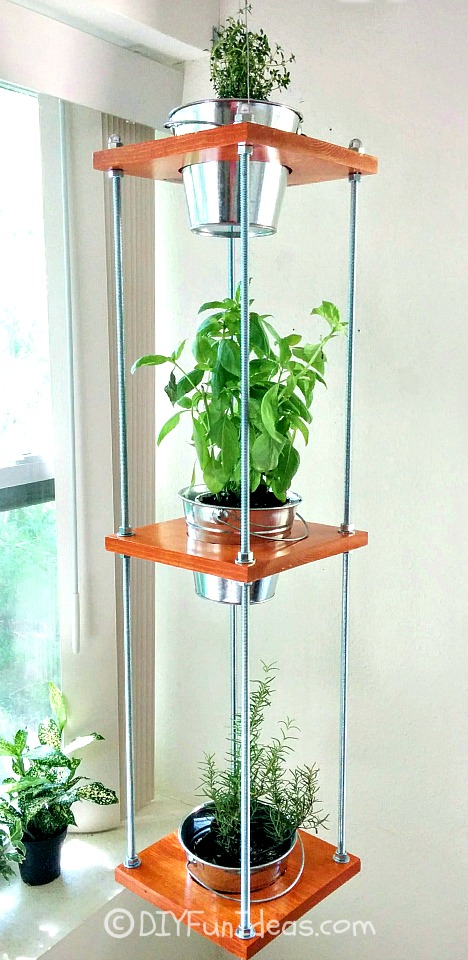 I picked up some thyme, basil, and rosemary and just placed the plastic planters that they came in directly into the galvanized buckets and inserted the buckets into the wood squares. No need to actually replant.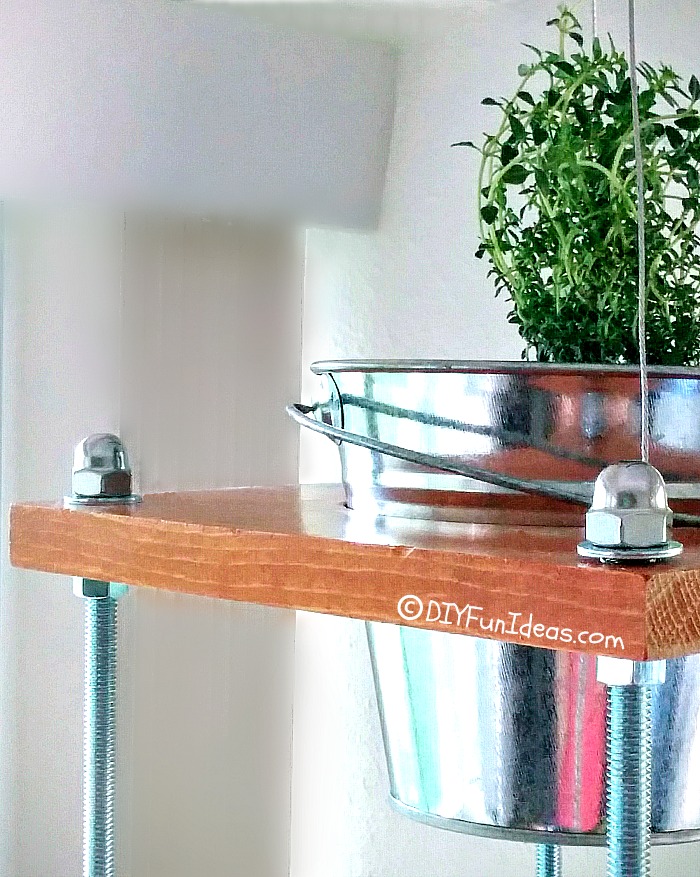 You can see on the right side of the above image how the wire is wrapped under the washer.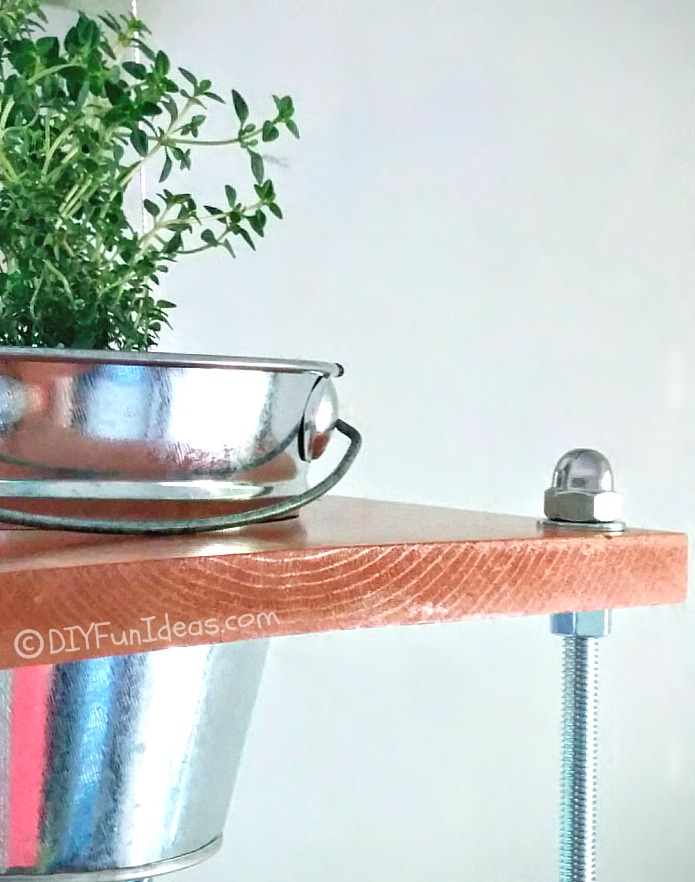 So there you have it, DIY vertical hanging herb garden…industrial style!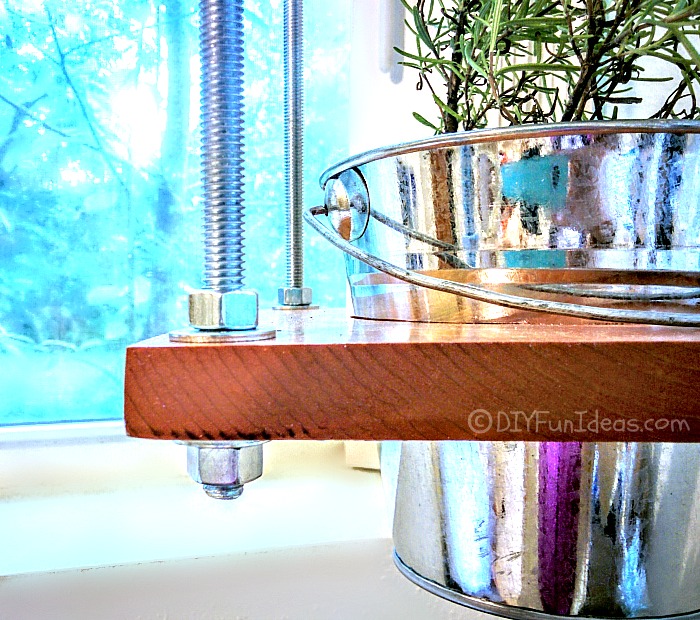 And if you're looking for more fun and unique planters for your home, check the easy 20-minute tutorial for these DIY Planter Hands…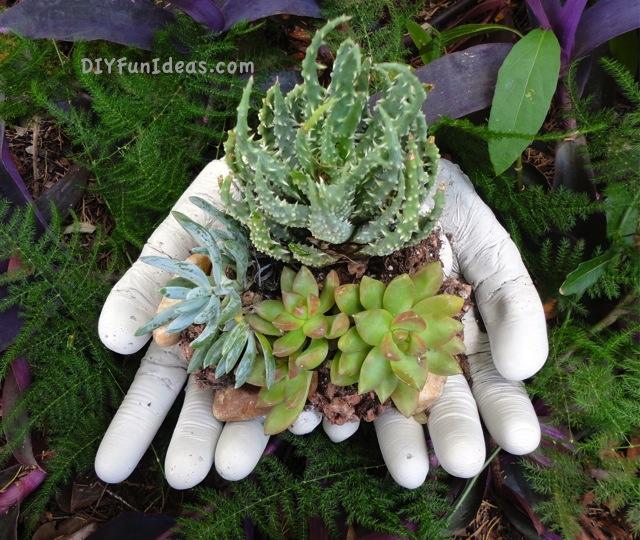 …and these Fabulous High Heel Planters…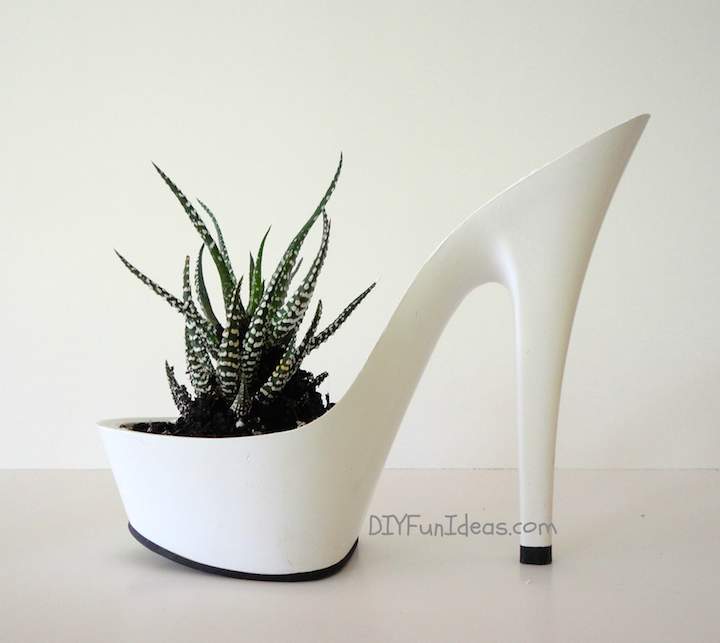 Thanks for stopping by folks! And don't forget to Pin It!