Hi Friends! I'm very excited to share my latest DIY. I made these really cool concrete planter hands. Use them as planters or toss your keys or spare change into them. My inspiration for these DIY concrete planter hands came from a recent feature post I did on another set of DIY concrete planter hands. I thought they were so fun. Plus, I've been really wanting to try making something with concrete. So this seemed like the perfect place to start. Now, while making these DIY concrete hands was super easy, I have to admit I started out with a major fail. So I'll start by telling you a little about how you can avoid making the same mistakes. My biggest lesson learned here is that not all concrete is made equal. I picked up the smallest bag of concrete I could find at Home Depot. Their smallest bag was 50 lbs. But it was only $5 so no big deal. I was all ready to get started.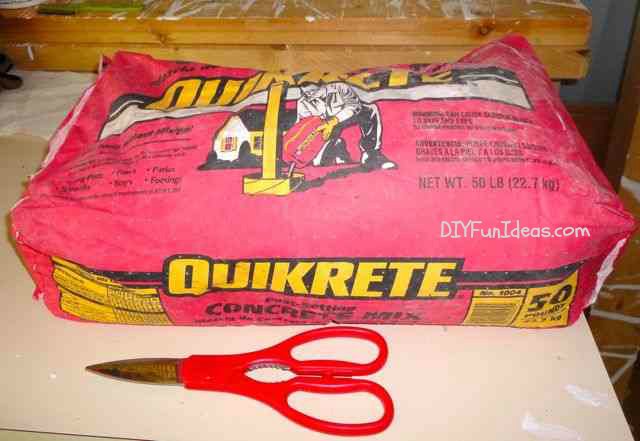 The first thing you want to definitely make sure to do when you start is wear a breathing mask because when you pour the concrete, there is no way you'll be able to avoid breathing in the dust that flies up. So absolutely wear a mask. Anyway, wearing my dust mask, I went ahead and poured my dry concrete into a bucket.  

It was all full of rocks! Yup. Apparently, real concrete is rocks mixed with cement. Well, I figured I'd give it a try so I mixed in water based on the package instructions. Then I used a garden trowel to stuff the concrete into an old gardening glove and a few plastic gloves.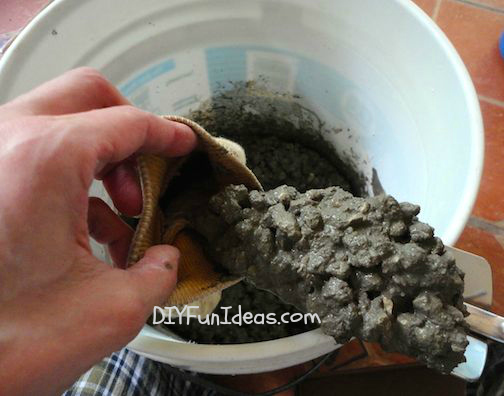 I let the gloves sit over night then started cutting and peeling the gloves off the concrete. It was not looking right at all.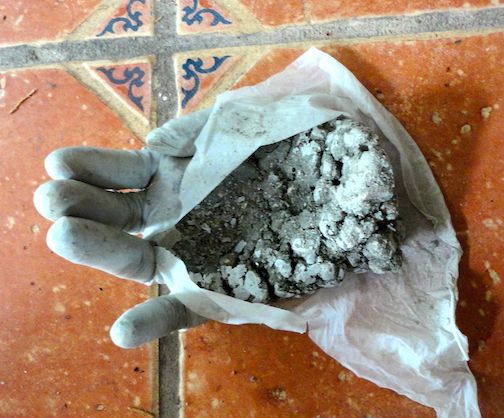 I had made the hands of The Thing from Fantastic Four.
I had definitely made a mess of it; couldn't even get the gloves off without breaking the fingers. Total sadness.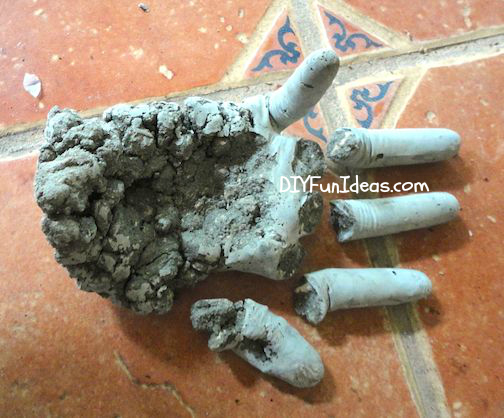 But I wasn't ready to give up. I headed back to the hardware store and this time I asked one of the store clerks what kind of cement I should use for casting.  The clerk went into a schpeel on all the different kinds of cement (apparently there are lots of different kinds of cement), but he finally directed me to a product. So my biggest tip is to look for a cement (not concrete) that says "casting" on it. This is what I picked up…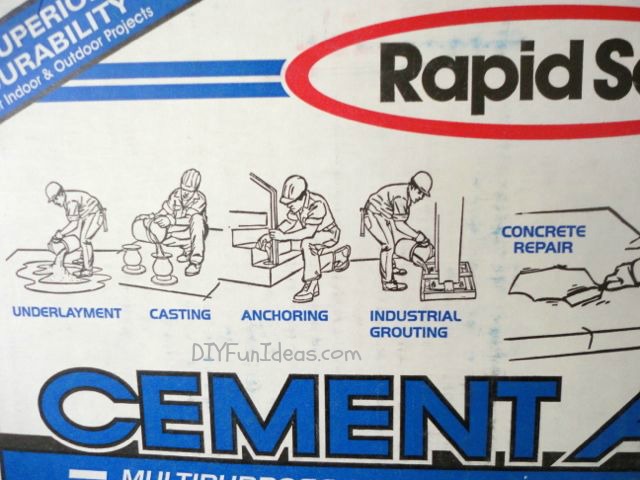 Notice that is says "casting" on it….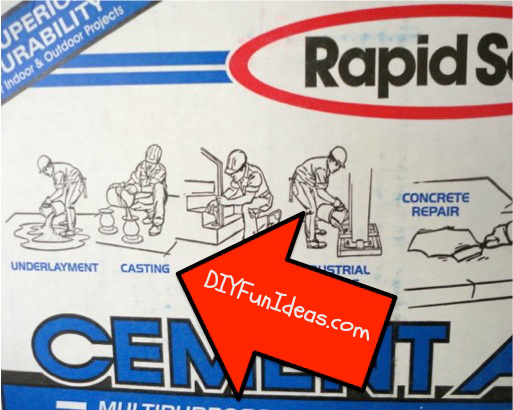 It's called Rapid Set Cement All. So, back to the drawing board, I mixed up my new cement according to the instructions. Aahhh, look how perfectly smooth that is…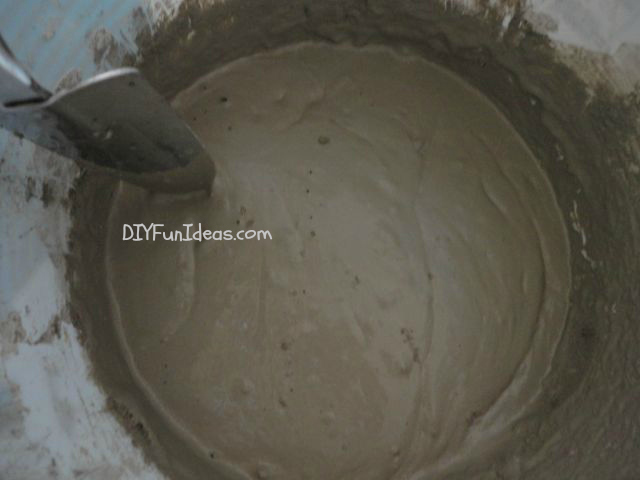 Using a gardening trowel again, I started filling my gloves. I found that air gets stuck in the fingers.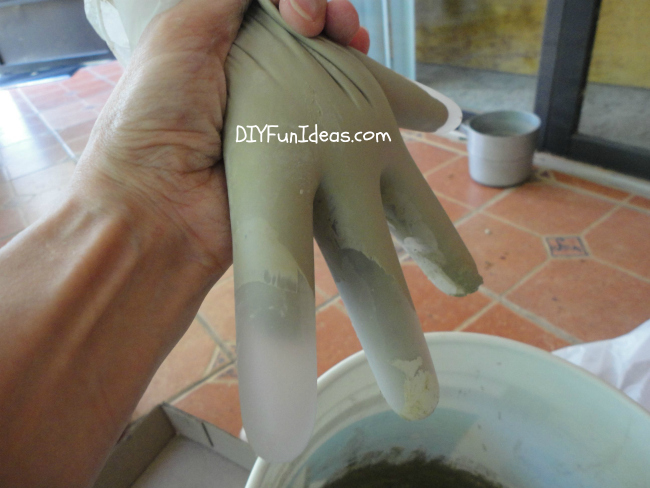 I squeezed the fingers of the glove to push the air out and then to get the cement to the bottom of the fingers you have to sort of "milk" the fingers as if you were milking a cow. (I've never milked a cow, but I might be pretty good at it now.) It takes a bit to make sure there are no air pockets. I had to work kind of fast because the cement I was using starts to set in 15 minutes. I filled a total of four gloves this way. On the last two, using a scissor I cut a slit along the pinky side, pressed out a little cement and then pressed the two hands together so that they would dry as one.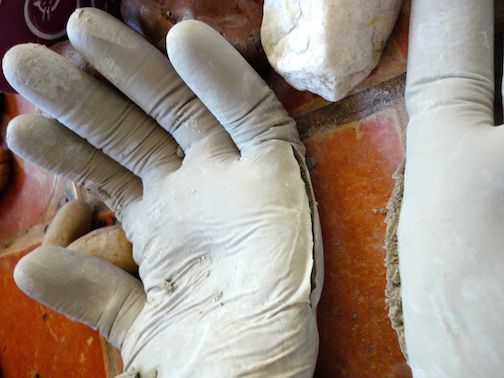 Then I shaped the fingers the way I wanted them and used some rocks to hold them in place. I did the same with the other two gloves I filled.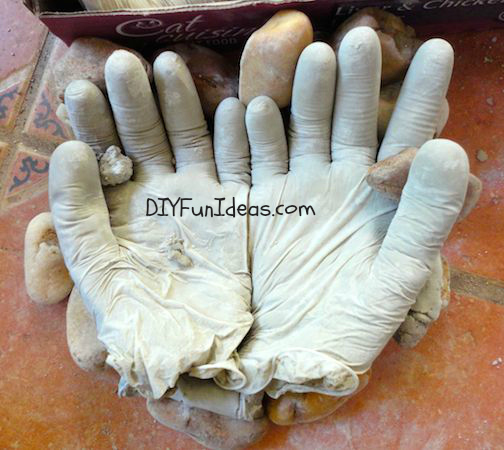 The cement starts to dry really quickly and the hands got really hot to the touch. By about a half hour in they felt rock solid. But I let them dry a few hours before messing with them. Then I used a scissor to cut the gloves open and peel them off.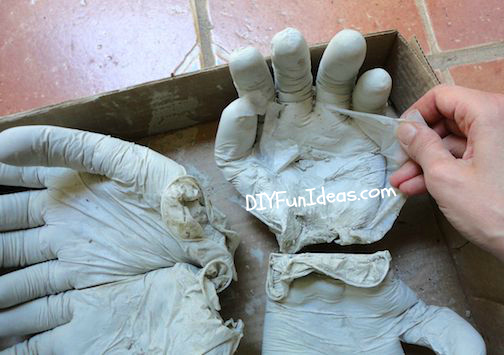 Once the gloves were peeled off, my beautiful DIY concrete hand planters were good to go. I picked up some succulents on my second trip to Home Depot and planted them.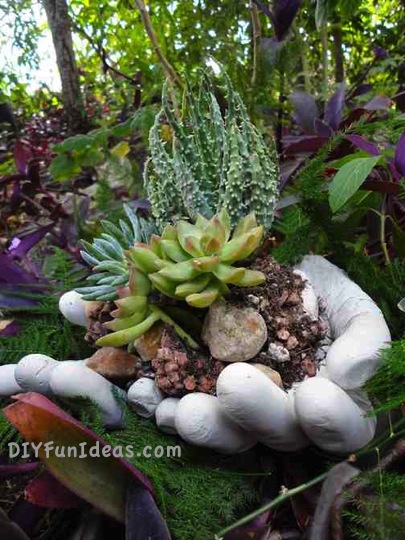 You can also use to store your keys!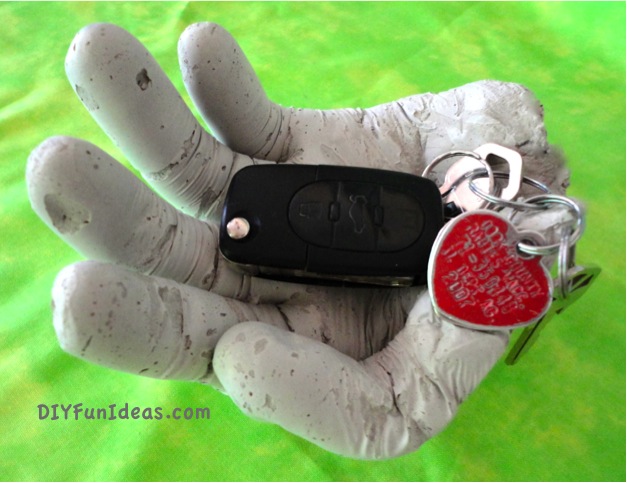 Or as an interesting center piece.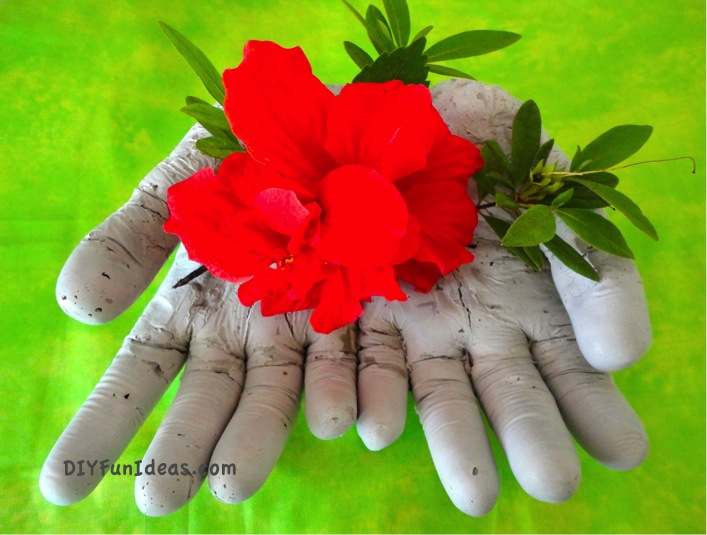 But this one is my favorite!!!!!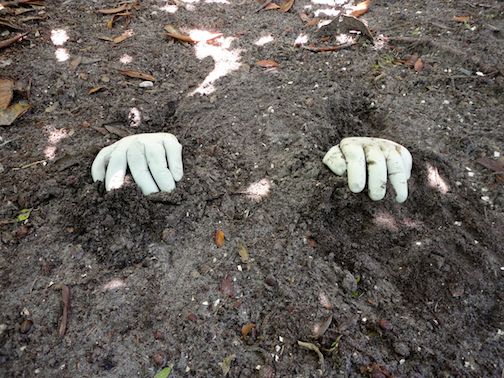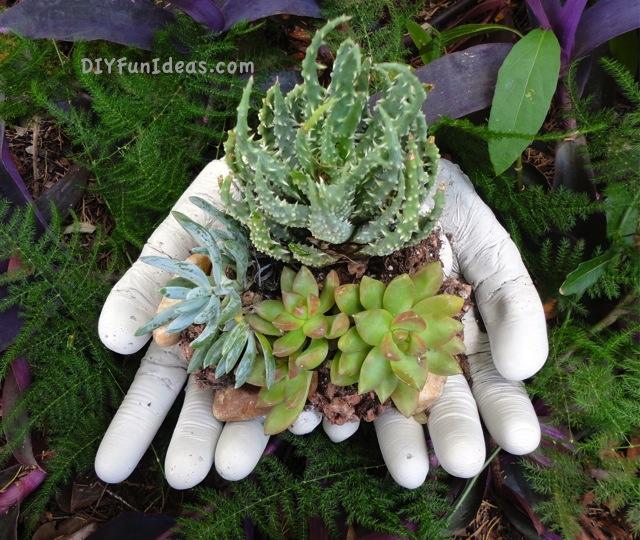 To recap, the materials needed are:
– cement FOR CASTING! (that's me yelling at myself)
– water
– plastic gloves
– trowel to mix & scoop the cement.
Enjoy making your own DIY concrete planter hands and bowls!
For another fun planter DIY, check out the tutorial for this easy indoor hanging herb garden…

Then, check out The Ultimate Cool Stocking Stuffer Guide…

And for more fun concrete projects…

And for more planter fun, check out the Fabulous DIY High Heel Planter tutorial!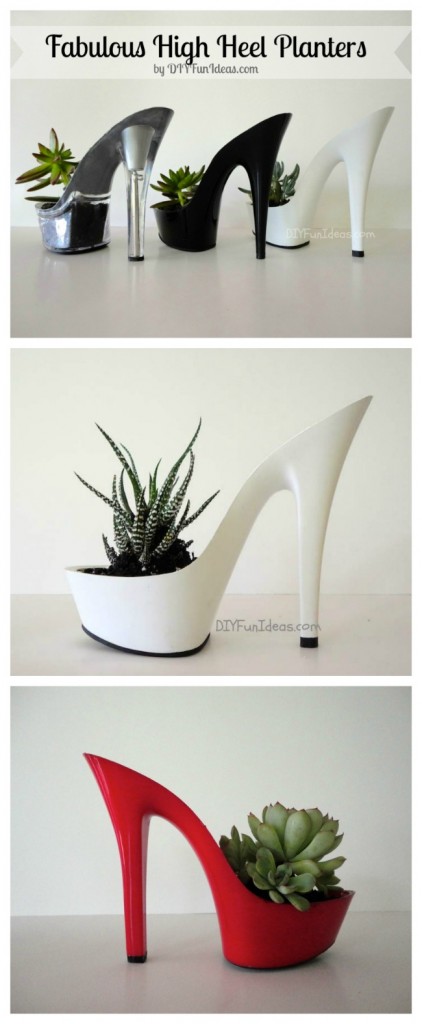 Then check out how I refinished this ugly old formica cabinet…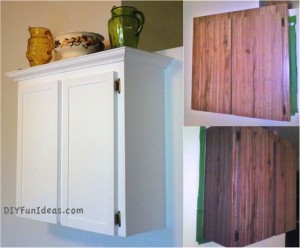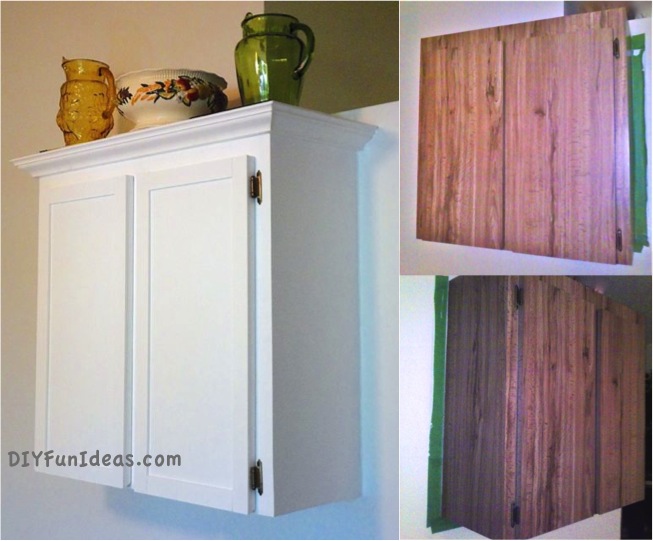 And my really fun shabby chic furniture makeover using Looking Glass paint…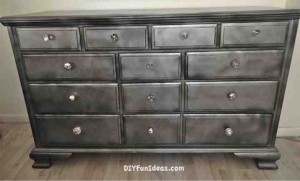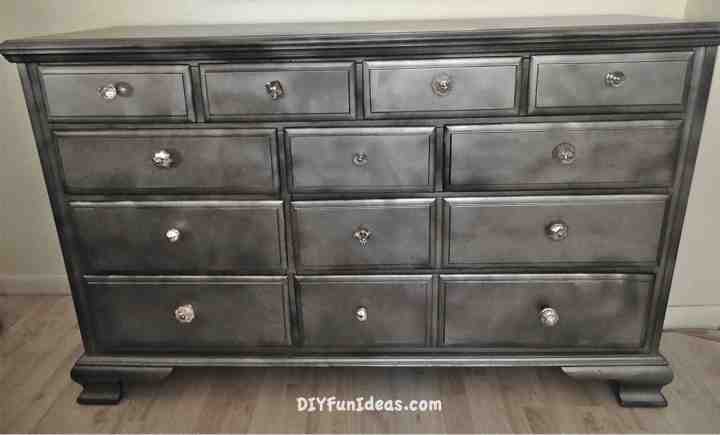 And FOLLOW ME ON PINTEREST too!
Cheers!
Jenise
This post linked to some of these wonderful blogs and here.