Last week I shared my cousin's drop dead gorgeous DIY kitchen makeover that included DIY cast in place white concrete countertops. And I promised to share the tutorial for the cast in place countertops. So here I am today with the whole nine yards.
If you recall, my cuz, Jeannette, recently purchased a fixer upper. Here's what the kitchen looked like before we got started…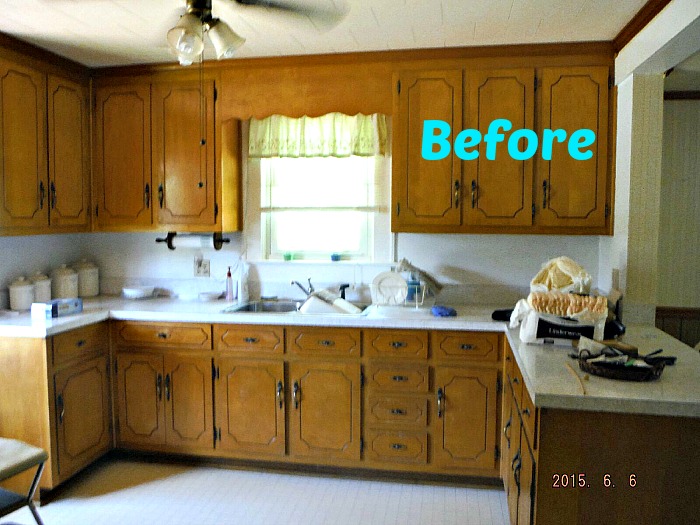 She always wanted a white kitchen with white countertops. And being the DIYer that I am, who happens to love working with concrete, I found the perfect solution from Z Counterform Concrete Countertop Solutions. Z Counterform has a white concrete mix and an easy system for pour in place concrete countertops. And now they're offering a 15% discount that is good until May 31, 2016. Read on for details.
Before this project, I had only ever built pre-cast countertops, meaning countertops that are poured into a melamine mold. The Z Counterform system is set up so that you can pour your countertops right in place over your existing kitchen cabinets. So there's no melamine forms to build.
To build your Z Counterform concrete countertops, start with Durock cement board (available at any home improvement store).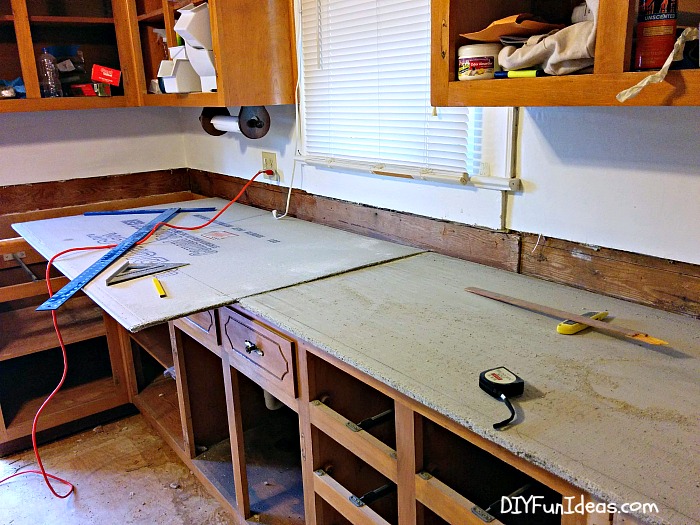 Measure and cut your cement board to cover your countertops. When measuring, I like to actually lay the cement board on the countertop to mark my cut lines, rather than measuring and transferring the measurement to the board. I find this system a little quicker, easier, and more accurate. To cut the board, I used a jigsaw with a diamond blade.
Here's what my cement board covered counter looked like…
This counter also housed the sink so I had to cut a hole in the cement board to place the sink.
Of course, when unpacking the new sink, my little stinker had to jump right in the action to check things out.
A new sink will come with a template for cutting your sink opening. Place the template where you want your sink and trace around the template. Then cut the hole out with your jigsaw.
You'll also need to cut holes for your faucet and any other accessory like a sprayer or soap dispenser.
Once your holes are cut, if you're using an undermount sink (like we did), install your sink under the cement board.
All cement board joints need to be sealed. I used caulk to seal the joints, but some concrete still seeped through into the cabinets below. The very helpful folks at Z Counterform who were there for all my zillion questions, suggested covering the joints with duct tape on the next countertop.
Next, measure and cut the Z Counterforms edge forms and screw them into your countertops using #10 x 5/8″ screws. This is what the island looked like after the edge forms were cut and screwed in…
Internal and external corners need to be mitered.
Use duct tape to seal the corners of the external edges.
The kit comes with clips that are used to hold fiber glass mesh in place on the countertops.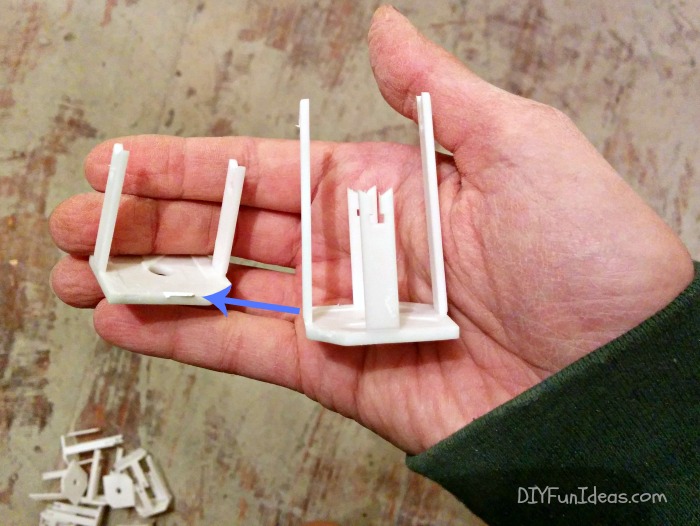 You'll need to snap off the longer arms on the clips. Those are used for deeper countertops.
Once you've snapped off the longer clip arms, screw the clips onto the cement board and clip your mesh in place.
Here's the sink counter with the clips and mesh installed…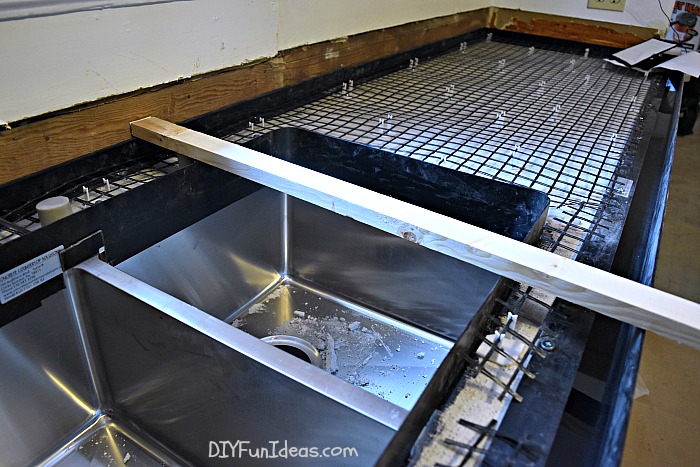 To create the countertop edge around your undermount sink, use the Z Counterform sink form. The sink form is an 8-foot self-adhesive strip of plastic. The form is very stiff so it took a bit of work to form it around the sink, but once you get the shape you just peel off the adhesive strip and stick it on the sink edge. I was surprised at how well the form stayed in place.
Before removing the adhesive strip on the sink edge form, make sure that you're placing it at the same height as the front and back edge forms. To do this, I placed a strip of wood from the back edge to the front edge to make sure everything was even.
Also, before placing the sink edge form, in order to ensure that the edges of the cement board would not be exposed once the edge form was removed, I chipped away at the cement board around the perimeter of the sink so that the cement board ended about an inch from the edge of the sink. That way, the concrete would be able to fill in that area and cover the edges of the cement board. If you take a close look at the above image, you'll see some pieces of chipped away cement board in the sink and you can also see how the cement board doesn't butt all the way up to the edge form.
Alternatively, you can install your under mount sink on top of the cement board. The sink will end up being permanently encased in the concrete, but you won't have to deal with the possibility of the cement board showing through.
You'll also want to install "faucet knockouts" through the faucet/soap dispenser holes that you cut earlier. To do this, push the knockouts up through the underside of the cement board.
To protect your brand new sink from getting concrete all over it, you can place your sink template over the sink opening and duct tape it in.
Here's the island all ready to go…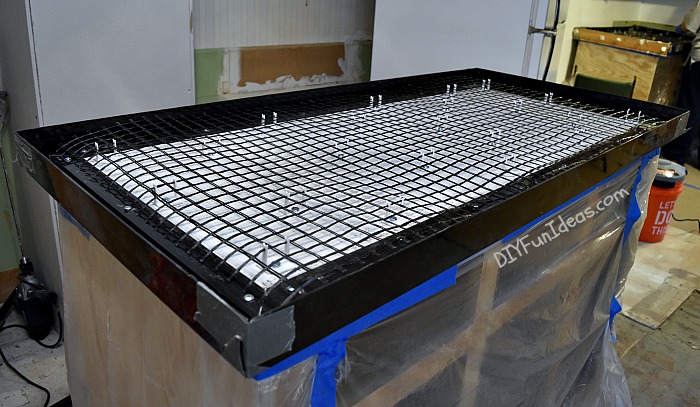 Before pouring your concrete, make sure to cover your cabinets and floors with plastic. I'm sure there are folks out there that can make beautiful cast in place countertops without making a mess, but I'm not one of them, as you'll see in the upcoming photos.
Now, up to this point, all the work was a solo act done by moi. But it was now time to mix and pour the concrete. So I recruited my cousin for the mixing so I could work on the next steps.
All the mixing was done one bag at a time in a bucket using a low speed drill and a mixing attachment. Z Counterform suggests mixing in a 5 gallon bucket, but trust me when I tell you to mix in a bigger bucket. We started with a 5 gallon bucket and it was miserably difficult to mix 50 pounds of concrete in that little bucket. Luckily we also had a 19 gallon bucket on hand which made mixing sooooo much easier.
When mixing, first pour one quart of water into the bucket. Start adding your concrete while mixing. Continue adding the concrete as you mix and up to a total of 2.5 quarts of water. We found that adding the full 2.5 quarts per 50 lb. bag led to quite a bit of fluid coming to the top of the concrete once poured, so you may want to try adding a little less water. Although, less water makes it more difficult to mix the concrete, so you'll have to play a little with what works for you.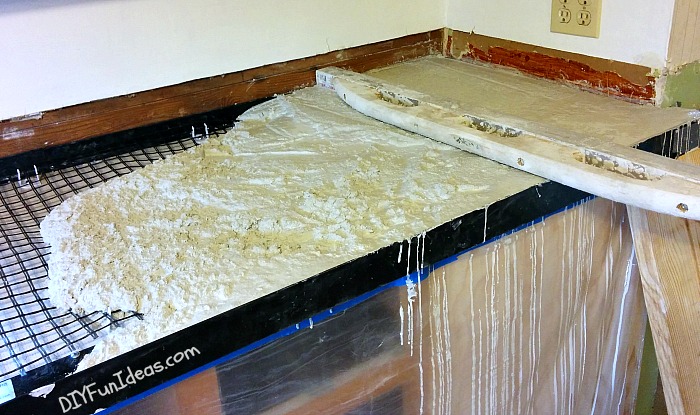 While my cuz was mixing the individual bags and slowly adding each to the counters, I was working on spreading and screeding the concrete. Screeding is the process of leveling the concrete. You can use a 2'x4′ to screed. But I used Z Counterforms' screed. It has handles, which makes it very easy to maneuver. It also has a built-in level, which is nice, only it kept getting covered with concrete so I really didn't use the level much.
To screed, move your screeding stick in a short sawing motion as you move it forward across the concrete surface. This will push the high spots down and will reveal the low spots. You'll have to screed the same area multiple times, filling in low spots and screeding excess off the high spots. You can see on the right side of the above image how the screeding was beginning to give me a level surface.
You'll also want to vibrate the edges which will help remove any airpockets, which will leave voids on your edges. To vibrate, you can tap the edges with a hammer or you can also use a finish sander on the edges (without the sandpaper).
After screeding your countertop, you'll see a bit of excess water "bleed" to the surface. Hang back for a little while and let the water dissipate until you're left with a creamy surface.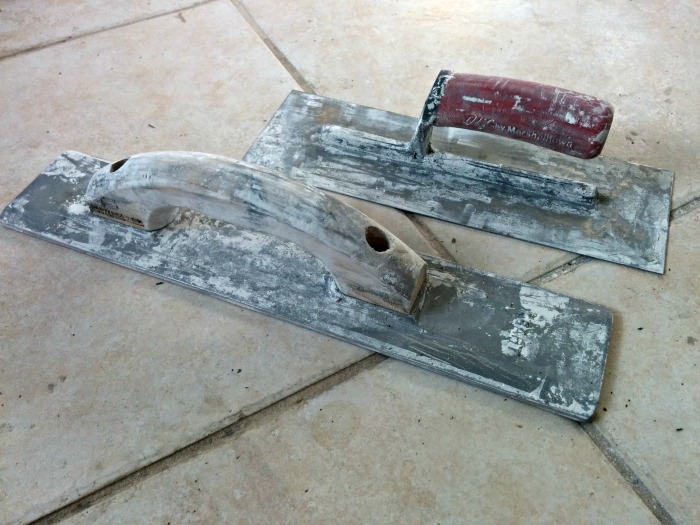 Next, further smooth your concrete surface with a magnesium float. Follow that up by troweling, keeping your trowel at a low angle to the concrete while applying pressure with each pass.
Here are my screeded, floated, and troweled countertops…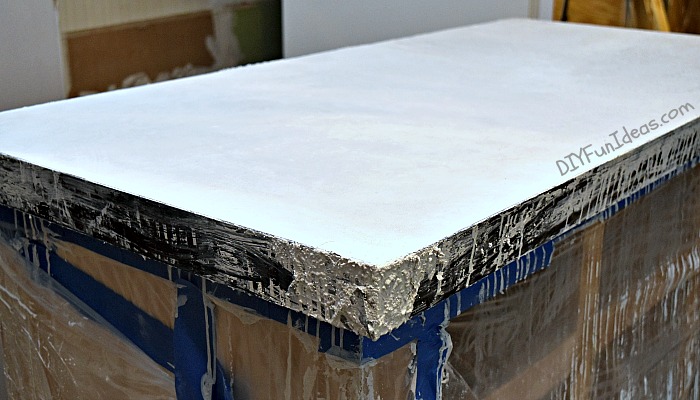 After your concrete is dry (wait at least 24 hours), pop out your faucet knock outs.
Before removing the edge forms, use the Z Gem Pad that comes with your kit to sand down the edges along the edge forms. Then all you need to do is pull the edge forms down and they'll pop right off. Do the same with the sink edge form.
Then sand the entire surface until perfectly smooth.
At this point you can seal your countertops or take an extra step and wet polish the countertops. My cousin wanted her countertops to have a super smooth glass-like finish, so she picked up THIS wet polisher on Amazon and put me to work (funny how that happens).
If you've never used a wet polisher, this is what it looks like…
And here's a close up of the surface of a polishing pad…
A wet polisher basically has the motion of a random orbital sander, along with a hook up to attach a hose so that water trickles out while you're polishing. And it makes a BIG wet mess, thus my haute fashion statement…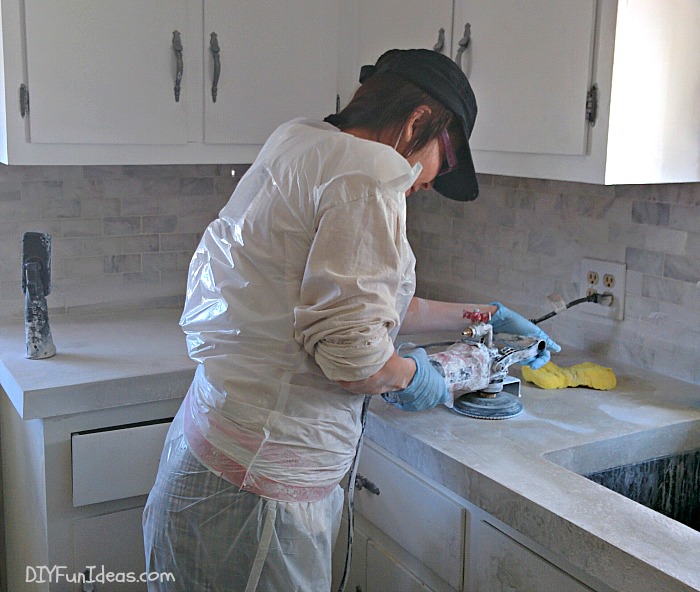 Everyone's now wearing it in Paris. What can I say, I'm such a trend setter.
When I started polishing, I had the hose coming in through the window, but I found it difficult to maneuver the polisher with the big fat hose attached. So I ended up removing the hose and instead continually poured water on the counter from a cup, which worked much better for me. I did forget to cover the cabinets in plastic before I got started. And when my cousin walked in her jaw nearly hit the floor when she saw the mess I'd made on her newly painted cabinets. Doh! Sorry. I guess I was just a little eager to get going.
The pads that came with the polisher go up to 3000 grit, but I only polished using the 30 and 50 grit and the countertops turned out fantabulous and beautifully smooth.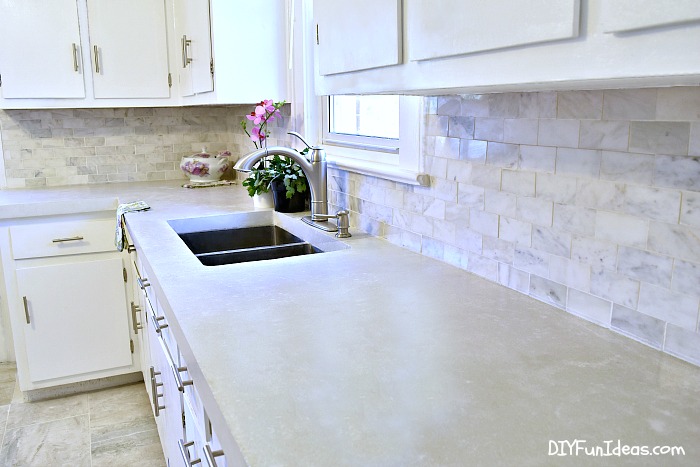 Polishing revealed the aggregate which has a grey undertone, so it actually darkened the countertops just a bit so that they're more of an off white now. But I think if you were building your countertops on dark cabinets, the high contrast with dark cabinets would make it so that you probably wouldn't even notice the change in color.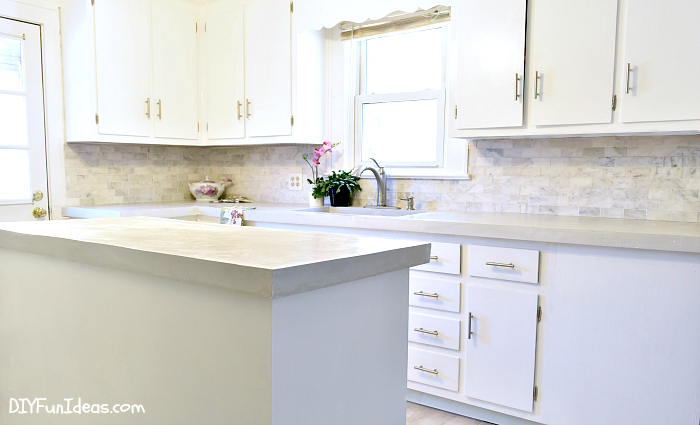 For the final steps, I used a 1/4″ nap roller to apply three coats of Z SiAcryl 14 sealer, allowing the sealer to dry between coats, followed by two coats of Z Counter-Shine Polish.
The countertops turned out beautiful, as did the rest of the kitchen. (Click here to read about the other budget updates made to the kitchen.) We couldn't be happier with the result.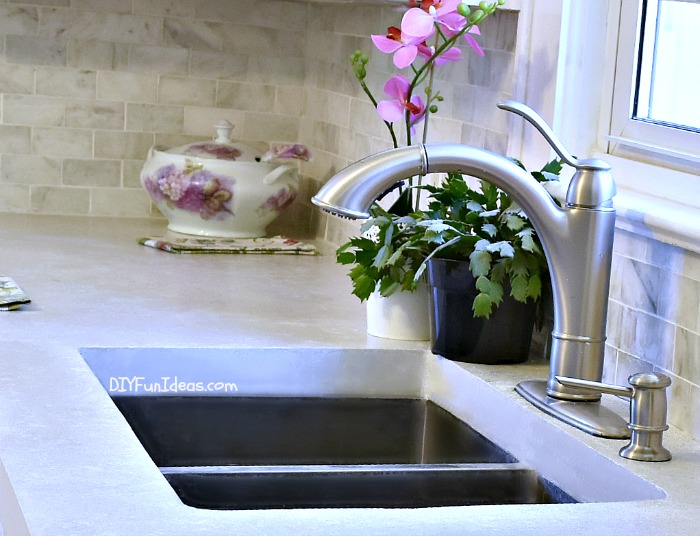 For anyone wondering if they could DIY some gorgeous white concrete countertops, I would tell you that I didn't consider the process difficult, although it does take some time to get everything ready to pour. But once you get to pouring, you'll have that part done in one afternoon. Everything except for the mixing/pouring portion can be done solo. But you'll definitely need a second person when it comes to mixing/pouring.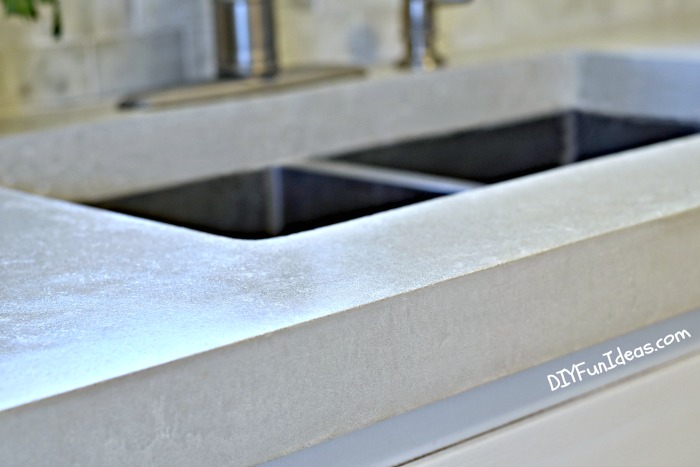 One of the things that I really appreciated about working with Z Counterforms is their amazing customer service. Dario at Z Counterforms helped me with my order. We initially spoke on the phone and he helped put together a package of everything I needed. He also sent me an extremely helpful video that took me through each step of the process. And then he answered dozens of questions by email and was always very prompt in responding to my questions. It was really a pleasure working with him.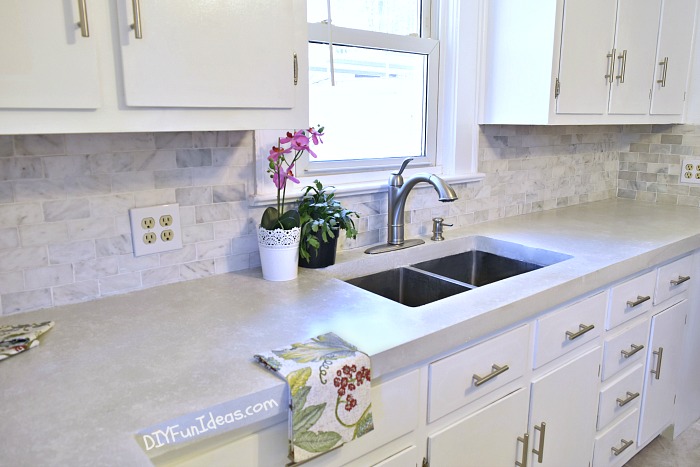 And now, Z Counterforms is offering a limited time 15% off on their countertop system by using promo code DIYFUNIDEAS at checkout. The promo code is only good until May 31, 2016 so don't wait too long.
For more info, visit Z Counterforms at concretecountertopsolutions.com or call them at 570-587-3799 or email Dario directly at [email protected].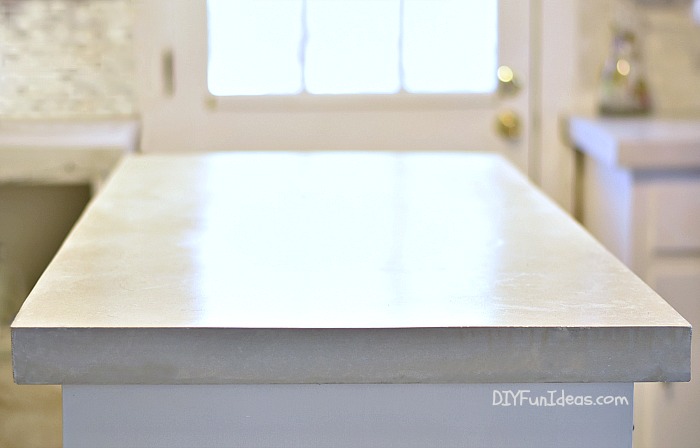 And please, as always, let me know if you have any questions that I can help answer.
Thanks so much and have a wonderful day! Oh, and don't forget to pin this post and share with your friends!
xoxo

This post linked to some of these totally fabulous blogs and Remodelaholic.