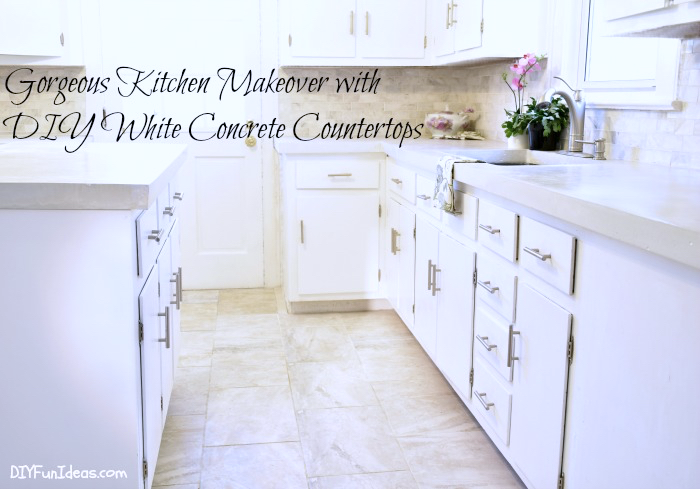 Well it's done, my cousin's kitchen makeover that is. Here's the story. My cousin, Jeannette, bought her first home back in October. Yay! If you've owned a home, I'm sure you remember how exciting, and a little scary, it was to purchase your first home. Only thing was that it needed a lot of work. Yup, it was a fixer upper, so taking on some major DIY projects was in the forecast and meant she'd be getting down 'n dirty. Luckily, she's a pretty handy girl. And with a little help from a few friends and her favorite cousin (that would be me… in case she has any questions about it), the place has been really coming together. Oh, and in case you were wondering, the entire update is being manned by 100% girl power. (So perhaps I should say is being "womaned" by 100% girl power.)
The first major makeover completed is the kitchen; just finished a few days ago, as a matter of fact. Check out the scary before picture…
Eek, right?
The cabinets were solid wood and while they were old, ugly and dated, they were in really good condition. So to keep the makeover budget friendly, she decided to paint the cabinets. She started by removing the cabinet doors and giving everything a good scrubbing with TSP cleaner to remove any grime. She didn't like the design that was cut into the front of the doors, so she filled it in with spakle and then sanded everything down. The cabinets were primed and then painted with a water based enamel in pure white and new hardware was installed. The old vinyl flooring was ripped up and she laid new floor tile, along with a carrara marble subway tile backsplash.
But the real star of this makeover is the brand spankin' new pour-in-place DIY white concrete countertops, courtesy of moi–thank you very much. CLICK HERE for the full tutorial on how to make your own pour in place concrete countertops! And if you decide to build your own concrete countertops, Z Counterform, the company that sells the white concrete is offering a limited time 15% off discount. But it's only available until May 31, 2016, so don't wait too long. CLICK HERE for all the details on the 15% off discount.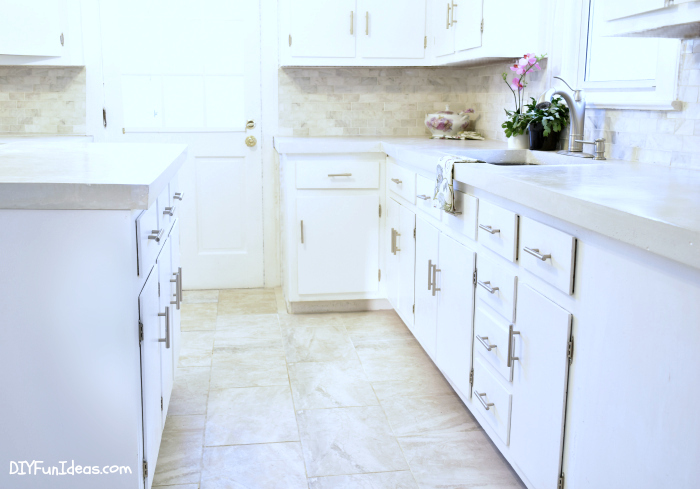 Are we talkin' gorgeous or what? And wow, what a huge before and after difference!
And see that island? That used to be attached to the cabinet on the right. She separated it off, put caster wheels on it and made it into a moveable rolling island. So it can now double as a buffet in the dining area to the far right of the kitchen.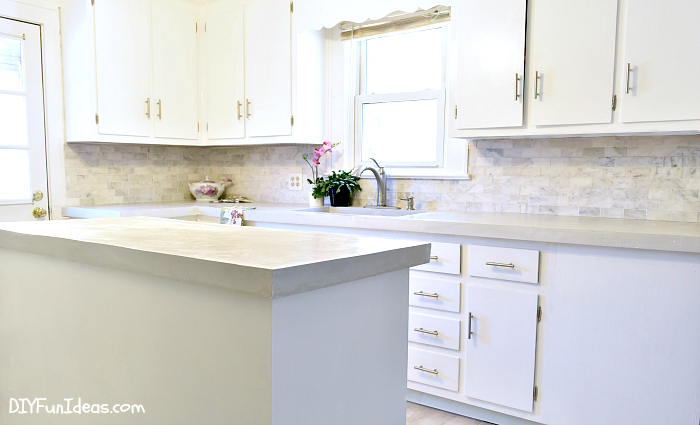 My girl, J, always dreamed of an all white kitchen. And she's also been really digging the concrete projects I've been working on. So concrete counters were on her mind. But the question was, how the heck do you get them in white?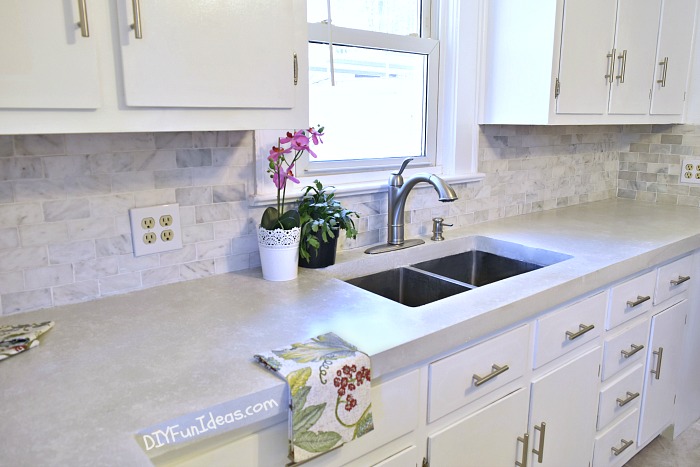 Well, after a bit of research I found an answer. Z Counterformshas a white concrete countertop mix.
Z Counterforms is the same place where I found the slate edge molds that I used when making my concrete vanity with integral sink. (Click here for tutorial.)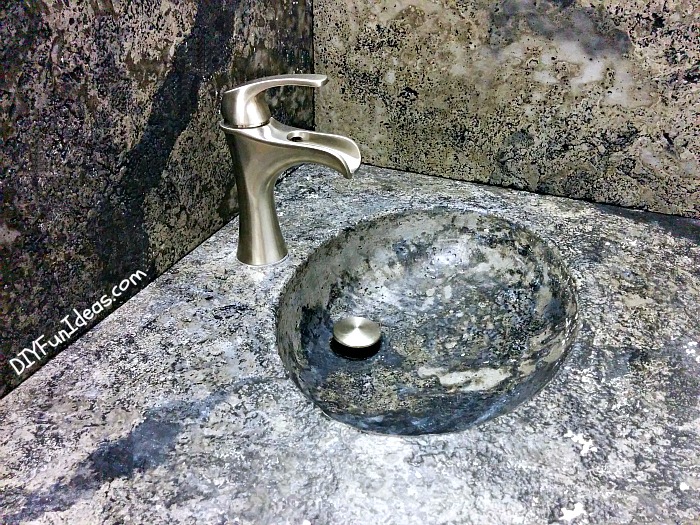 Z Counterforms uses a pour-in-place system for their countertops. I'll be posting a full tutorial on the process next week, but the gist of it is that you attach a concrete backer board, which can be found at any home improvement store, to the top of your existing cabinets, then screw in Z Counterform's countertop edges. Next add their lightweight fiberglass mesh for extra strength, mix, pour, and finish.
Ta-da!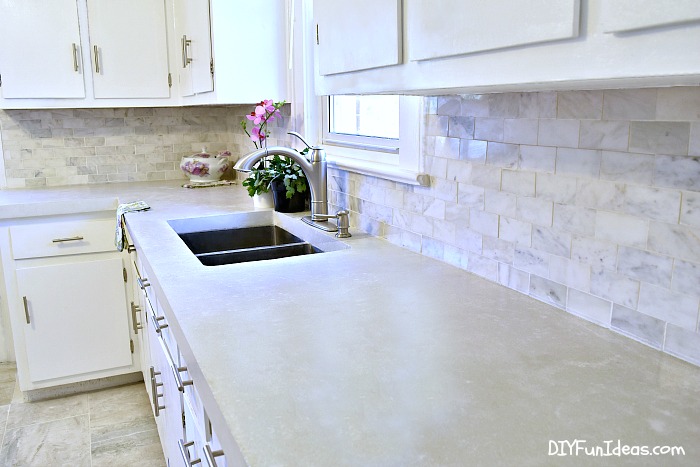 If you've never played with concrete, DIY concrete countertops may seem a bit intimidating. But I think the Z Counterform system simplifies the process nicely, while also making beautiful concrete countertops affordable for the do-it-yourselfer.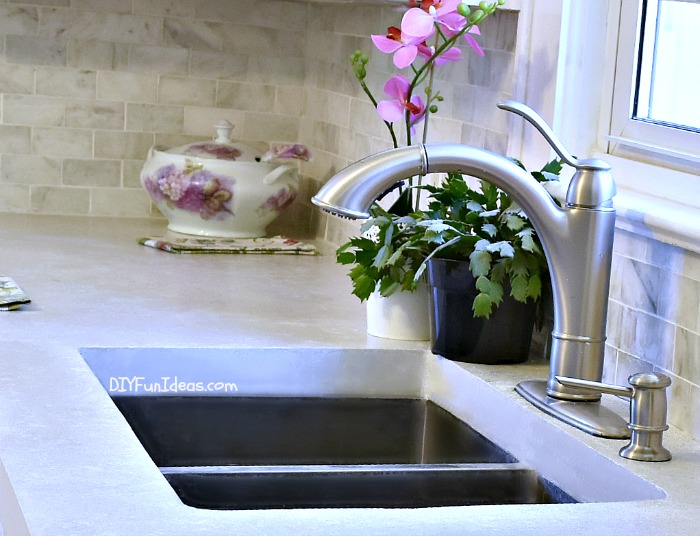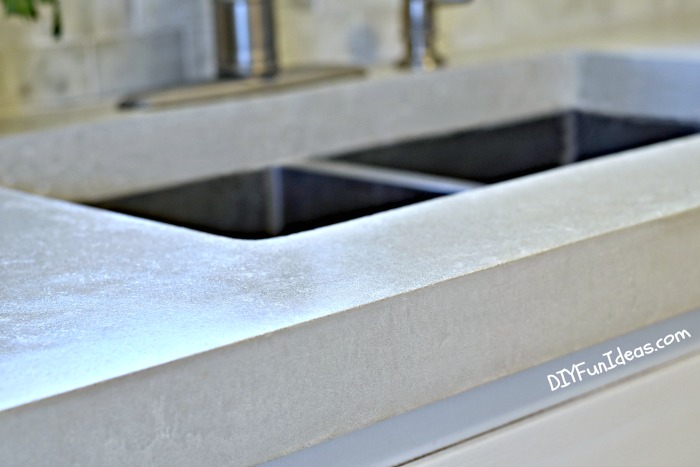 After finishing the countertops, I took the extra step of polishing them. It's not a necessary step, but Jeannette wanted more of a glass-like finish… and since it was her birthday…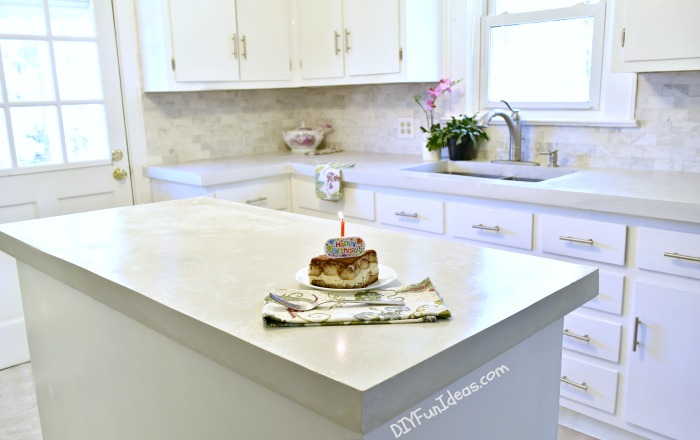 …How could I say no?
We celebrated in her gorgeous brand new kitchen with some tiramisu. But she could have waited for me to finish taking photos before digging in. Right?
I can't blame her too much, though. It was REALLY good…and..um..well, I might also be a little guilty myself. But I admit nothing.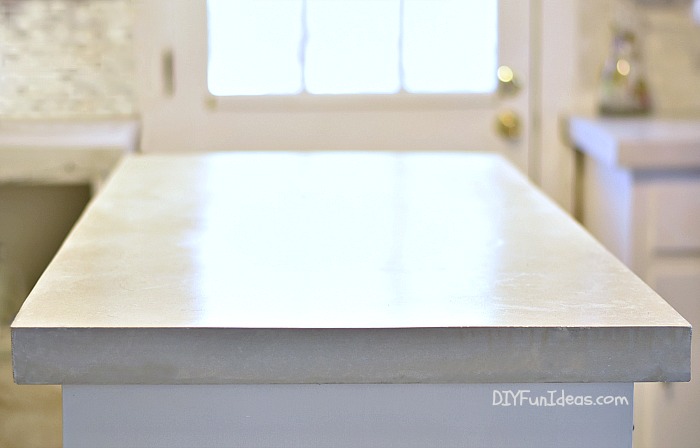 So there ya have it…a brand spankin' new, drop dead gorgeous white kitchen makeover with beautiful white concrete countertops. CLICK HERE for the full countertop tutorial, along with a 15% discount off your entire order. The discount is good through May 31, 2016, so don't wait.
And don't forget to Pin this to your favorite home decor board!

This post linked to some of these totally fabulous blogs and Remodelaholic.