Hi there! I'm Jenise. Welcome to DIY Fun Ideas.
Let's get right down to business with the story of moi…
A long time ago in a galaxy far far away, this born & bred New York City gal made her way out to Utah to be a mountain biking, rock climbing, river running ski bum to go to college. I traded in the my black clothes and heavy metal hair…
…for the Birkenstock life. (I can't believe I just shared that picture with you. But that's me and my crew from way, way, way back in the day. I'm the kid on the left.)
It was definitely a bit of a transition, but while Bklyn was always in da house (and still is), I'd caught the bug for the easy going, au naturale granola lifestyle. (Don't worry, I never stopped shaving my legs or pits…I do have my limits you know!)
After finishing my degree in Exercise Physiology, I became a Certified Strength & Conditioning Specialist and a USA Weightlifting Coach and opened a small personal training business. I was so livin' the laid back dream.
Then one day, some years later, something happened. I got an inch that no scratchin' would fix. The big city girl in me came a'callin'. So it was time for a change. I sold my home and made my way out to the mid-west, finished an M.B.A at Notre Dame…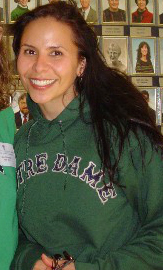 …and moved to Chicago. Hello bright lights, big city!
The birkenstocks got buried somewhere in the back of the closet. I put on some high heels, lipstick and eyeshadow (yes, I learned how to put on eyeshadow!) and started the daily drudge of a big corporate brand management career in a Fortune 50 company.
A few years into my big corporate career, I wanted to poke knives into my eyeballs, perform hara-kiri and then throw myself off a very tall building. Sure the pay was pretty good, I was driving an expensive car and living it up in my drop dead gorgeous, in the middle of everything, downtown Chicago condo, but I had had enough of being just a number in an anyone is expendable, stomp on you kinda world. So what did I do? I quit my job, signed up for a writing workshop and started writing a novel.
For the next year and a half I was living a novelist's life toting my laptop to cafes, staying up until 4 a.m., drinking lots of coffee and sleeping random hours, until 10:30pm on January 26th, 2012 when I got a phone call that is still burned into my brain. It was my brother. His words: "Don't freak out, but…"
Okay, I'm going to stop here for a moment and tell you all that the best way to freak someone out is to start a conversation by saying "Don't freak out"!!!
Anyway, he told me that our mom was in a car accident and not to worry, she's going to be fine. Twelve hours later, I was in Florida at my mom's bedside in the intensive care unit. And no, my mom was not going to be fine. Actually it was pretty horrible. (You can read more about it here.)
But from that moment on, I took over my mom's role as the primary caregiver for my dad who is 20 years her senior (currently 93) and has dementia. I only made it back to Chicago long enough to rent my condo.
Needless to say, these last few years have at times been challenging, but at the same time I wouldn't change being here with my dad for the world. I love my dad beyond words. He is still the most lovable, generous person. And while he doesn't exactly know who I am, he does know that I somehow belong here. He still calls me "kid" and he still tells me "I love you." When I tell him I'm his daughter he lights up with a surprised look and says, "Really?", as if he just found out he was a father for the first time. Then he gives me the best hug in the world.
As I said, I wouldn't change my life right now for the world. These are the last years of my dad's life and I feel blessed that I'm in a position where I could spend them with him.
So, now you might be wondering how I ever got into this whole DIY thing? Well, lemme start by saying that I am definitely my Dad's daughter. You see my Dad was a big DIYer. He could fix anything. And I was the scrawny little kid following him around the garage workshop.
I did my first DIY project when I was around 8 years old. My Dad gave me full reign of the garage and I built this kick ass go cart. And that sucker was solid, as in kind of a tank. I'm talking heavy plywood, doubled shopping cart wheels, and I even designed a steering and break system. It's only flaw was that, without an engine, the thing only went down hill.
I'm now an avid do-it-yourselfer. My Dad would be proud.
I LOVE to experiment with new techniques. At times, though, things don't always turn out the way I planned. But that's okay because my philosophy is if it doesn't come out right the first time, just do it again. Plus, while I do love getting the perfect end result, I really enjoy the process along the way. So a few fails don't bother me at all. If you never fail, it means you probably haven't challenged yourself. So I don't just share that perfect spectacular outcome. I'm all about sharing my lessons learned, my failures and how I fixed them.
So how did this blog get started?
Immediately following my Mom's accident, I was at the hospital most of the time and I thought my head was going to explode. I needed some kind of outlet.
Now, a month before the accident when I was visiting for Christmas, my Mom asked me if I would fix some cracked tiles in one of the bathroom showers. I didn't get around to doing it on that visit. Actually, I think I said something like, "I'm on vacation, Mom." Ouch.
So then, every time I used that shower, those cracked tiles were screaming at me and I was so ashamed that I said no to my mom.
So I got to work fixing the tiles. When I removed that bottom row of tiles, I saw that the drywall had some water damage and needed replacing. So a few more rows of tiles came off. Then I couldn't find matching tiles to replace the old ones. Ugh.
Well, one thing led to the next, and somehow the whole damn wall came down. Oops. At that point my sister stopped by, and had a little freak out moment when she saw the bathroom looking like this…
I think she said something like, "What the #$%@%&*!!!"
Oops.
But I redeemed myself, when the new shower went up and looked like this…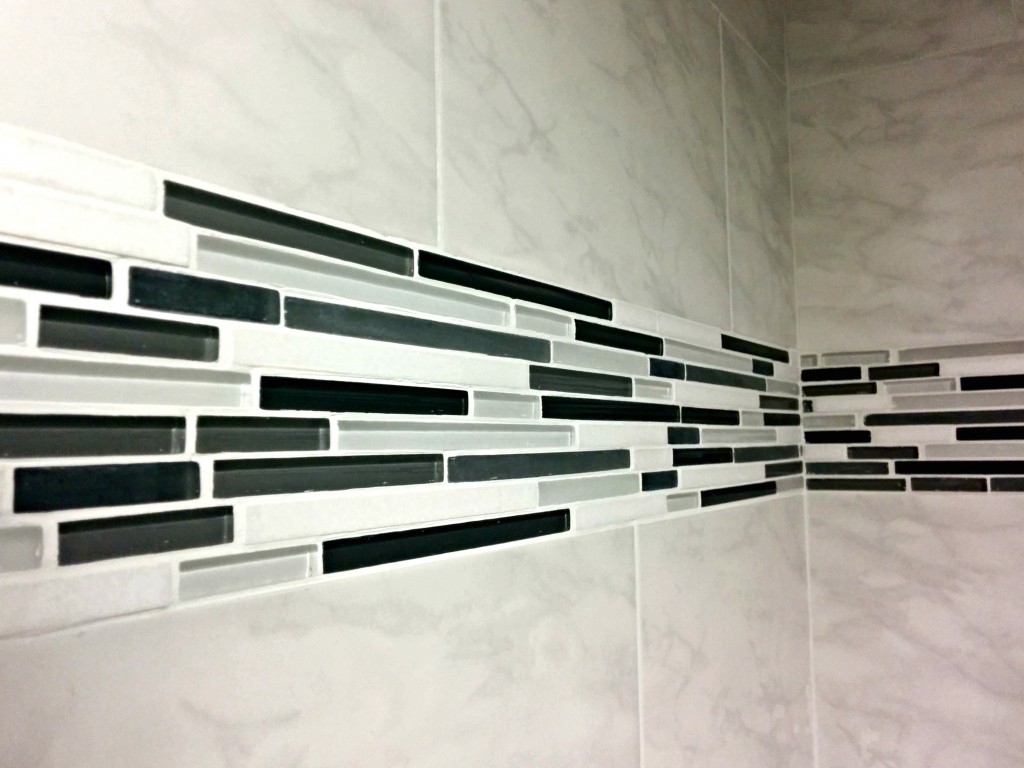 From there, I kept ripping stuff up and fixing it. That's when my friend, Mary, suggested that I start a blog. It made sense since I love to write and I love to fix things. But still, it took some convincing… Okay, a lot of convincing. I mean, really, why would anyone want to read about stuff I fix? Really?
Well, since Mary was such a pain in the ass about it, I started this blog at the end of February 2014. At first, I only featured the work of other do it yourselfers. Again, who would want to read something I wrote? Plus, I was simply coming across so many wonderful projects and thought this would be a great venue to share them all. At least that's what I told myself at the time. Really, it was probably more of a confidence thing.
I've since transitioned into focussing more on my own creations and tutorials. And shockingly, that's when the blog started to soar. I mean, people really did want to read MY stuff, which still blows me away.
Now, in between the responsibilities I have with my parents, with my little monster, Lily, at my side…
…I continue working on their home and writing about it.
I am extremely grateful to every single person who stops by to share in a little piece of my world. So thank you all for helping me and this blog become the success it is.
If you want to know even more about the lady behind the blog curtain, this post basically sums it all up.
Anyway, thanks for stopping by and don't forget to ENTER YOUR EMAIL ADDRESS ON THE RIGHT to keep getting all the unfiltered new fun ideas directly to your inbox! And please FOLLOW ME ON PINTEREST too!
Cheers!
~ Jenise
_____________________________________________________________________
Disclosure:
DIY Fun Ideas owns the rights to all original content posted on the DIY Fun Ideas site, all other content will be credited appropriately to the best of my knowledge. If your content has been featured on DIY Fun Ideas and you would like it to be removed, please contact me and I will remove it immediately. Likewise, you may not redistribute, sell, or use photos or written content from DIY Fun Ideas unless you have been given permission.
DIY Fun Ideas may contain paid advertising banners and some contextual affiliate links. An affiliate link means that I may receive a commission on sales of the products that are linked to in my posts. So if you click on a link and make a purchase from an affiliate site, then I may make a commission from that purchase. The content of my posts are all items I genuinely like and support and are not influenced by advertisers. That just wouldn't be cool.
_____________________________________________________________________
Privacy Policy:
Do-It-Youself Fun Ideas takes your privacy seriously. This privacy policy describes what personal information we collect and how we use it. See this privacy policy primer to learn more about privacy policies in general.
Routine Information Collection
All web servers track basic information about their visitors. This information includes, but is not limited to, IP addresses, browser details, timestamps and referring pages. None of this information can personally identify specific visitors to this site. The information is tracked for routine administration and maintenance purposes.
Cookies and Web Beacons
Where necessary, Do-It-Youself Fun Ideas uses cookies to store information about a visitor's preferences and history in order to better serve the visitor and/or present the visitor with customized content.
Advertising partners and other third parties may also use cookies, scripts and/or web beacons to track visitors to our site in order to display advertisements and other useful information. Such tracking is done directly by the third parties through their own servers and is subject to their own privacy policies.
Controlling Your Privacy
Note that you can change your browser settings to disable cookies if you have privacy concerns. Disabling cookies for all sites is not recommended as it may interfere with your use of some sites. The best option is to disable or enable cookies on a per-site basis. Consult your browser documentation for instructions on how to block cookies and other tracking mechanisms. This list of web browser privacy management links may also be useful.
Special Note About Google Advertising
Any advertisements served by Google, Inc., and affiliated companies may be controlled using cookies. These cookies allow Google to display ads based on your visits to this site and other sites that use Google advertising services. Learn how to opt out of Google's cookie usage. As mentioned above, any tracking done by Google through cookies and other mechanisms is subject to Google's own privacy policies.
Contact Information
If you have concerns or questions about this privacy policy, you may reach out to me using the contact form for further clarification.
This privacy policy was generated by the Privacy Policy for WordPress plugin.