My concrete crush continues with crushed glass. Today's concrete project involves not only a little crushed glass, but also some old fashion tie-dye, and of course, my favorite Rapid Set® Cement All®. We are making some really fun and different concrete coasters! So let's get right to it…
Here's what you'll need:
– Rapid Set® Cement All®
– Poster board or heavy card stock
– Ruler
– X-ACTO Knife
or Utility blade

– Stiff board or cardboard for the back of your cast
– Glue gun

– Glass marbles
/bottles
– Heavy fabric
– Eye protection

– Hammer
– Liquid Dye
(I used Rit)
– Eye dropper
or small spoon to place your dye
– WD-40
as a release agent (cooking spray works fine too)
– Resin mix
(recommended to cover any sharp glass shards on final product)
(above contains Affiliate links)
First thing you will need is something to use as a cast. To create my coaster casts, I simply used some extra poster board I had laying around from an old project, but any kind of heavy card stock will do.
– Slice up strips of your poster board. I recommend 1/2″ thick by 13″ long.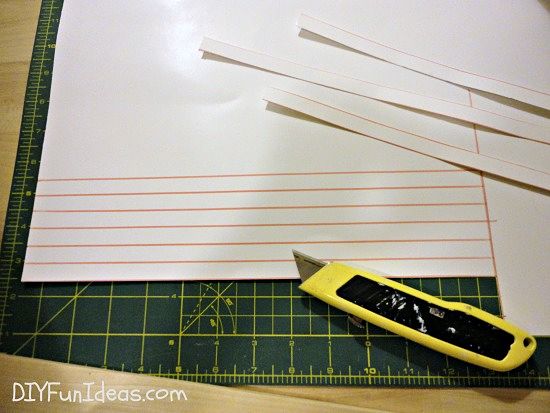 The easiest way to get perfect edges on your sliced poster board is by using either an x-acto knife or utility knife.
– Form your strips into circles and tape closed with approximately a 3/8″ overlap. This will give you 4″ round coasters.
These poster board circles will be the sides of your coaster cast.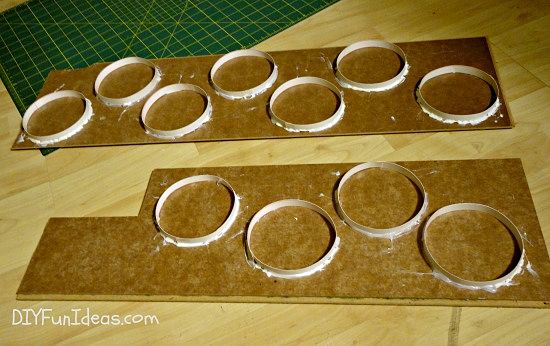 – Use a glue gun to attach your circles to a flat surface.
I used some old flooring strip boards that I had laying around, but you can also use heavy card board. I used heavy cardboard when I made my DIY concrete candle sticks.
I found that the easiest way to glue down the circles so that the shape doesn't get warped is to first put down a glue bead on four "sides" of the circle. Let the glue take hold, then run the glue bead around the entire circumference. Also, gently press down the circle with one hand as you're glueing to ensure that there are no gaps on the bottom for the concrete to leak out.
Once your cast is ready, prepare your glass. I found a good-sized pack of flat-sided glass marbles at Dollar General for….you guessed it…one dollar.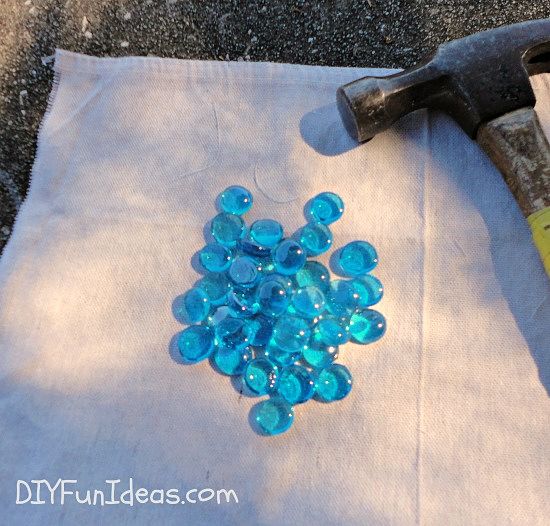 – To crush your glass marbles, wrap them in heavy material. I used some left over drop cloth that I had from my DIY Drop Cloth Covered Storage Boxes and DIY Drop Cloth Slip Cover Headboard.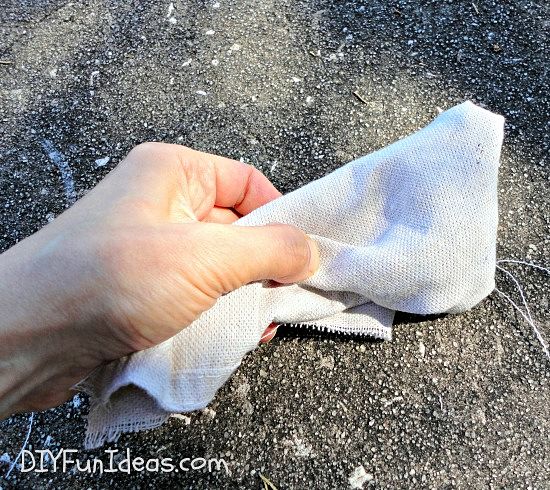 – Next, take a hammer and give it a few good wacks. Make sure to use eye protection because every now and then some pieces do get away.
I had originally tried to crush a bunch of the glass marbles at once, but for me, one at a time worked much better.
I also used some glass bottles that my little bro brought me from Oktoberfest. …He only brought me the empties.  :-(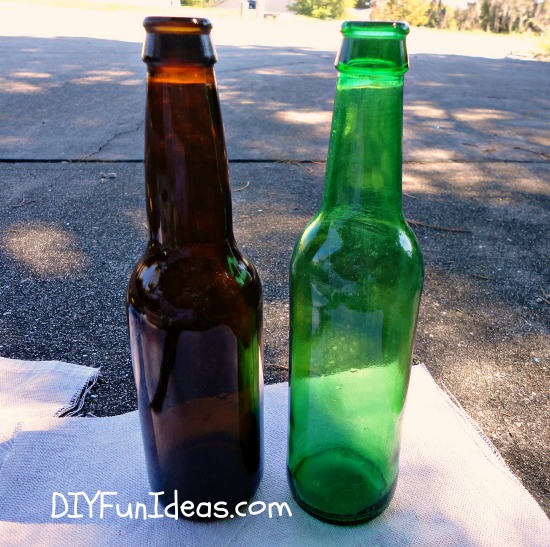 – Remove all labels from glass bottles. Check out The Easiest Way To Remove Labels HERE.
– Wrap label-removed glass bottles in heavy fabric and hammer away.
And, wa-la! Beautifully crushed glass…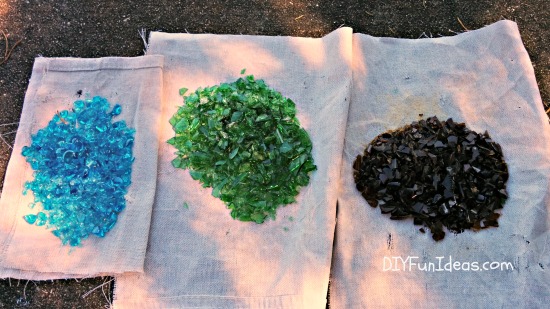 – Spray some WD-40 into your casts for easy release. Then fill in your glass in what ever pattern you choose.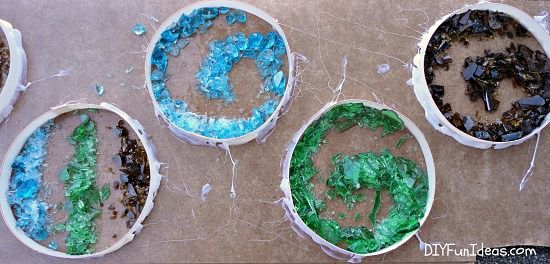 Some people recommend using adhesive spray to set an inlay. I chose not to do this since I was okay with some movement in the glass. Plus, adhesive spray seems a little contraindicative of the WD-40.
Aside from the glass, I had another idea I was dying to try. And that was to create a tie-dye look. (Really, no pun intended, sort of.) I already had some black liquid dye in the house, so I thought I'd give that a try before spending more on fun colors.
– Use a dropper to create desired patterns in your casts.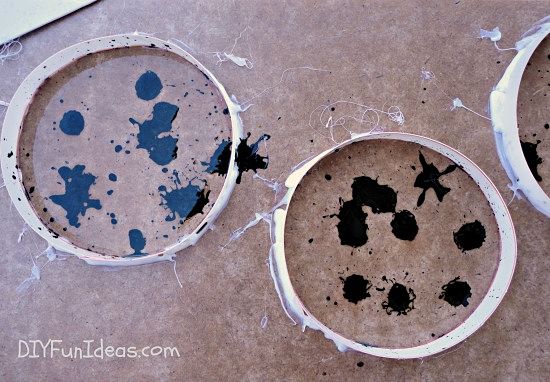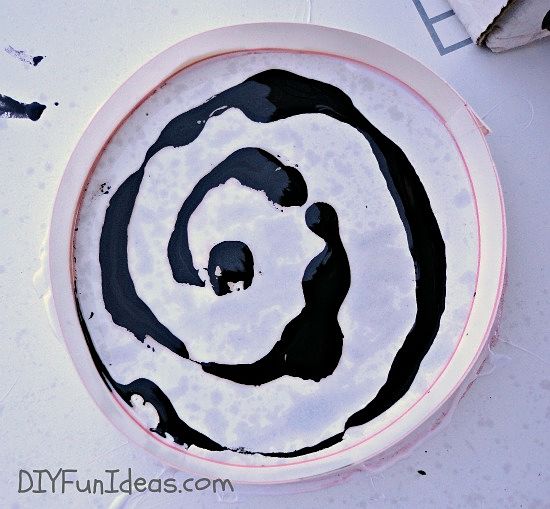 Here's the whole shebang all ready to add my Rapid Set® Cement All®…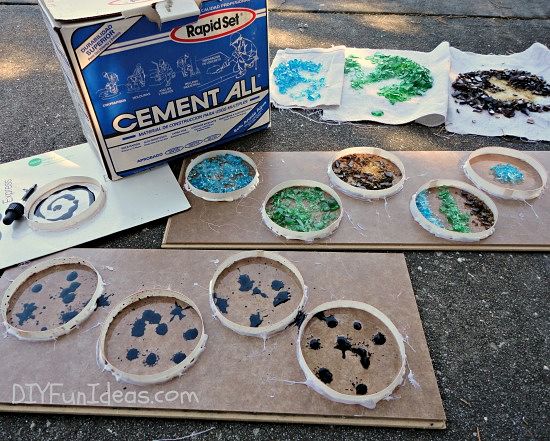 When it comes to my concrete projects, Rapid Set® is my fave! Why? Because it's super easy to use. Just add water, mix, and pour. Plus, Cement All® is crack resistant and it won't shrink when it dries, like other cement products do. Cement All® is rock solid in one hour, so my impatient self doesn't have to wait the 24 hours that other cement/concrete products take to cure. It's also more environmentally friendly than conventional portland cement concrete with a 65% lower carbon footprint. And it's 3x stronger too. So I always use Cement All® for my decorative concrete projects and casting, but its also great for concrete repairs, home improvement projects, and remodels. Can't beat that! (BTW, you can find Cement All® at Home Depots across the US & Canada.)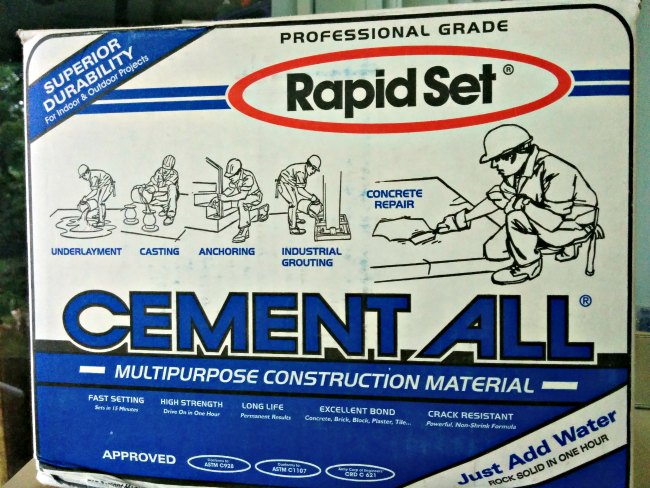 You can learn more about Rapid Set® Cement All® HERE.
– Mix your Cement All® with 3 parts Cement All® and 1 part water.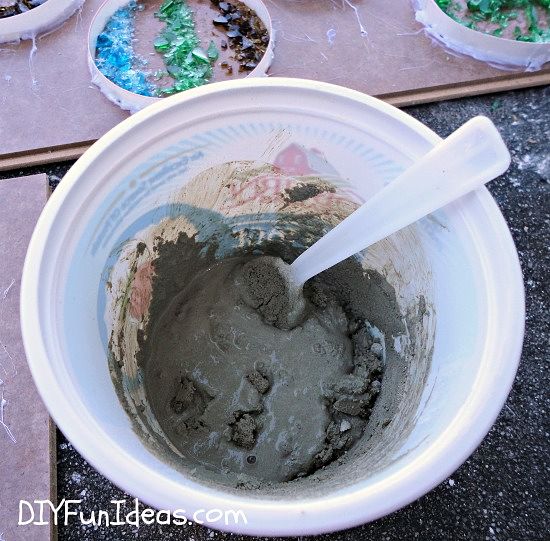 I added just a tiny bit more water so it was sort of a thick peanut butter consistency. The more water you add, though, the weaker the cement. So try not to be too flexible with the water.
– Fill your casts with the mixed Cement All®.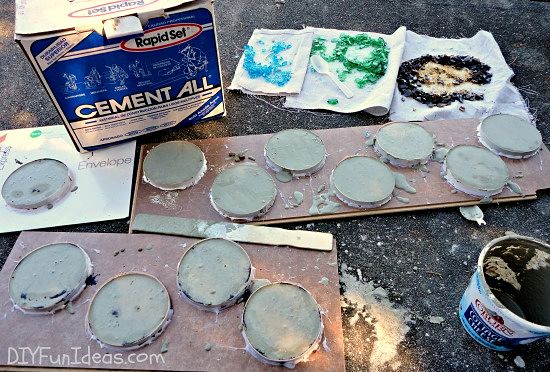 I tried to fill in the empty spaces around the glass first so that the glass didn't move around too much.
– After filling your casts, give each a little spritz of water and then cover with some plastic wrap. Keeping the moisture in helps the curing process.
– You can start to unmold your cast after about one hour.
I LOVE that I don't have to wait 24 hours to unmold. Yes, I'm that impatient.
– To unmold, simply peel away the side strips. The coasters will come right up.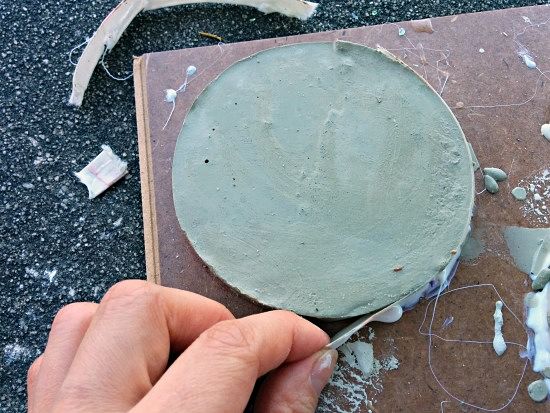 – Flip over your coasters and check out how gorgeous they are!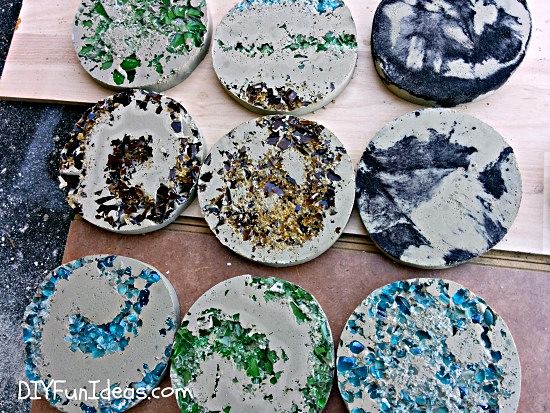 Since the glass was piled into my casts, only the glass adjacent to the cement adhered. This gave the coasters a really cool inset geode-like effect. And my tie-dye coasters came out pretty cool too!
The one thing I found with the crushed glass though was that some of the sharp edges were exposed which was a bit of an ouch hazard.
So I thought I'd try filling in the area around the glass with resin. I hadn't used resin before so I was pretty excited to try it, and a little nervous — nervous because I didn't want to screw up my pretty new coasters.
I found the resin at Hobby Lobby, but it's also available at Michael's. Both stores have a weekly 40% off coupon, so don't forget to pull up the coupon on your mobile phone and show it at the register.
– Mix your resin. The resin comes in two parts that must be mixed together in equal amounts. The resin I used came with tiny measuring cups which were very helpful. I used a total of about 35mL of resin.
There are two things you want to do when mixing your resin: 1) measure as precisely as possible, and 2) mix until there are no swirls visible. Both of these will ensure your resin dries well and is not left tacky.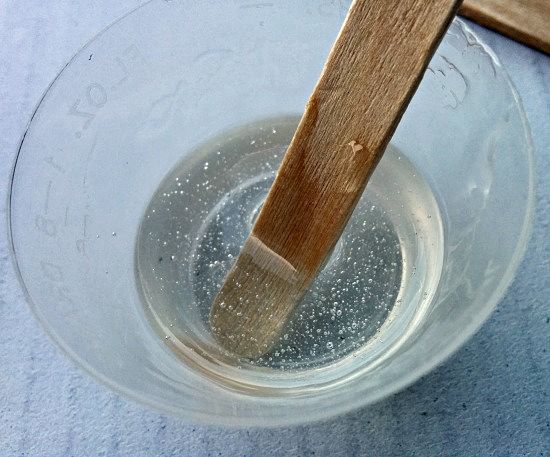 The resin will be full of air bubbles after mixing. If you let it sit for a few minutes, a lot of the bubbles will start to rise to the top. You can then scoop them to the side and crush the bubbles.
– Before adding resin to your coasters, wrap tape around the entire edge of each coaster. This will prevent resin from running down the sides.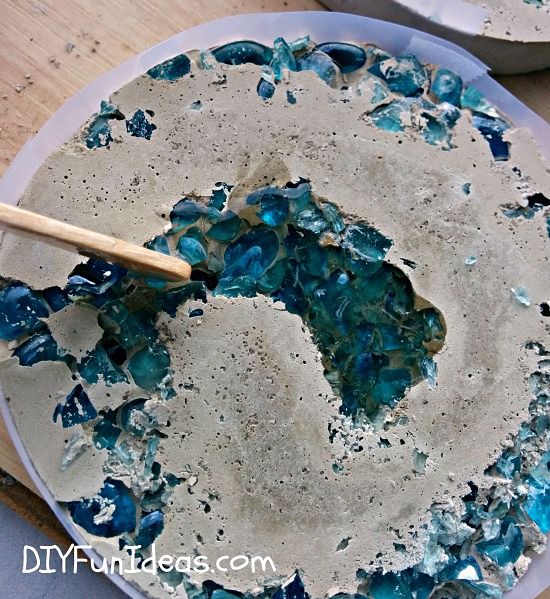 – Fill the glassed area of your coasters with the resin. You can pour the resin on, but for more precise placement, I chose to drip the resin from my mixing stick onto the glassed areas.
– Use your mixing stick to spread the resin as necessary.
– If there are still visible air bubbles in your resin, running a lighter over the resin (or another gentle heat source) will help bring the bubbles to the top and release.
– Let the resin dry for about 6 hours. (I simply left mine to dry over night.)
– Glue some cork strips or felt to the back of your coasters.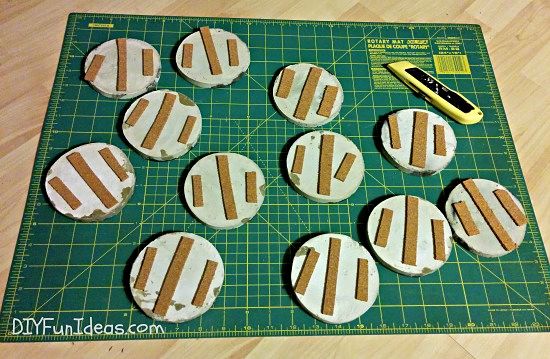 Then turn your gorgeous concrete coasters over and check out how beautiful they are!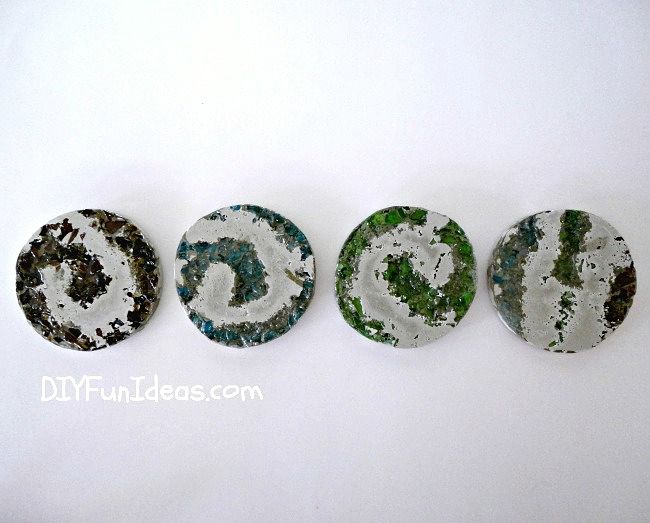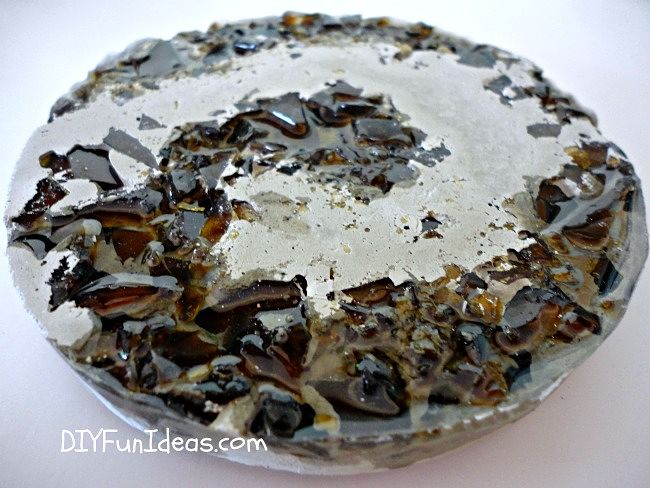 Seriously gorgeous, right!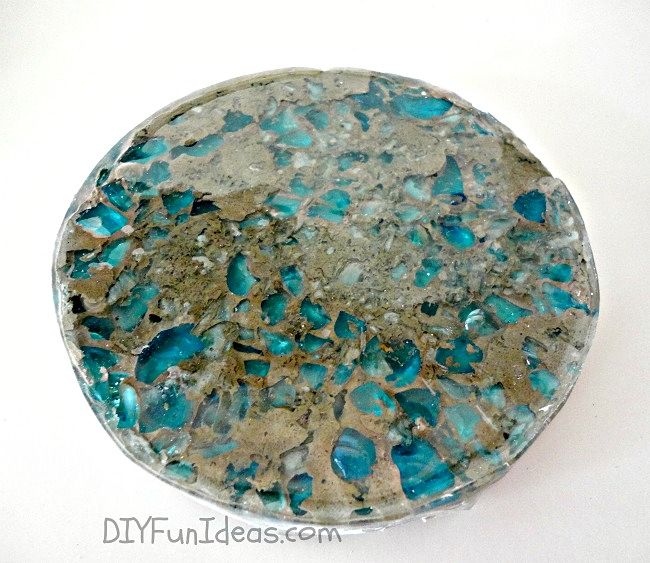 Here are my tie-dyed concrete coasters…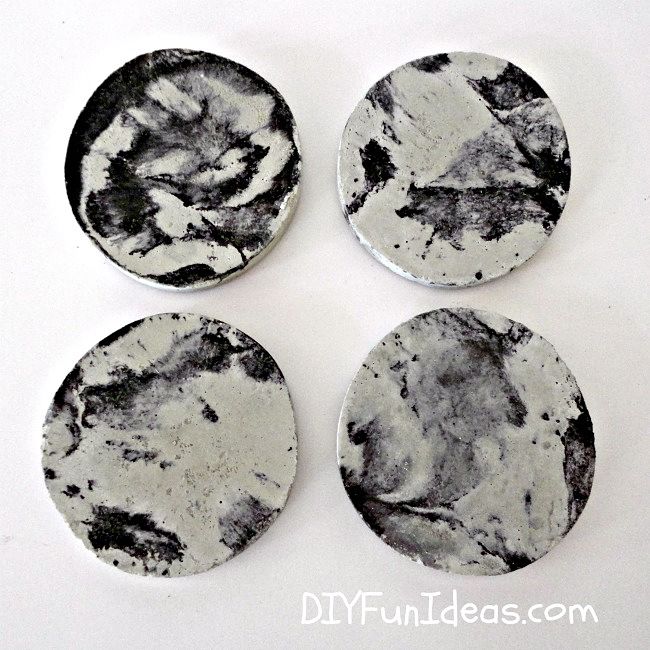 Totally LOVE!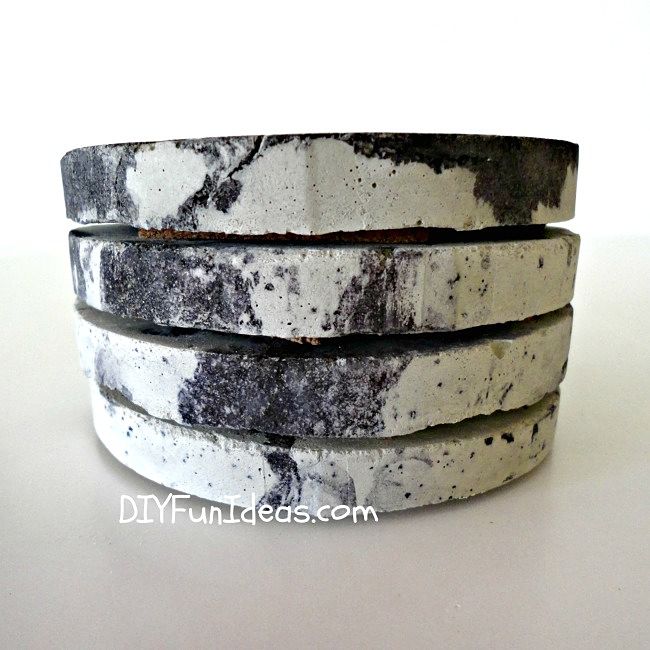 I seriously can't decide which ones I like better, the glass concrete coasters or the tie-dye concrete coasters. Both are very different, but I'm in love with all of them!

I'd like to thank Rapid Set® Cement All® for sponsoring this post and helping bring this fun tutorial to you! Now go make some concrete coasters! Check out more DIY Rapid Set Cement All project on Pinterest HERE!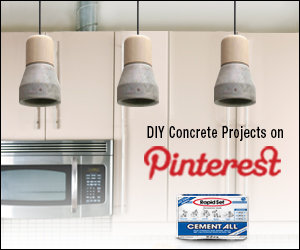 This post contains affiliate links.