If you're new here, please SIGN UP to get fun DIY's sent straight to your inbox! You can also follow me on Pinterest Here!
I am obsessed with concrete and I have quite the list of concrete DIYs envisioned in my head that are on my to-do list. The thing I love about working with concrete is that there are so many things you can make with it. I also love that modern industrial feel of concrete. But if you're not into that raw concrete look that I love so much, you can stain it or paint it or I've even seen silver and gold leaf on concrete. How fun.
This past weekend I got to cross another concrete DIY off my list when I made an uber modern concrete clock using RAPID SET® CEMENT ALL®. I discovered this brand when I was making my DIY Concrete Planter Hands. I had a major fail on my first try with another concrete product (you can read about it here). So I went back to Home Depot and a very helpful sales person recommended using Rapid Set®.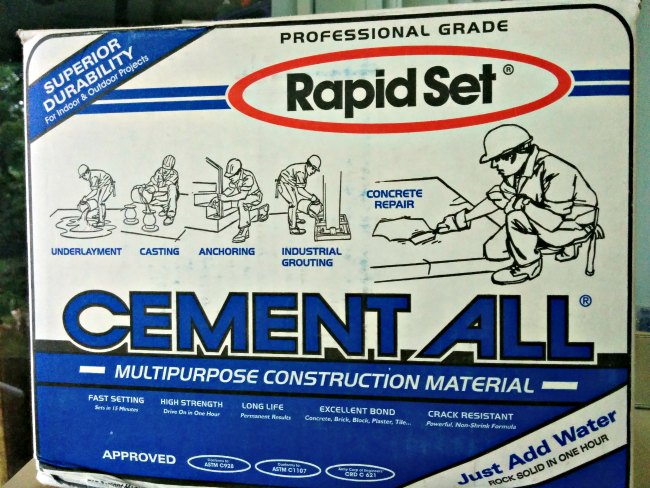 That was the beginning of my Rapid Set® Cement All® love affair. I particularly love that it's super easy to use: just add water, mix, and you're good to go. It's crack resistant and non-shrink so it's long lasting, durable, and your DIYs will stay perdy for a long time. It's rock solid in one hour. Yes, you read that right: one hour. So no more waiting 24 hours to cure. It's also a more environmentally friendly cement than conventional portland cement concrete with a 65% lower carbon footprint and it's 3x stronger too. Plus, it's not only great for decorative concrete projects and casting, but its also great for concrete repairs, home improvement projects, and remodels! To me Rapid Set seriously blows away the competition.
So I had this concrete clock idea in my head for some time. At first I was planning on using an old baking pan as my cast. Then I came across this thing in mom's garage…
What you're looking at is the back of an old broken clock that had seen way better days. It was the perfect size though for my project: 17″ long by 7.5″ wide.  I really love giving new purpose to old things so I was pretty excited to have found this. …Plus, I wouldn't have to ruin one of mom's baking pans.  :-)
To prepare this broken piece to be used as my cast, I first ripped off the back and removed the old, broken clock mechanism
.
I wanted my new clock to have an indented face. So to create that I used the bottom of an ice cream container. Yes, I had to eat the entire 1/2 gallon of triple chocolate ice cream just so I could make this project…. oh, the hardships of being a DIYer!
I used a utility knife to cut out the bottom of the container.
To turn the old wood clock into my cast, I then glued the bottom of the ice cream container to the inside of the old clock. There were ridges on the inner sides of the old piece, so I taped over the ridges so the sides of my new clock would be smooth. Then I ran a bead of caulk  along the bottom corner joints (and smoothed with my finger) so that no cement would seep into the joints.
I also placed a piece of tape over the old clock mechanism hole.
To create an opening for my new clock mechanism, I punched a hole in the middle of the glued down ice cream container bottom and stuck a straw through it to keep the hole open while the cement dried.
Next, I mixed water into the cement according to the instructions (I added a little extra water so it would be easier to pour) and pour into your cast. I used enough to make my clock about one inch thick.
Make sure to where a mask over your nose and mouth so you don't breath in any of the cement dust.
Once the cement was poured, I sprayed some water onto the exposed surface (which will be the back of the clock) for curing.
Note that less water mixed into the cement equals a stronger cement when dried. But since I've used Rapid Set® Cement All® before, I felt comfortable adding the extra water for this purpose because I've learned how rock solid this cement gets when dry. I don't even think my new clock would break if I were to throw it on the ground. It's that tough.
I waited a little over an hour for the cement to dry and then used a screw driver to pry the wood cast apart.
Here is the front of the clock…
I gave the front surface a light sanding with one of my Dremels. The bottom of the clock was a little uneven, so I sanded that down too.
You can easily sand by hand also with a heavy grit sand paper. I'd recommend 60-80 grit.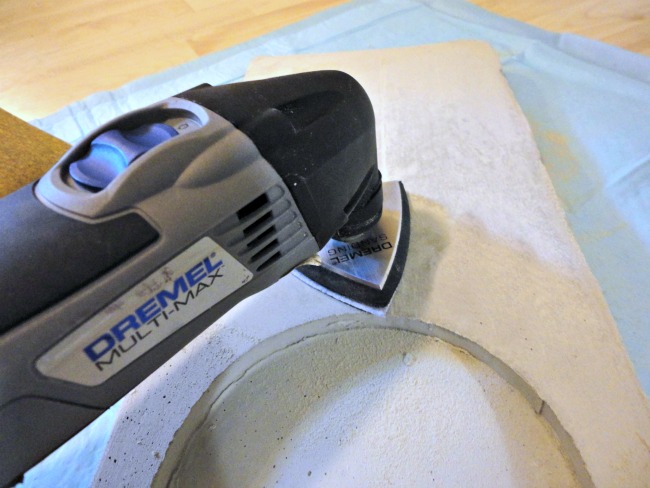 Next, I placed the new clock mechanism
 through the hole from the back and screwed the hands on in front.
And here is the finished clock…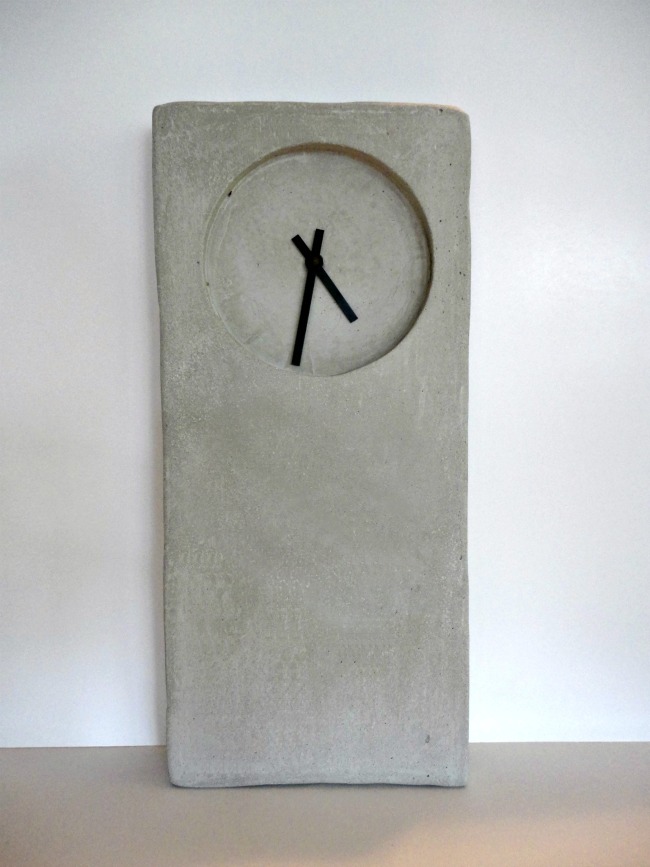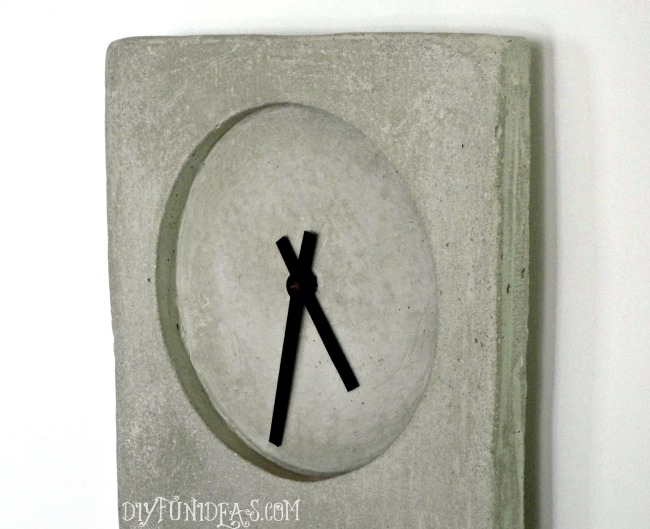 There you have it; easy DIY modern industrial concrete clock made with RAPID SET® CEMENT ALL®.
RAPID SET® CEMENT ALL® is available at Home Depots across the U.S. and Canada.
[Disclosure: This post is sponsored by RAPID SET® CEMENT ALL®. I have used Cement All numerous times prior to this sponsorship simply because I prefer the product. Thus all opinions are my own.]

Cheers my friends!
Jenise
This post linked to some of these totally fabulous blogs and here.