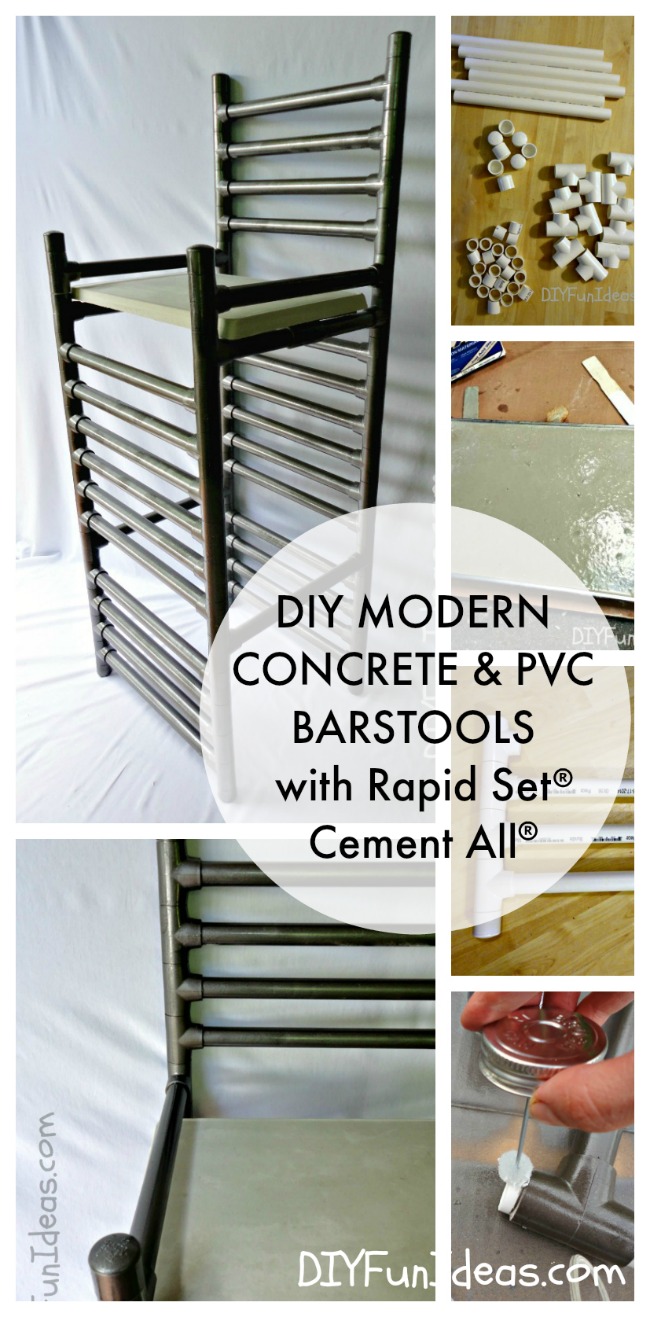 If you're new here, please SIGN UP to get fun DIY's sent straight to your inbox! You can also follow me on Pinterest Here!
I continue to expand my concrete/cement DIY repertoire. I know I've told you in the past how much I love working with cement, particularly working with RAPID SET® CEMENT ALL®. In my eyes, no other concrete/cement product compares. It is super easy to use. Just add water, mix, and pour. Cement All® is crack resistant so it will continue to look good and last for a long time. Plus, it won't shrink when it dries, like a lot of other cement products do. Cement All® is rock solid in one hour, whereas other cement/concrete that takes 24 hours to cure. It's also more environmentally friendly than conventional portland cement concrete with a 65% lower carbon footprint. And it's 3x stronger too. Plus, there are so many uses for it. I love using Cement All® for my decorative concrete projects and casting, but its also great for concrete repairs, home improvement projects, and remodels!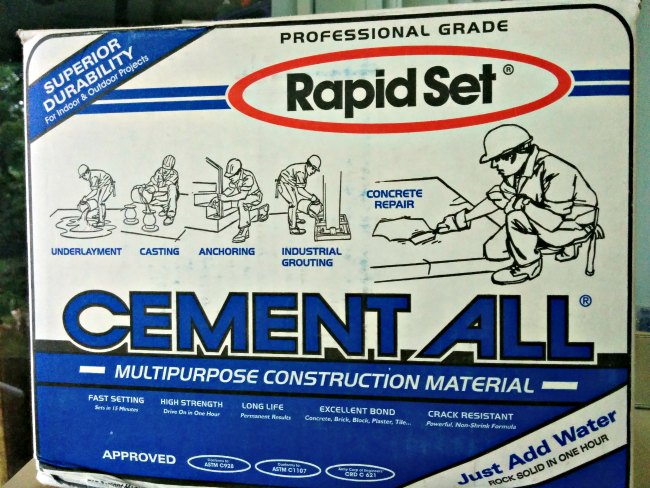 Today, I'm using Cement All® to make totally fabulous modern industrial bar stools. And I've added an additional element to complement that modern industrial look of concrete. It's PVC!
I initially considered using galvanized metal industrial pipe for the bar stool structure. But when I went to the store and felt how heavy the pipe was and how expensive it would be for the amount of pipe needed, I started thinking about other options. I do love the look of galvanized pipe and I am sure I will incorporate it into a future project, but for this project I thought PVC would be really cool.
Here are the "ingredients" for each bar stool:
– 62 3/4″ PVC Tee Fitting

– 8 3/4″ PVC caps

– 4 10-foot long 3/4″ PVC pipes cut into:
64 1-inch long pieces
25 14-inch long pieces
6  12.5-inch long pieces
(Notice the crossed out pieces in the above picture. Before starting the structure, I had a basic idea of what I wanted my bar stools to look like, but I had to play around with the design before getting it just right. I had purchased the elbows, but didn't end up using them.)
– 2 3/4″ metal pipe straps
 and 4 nuts & bolts to fit
– PVC cement

– Hammered Bronze Metallic Spray Paint

– 10″ x 16″  1/4-inch thick plywood
– 11″ x 17″ x 1″ Baking Pan

– Epoxy
or similar
– Polyurethane
 (or Polycrylic
)
– WD-40 Lubricant
 or similar (I used a generic brand from the Dollar Store)
– Rapid Set® Cement All®
– 3/4″ wood dowels
 cut into:
Two 46″long pieces
Two 36″ long pieces
Two 13″ long pieces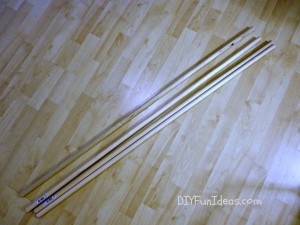 Here's how the PVC is put together…
For the legs, the 1″ PVC pieces go between every tee fitting and then also on the top and bottom so that the caps can be attached.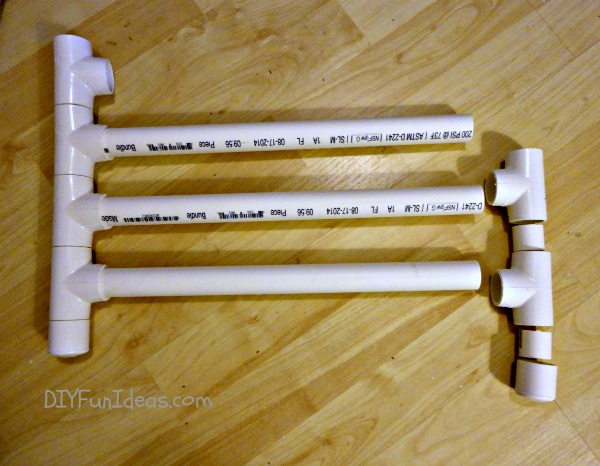 The two front legs are made up of 13 tee fittings each. The two back legs are made up of 17 tee fittings each. The tops and bottoms are capped and all pieces are connected with the 1″ PVC pieces.
Here's how to set it up:
– The first four horizontal pieces (from the bottom up) are fit from side to side and fit right into the tee fittings.
– The 5th PVC piece goes front to back (simply twist the tee fitting perpendicular to the first four).
– Horizontal pieces 6 through 11 again go side to side.
– 12 and 13 are front to back (there are some additional instructions for #12 below).
– 14 through 15 are side to side.
– Use PVC cement (following the product instruction) in every joint to attach and stabilize the structure.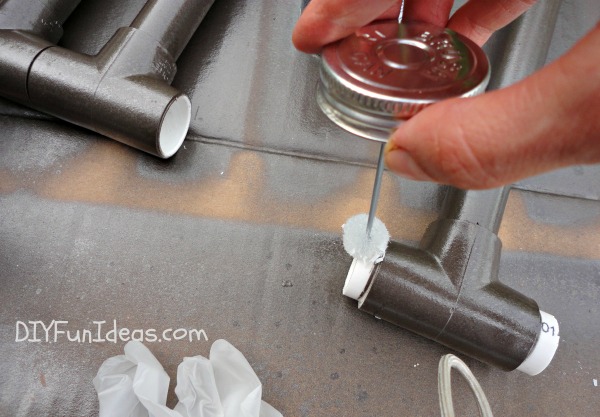 The PVC cement comes in a little can with a brush attached to the lid. Simply apply the cement to the adjoining pieces and then fit them together. The stuff has serious fumes, so work in a ventilated area.
Because I was fooling around with the design as I went, I actually finished the structure first, then went back and cemented the pieces together once I was satisfied with the final design.
Before capping the tops of the PVC structure, slide a 36″ dowel all the way through each front leg. This will help give additional stability to the structure. For the back legs, slide the 46″ wood dowel through each leg and then cement the caps on.
I spray painted my bar stool when the structure was only partially put together. I found that the pieces that were spray painted before putting together were a little harder to insert into the tee fittings because of the layer of paint on the ends. So I recommend painting after the structure is complete.
You can paint any color. I used a metallic hammered bronze spray paint. Once dry, it looks metallic, but I don't think it looks hammered. But I still really like it.
Now, let's move on to the cement seat. You won't believe how ridiculously fast and easy this part is. To create the seat, I used a 11″ x 17″ x 1″ baking pan. I needed something that I could use multiple times because I plan on making several more bar stools. The baking pan turned out to be the perfect solution.
Before adding the cement to my pan, I sprayed the pan with some WD40 to reduce adhesion to the pan.
Simply mix your Cement All® with water according to the instructions. The instructions call for three parts Cement All® and one part water. I was a little more generous with the water because I wanted a more pourable medium.
I used approximately five 16-oz scoops of the Cement All®.
Make sure to wear a dust mask because you don't want to be inhaling cement dust.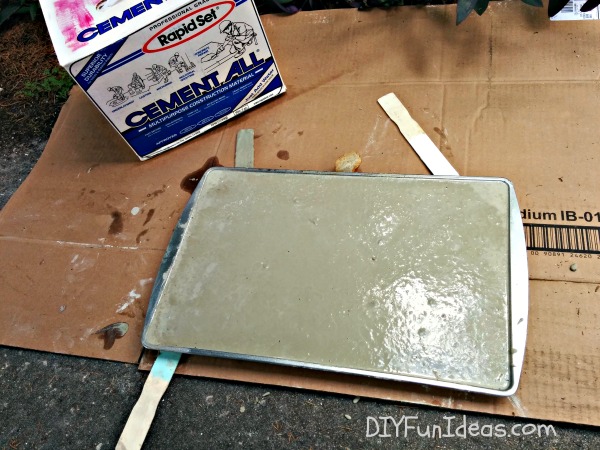 Pour your mixed Cement All® into your baking pan and heat to… okay, just kidding. Just pour your Cement All® into your pan. Make sure your work space is level. Mine wasn't, which I could see after pouring the cement. So I used some paint stick to level it out.
This whole cement making step took me all of about 10 minutes. So easy.
Your Cement All® will be dry in just about one hour.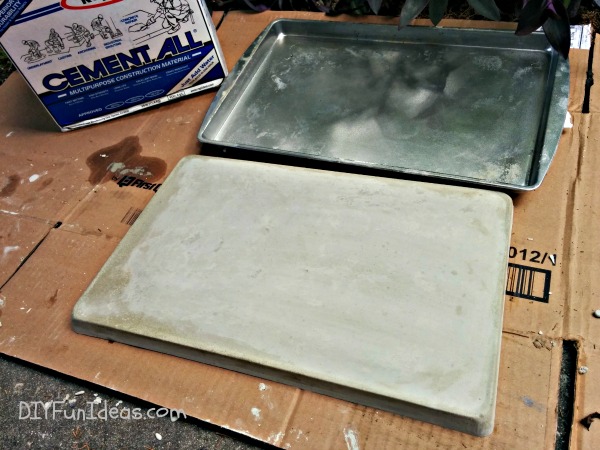 Now, here is the coolest part. I simply flipped over my baking pan (gently) and my new concrete seat slid right out easier than any cake ever came out of one of my baking pans. (By the way, please don't use your baking pan for baking again. I'm guessing it's probably not a good idea.)
My new seat fit perfectly, but I ended up adding an additional front to back bar above the concrete piece and then an additional piece in the back…
Yes, that's cat food in the lower left corner, but Booboo was kind of camera shy today.
Now, here's how to secure your concrete seat to the PVC….
I went back and cut PVC pieces #12 in half and added a tee fitting to the center where I cut. I inserted the 13″ dowel pieces into both sides then fit both halves back together and adhered with the PVC cement. Then I took my thin piece of plywood and attached that to the cross bar using two metal 3/4″ pipe straps with four nuts and bolts. I attached my concrete seat to the plywood using epoxy glue.
Finally, I spray painted the added PVC pieces and then painted a coat of polyurethane over the entire spray painted area. And done!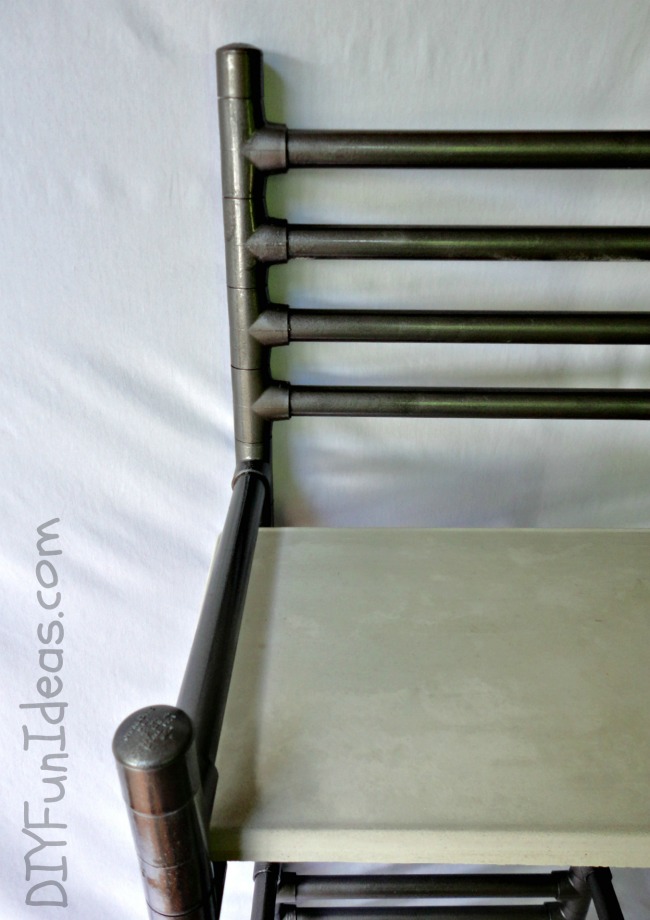 There you have it! DIY Modern Industrial Concrete and PVC Bar Stools made with RAPID SET® CEMENT ALL®.
RAPID SET® CEMENT ALL® is available at Home Depots across the U.S. and Canada.
Are you hooked on concrete yet? Then check out these other fun and easy DIY concrete projects…
DIY CONCRETE PLANTER HANDS FOR SUCCULENTS

With Halloween on the way, these DIY CONCRETE ZOMBIE HANDS are just the thing. I made them using the same technique used for the planter hands.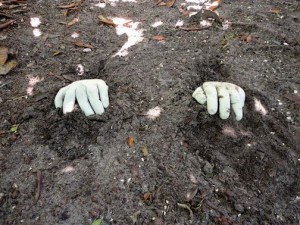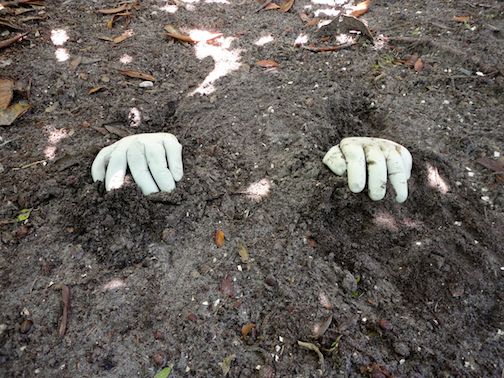 DIY MODERN INDUSTRIAL CONCRETE CLOCK

DIY TALL CONCRETE CANDLE STICKS FOR TEA LIGHTS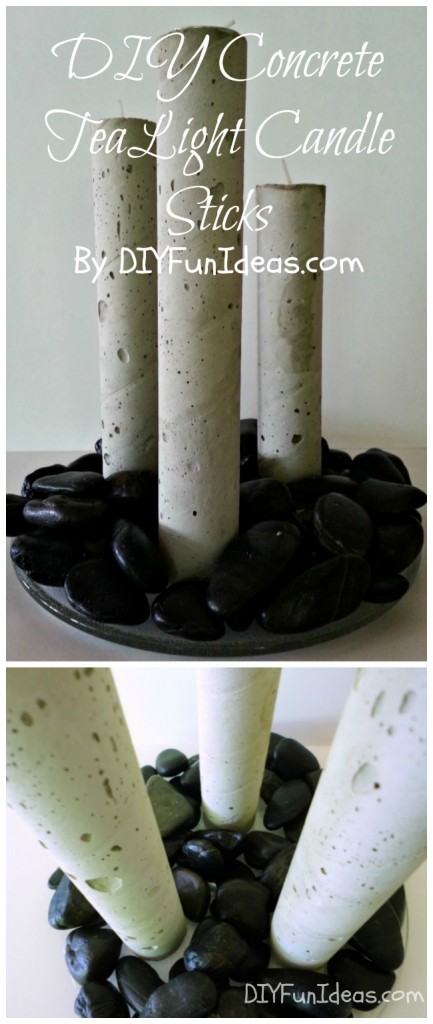 This post linked to some of these totally fabulous blogs and here.
[Disclosure: This post is sponsored by RAPID SET® CEMENT ALL®. I have used Cement All numerous times prior to this sponsorship simply because I prefer the product. All opinions are my own based on my experience with the product. This post also contains affiliate links. Full disclosure available here.]
bch