Do you lose your keys? I do. All the time. The worst is when I'm in a hurry and my keys are M.I.A.
I usually place my keys on the kitchen counter when I get home, but sometimes they don't quite make it there. Sometimes I find them in my purse, or in my bedroom, or on the coffee table. But I have found my keys in some of the strangest places too, like in the refrigerator. Of  course it's never me who's put them there. It's those sneaky little key stealing fairies that sneak around when the lights go out.
Anyway, after my most recent 'where the heck are my keys' episode, I decided it was time to get control of the situation. I had seen some key hanging ideas on Pinterest which inspired my own DIY key hanger picture frame.
But this DIY has a past. It's actually a makeover of a makeover. A while back I took this ugly garage sale frame…

Worked a little magic on it…
And turned it into this chalk board (see tutorial HERE)…
I loved my new chalkboard, and I especially loved how the frame came out with the gold color peaking through the turquoise.
The thing is, I never used it. I thought it would be great for leaving notes or making lists. But in reality, I put it on a shelf and never touched it again. So when I was thinking about what I was going to do for my new key holder, this old frame came to mind. And as it turns out, the size of the frame is ideal for the small wall space next to the front door. So I figured it would be perfect to use for my new key holder.
Next, I got online and found these really cool antique bronze looking skeleton keys and metal key holes.
They were perfect for the vintage feel I was going for.
Next I pulled out my box of craft supplies and mulled over my stash. I pulled out a bunch of different things, laid them out on the floor, decided I didn't like it, put them away, repeated with different stuff. I went through this little process quite a few times until I landed on the combination of burlap, white lace ribbon, and a piece of poster board.
It's funny that after all the combinations of items I tried, it was the simplest combination that worked best. So my lesson here is don't over think it.
I cut a mat from the poster board, hot glued my keys and key holes to the burlap, glued some ribbon on and was done. Here's my new DIY key holder frame…
I bent a few of the keys so I could hang my real keys on them.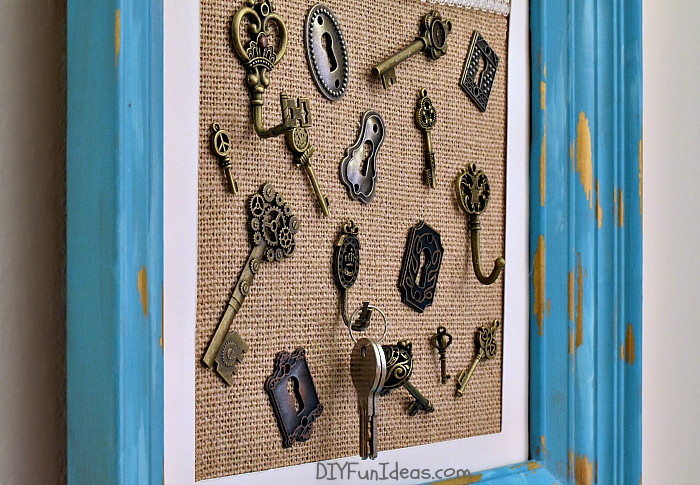 Be careful bending the keys, though. I actually broke one when bending. But I crazy-glued it back together and it definitely won't be breaking again any time soon.
My new DIY key holder frame looks so cute hanging next to the front door. I'm totally loving it!
I looked up a few chalkboard fonts online and found one I liked. Getting the letters perfect on the chalkboard can be a little challenging. After a few messed up tries I ended up using a small ruler to create a light graph with chalk. That made it way easier to get my letters straight and aligned. Then I used a few moist q-tips to erase the lines and any other imperfections.
Now, the next two images are me trying to get creative as I learn to use my first ever DSLR camera. Honestly, I can't tell if I like the blurred out backgrounds or if they just make me dizzy. Perhaps a little of each.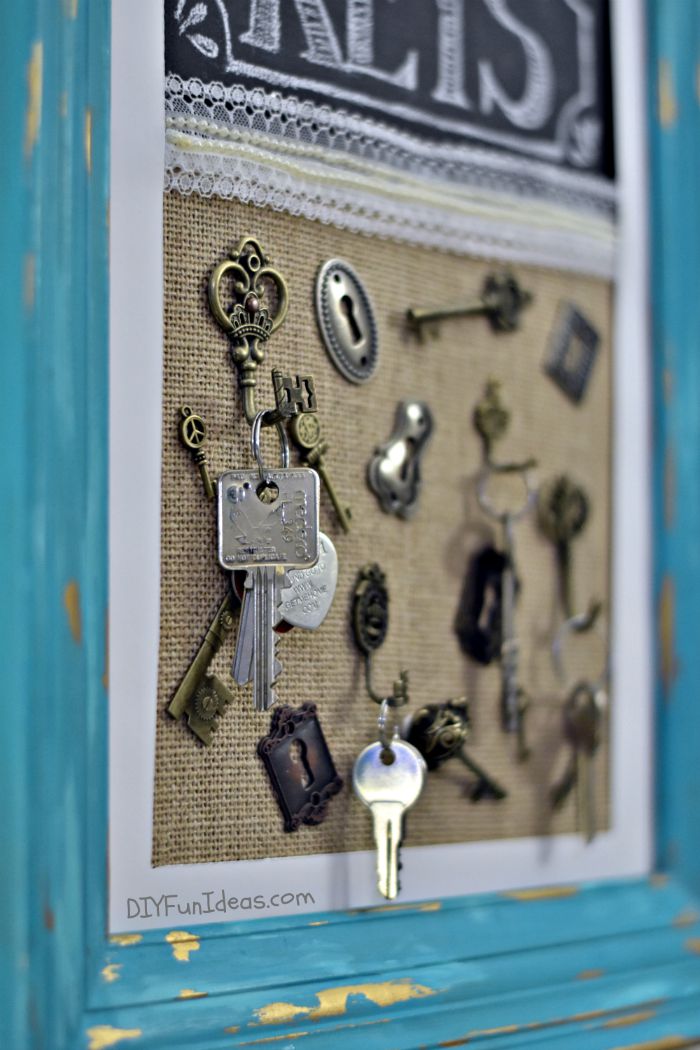 That's it folks! DIY key holder picture frame. Yay!