Hola friends and thanks for stopping by!
Earlier this year, a couple of buddies and I installed this amazing DIY stamped concrete tile on my Mom and Pop's driveway and I promised to write up the tutorial for y'all. Well, it's finally here. But I do have to apologize for taking so long to post. I've gotten numerous emails saying, "girl, where the heck is the tutorial?" Okay, well maybe not exactly in those words, but you know what I mean.
The reason it's taken so long to post is because I've been waiting for the manufacturer of this tiling system to officially launch this brand new product. After all, the tutorial is of no help if you can't access the product, right?
Luckily, it's finally available to the public and let me tell ya that you're going to love it. I mean that. I'm not receiving any kind of commission by sharing this with you. I'm just telling you about my own experience.
My favorite part of the concrete tile system is that it looks just like stamped concrete, but at about 1/3 the cost. Traditional stamped concrete would run you about $10 per square foot, whereas installing the stamped concrete tiles cost around $3-$4 per square foot. Can't beat that. And you don't need any special concrete-making skills, just some grunt labor. (After this project, "grunt labor" is my new name.)
Check out some before and after pictures of homes that have installed these concrete tiles…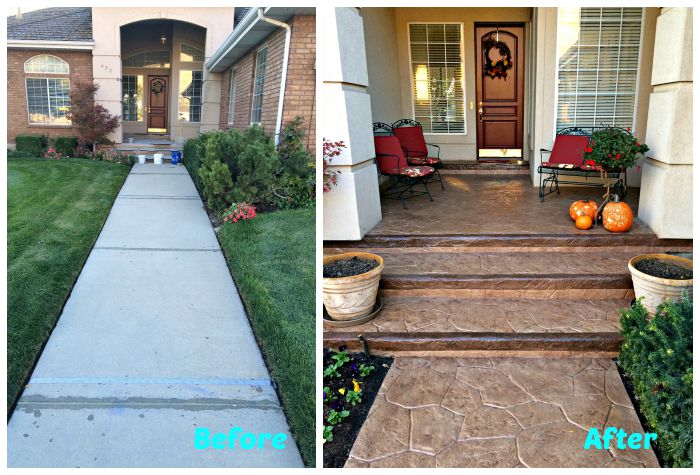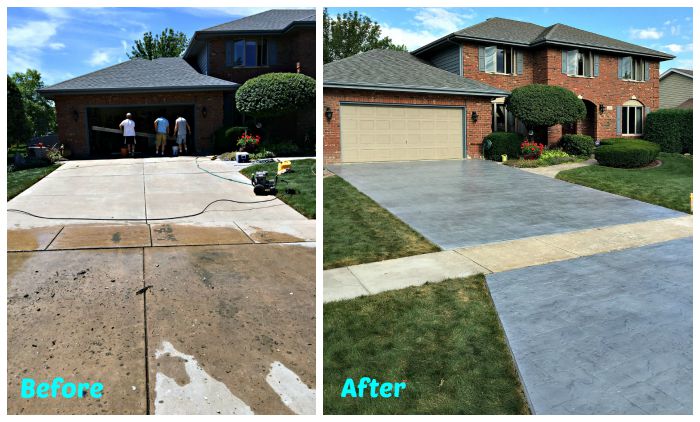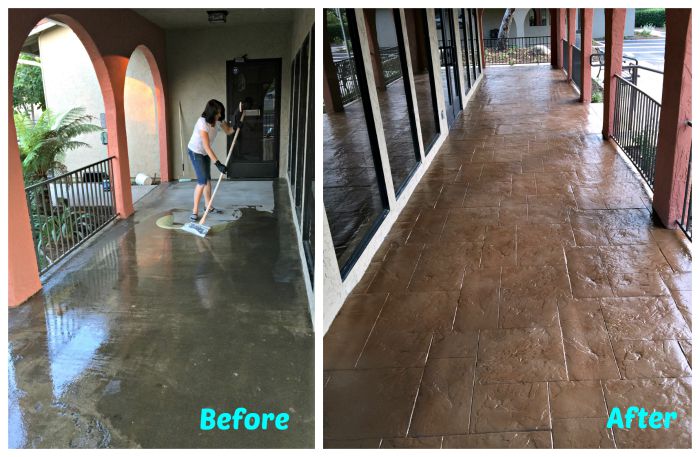 Pretty impressive, huh.
And here's a brief video overview with more photos and info…
Before I get on with the tutotial, let me tell you a little about the man behind the magic. The creator of this concrete tiling system that mimics stamped concrete is Gerry Sadlier, owner of Stone Crete Systems (formally known as Countertop Solutions. You know, the place where I learned how to make marbleized concrete countertops…you can check out that tutorial HERE. And, boy, those countertops sure are perdy!).
Gerry's been in the concrete business for 30 years and is a pioneer who has seriously impacted the world of decorative concrete with his remarkable innovations. He is the inventor of 1/4″ stamped concrete overlay, which revolutionized stamped concrete and is listed by Concrete Decor magazine as one of the 10 milestones in the history of decorative concrete. He is also an inductee into the Decorative Concrete Hall of Fame! Cool, huh. So, what I'm getting at, basically, is the dude knows his stuff. Check out a sampling of some of the amazing work that's been done using his innovative products…
But with all his accomplishments, according to Gerry, his greatest one so far is his beautiful family.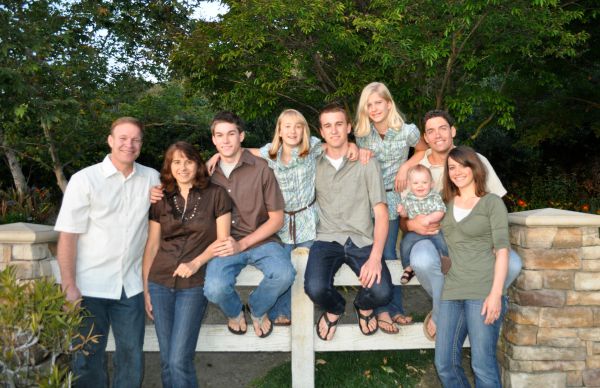 I worked with Gerry and my buddy, Scott Rogers, owner of Stonecrete USA in Tampa, on this project. Scott's been in the concrete biz for many years too, so between the two of them I learned a ton.
To purchase the system, give Gerry a call at 619-820-9894 or email him at [email protected] Or check out his website at stonecretesystems.com (formerly countertopsolutions.net). Your kit comes with reusable molds so you can pour your tiles, StoneCrete's proprietary tile mix, adhesive mix, primer, color powder, and sealer.
The molds come in two forms: one that mimics naturally shaped stone and one that is geometric shaped.
I went with the geometric shape which covers 5 square feet per tile. (The random stone tiles cover 6 square feet per tile.)
Using the StoneCrete tile admix, Scott (aka, grunt labor #2) mixed and poured all our tiles. (Thank you Scott!) When pouring tiles, ensure that your mix is poured into the molds level with the top edges.
He brilliantly rigged up this shelf thingy to set the tiles to dry vertically so they wouldn't take up too much space.
When tiles are dry and hard (in 5-8 hours), you can remove them from the molds.
Scott drove the finished tiles over to my Mom & Pop's place and I unloaded, stacking them in a nice little corner.
You'll need to clean your surface by scrubbing with detergent. We used Simple Green mixed 3:1 with water.
I rented a pressure washer from Home Depot and pressure washed the driveway at 3000 psi using a 15 degree tip to clean and rinse.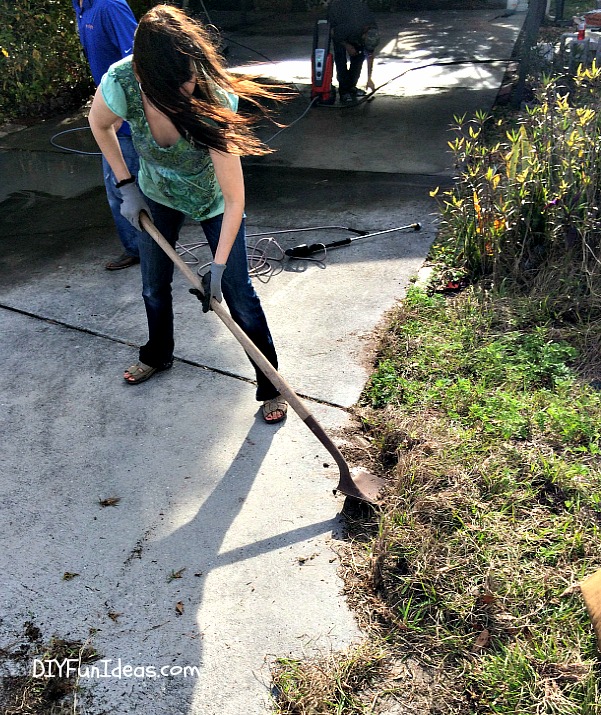 Remove any obstructions from the concrete edges such as grass or plants. (This would have been easier had we kept up with edging the lawn.)
Mix up the primer and 1-1/2 parts play sand. This will be used to fill any cracks and joints in your concrete.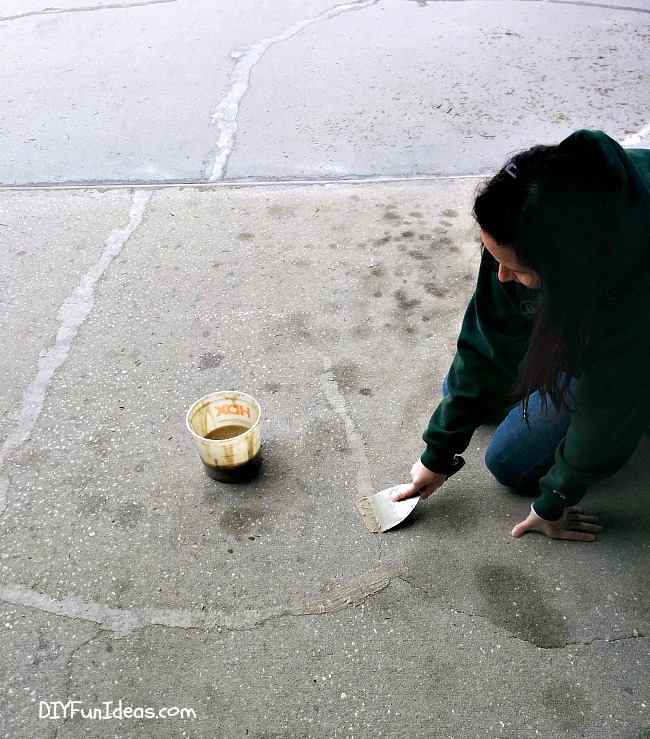 Press the primer and sand mix into the cracks and joints using a putty knife. Scrape up the excess.
Then prime the surface with the primer using a 3/8″ nap paint roller.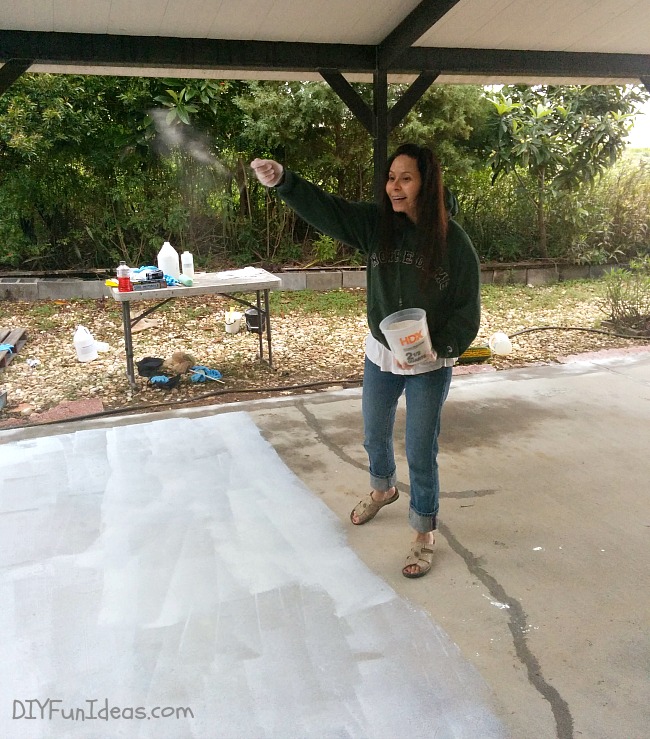 Throw a medium broadcast of #30 silica sand into the wet primer.
When primer dries, mix up the StoneCrete Adhesive Admix.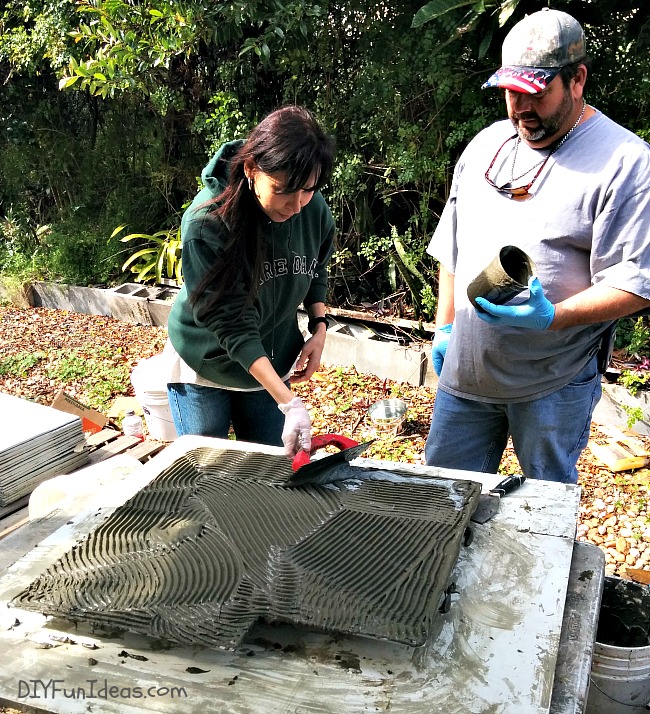 Use a 1/4″ x 3/8″ x 1/4″ notched trowel to apply the adhesive mix to the back of your tiles.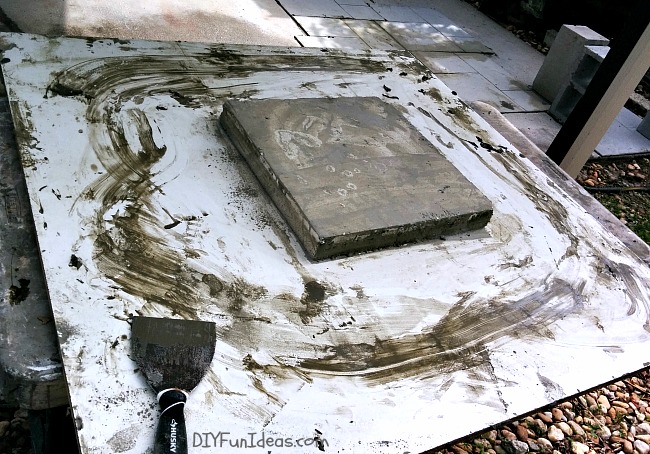 We rigged up this little table contraption to lift the tile off the flat surface to make it easier to apply the adhesive. It's a 4′ x 4′ board with a 1′ x 1′ center piece of 2″ foam (or wood) attached in the middle.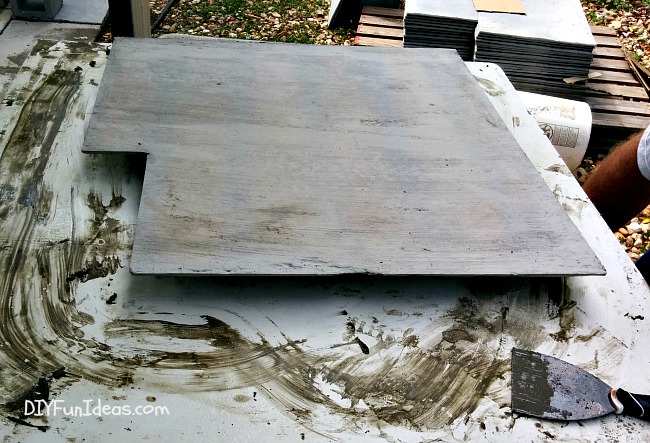 To use it, we laid the tiles upside down on the center piece of foam (or wood) so the tiles are suspended 2″ off the 4′ table below, then spread the adhesive. This helped keep the tile surfaces from getting dirty from the adhesive mix that spills on the table below when you trowel the StoneCrete Adhesive Mix on the back of the tile using your notched trowel.
Once you've got your adhesive on the back of the tiles, lay tiles next to one other. The tiles are set up so that they fit together like a giant puzzle.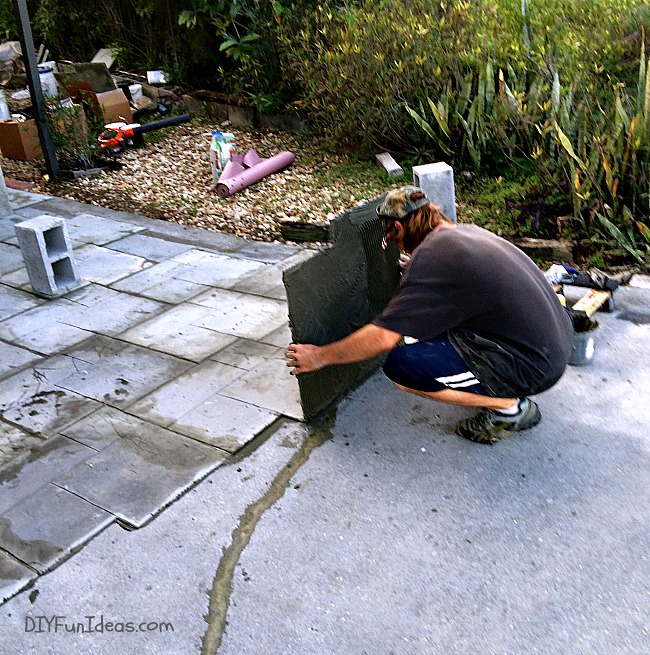 After each tile is laid, stand on them to press the adhesive into the surface.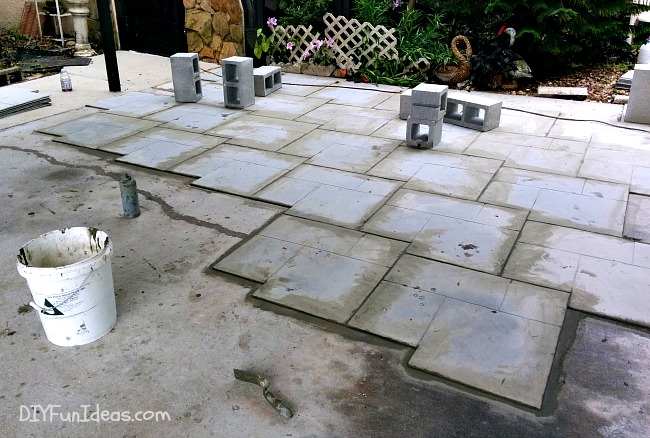 There were some areas where the tiles popped up a bit, so we uses concrete blocks where needed to hold down tile corners that may stick up over uneven areas. Since installing this driveway, Gerry has refined the process a little and he now temporarily screws down the corners to keep everything locked down until the adhesive dries.
When you press the tiles down, some of the adhesive mix will squish up around the edges of each tile. Simply use that as a grout to fill in the seams around each tile.
We filled 1-quart squeeze bottles with adhesive mix to make it easier to fill the seams with more adhesive mix. Lemme tell ya, it made the grouting process so much easier!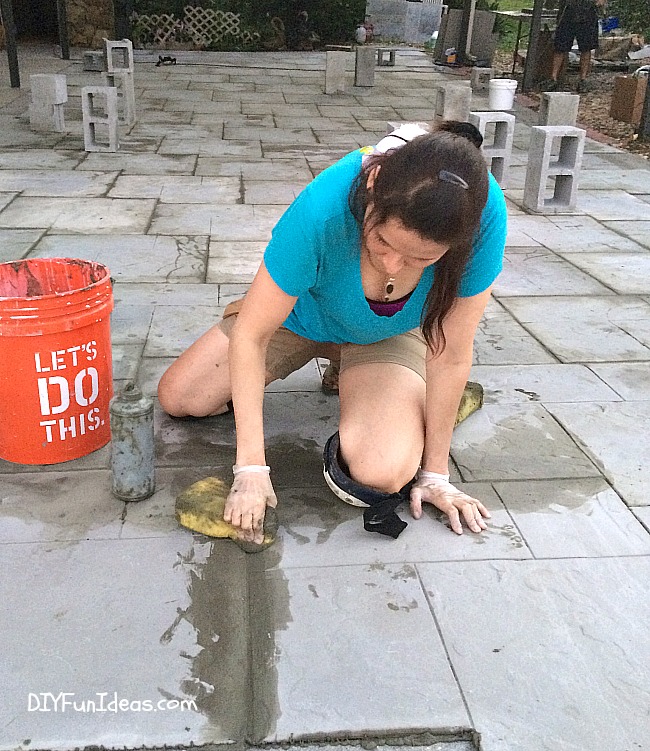 Once you've added additional adhesive mix along the edges, use a grout sponge to press the mix into the seams.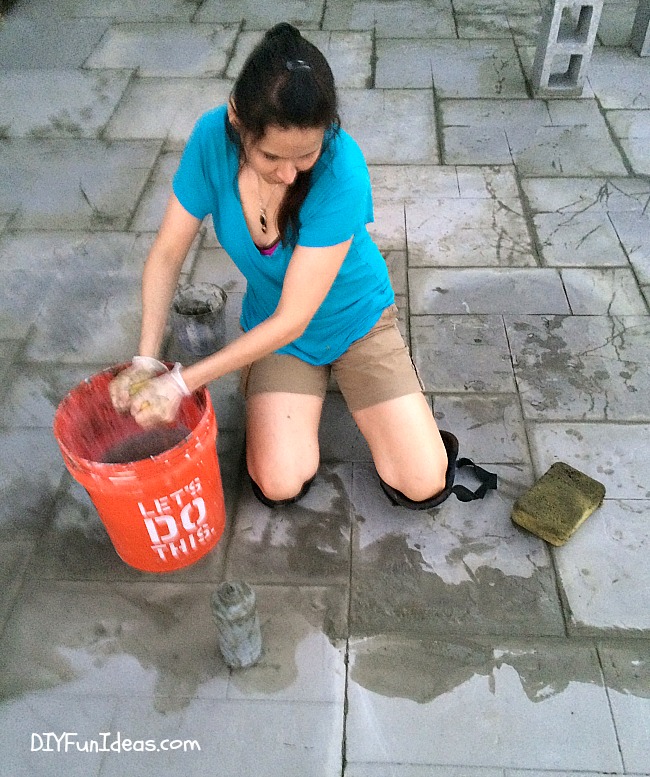 Clean and ring out the sponge often in a bucket of water as you grout the seams.
And clean the excess adhesive mix from the surface. It doesn't have to be perfectly cleaned, just feather it out to zero.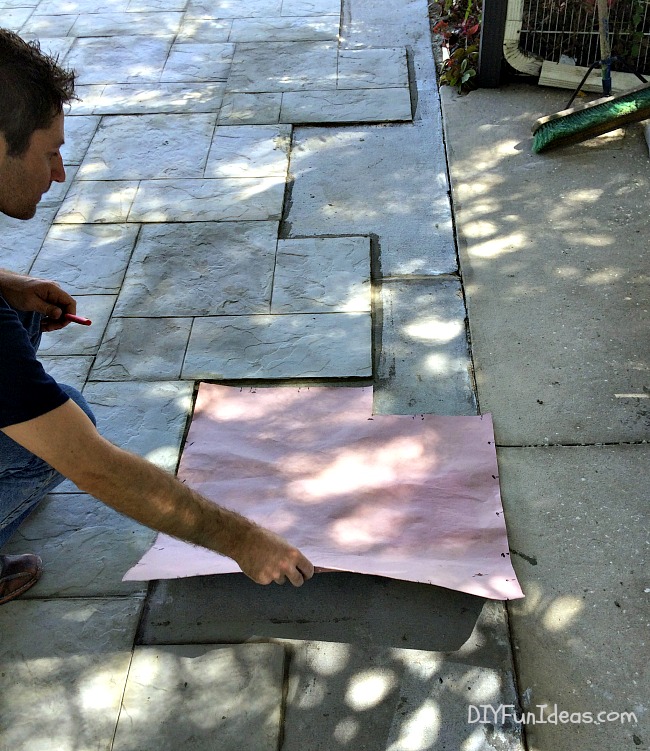 When it came to the edges, we had to cut some tile to fit. To make this easy, we made paper templates the same size as the tiles by laying a tile over the paper and cutting around the edges using a utility knife.
Once you have your template cut out, lay the template as if it were a tile along the unfinished edges and measure where to cut.
Then lay the marked template over a tile with the texture side facing up.
Transfer your marks onto the tile to be cut.
And cut the tile using a 4″ diamond blade saw. This one is made by Rockwell.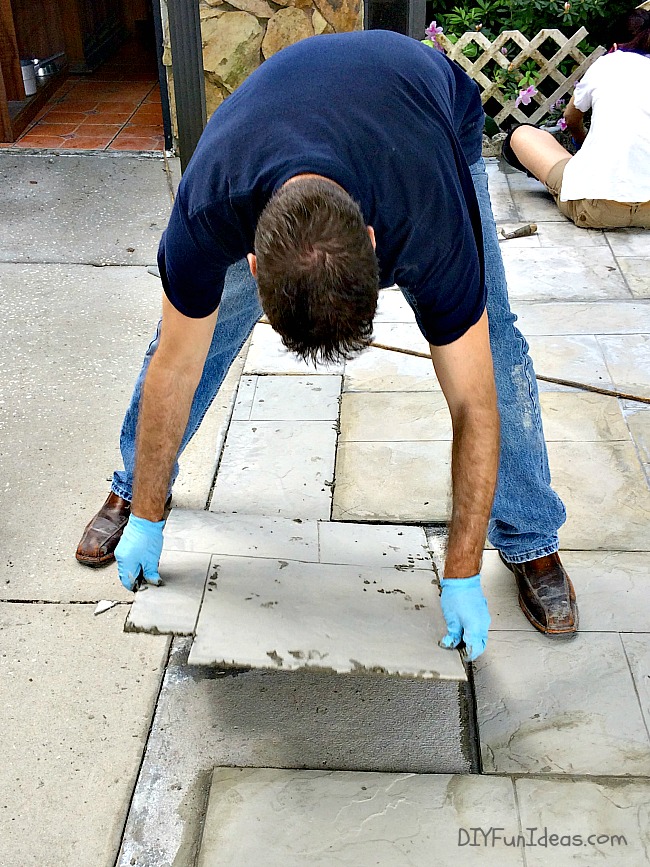 Spread adhesive on the back of the cut tile and fit into place along the edge.
For open edges with no obstructions in the way you can lay a real tile instead of the paper template to mark where to cut.
Keep marking and cutting tiles until all the edges are completed.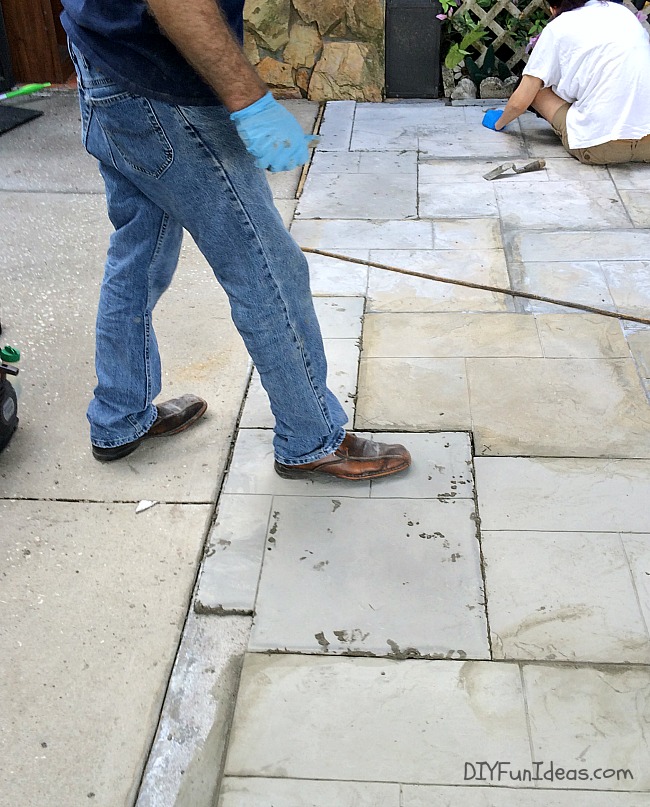 Stand on each tile to press the adhesive into the surface for the best bond.
Once all your tile is laid, use a right angle grinder with a 4″ diamond cup wheel to grind the edges of the tiles so they're gently rounded and not sharp. (Notice the little monster supervising in the upper left corner. Ahh, what would I do without her?)
A concrete rubbing stone can also be used to touch up edges where needed.
This is what your surface will look like at this point….
With a close-up, you'll notice that some of your tiles may have small voids…
If any tiles have damaged areas such as pinholes or broken corners, use the adhesive admix and a grout sponge to touch them up.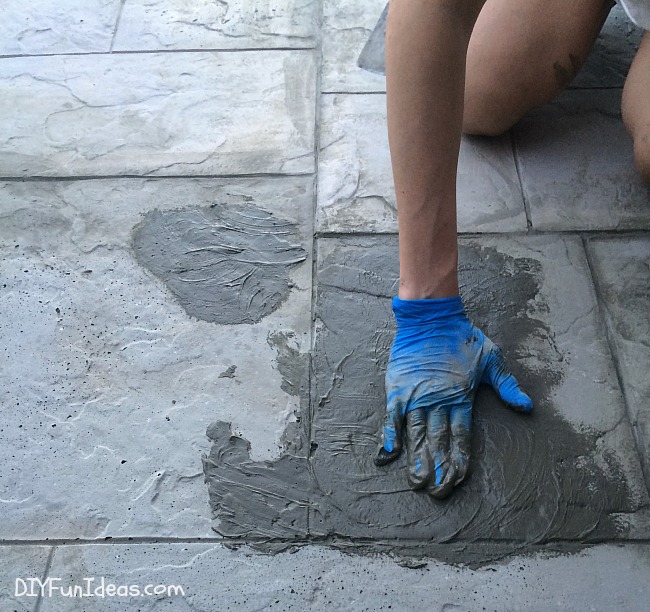 Touch up any damaged areas on the surface of the tiles with adhesive mix and a grout sponge. Just press the grout onto the surface and wipe with your grout sponge. This will fill in any voids.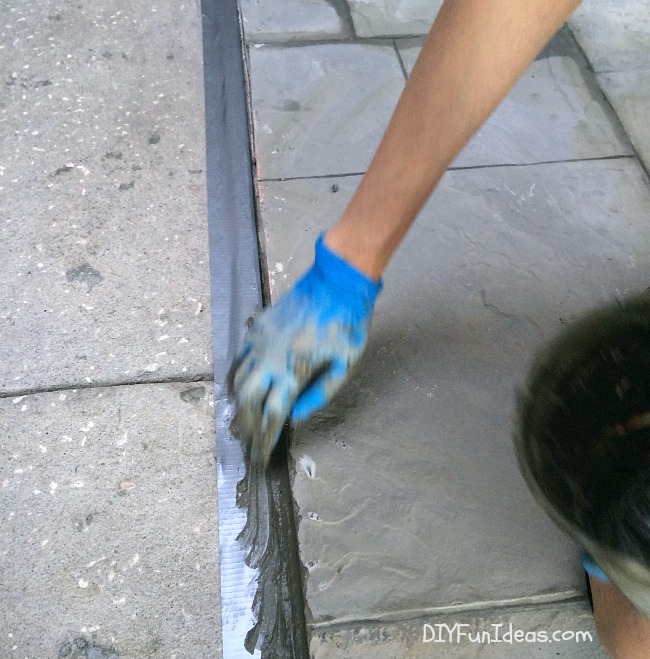 Rub Adhesive Admix along the edges of the outside tiles to cover any gaps between the tile and the surface. Sponge the excess clean.
Notice we laid tape along the edge so as not to get the mix onto the non-tiled surface.
Now it's time to apply color.
Before coloring with Roll-Top, blow off any dirt or debris.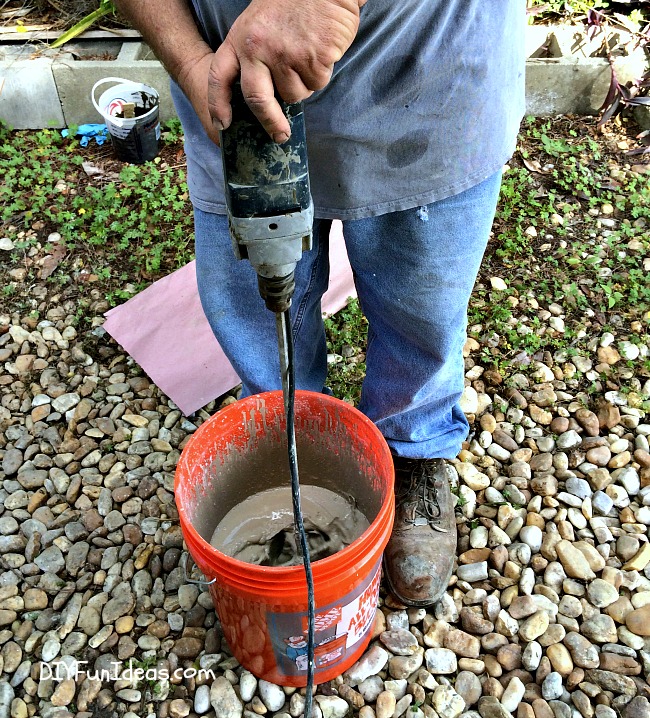 Mix Roll-Top Cement in a five gallon bucket in the color desired.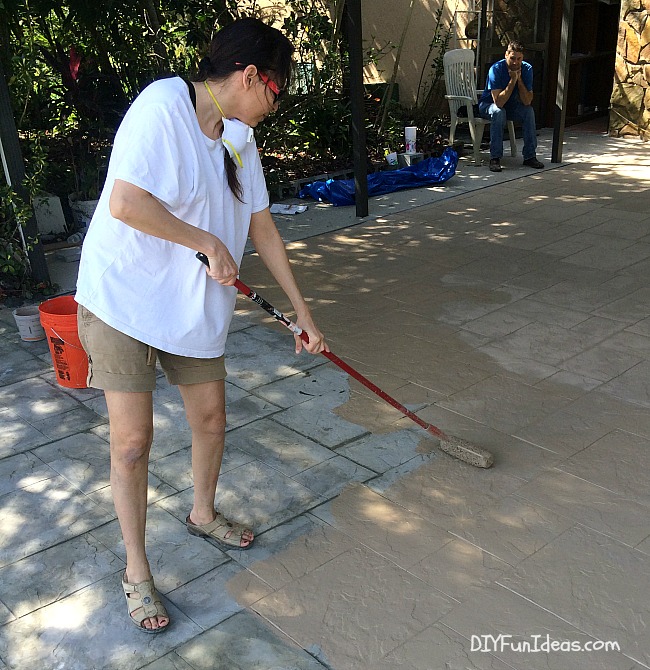 Apply Roll-Top Cement using a 1-1/4″ nap paint roller. Apply in a thin, even coat. (Notice the lazy dude in the corner sitting there while I do all the work. Lol.)
(Okay, he's redeemed himself.) Roll-Top will dry in 30 to 60 minutes. Wait 2 hours minimum before spraying antique color.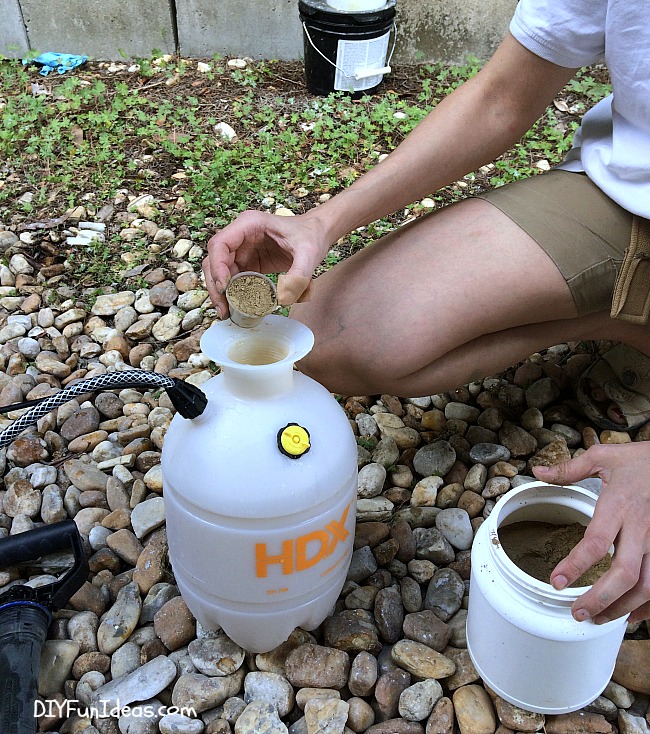 To create more dimension on the tile surfaces, we added an "antiquing" color and applied it  over the Roll-Top color.
To prep the antiquing color, add 4-6 oz of Color Antique Powder to 1 gallon of water and shake well.
Use a small garden sprayer to spray the antique powder and water solution over the surface, letting the fluid puddle in the low areas of the texture.
Spray one or more colors of antiquing after each one dries to get the antiqued look desired.
Once the antiquing color is dry, you can apply sealer. To prep the sealer, mix StoneSeal in a 1:1 ratio with acetone and pour into an acetone resistant pump-up sprayer.
Apply the 1:1 ratio StoneSeal/acetone mixture.
After applying the mixture, to create a slip resistant surface, lightly throw slip guard granules onto the first coat.
Wait for the first coat to dry, then apply a second coat of StoneSeal/acetone mixture.
Here's a close-up after the second coat was applied and still wet…
So let's take a look at the before….
And then the after…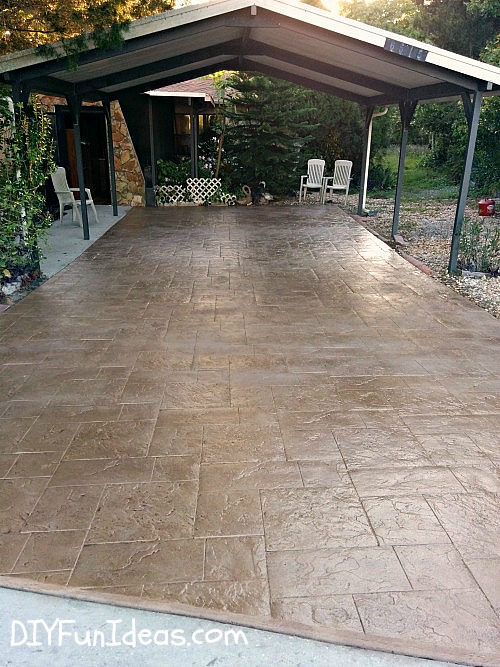 What a difference!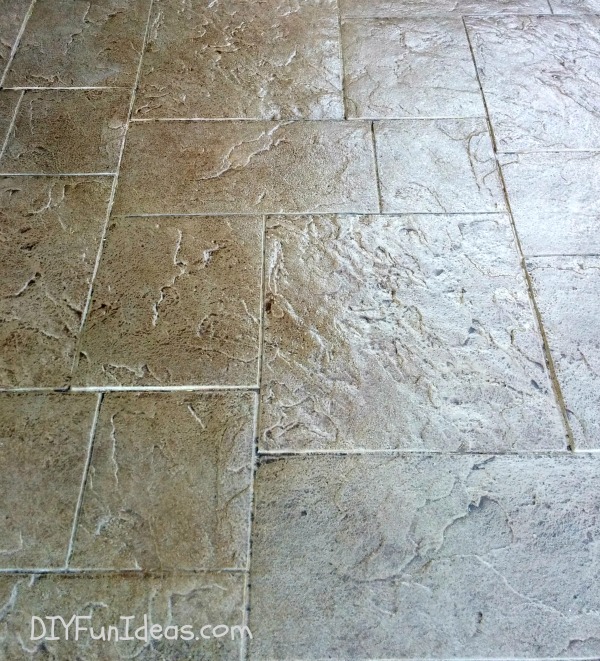 There you have it!
I wouldn't call this a difficult job by any means, but it is labor intensive. It took us about five afternoons to install about 700 square feet of driveway. So a job this size isn't a weekend job. But if you're doing a small walkway or patio, that could probably be completed in a weekend if you pour your tiles ahead of time.
If you're interested in learning more about StoneCrete's stamped concrete tile system, visit http://stonecretesystems.com/ or give Gerry Sadlier a call at 619-820-9894 and he can ship your kit out to you.
There ya have it, DIY stamped concrete tile tutorial
Next, learn how to make gorgeous marbleized concrete countertops!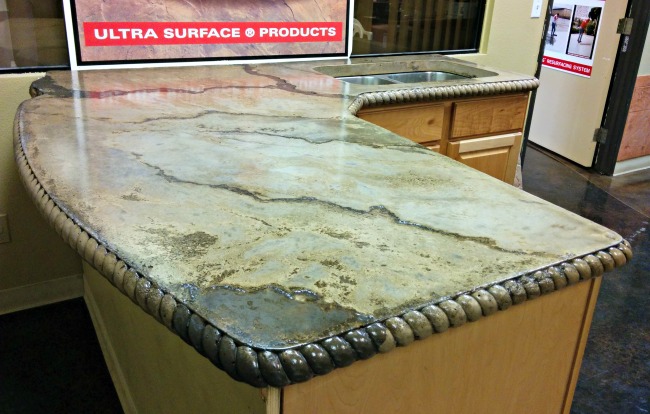 And more freakin' amazing DIY concrete projects…

And if you're scratching your head trying to come up with some fun holiday gifts for your friends and family, then check out this year's Ultimate Cool Holiday Gift Guide. There's something for everyone!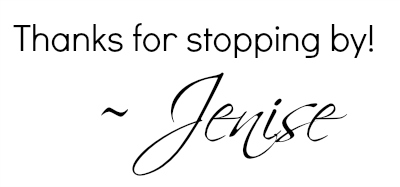 This post linked to some of these totally fabulous blogs and Remodelaholic.