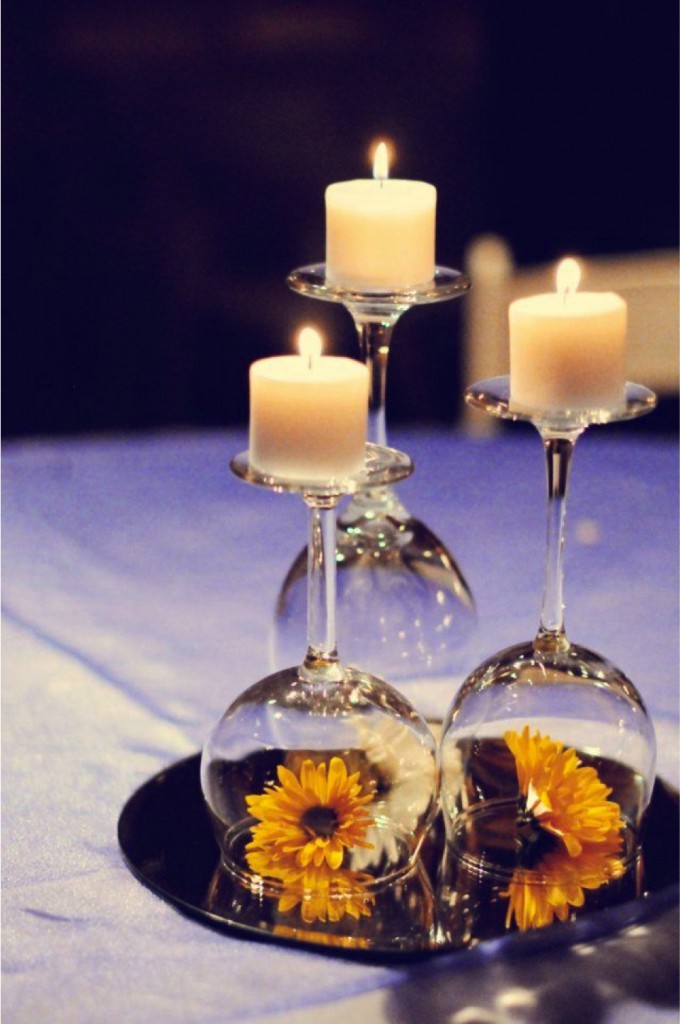 If this is your first visit, please 'Like' us on facebook and SHARE THIS PAGE with your fb friends so you don't miss out on daily DIY ideas & inspirations!

If you're looking for a beautiful center piece for the next time you entertain, here is the perfect idea. The simplicity of this design is part of it's beauty and it won't cost you much at all. As a matter of fact, if you have wine glasses
, candles
, a mirror
, and a few flowers then it won't cost you anything. I've got everything but the fresh flowers but all I need to do is go to my mom's place and pick a few from her garden. Then I'm good to go.
This center piece design is pretty self explanatory, but just in case… set your mirror on the table, turn your wine glasses upside down with a flower or two under each, set a candle on top and light. To create a better visual effect, go for multiple height stemware. You can always find these at any thrift shop or garage sale for $0.50. And you can match the color of your candles or flowers to your table settings. Now go ahead and impress your guests with the beautiful wine glass and candle center piece.
And don't forget to follow and share DIY Fun Ideas here on our facebook page so we can continue bringing you fun & fabulous DIY ideas and inspirations!
Cheers!
~ Jenise