Never lose track of this project! PIN IT and 'Like' it on facebook so you'll always find it.

The last few days I had been on a pallet kick. Today I think I'm getting into a concrete kick. This morning I posted a really cool and easy tutorial on how to make this DIY Ultra Modern Concrete Lamp Fot $7…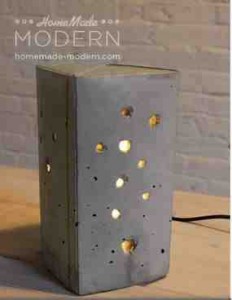 Now I've found a fun concrete door mat tutorial. Again, not hard to make. It's cast from a regular rubber mat. So if you already have one of those, then just use the left over concrete from the lamp — meaning, it'll cost you zero bucks. It'll definitely be a unique piece at your door front. There won't be a single person to step over your threshold who won't stop and check it out. Plus, your concrete mat will probably last you the rest of your life.
This concrete mat is the work of Monica over at Monicas Creative Room blog. So check out her how-to here on her blog. She also talks about how to cast leaves and large pots. Fun stuff.

Cheers!
~ Jenise
p.s. Always find this project by pinning it & liking on facebook. Then stay tuned for more fun & fabulous DIY ideas and inspirations!
(Secret: There's some exclusive content on that thar facebook page…sshhh!…okay, I guess I just ruined the secret.)