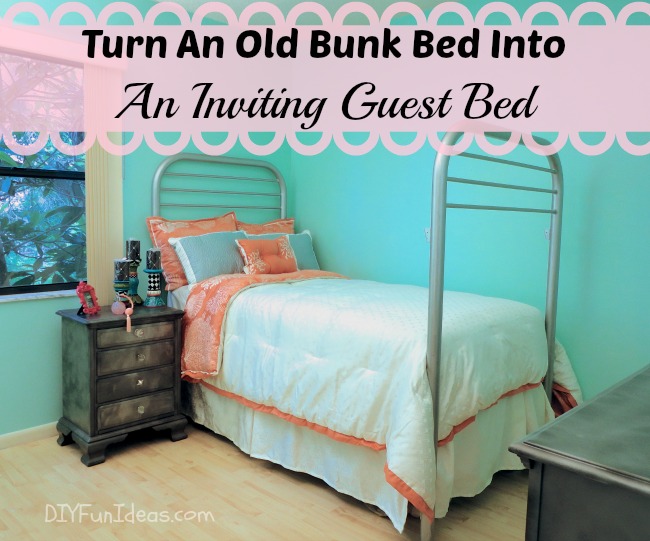 Hi friends! Thanks for stopping by. If you've been following recently, you'll remember that I've been working on updating my parents' guest room. The latest update I made to the room is turning the old bunk bed into an adult friendly guest bed. A few things before I get started, though. First, a quick reminder that there's only two days left to enter the giveaway for a Fabulous High Heel Planter!!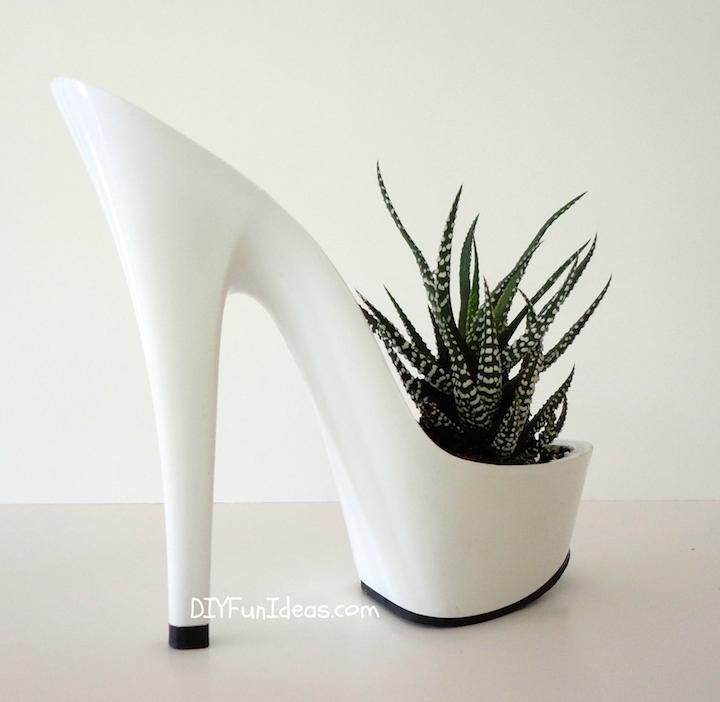 To enter the giveaway, enter your email address where indicated in the right sidebar to subscribe for updates. You'll receive a confirmation email. Click confirm on the confirmation email then forward the email to [email protected] That it! Random winner announced June 16th.
The second thing before we get to the bunk bed makeover is a quick introduction. Meet BooBoo…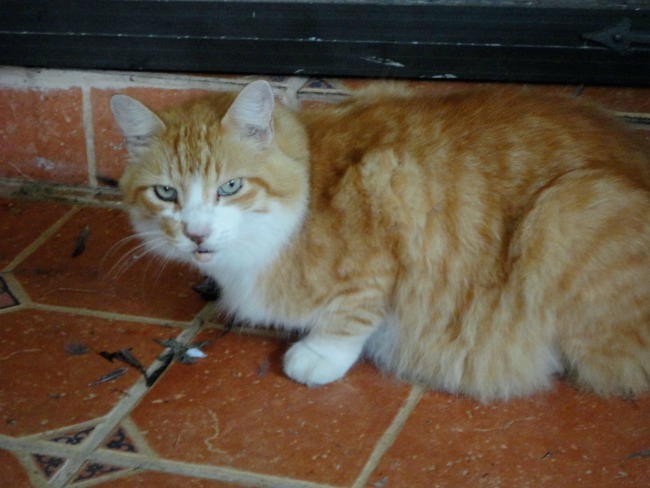 BooBoo is my parents' cat that I've been taking care of. Actually, I think he's really a dog in disguise — a lap dog. Just like my pup, Lily, he follows me from room to room. He mostly prefers being outside and when I take Lily for walks, he comes along and walks with us. And he sits at my feet where ever I go. He even follows me to the bathroom. And to top it off he's such a gentleman, always bringing me presents. When he's outside and has a gift for me he has a very special way of letting me know. Instead of meowing loudly, like he does when it's time to eat, he bangs on the door. I can't actually see how he does it, but I'm convinced that the only way he could make so much noise is by throwing himself against the door. Seriously, it's loud. Anyway, his gifts are usually mice or even field rats. I now keep a long-handled shovel in the front breeze way for easy removal of his thoughtful gifts. Although, the other day when I tried to scoop up a rat laying on it's side, the thing suddenly flipped over and scooted. Scared the bejeezus out of me. I never jumped so high. I ran in the house and decided to let the thing find it's own way out. Today's gift, however, wasn't as fortunate. You can see the remnants of its feathers on the floor next to BooBoo.  :-(
So that's my kitty cat story. Now onto the main event…
There have been a number of steps so far for this room revamp.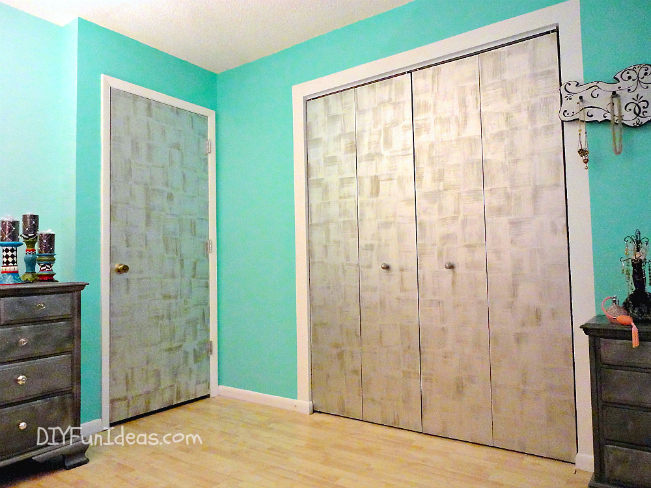 For the newbies here, I started with the faux silver leaf treatment on the doors using just paint and some stain. Then I turned an old coat rack into a jewelry organizer. Had some difficulties with paint matching, then finally found the perfect color.
There are still a few more plans I have for the room, including updating the window treatments, hanging some art, and refinishing a small side table that will sit next to the closet.
Today I'd like to share my latest update: turning the room's old bunk bed into something a little more adult friendly. Here's the before picture that I took while in the middle of painting the walls…
Updating this old bed was basically one of the easiest makeovers I've done. I started by removing the upper half of the bunk bed. The top mattress now lays on top of the bottom mattress raising the bed height to a comfortable level and also making the bed seriously beyond comfortable.
The red color wasn't quite working for the room anymore so I painted it silver using the same paint I used for the faux silver leaf doors. I wasn't sure if it would make for too much silver in the room, but I thought I'd give it a try and if I didn't like it then I'd simply find a new color. Luckily, I thought it looked great.
The final step was to throw on some pretty bedding. I was looking for something in a mauve color, but couldn't find anything at all. Then I came across this coral (looks orange in the picture, but it's actually coral) and white combo. I wasn't sure how it would look with the wall color, but it turned out complementing the walls nicely. Here is the final look…
Looks comfy, huh? It is.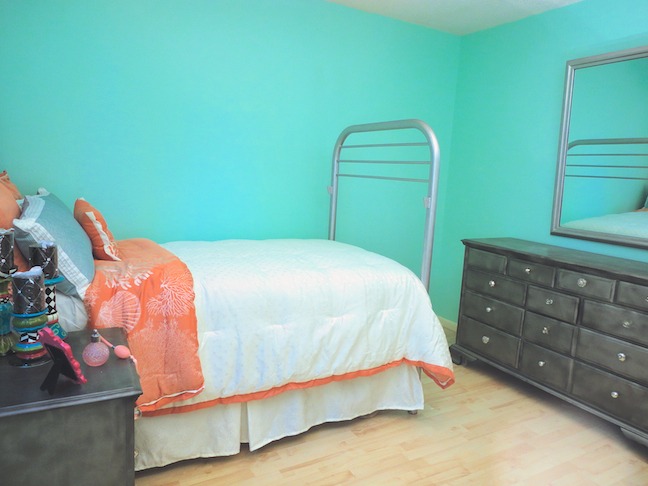 The room definitely needs some art!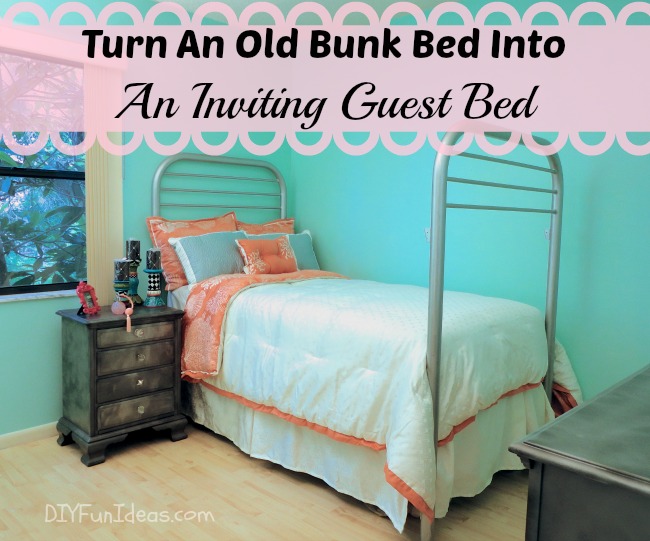 I've got some ideas for the final phases of this room update. I can't wait to get started and I can't wait to share, so stay tuned.
And don't forget to enter the High Heel Planter Giveaway!!!
Cheers!
~Jenise
This post linked to some of these wonderful blogs and here.