If this is your first visit, please 'Like' us on facebook and SHARE THIS PAGE with your fb friends so you don't miss out on daily DIY ideas & inspirations! 
I really like the look of silver leafing. A while back I was thinking of refinishing a piece of furniture with silver leaf but I hesitated because I was simply afraid of the process. Instead, I experimented using Krylon Looking Glass Mirror-Like Paint
on it (you can read about the makeover here). Looking Glass paint is used on glass to give a mirror-like finish. So I was expecting to get a mirrored finished. Not quite. Here's the finished dresser….
I really do like how the finish turned out and I've gotten a lot of compliments on it, but it was not what I was going for which means my mouth is still watering for silver leaf. So I've been looking at different projects online and found some terrific how-to's. My Champaigne Taste blog has a really easy to follow tutorial here: How to Silver Leaf Furniture.
I also found a great tutorial from DIY Nina's Way blog: DIY Nina's Way: Aluminum (Silver) Leafed French Provincial Furniture. She did something interesting; instead of using silver leaf she used aluminum leaf
. It's a bit less expensive and you still get that brilliant silver leaf finish.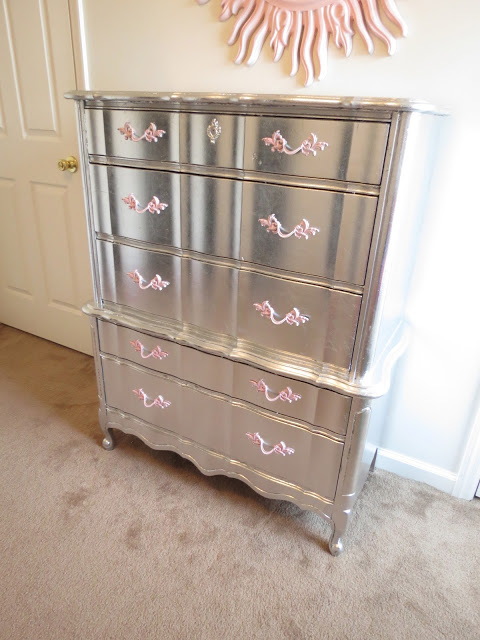 I'm now inspired again to give leafing a try and I have the perfect little hallway table that's just yelling for a makeover. All I need to do is find the time. Right now I have a half dozen completed projects that still need to be written up (re-tiled the bathroom, a formica cabinet refinish, a book shelf refinish, flooring refinish…). I'll eventually get to those write ups and the leafing project goes on list. You know you'll hear about it when it happens.
And don't forget to

follow and share

DIY Fun Ideas here on our facebook page

so we can continue bringing you fun & fabulous DIY ideas and inspirations!



Cheers!
~ Jenise