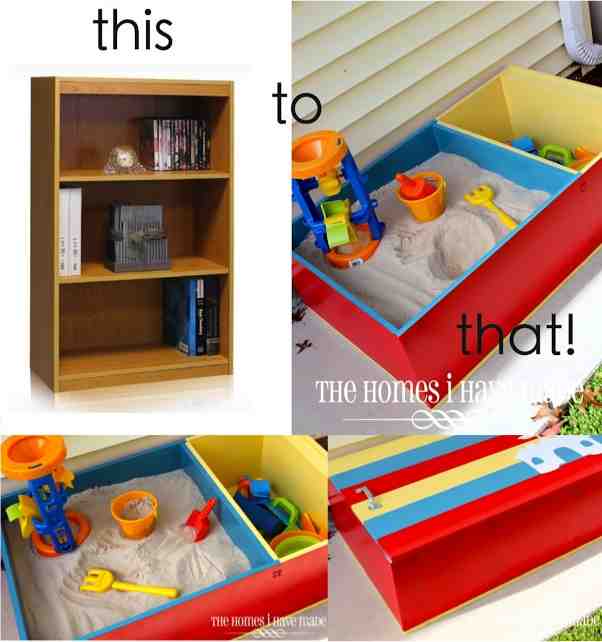 Never lose track of this project! PIN IT and 'Like' it on facebook so you'll always find it.

When I was a kid, there was nothing better than sand. I grew up in Brooklyn, N.Y. so every summer we'd spend a lot of time at the beaches: Brighton, Manhattan, & Coney Island. I could play in the sand for hours. This was also in the days before skin cancer was big in the news so folks slathered on baby oil for that tropical burn. Eeww. But anyway, my point is that kids and sand go together. So if you're not by the beach, or even if you are, your little ones would love their very own backyard sandbox. And I've got a super easy way to make one: convert an old book shelf into a fun sandbox. If your book shelf already has a back to it, then you're basically removing a shelf, add some paint, and done.
This fun, colorful sand box is the work of Megan over at The Homes I Have Made blog. She's got a full tutorial on how she transformed an old bookshelf into a kid-friendly sand box and then built a lovely matching lid. So if you want to build your own sand box for the kiddos check out Megan's Color-Block Sandbox Tutorial. You're kids will love you even more, if that's at all possible.
And if you think they'll love the sand box, they'll probably flip for this Lego table…
How To Make A Lego Table for $20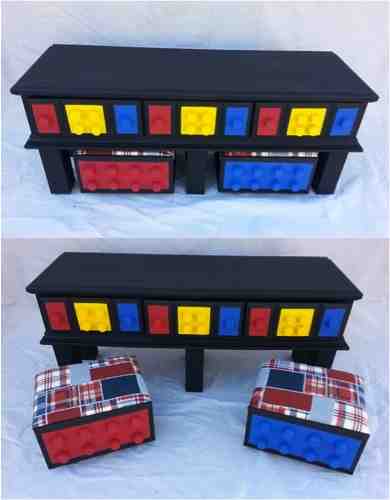 Cheers!
~ Jenise
p.s. Always find this project by pinning it & liking on facebook. Then stay tuned for more fun & fabulous DIY ideas and inspirations!
(Secret: There's some exclusive content on that thar facebook page…sshhh!…okay, I guess I just ruined the secret.)