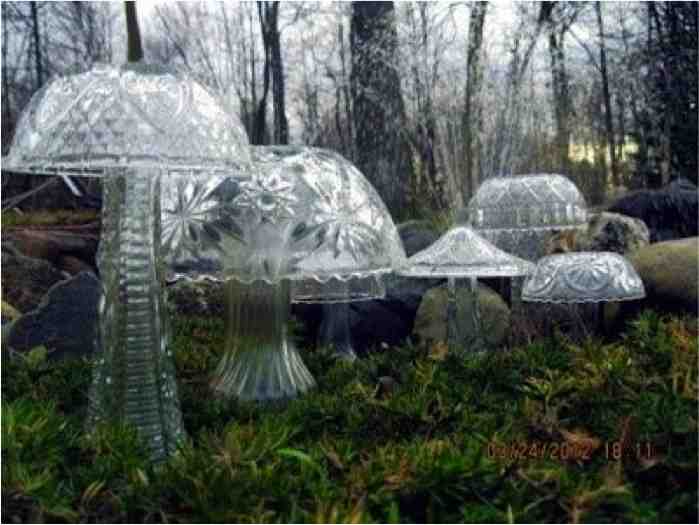 Never lose track of this project! 'Like' it on facebook and PIN IT, so you'll always be able to find it.

I love shrooms! Okay, just kidding. But I do love these shrooms — garden mushrooms, that is. So pretty and so easy to add a little wow to your garden.
Yesterday, I shared a tutorial for making amazing glass garden bird baths and totems…
Well, the technique for making the garden mushrooms is exactly the same. So here's the low down… First, find some amazing crystal bowls and vases at a garage sale or thrift shop. Turn the bowl upside down and attach it to a vase using a clear silicon adhesive like Marine GOOP
. Done. Now place it in your garden so your creepy gnomes can hangout under its shade.
By the way, I saw similar crystal garden mushrooms selling on Etsy for $40-$50 for a set of three. Please. You can make three for 3 bucks by thrifting. Nuff said.
Anywho, here are a bunch more garden shrooms for inspiration…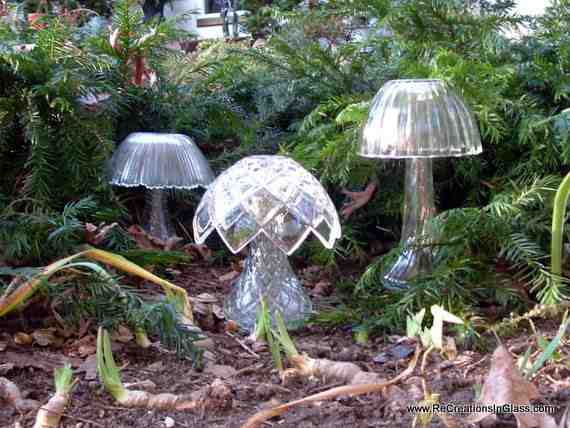 And there you have it. Enjoy schrooming!
Cheers!
~ Jenise
p.s. Always find this project by pinning it & liking on facebook. Then stay tuned for more fun & fabulous DIY ideas and inspirations!
(Secret: There's some exclusive content on that thar facebook page…sshhh!…okay, I guess I just ruined the secret.)