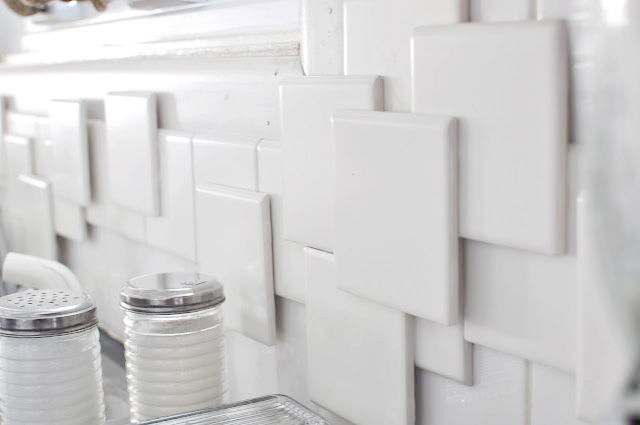 If this is your first visit, please 'Like' us on facebook and SHARE THIS PAGE with your fb friends so you don't miss out on daily DIY ideas & inspirations!

Two thumbs up for Amy Renea over at A Nest for All Seasons blog. She hit the sweet spot with this gorgeous makeover. Not only is it brilliantly creative, but it seriously cost pennies! It can't get any better than when you put beautiful and cheap together. Amy found a few boxes of white tile on clearance for 2-cents each! That's no joke. At first, she wasn't sure what she was going to do with the tiles, but for the price, who could pass it up? There was bound to be a use. And she found it. Take a look at how Amy created this beautiful layered tile back splash. The geometry and 3-D effect is eye-catching.
She only layered the tiles on the backsplash behind the sink and counter and left the stove area alone. So there is no concern about cleaning any grease and grime between the layers. It's easy to clean with a simple wipe with a damp sponge.
For more information and to get Amy's 2-cents on this makeover, head on over to A Nest for All Seasons blog.
Cheers!
~ Jenise
p.s. Please support this site by following and sharing DIY Fun Ideas here on our facebook page so we can continue bringing you fun & fabulous DIY ideas and inspirations!
(Secret: There's some exclusive content on that thar page…sshhh!…okay, I guess I just ruined the secret.)