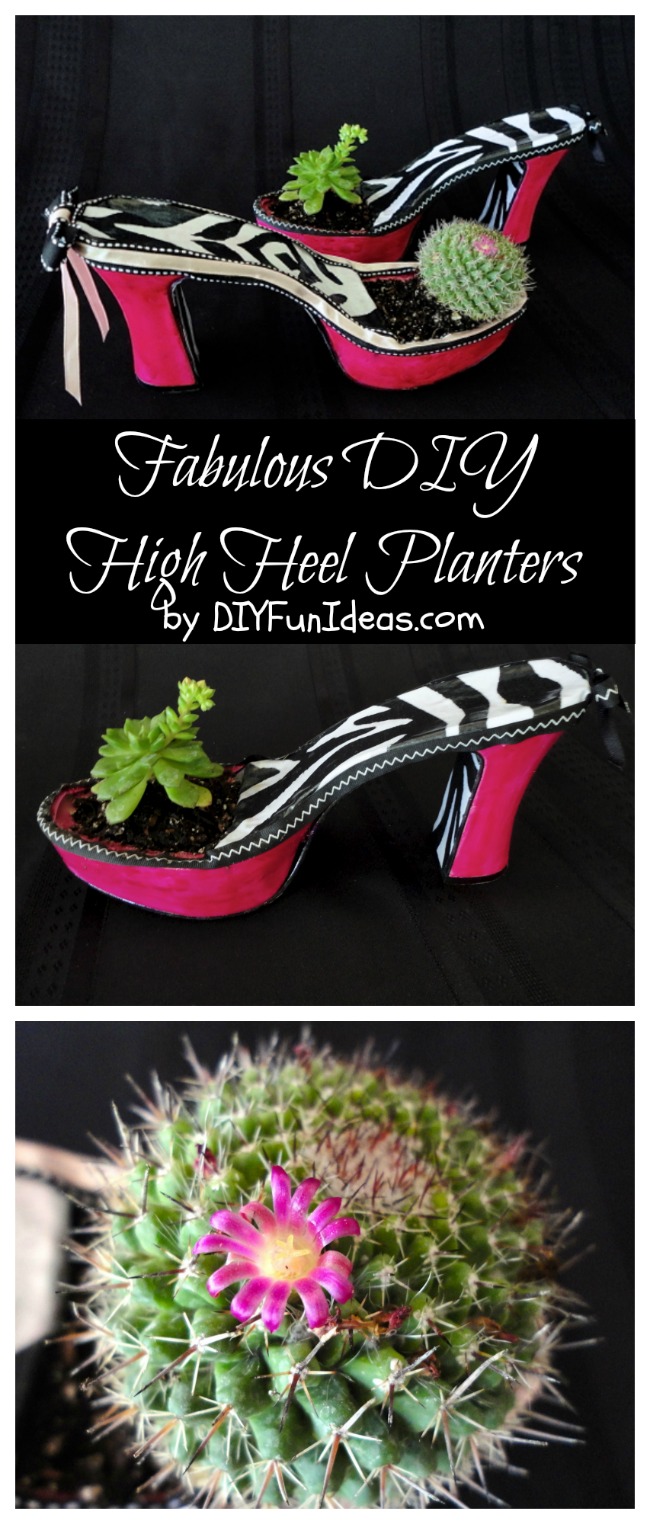 Don't Miss out! SIGN UP FOR EMAIL ALERTS so you don't miss another fun DIY!
I think I've just died and gone to heaven…shoe heaven, that is. If you're anything like me–or if you're female–then shoes are like candy for your feet…and for your eyes…and for your heart…and… Anyway, I am so in love with these high heel planters. I've even had a few friends tell me I should make and sell them… and then they followed up by asking me to make them some. But now, I am thinking that I might actually more high heel planters and open up a little Etsy shop. If you'd like me to let you know when my Etsy shop is opened (probably in a few weeks), then either sign up for email alerts (in the right margin) or send me an email ([email protected]) and I'll make sure to give you an update.
[May 29, 2014 Update: I've just opened my Etsy shop at etsy.com/shop/SophisticatedBroad. I've named the shop Sophisticated Broad. Planters are limited at this time (I'm only starting with four), but I'll be adding more in the near future. The new planters are a bit different: sleeker and elegant. I'll be posting about them & that tutorial tomorrow and I will be GIVING ONE AWAY! In the meantime, check them out at the Etsy shop.]
Now, on to the tutorial! My inspiration for these high heel shoe planters is three-fold. First, I recently shared these concrete hand planters that I made and that got me to thinking: What else can I use as a planter that you don't see everyday?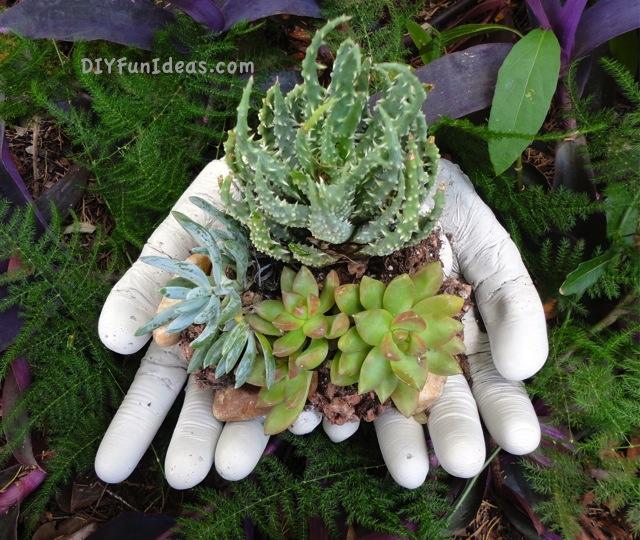 Second, I've seen tons of boot and shoe planters on Pinterest, but I haven't come across any fabulous heels. My third inspiration comes from these amazing high heel cupcakes that I featured a while back by Sweet Art by Elizabeth. They really are fabulous, aren't they?!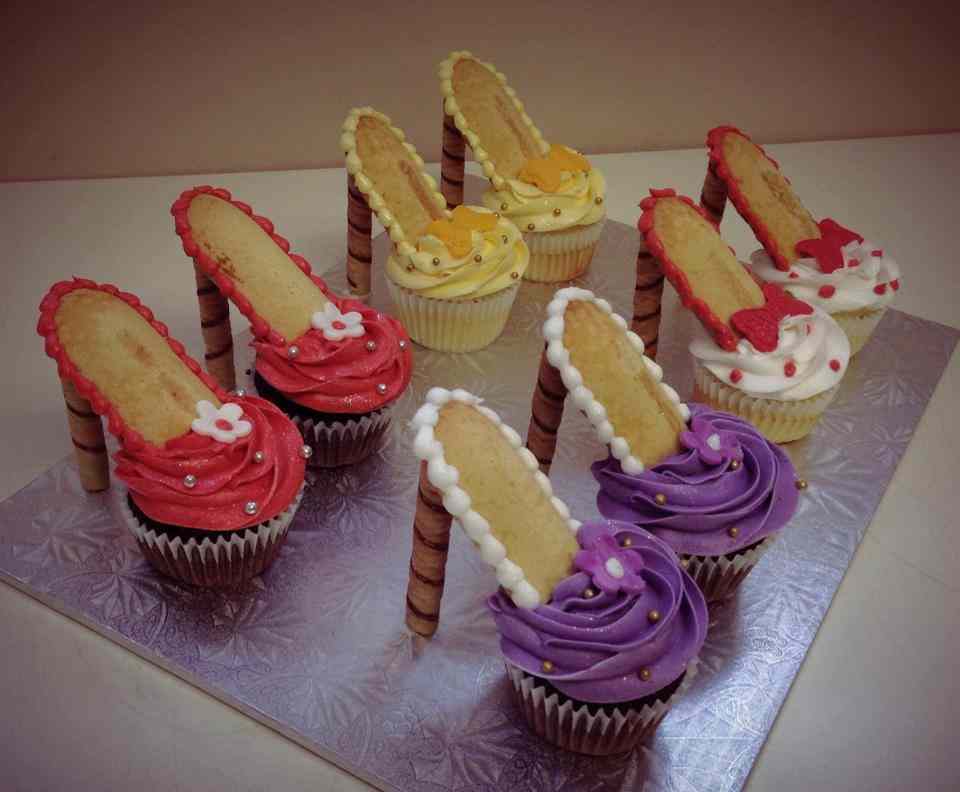 Put all three of these inspirations together and the obvious solution is a pair of high heel planters. So I headed over to a local thrift store and found these scary looking things…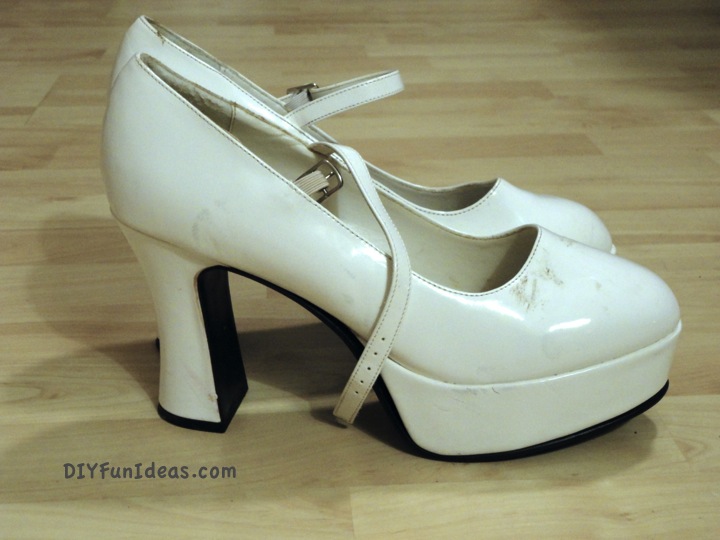 I didn't care for the white vinyl, but that's all the store had with a platform heel and since they were only a few bucks I thought I'd pick them up and see if I could paint the vinyl. I had a vision. So I also picked up these supplies for decorating…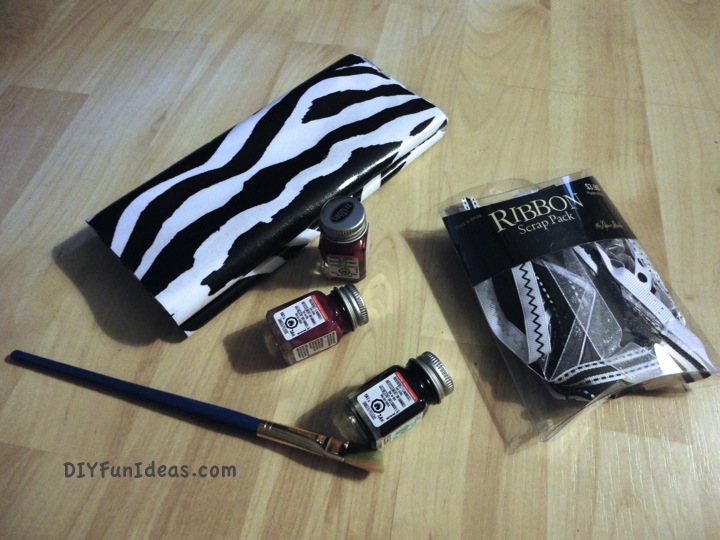 The material is a vinyl covered cloth. The paints are Testor brand in red, hot pink, and black. I wasn't sure if I was going to use the hot pink or the red, so I got both. Then I also got an assortment of ribbons. The first thing I did to the shoes was to cut off the uppers…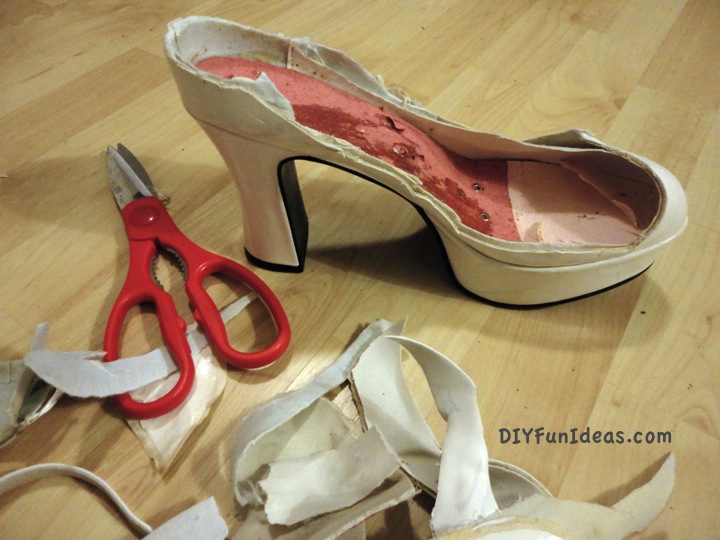 This is what the inside of a shoe looks like…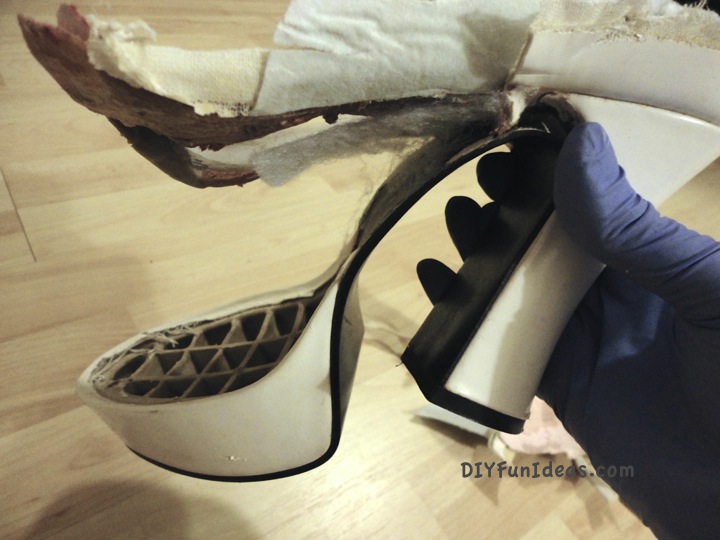 I thought the platform would be hollow. Nope. The platform was made of some pretty heavy duty plastic. There was no way a utility knife was going to cut it…. get it, cut it? Okay, lame. I gave one shoe a quick coat of pink just to see if I liked it. Yup. Decided to go with the pink. Then I got out one of my trusty Dremels to hollow out the platform. — Don't you think Dremel should sponsor me with all the promoting I do for them?? — Either way, I do love my Dremels.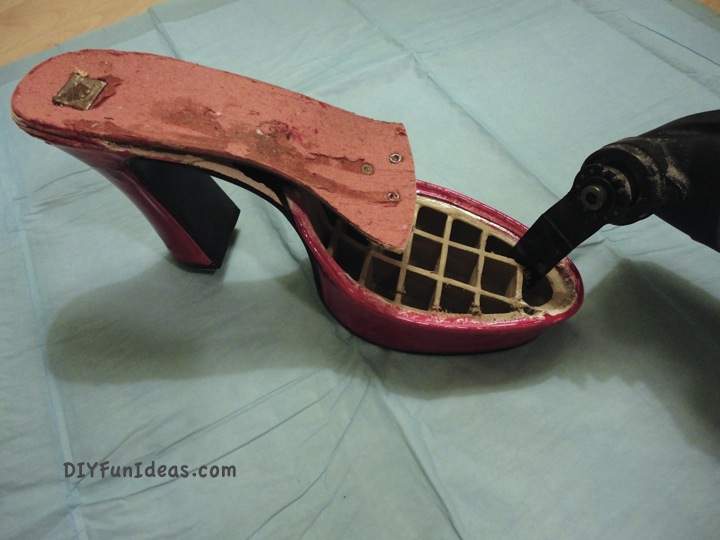 Here's the hollowed out platform…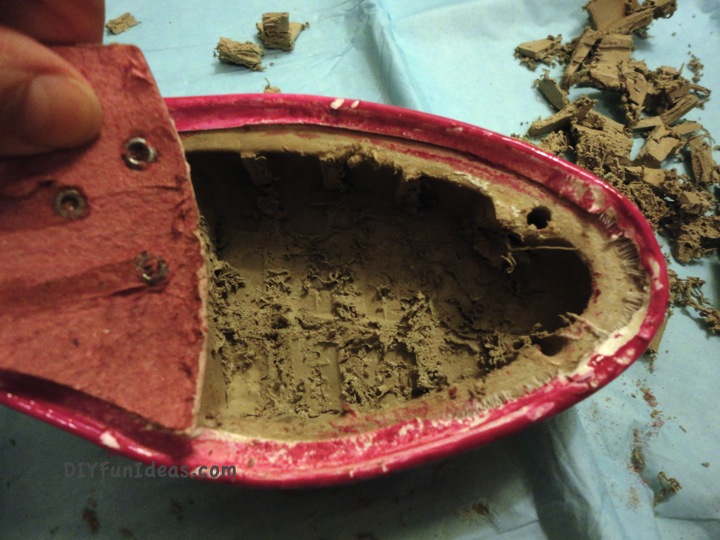 I traced and cut the vinyl cloth and glued it to the top and bottoms of the soles.
Then I drilled a few holes in the bottom for drainage…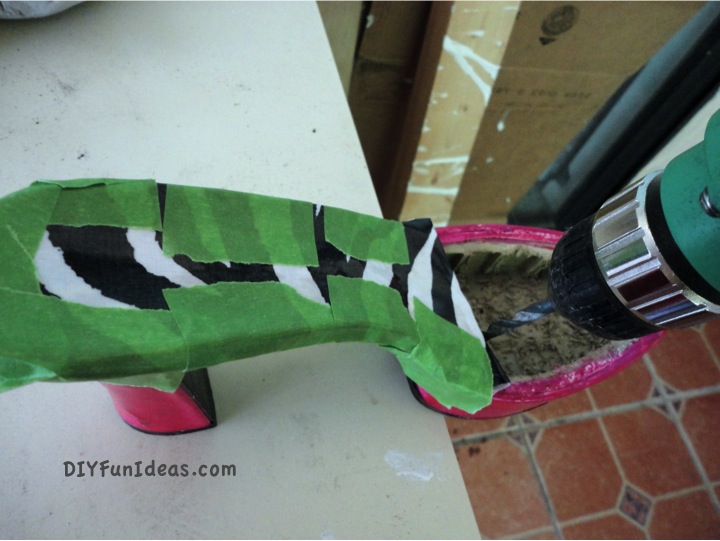 I used painters tape to hold the zebra striped vinyl in place while it dried because I have no patience waiting for anything to dry and I wanted to start drilling right away. Next, I added a few more coats of paint (I did have to wait for that to dry) and then glued ribbon around the edges. I also added a bow to the back of each shoe and then planted a cactus in one shoe and a succulent in the other. Here are the final products…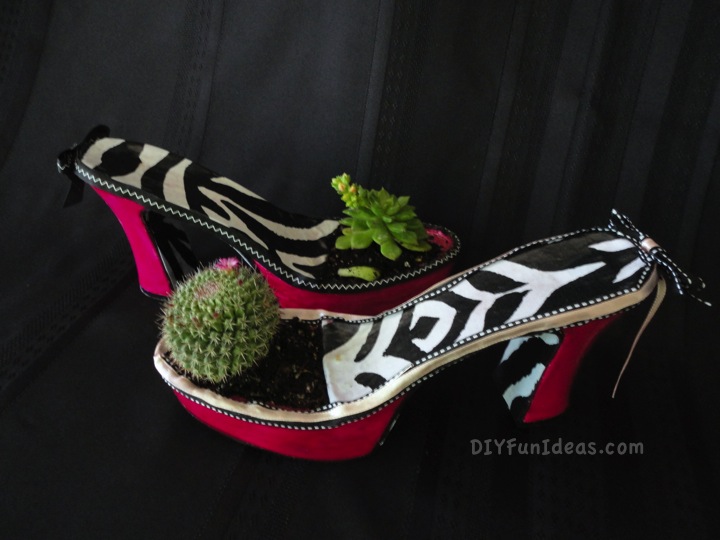 Umm…total LOVE!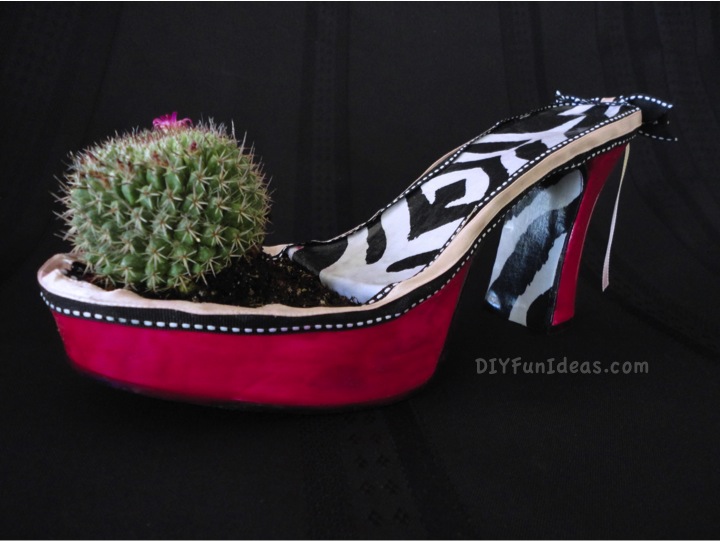 I like how the cactus looks like a little pompom on the shoe. And I love the little flower that's blooming on the cactus…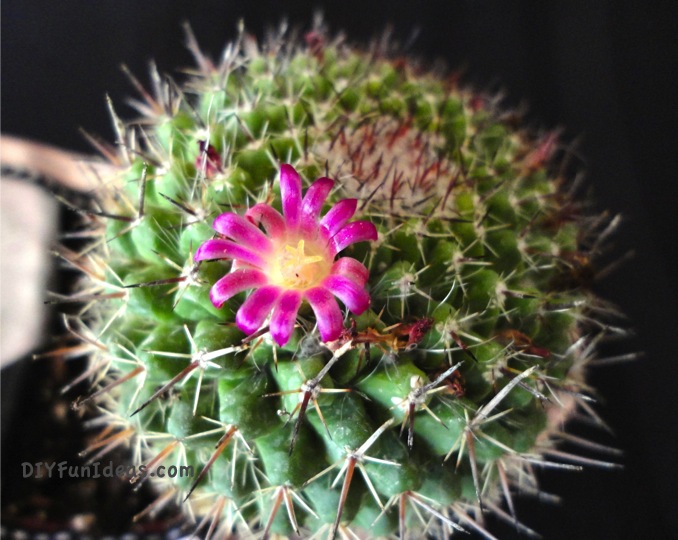 Here's the succulent planter…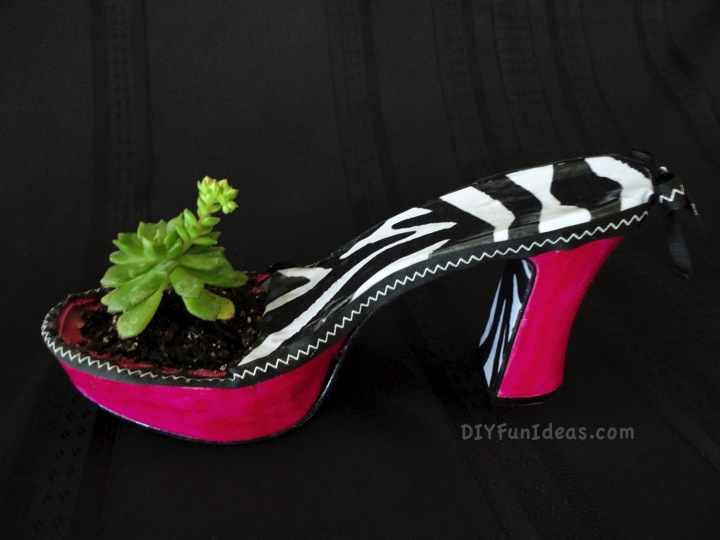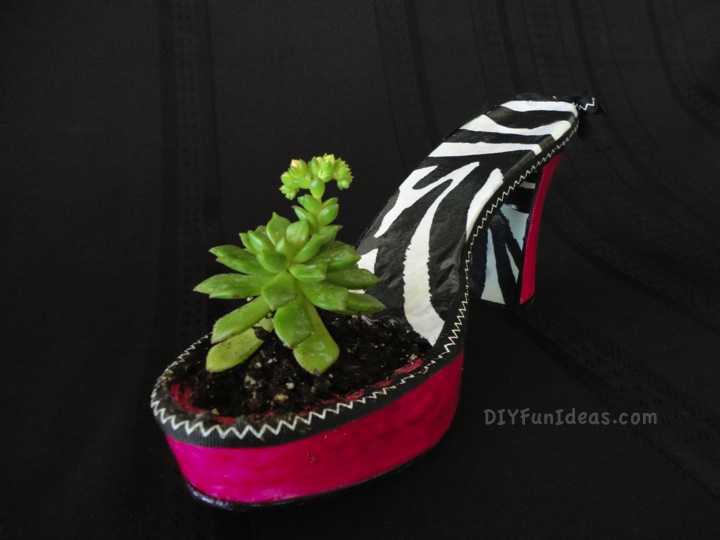 And the pretty bows…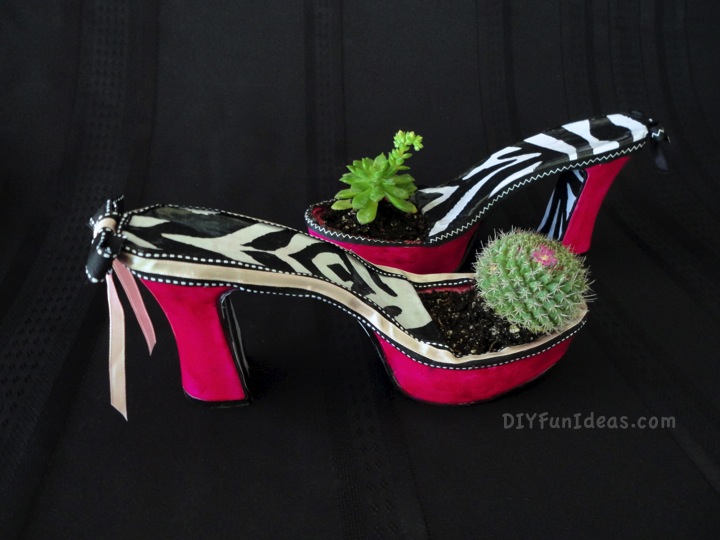 There you have it. Like I said…total LOVE! Again, if you're interested in finding out when my high heel planters will be available, either shoot me an email at [email protected] or sign up for email alerts by subscribing in the right margin.
[MAY 31, 2014 UPDATE: I just posted a second tutorial for these newly completed high heel planters…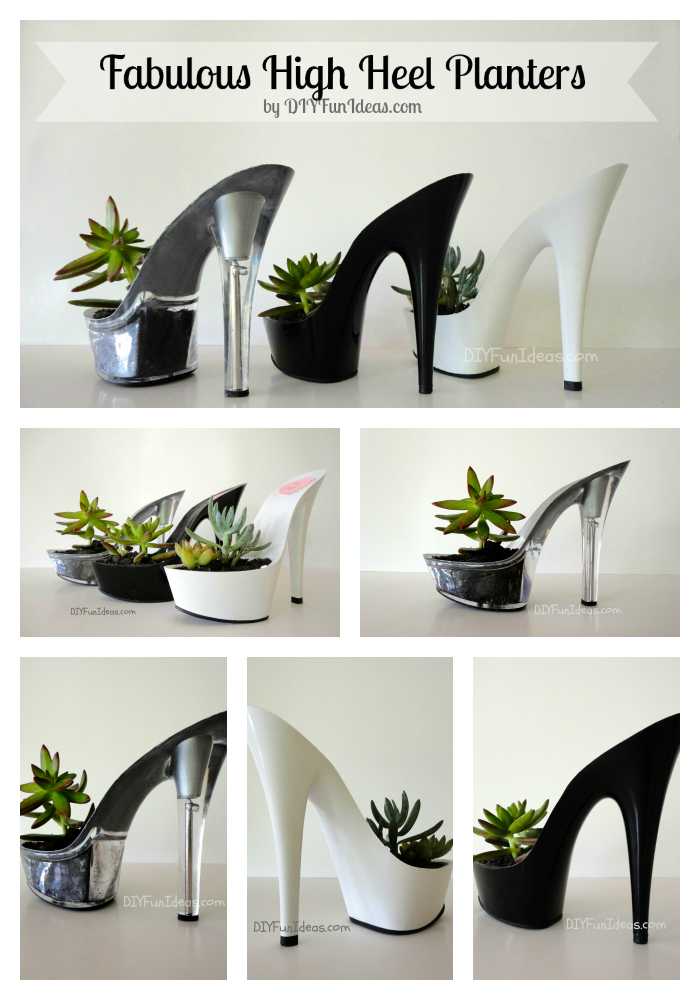 And I've opened a little Etsy shop where you can purchase! So check it out!
Thanks for stopping by!
Cheers, Jenise
This post linked to some of these wonderful blogs and here.