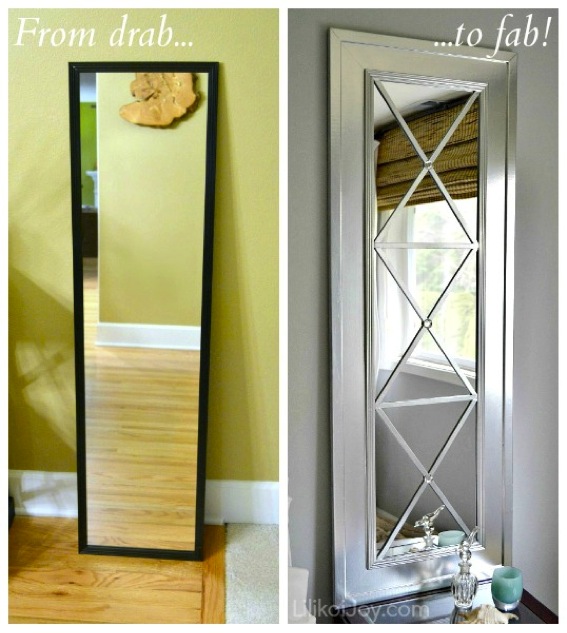 If this is your first visit, please 'Like' us on facebook so you don't miss out on daily DIY ideas and inspirations! And please don't forget to share this page with your friends. :-)
Those $10 door mirrors that we've all had at one point or another (yes, you know you've had one) are functional but lack any kind of decorative element. That's the nice way of saying they're just plain ugly. But now they don't have to be. I've found an ingenious and creative way to transform that ugly mirror into a beautiful and elegant home accessory. I really love this transformation — I like shiny silver things ;-) — so there's a good chance I'll be making one of these in the near future.
And if you're looking for more fun DIY mirror ideas, then check these out…
DIY Z-Gallerie Art Mirror Knockoff
Beautiful DIY Driftwood Mirror
Cheers!
~ Jenise
p.s. Always find this project by pinning it & liking on facebook (Don't forget to hit the "Get Notifications" button so facebook doesn't filter us out of your newsfeed!). Then stay tuned for more fun & fabulous DIY ideas and inspirations!

(Secret: There's some exclusive content on that thar facebook page…sshhh!…okay, I guess I just ruined the secret.)