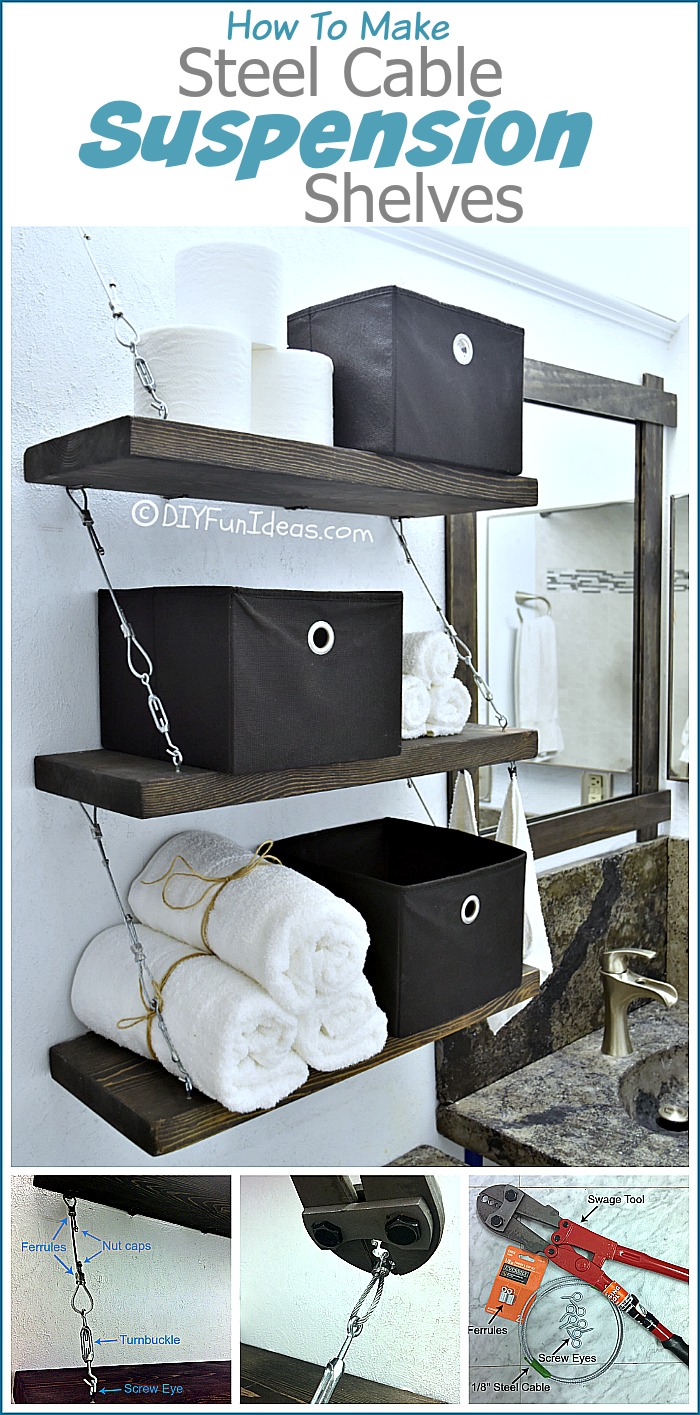 Hey kids, today I'm sharing a super fun tutorial on how to make DIY steel cable suspension shelves.
If you're a frequent reader you may have noticed that I've been M.I.A. for a little while. Well, I took a little bloggy break. I suppose sometimes life can get a little hectic so one just needs a little break to regroup and get refocused. So here I am, still working on the refocusing part, but back anyway.
During my break, I gotta guiltily admit that this little post has been sitting in my drafts file half done, screaming at me to finish it up. I actually built these shelves in February! I know, right, February. That makes me feel like a total slacker. But hopefully, this finished tutorial will help me redeem myself and get my butt moving on all the other planned DIY's I have on my list. So let's get on with the story.
If you recall, I have been slowly but surely working on giving one of the bathroom's in the parental unit's home a DIY makeover. Now here's another confession: the makeover started a few years ago and then got a little stalled… okay, a lot stalled.
I started by re-tiling the shower…
You can read about how that got started on my "About" page here. At the same time I repainted the bathroom and vanity and replaced the old vinyl flooring with some new tile. This was all done before I started this website so I don't have progress pics.
More recently, I replaced the old and hideously ugly vanity top with a DIY concrete vanity top with integral sink (click here for full tutorial).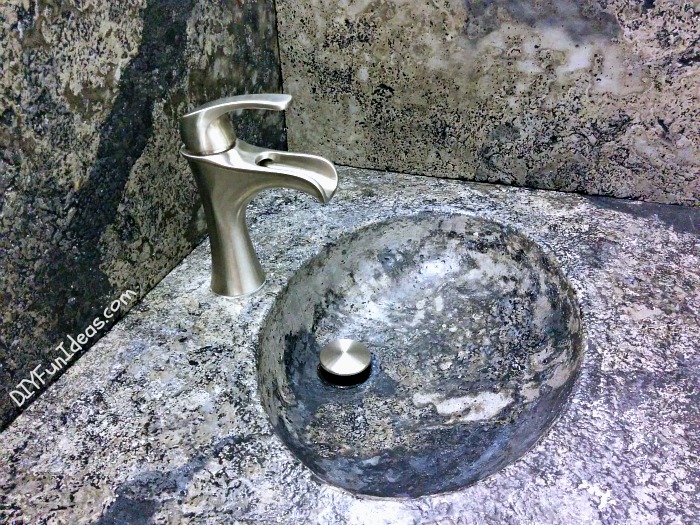 Can you say LOVE?!!!
Next to the vanity sat the toilet and over the toilet there was one of those storage units that stands on the floor and has shelves over the toilet. It did the job for the storage that was needed in this small bathroom, but I can't say it was particularly pleasing to look at. Plus, it didn't really seem to fit with the new concrete sink which had more of an industrial feel.
I thought some reclaimed wood shelving would be a bit more fitting. Actually, my original plan was to make some floating shelves, but as I got going the idea evolved into these wonderful steel cable suspension shelves.
So let's get on with the tutorial…
I found some old reclaimed wood that my pops had in the garage. (I can always count on my pops for supplies.) From the hardware that was still attached to the piece, my guess is it was once part of an old bed frame.
I removed the hardware and cut my shelves to size.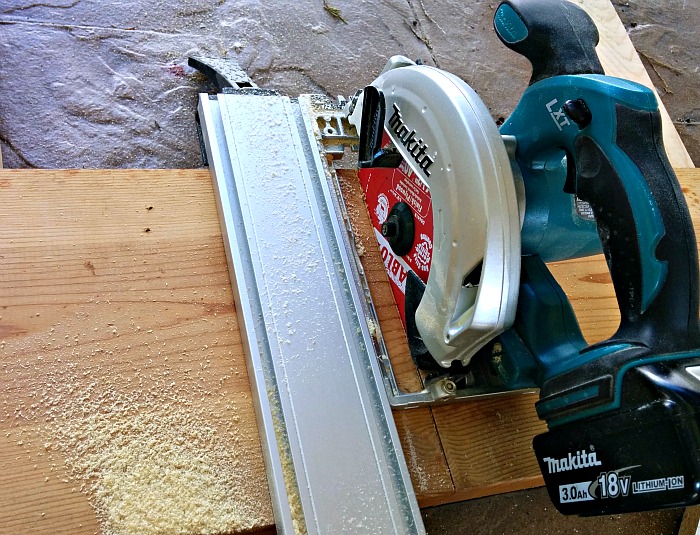 To cut down the shelves I used my clamp edge saw guide, which I LOVE LOVE LOVE. It locks onto the wood so I get a perfectly precise cut each time. (Click here to read more about using a saw guide.) Did I say LOVE?!!
Next, I sanded down the wood using my cordless random orbital sander. (Love using cordless! It means no dragging around extension cords when I'm working outside.)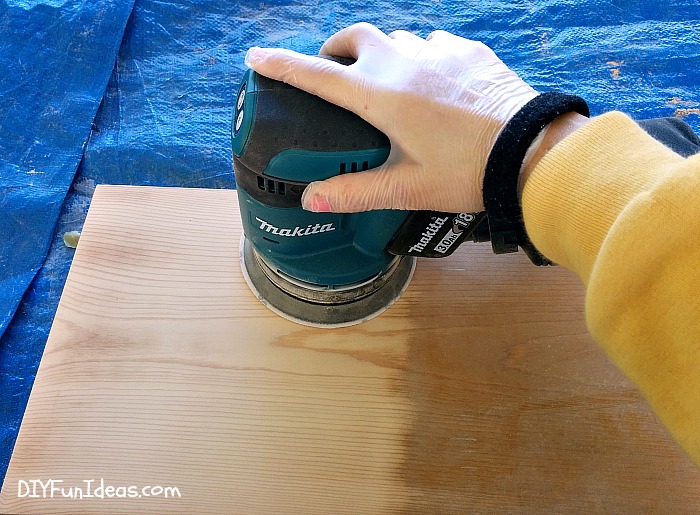 Look how clean and new that looks!
Next it's time to stain.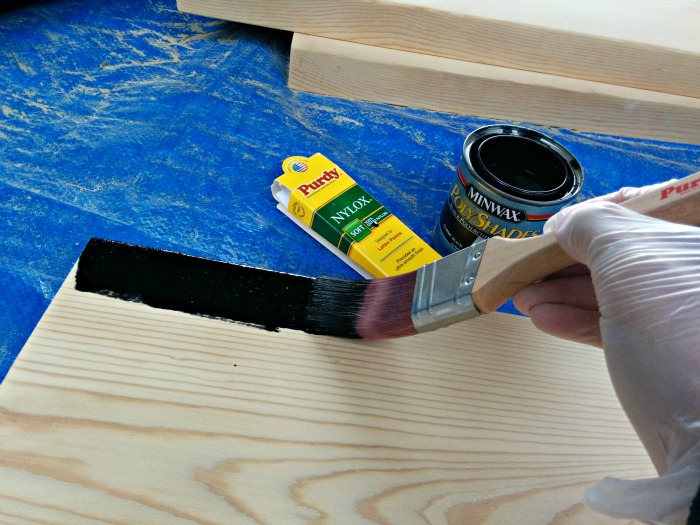 I broke out a new Purdy brush for staining. (I always recommend using high quality brushes for any painting or staining projects. It really does make a difference in the final product.)
For stain I used Minwax PolyShades in Ebony.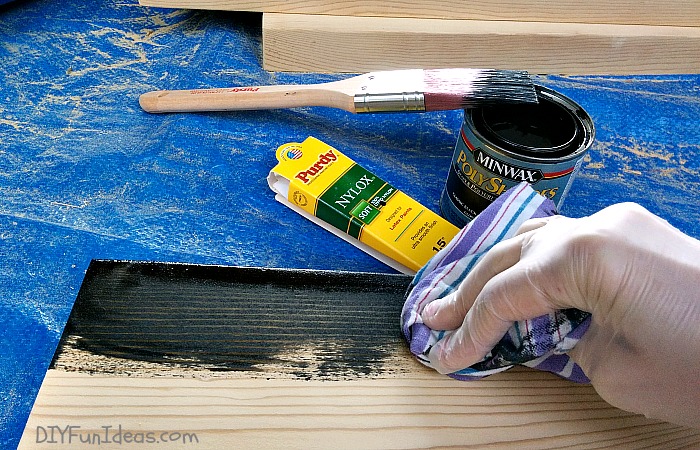 Paint on your stain then immediately wipe off excess stain with a clean dry cloth. Repeat if you want the wood to take more color. I only did one layer of stain.
Check out all that glorious wood grain!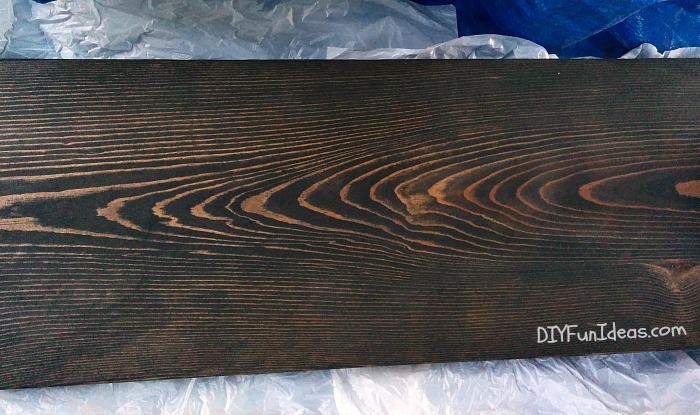 I attached the shelves to the wall using drywall anchors and some small metal brackets.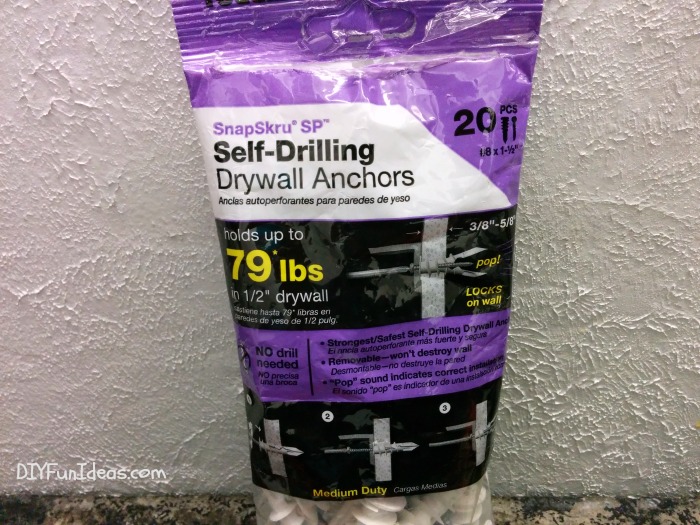 My new go-to drywall anchors are these SnapSkru Self-Drilling Drywall Anchors. No pre-drilling necessary and they won't destroy your drywall when you want to remove them because they screw right out when you no longer need them. Nice.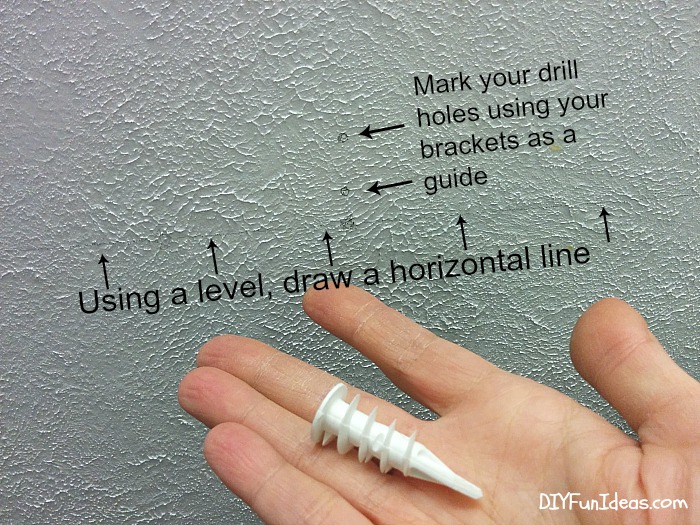 Start by using a level to draw a horizontal line where you plan to hang each shelf. Then line your brackets up to the line and using the bracket screw holes as a guide, mark where the anchors will be installed.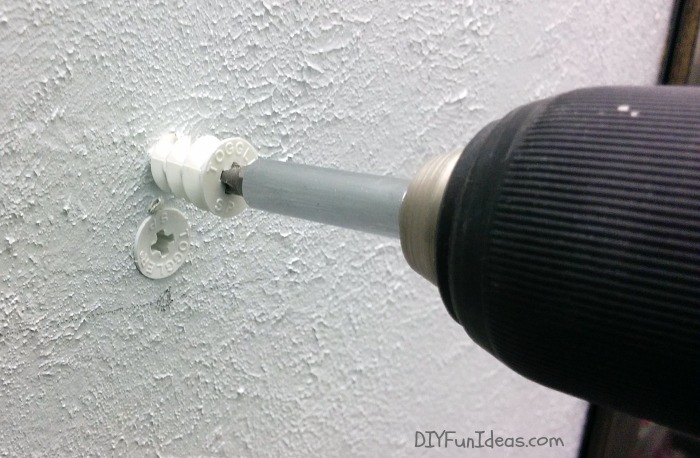 Drill your anchors directly into the drywall.
Once the anchors are in, attach your brackets.
I used four brackets per shelf.
Next, sit your shelf on top of the installed brackets and from underneath, mark drill holes on the shelf bottom. Pre-drill your holes and then screw shelves onto brackets.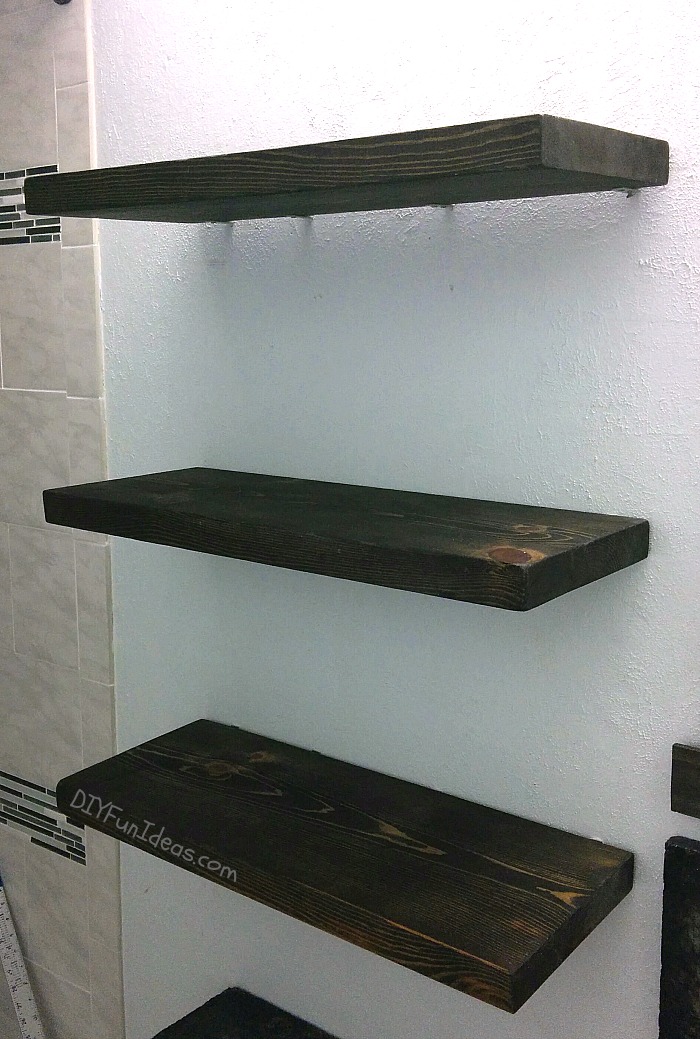 I didn't want the silver brackets to stand out, so I painted them black. They are completely unnoticeable now.
Supplies For Steel Cable Suspension Shelves
Next, it's time to install the steel suspension cables.
You'll need:
The turnbuckles will be used to get the cables nice and taught.
Here's how the whole thing goes together…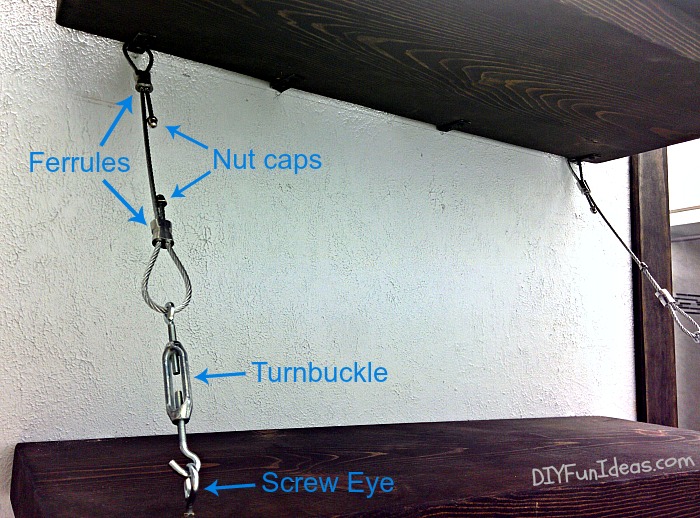 How To Install Steel Suspension Cables
1 – Pre-drill a hole in the front end of the shelf.
2 – Screw a screw eye into hole.
3 – Hook turnbuckle to screw eye.
4 – Slide two ferrules on to steel cable.
5 – Loop bottom end of steel cable through turnbuckle and then back up through ferrule.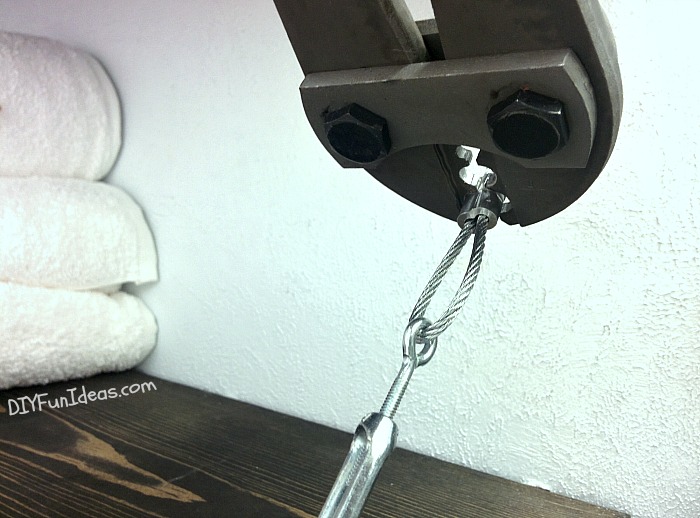 6 –  Use swage tool to crimp ferrule tight. You'll need both hands to crimp the ferrule so be sure to have an extra person on hand to hold everything in place.
8 – Hook top end of steel cable over and around above bracket and through second ferrule.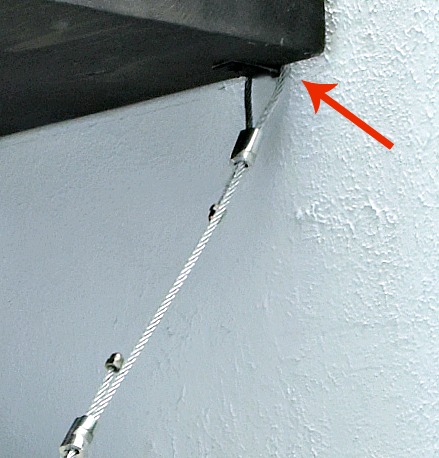 9 – Pull top cable tight and crimp top ferrule using swage tool.
For the upper most shelf insert a screw eye directly into wall, using a drywall anchor, to hang the cable.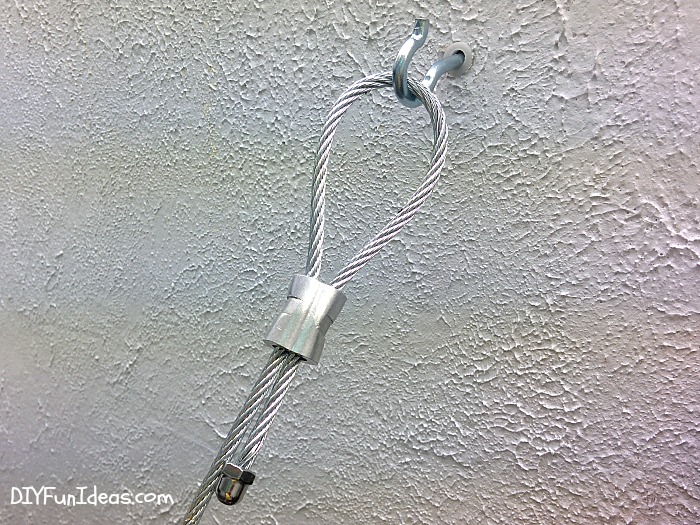 10 – Once your suspension cables are hung, trim off excess cable. I didn't have a wire cutter heavy enough to cut the thick cable so I used my Dremel. (I can't tell you how many times my Dremel has saved me when all else failed!) Beware though, it was kinda like sparklers on the fourth of July, so if you use a Dremel make sure to have eye protection.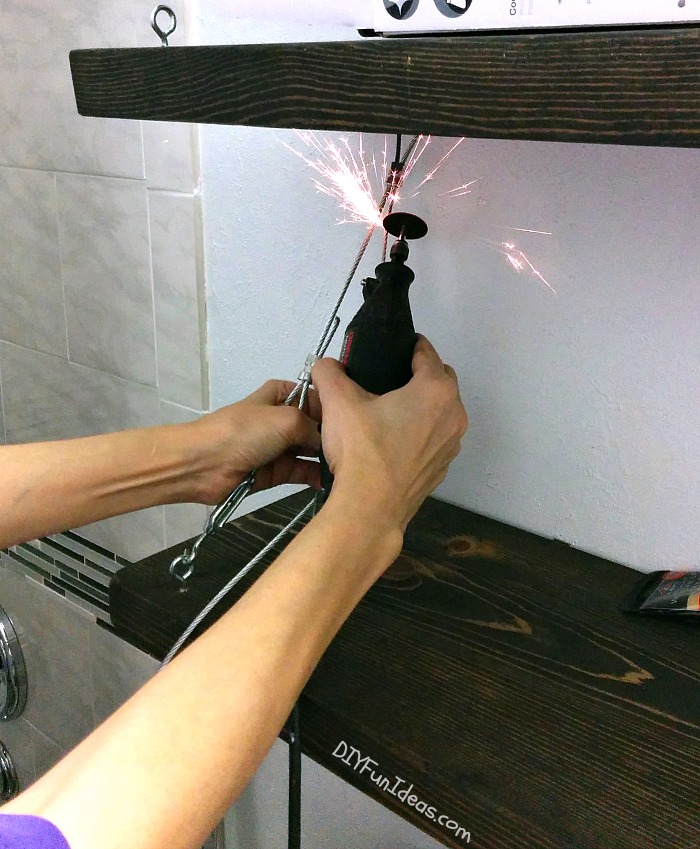 11. Attach nut caps to cut cable ends using crazy glue.
12. Finally, twist the turnbuckles to get the cables nice and taught.
That's it. Now you've got some pretty cool DIY steel cable suspension shelves!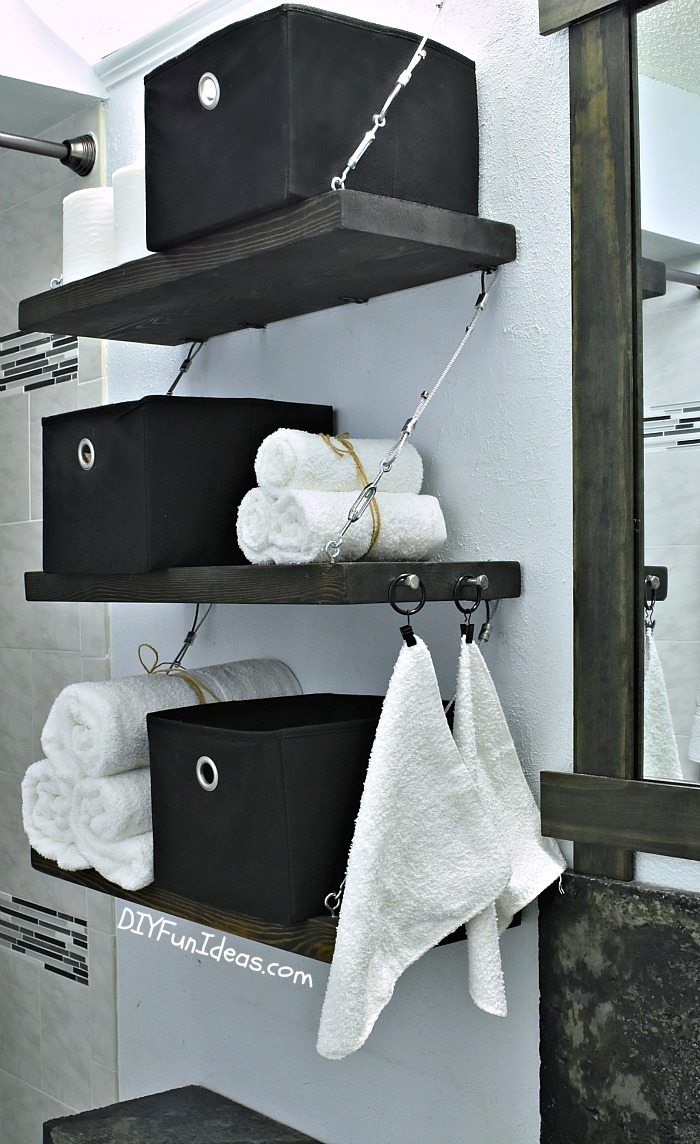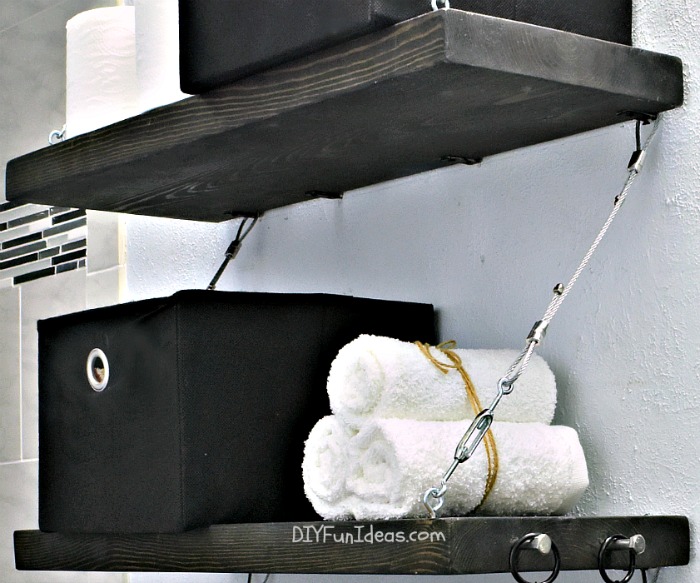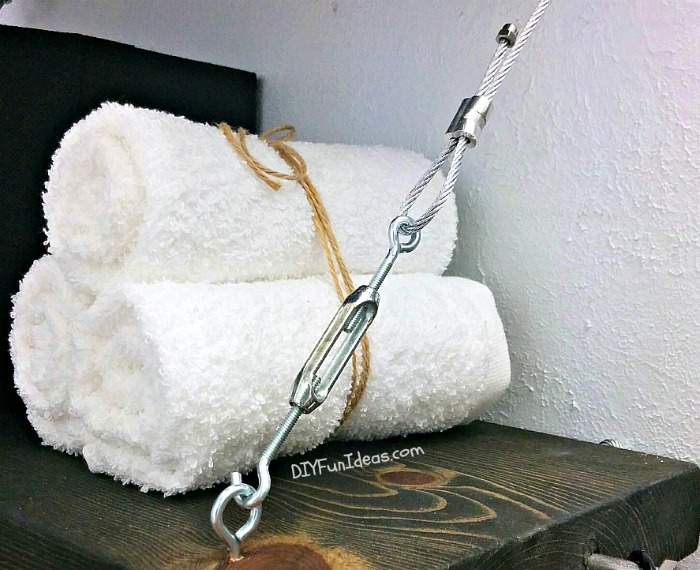 Don't forget to save me to Pinterest, peeze!

This post linked to some of these totally fabulous blogs and Remodelaholic.