I am so excited to share this dresser and night stand transformation. You won't believe the before and after pictures or how easy it was to do. These are the after pics… (The color of the dresser is accurate. The night stand picture has the sun pouring in which sort of warps the color a bit.)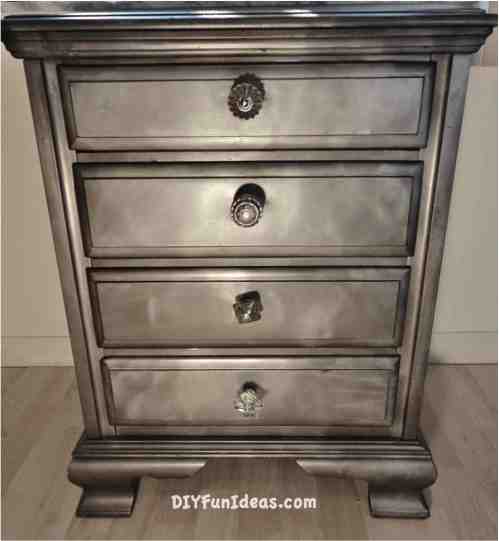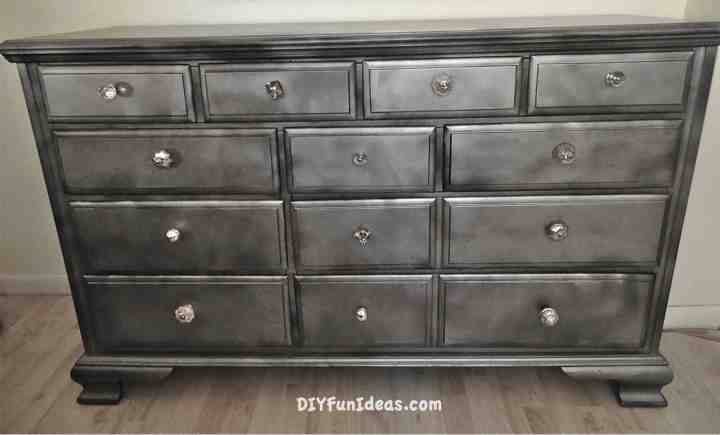 So, let me give you a little background on this project. You see, my parents still have the same furniture they had when I was kid. Sure back in the 80's those pieces may have been fashionable, but the years have taken a toll on them and it was definitely time to get the parental unit's decor into the 21st century. So project #1 for mom and pops was to give some of their furnishings a little personality starting with a dull, scratched up night stand and dresser and I'm so excited to share the evolution. The best part is that it was so incredibly easy. My secret to effortlessness: spray paint! That's right. I worked the same process on both pieces, so I'll only show the step by step on the night stand (because I didn't take enough pictures of the dresser) and at the end of this post you'll get the big reveal. Oh wait, I already posted it above. Okay, well you'll get the before and after pics. How 'boat that?
My materials:
1. Krylon Chalkboard Spray Paint
 (2 cans)
2. Krylon Looking Glass Mirror-Like Spray Paint
 (3 cans)
3. Valspar Clear Protector (1 quart)
4. Wooster Brush Ultra/Pro Sable Angle Paintbrush

5. A bunch of mismatched Hobby Lobby glass cabinet knobs (17 knobs; ~$40)
6. Elmer's Wood Filler

7. 220 Grit Sandpaper
Now, I already had the wood filler, brush, and sandpaper, so my total cost to restore this bedroom set to new was a mere $95.64! Less than $100! Woo hoo! I LOVE a bargain. But I also love quality and while I have to admit that $14 for a paint brush may seem a little pricey, it was well worth it. I bought a cheap brush for a prior project and I was constantly picking broken bristles off my painted surface, plus it left the ugliest brush marks. I ended up sanding off the entire newly paint surface, buying this Wooster brush and re-doing the whole @#!$%!! thing. In comparison to that old brush, this baby is a dream. And just to note, for this project I only used the brush to apply the clear protector finish. They other paints are all in spray form. So, moving on, here are my really fugly blank canvases: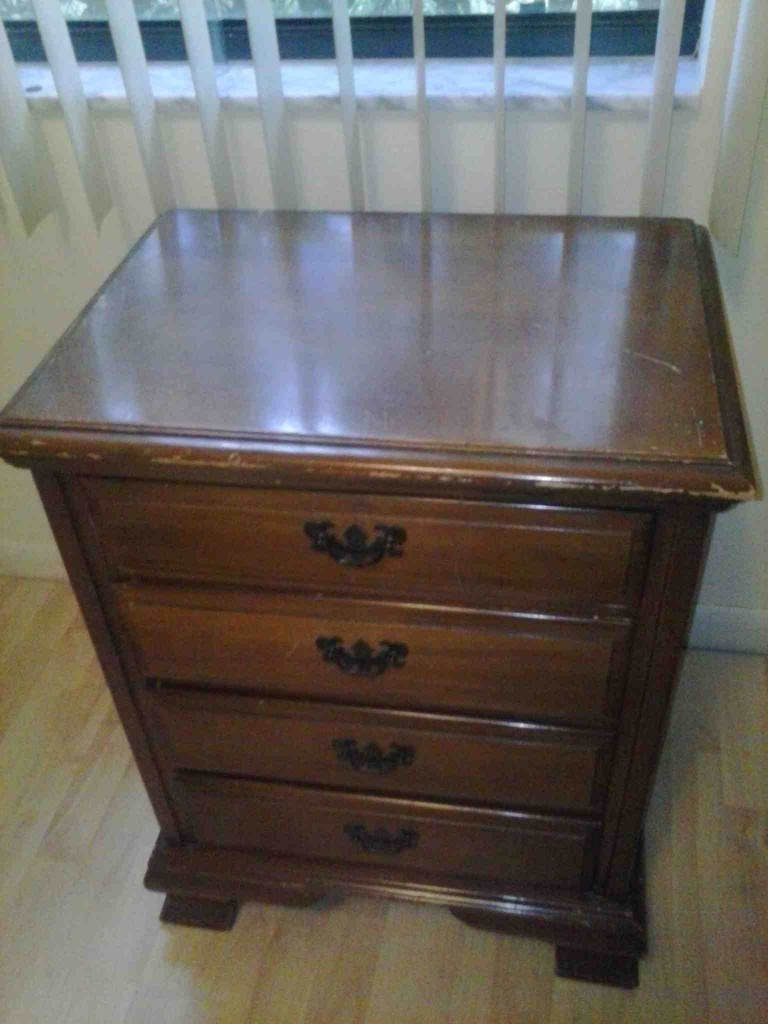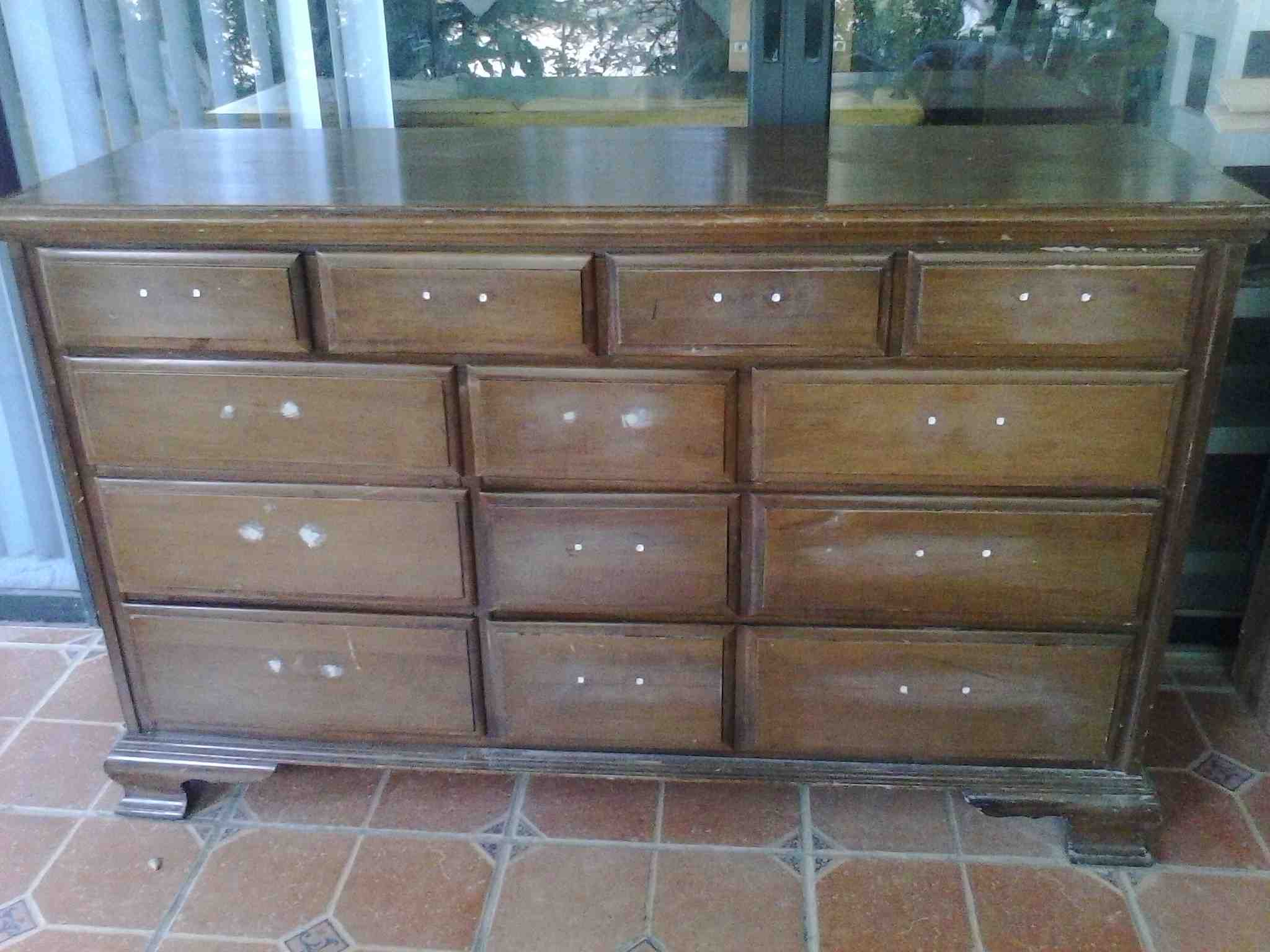 And the makeover begins…
Step 1: First, make sure you're working in a well ventilated space. I did my work in my private studio that my parents refer to as their front yard and patio. Once you've got a comfortable work space, remove all hardware, fill holes with wood filler and sand down the filled holes till smooth. As you can see I already did that on the dresser.
Step 2: Spray paint goes on really thin so any imperfections or scratches on wood will really stand out after painting, so sand anything you don't want to see.
Step 3: Remove drawers and apply a thin layer of chalkboard paint to the drawer faces and the body of the furniture. Now, you're probably wondering why I used chalkboard paint instead of regular primer. It was sort of an experiment. I read that chalkboard paint sticks to anything so it makes a pretty good primer. But the real selling point for me is that there's no need to sand the surface. Confession: I HATE SANDING. I'll admit, I did sand a few scratches on the top surfaces, along with the wood filler surface. But I have no problem taking a shortcut if it means I get to skip the sanding. And whoever said chalk board paint makes a good primer hit it right on the nose. I'm sold. Oh, and here's my spray painting lesson learned: It's really easy to get pooling and drips on your surface. To avoid this make sure to hold  the can at least a foot away from the surface and keep the can moving in sweeping motions so the coats go on thin without drips. I did two coats of the chalkboard paint before trying not to screw up the real finish.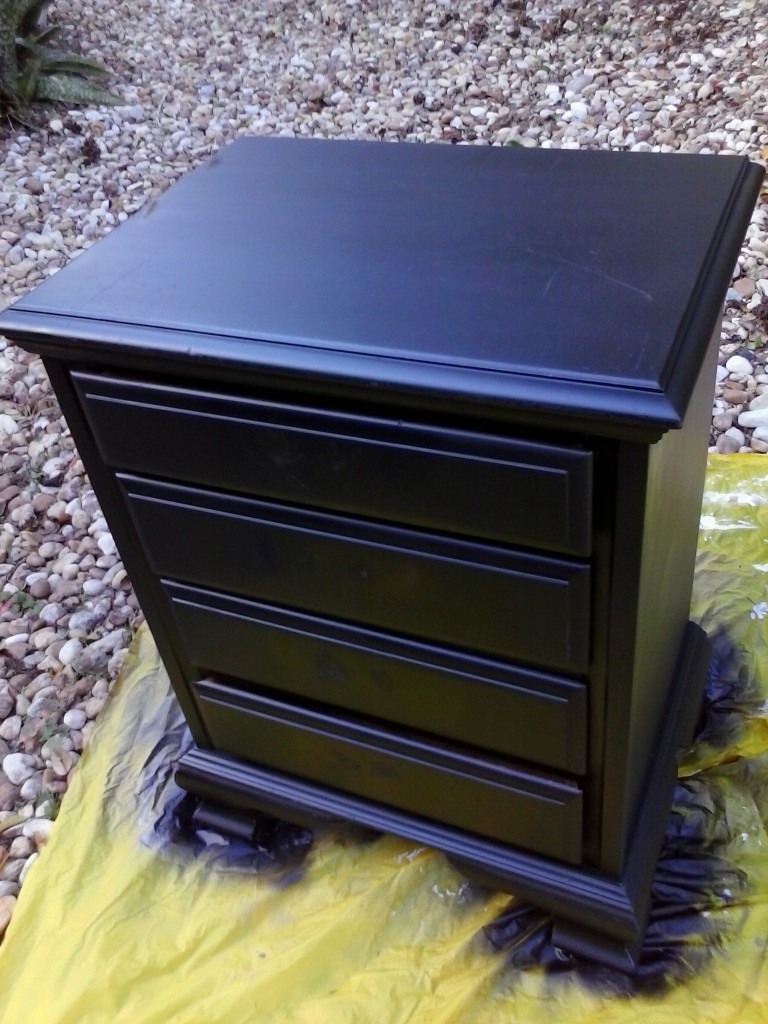 Step 4: Krylon Looking Glass paint. What is it you ask? Another experiment of mine. This paint is recommended for use on glass surfaces to create a mirrored finish. I was going for something like this: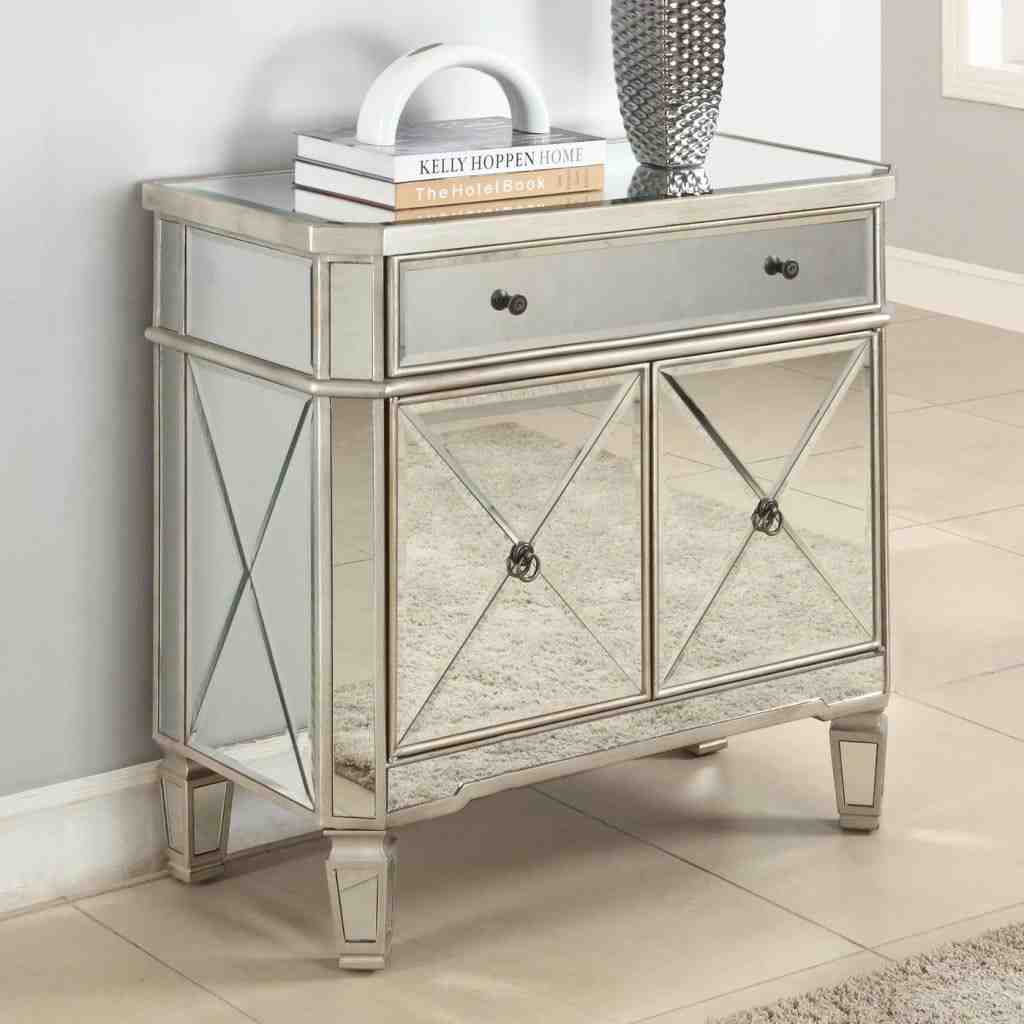 Well, it didn't quite work out that way. But still, I really like the finish I got. It's sort of a gun metal looking finish.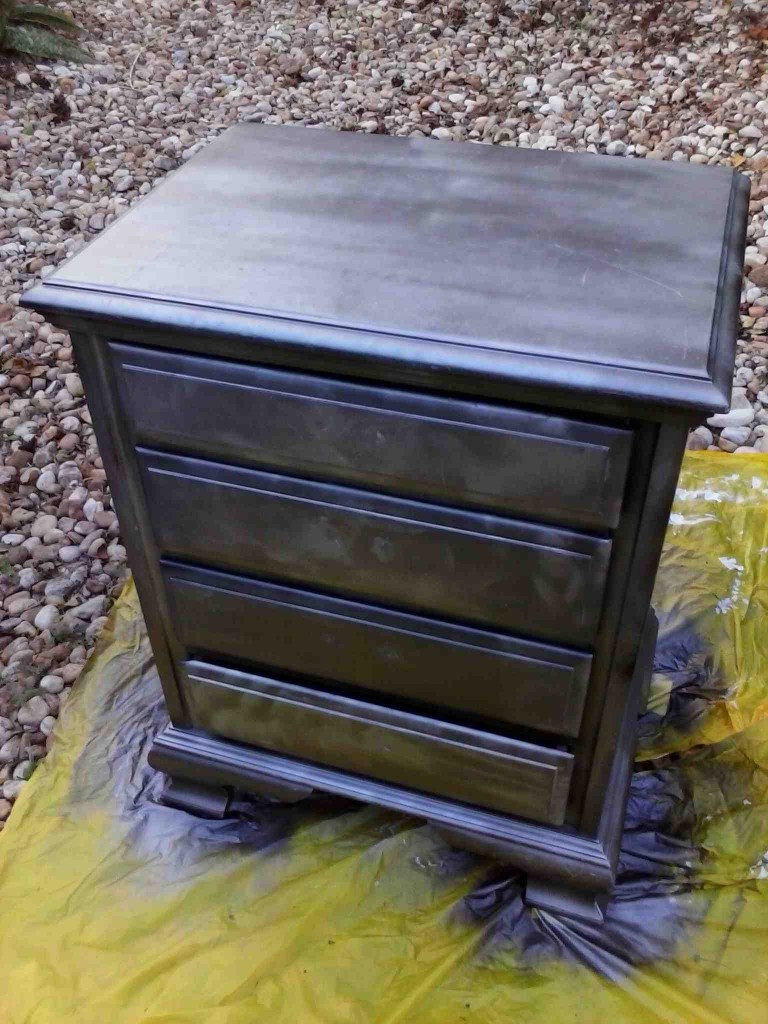 While spraying, I went heavier in some areas and lighter in others giving the finish an uneven look where some of the black comes through on some areas, while other parts are very silvery. The heavier painted areas are accomplished with more layers rather than thicker paint because as I mentioned in step 3, the paint will pool and drip if you don't keep the layers thin. The cans are only 6 ounces, so I used a total of three cans for the two pieces of furniture.
Step 5: Sealing your surfaces. You'll want to seal your painted surfaces to protect from chipping, water damage, etc.  I used Valspar Protective Finish. It's water based and goes on milky, but dries clear. I used two coats of the finisher. To avoid brush marks: 1) as I mentioned earlier, definitely use a good quality brush, and 2) Lightly sand between coats. Yes, I hate sanding, but this wasn't too bad since it was such a quick light job. The theory here is that there are peaks and valleys of the substrate left on the surface after painting with a brush. Sanding gets rid of the peaks and the next layer fills in the valleys so you end up with a smooth surface. Sounds reasonable, huh? 3) Keep the layers thin. 4) And finally, after you've started to put down a layer, DO NOT run your brush back over. Once the paint/finisher starts to dry if you run your brush back over it you'll end up with some clumpy sticky looking stuff. So just a quick coat and let it dry. If you're worried about brush lines, just wait to sand instead of trying to smooth with your brush.
And one last thing on the sealer… While I liked the smoothness and the final finish of the Valspar product, it really bugged me that even after letting the dressers sit outside for a few days after the final coat, I could still smell the product almost two weeks after bringing the pieces back into the house.  The plus side though for Valspar is that it's only $7, more than half the price of their Minwax Polycrylic 
competitor. But Minwax does claim to have "little odor" so I'm thinking that next time this sensitive schnoz will dish out the $17 for a quart of it.
Step 6: Hardware! This is the super fun part. Shopping! I found the most awesome glass knobs at Hobby Lobby. And what gets even better is that about once or twice a month their knobs go on sale for 50% off. Score! And you know what that means… I'm actually saving money by going shopping! I needed 17 knobs and the regular prices at Hobby Lobby range from $3 to $5 per knob. But with the 50% discount I got all 17 knobs for about $40. Score. Score. I mismatched the knobs for more of a shabby chic kind of look. Check out some of the perdy knobs, all installed and gorgeous looking. What can I say, I like shiny things.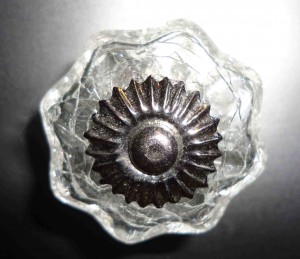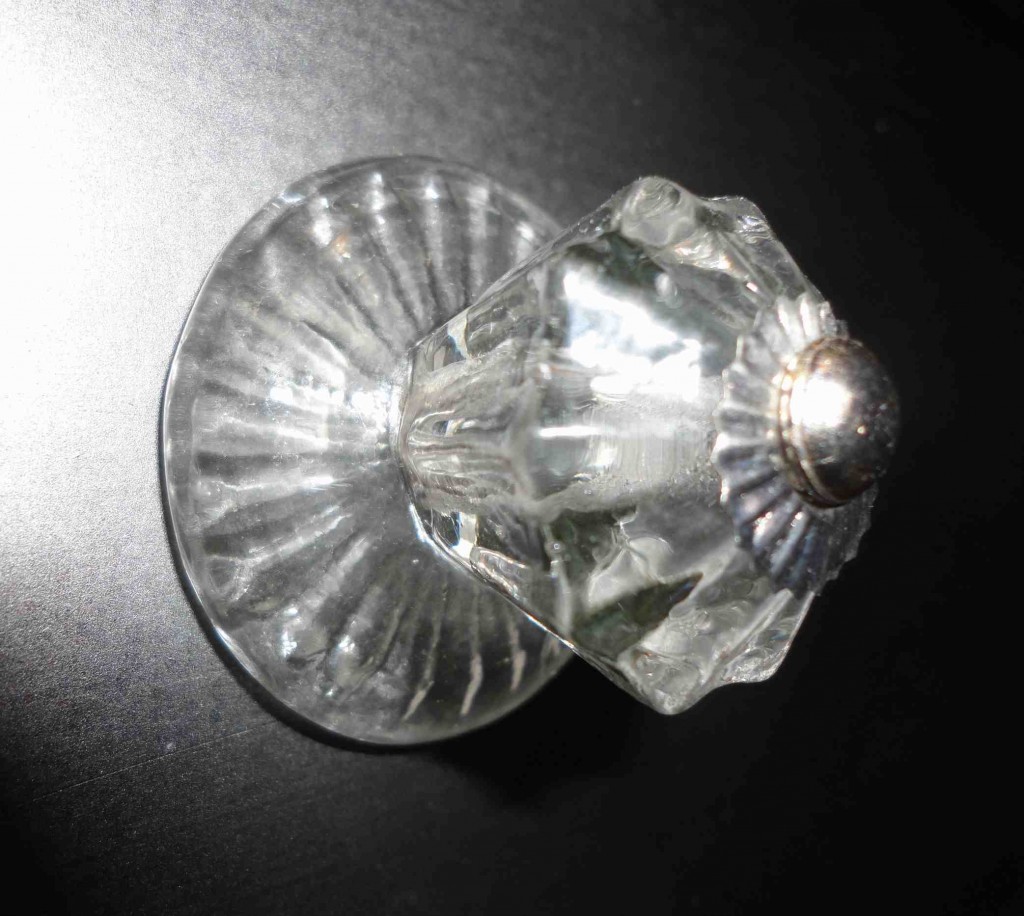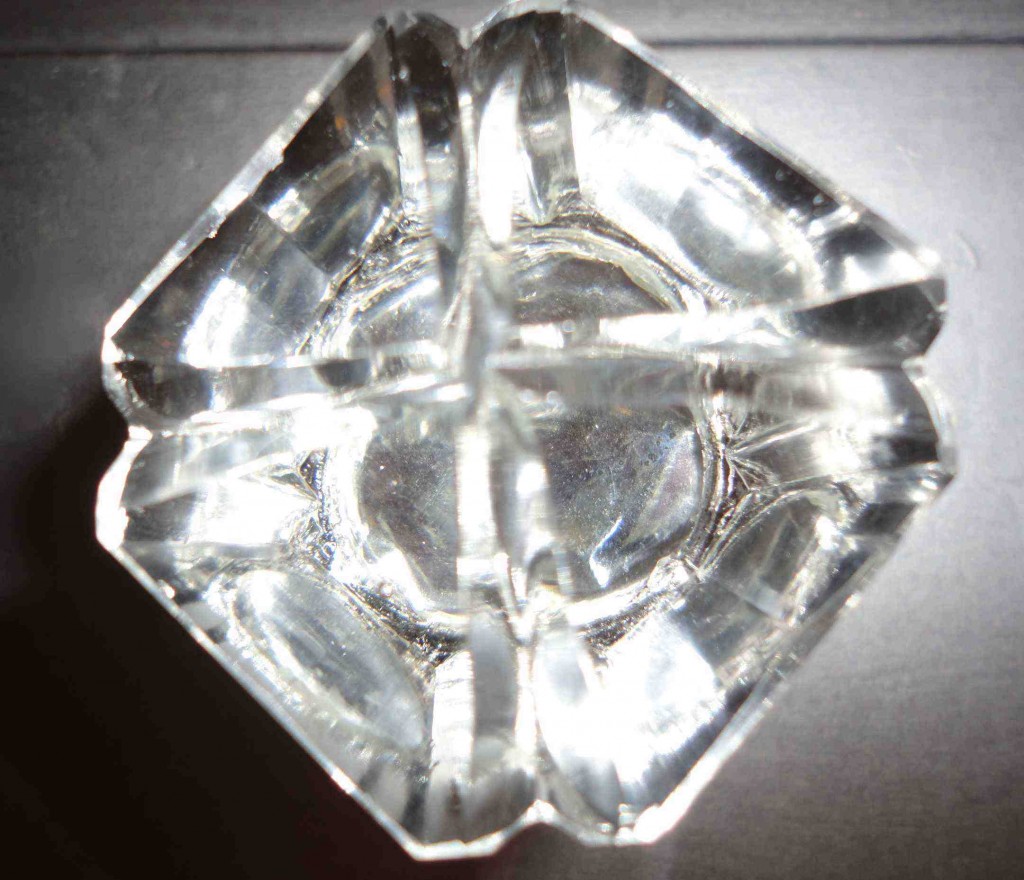 And now, the big reveal. Okay the second big reveal….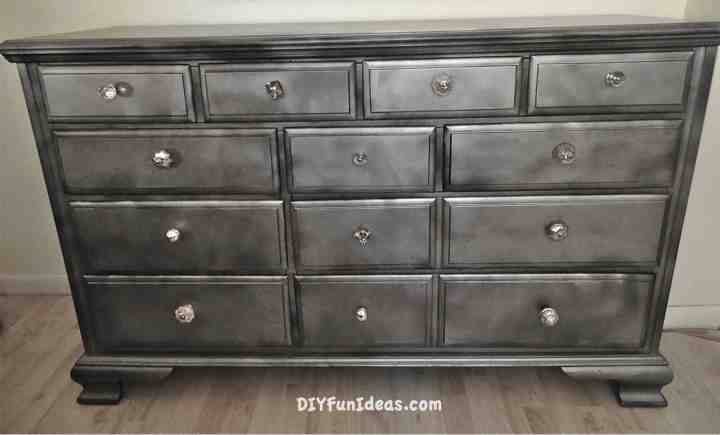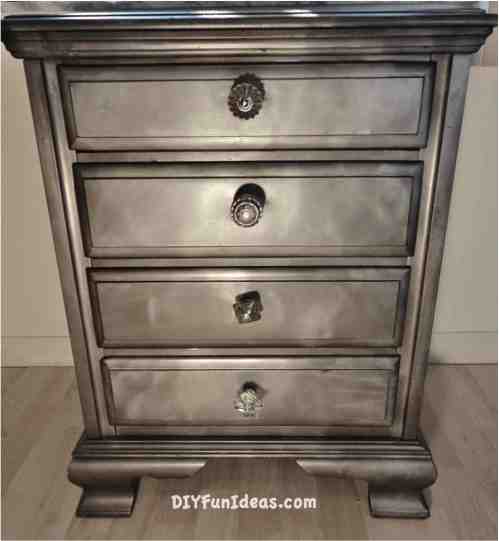 Oh, and notice the sexy floors holding up the sexy furniture. Installed by yours truly…but that'll be a future post. One more time, before and afters…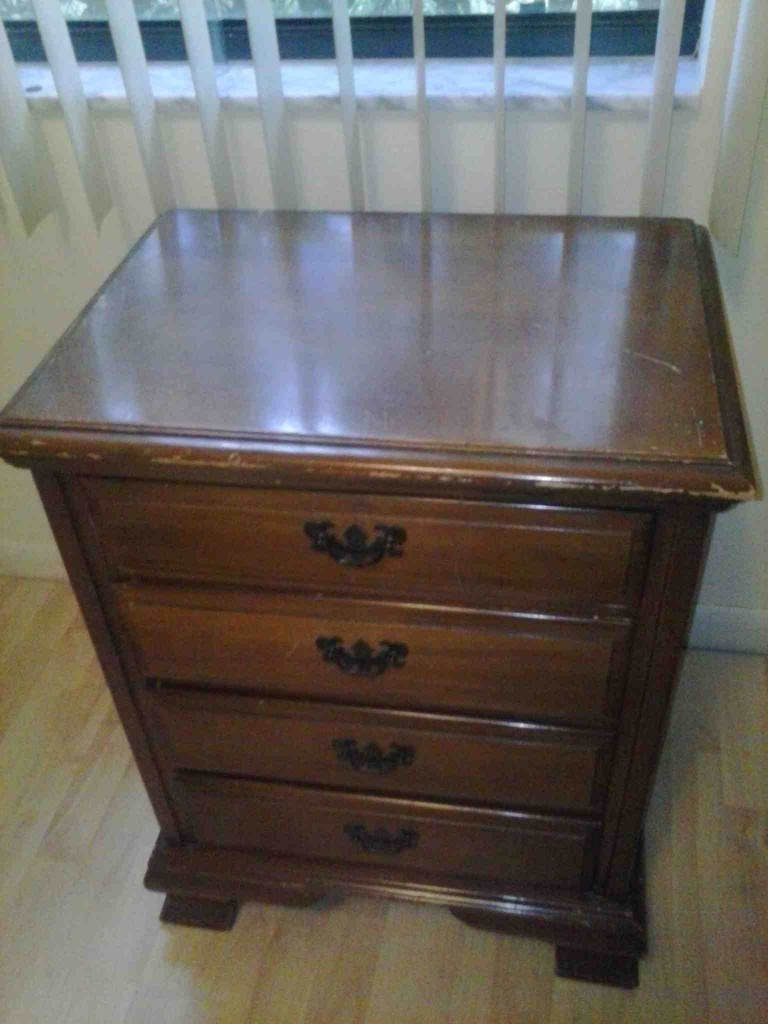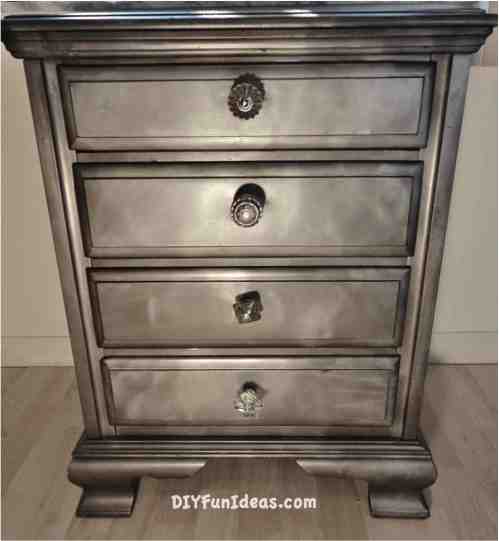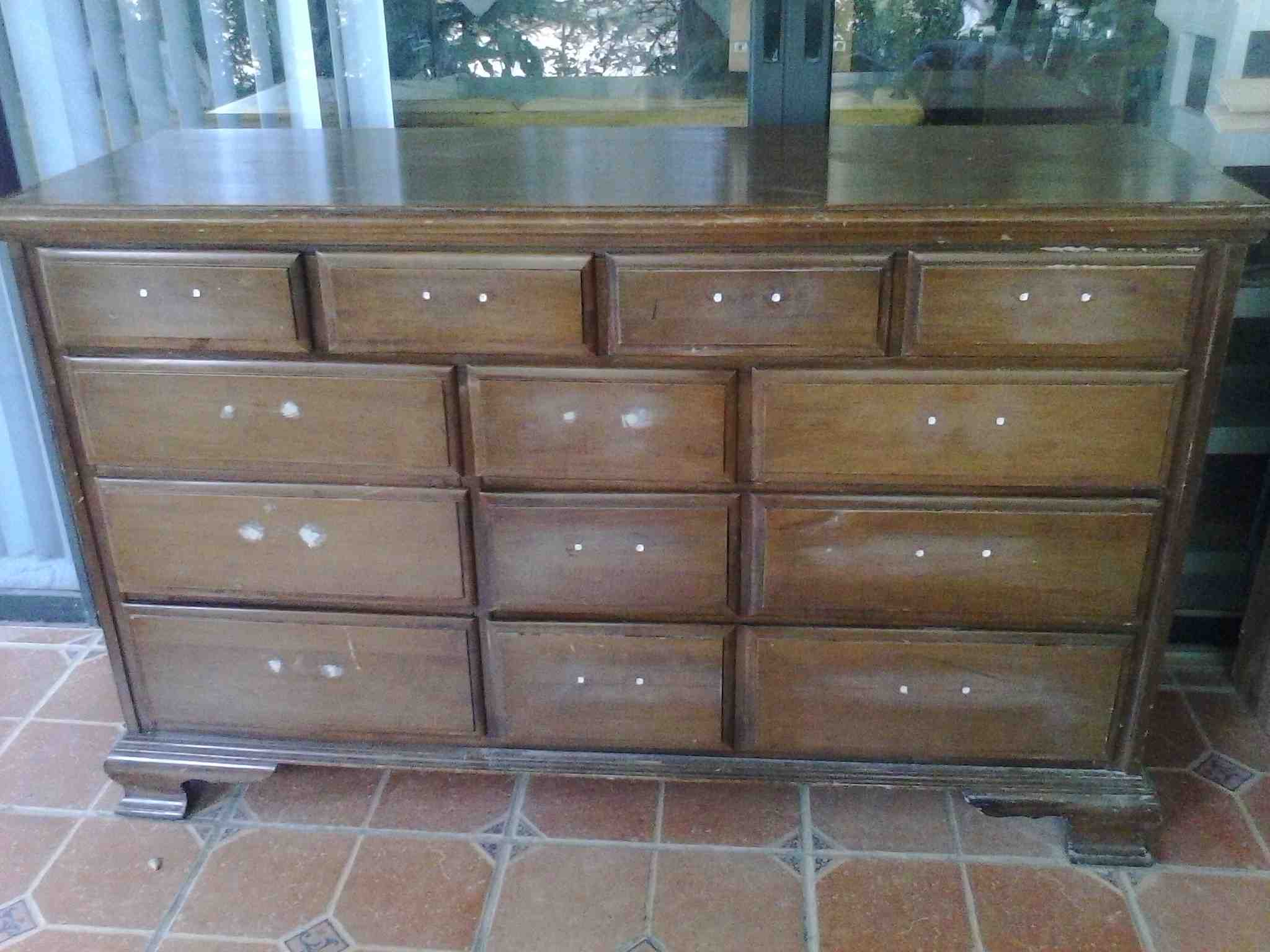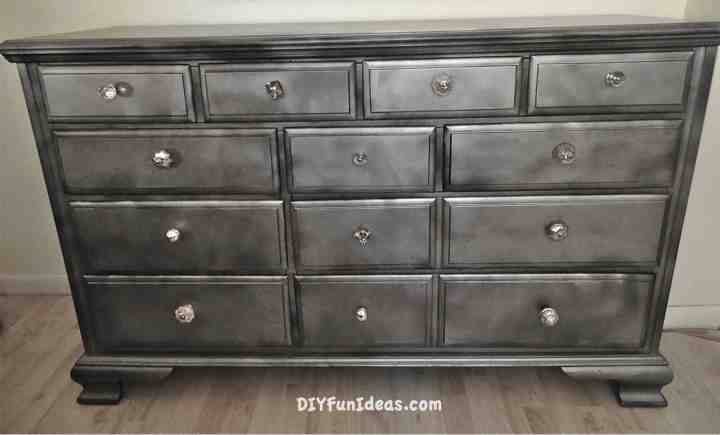 ENTER YOUR EMAIL ADDRESS ON THE RIGHT to keep getting all the unfiltered new fun ideas directly to your inbox! And FOLLOW ME ON PINTEREST too!
Also check out my DIY fantabulous formica cabinet makeover where I put together my own unique chalk paint recipe.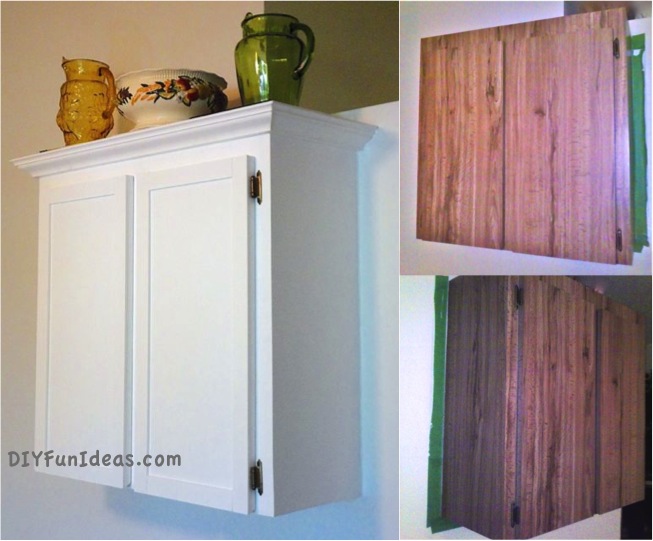 Cheers!
~ Jenise
Links to blog parties here & here.