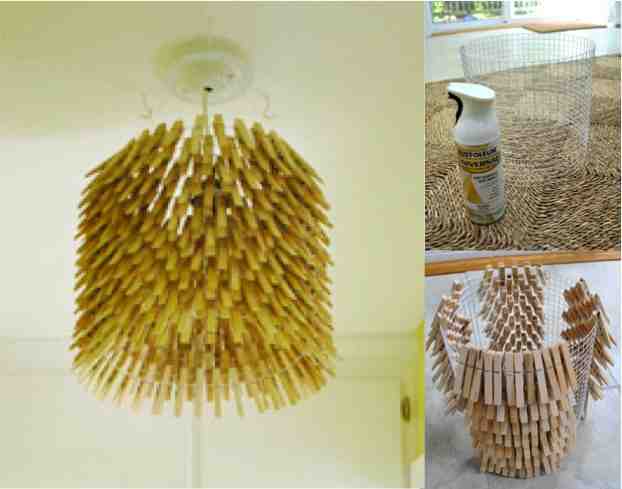 Never lose track of this project! PIN IT and 'Like' it on facebook so you'll always find it.

Remember the old clothes pin that grandma used to hang out clothes to dry? I know, it's hard to remember that far back. And if you're of the digital age, it's like asking you what a cassette tape is.
These handy little wooden pieces once had a purpose. Now they do again, at least in the realm of crafts. There are lots of interesting and fun projects you can do with clothes pins and here's one of them… a clothes pin chandelier. Yep, you heard that right. It's a really fun and creative idea and it'll have your friends do a double take. Hang it in your laundry room or anywhere else in the house where you want to make a statement. And one of the great things about this DIY clothes pin chandelier is that it's so easy to make. You're basically hooking the pins onto mesh. So get the kids to join in. For more details on this terrific clothes pin chandelier and for the full tutorial, check out How To Make A Clothes Pin Chandelier.
And if you're looking for more fun lighting ideas, then check these out…
DIY Ultra Modern Concrete Lamp For $7
Beautiful Easy DIY Outdoor Grapevine Ball Chandelier
Cheers!
~ Jenise
p.s. Always find this project by pinning it & liking on facebook (Don't forget to hit the "Get Notifications" button so facebook doesn't filter us out of your newsfeed!). Then stay tuned for more fun & fabulous DIY ideas and inspirations!

(Secret: There's some exclusive content on that thar facebook page…sshhh!…okay, I guess I just ruined the secret.)