Before we get started today, PLEASE TAKE A MINUTE TO ENTER THE NEXUS 7 TABLET GIVEAWAY co-hosted by: Do It Yourself Fun Ideas | Water Runs Uphill | Swanky Point of View | Mom of 4 Boys | Mommy Makes Time | Tech News Philippines| Memoirs of a Clueless Woman | Finger Click Saver | The Tween & Me  | Barbara Beat | Positive Kismet
Please read all the rules HERE before you enter. All entries will be checked and verified. Good luck!
[Disclosure: This blog did not receive compensation for this giveaway. Facebook, Twitter, & Pinterest are in no way associated with this sweepstakes. Prize fulfillment will be handled by Budget Earth.]
Next, I would like to apologize for taking so long since my last post. I was having technical difficulties with the blog ever since the WordPress 4.0 update last week and it took quite a bit of trouble shooting between myself and my awesome tech guy. Happily, he figured it out last night and now I'm back in the game!
When I posted my DIY Doggie Princess Bed (made from an old drawer), I promised a follow-up post on how to make the fab no-sew pillows for the bed. Today I have that tutorial for you.
I am happy to announce that so far my little Lily has given up "her" laundry basket and instead is loving her new bed. She actually couldn't get in it quick enough. The entire time I was working on it, she kept crawling into it. I had to keep taking her out and then she'd sneak right back in the moment I looked away.
At first I thought she was only interested in it because I was so completely involved with it and she was trying to get my attention. But now I'm convinced that she knew I was making it for her all along.
I made two pillows for her throne dog bed. One I used as the main bed cushion. The second pillow is a decorative roll pillow. She is using the "decorative" pillow as a real pillow to lay her head on… total melt my heart cuteness, but I might be a little biased.
Anyways, how do you make a no-sew pillow in five minutes? Well, remember the No-Sew Head Board Slip Cover that I made? Same technique. Oh, and see that pillow on the bed? It's also a no-sew pillow!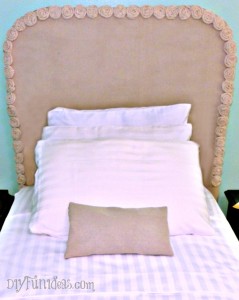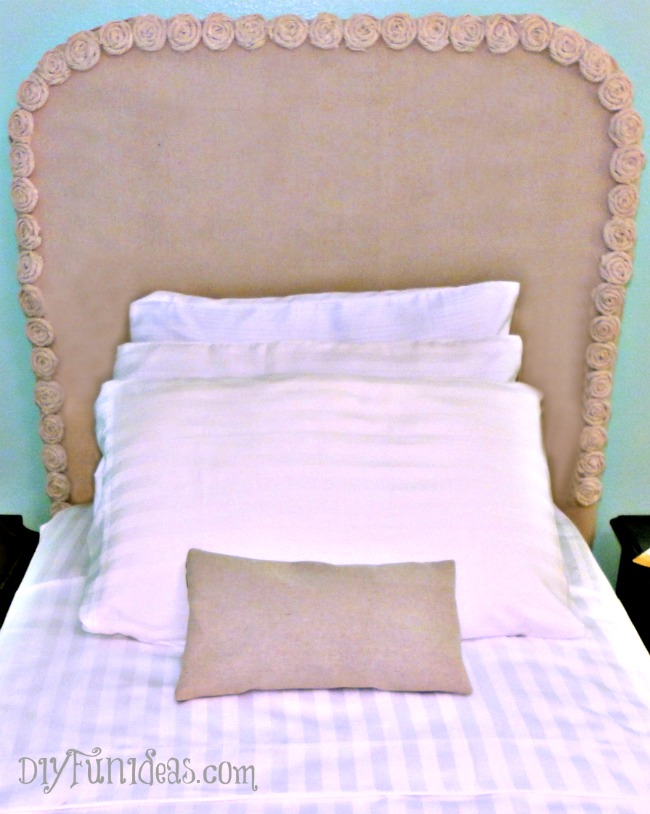 Now, to refresh your memory, I had found these awesome hot glue gun glue sticks made specifically for fabrics. After applying the hot glue to the fabric, it's flexible and washable and all around awesome for the sewing impaired, i.e., me.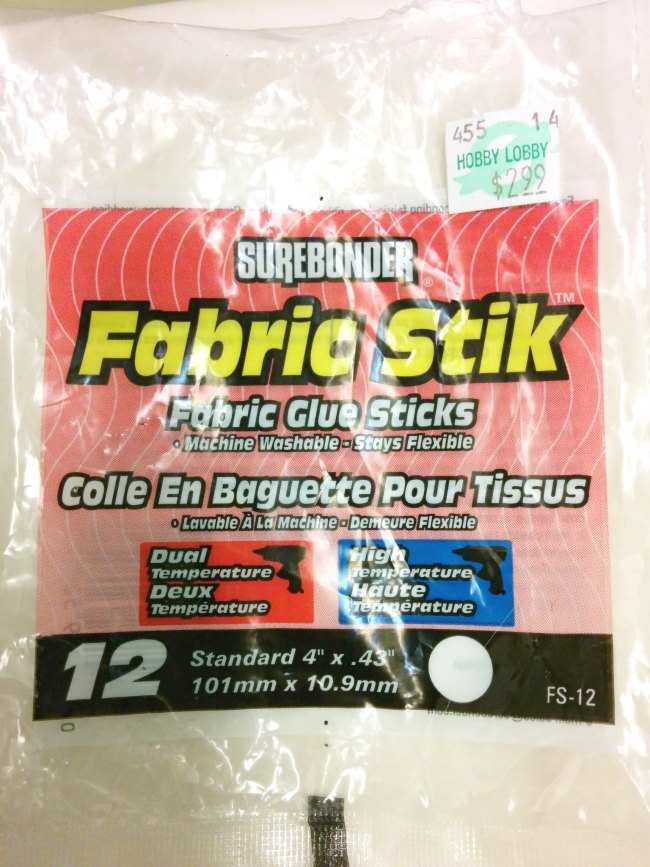 To make my cushion pillow, I measured the area of Lily's bed where the pillow would go (it was 13″ x 14″). I added 2 inches to each side so there would be enough room for the seam and for loft and then I cut two pieces of 17″ x 18″ size fabric. Of course, select the size appropriate for you.
After you cut your fabric to the appropriate size, lay the front and back pieces together with the inside of the fabric facing out.
Run a glue bead along the edge of what will be the outside of the pillow.
Lay the opposite side of the pillow fabric (outside in) against the glue bead and press down.
Repeat on the remaining three sides, only on the last side of the pillow, only run the glue bead about three quarters of the length and adhere. Wait a minute or two. Then start stuffing your pillow through the remaining opening.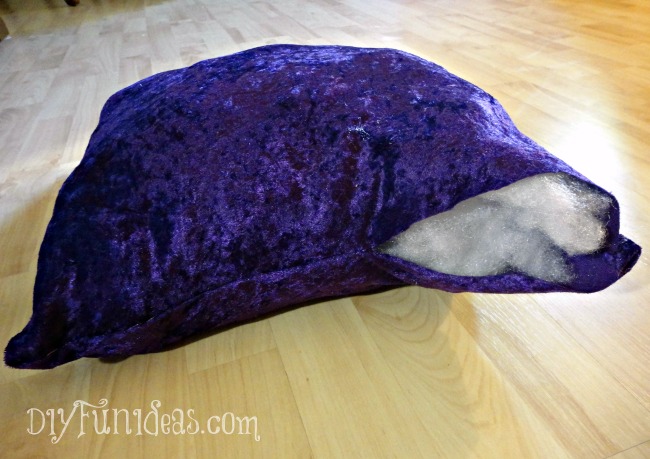 After the pillow is stuffed, continue the glue bead along the opened length of the last side of the pillow and adhere the opposite side to close the opening.
Done! You have just finished your super easy DIY no-sew pillow!
Now, you do have the option to take your fabulous no-sew pillow one step further by picking up a needle and thread and sewing on buttons to create tufting, the way I did. But it's not necessary. Your pillow is fabulous just the way it is!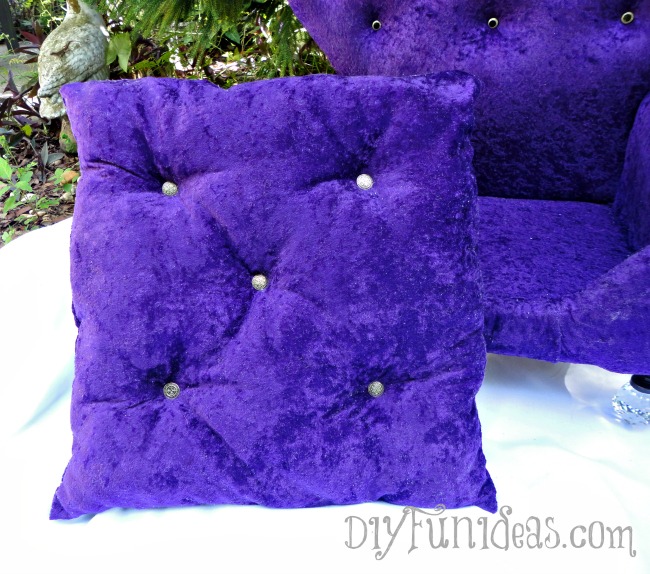 I followed up my big cushion pillow with a fun no-sew roll pillow. Here's how….
Decide how long and how wide you want your DIY no-sew roll pillow. For whatever width you want, double the inches and then add about 2 more inches before cutting. For example, I wanted my pillow to be about 4 inches wide. So I doubled that to 8 inches, then added 2 more inches for the seam and loft for a total of 10 inches.
For the length, add about 4-6″ to the desired length. For example, I wanted my no-sew roll pillow to be 12 inches long, so I cut the length at 18 inches.
To sum it up, for my 4″ wide by 12″ long roll pillow, I cut my material at 10″ x 18″.
Once you have your fabric cut, run a hot glue bead close to the edge of the fabric along the length of one side, on the outside of the fabric.
Then, place the opposite side over the bead and press to adhere.
The fabric I was using gave me really straight cut lines and the edges didn't run, so for me there was no need to hem the outside length edge. But if you choose to hem your edge you can do that with the fabric glue using the same technique.
Once you have the length sealed, tie a ribbon around one end of the pillow to close that end.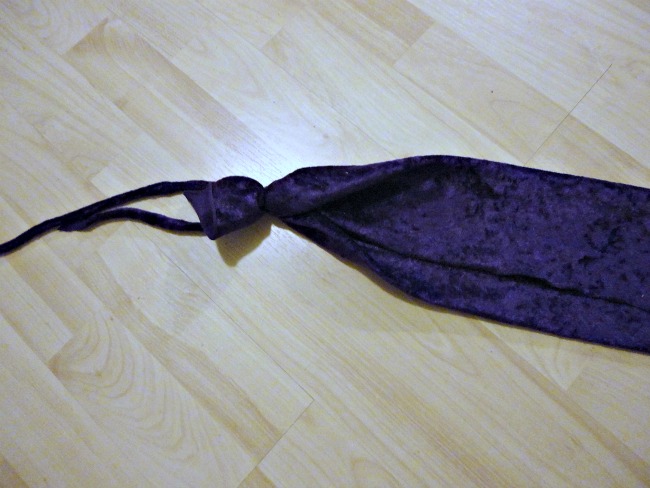 Stuff your pillow with filling.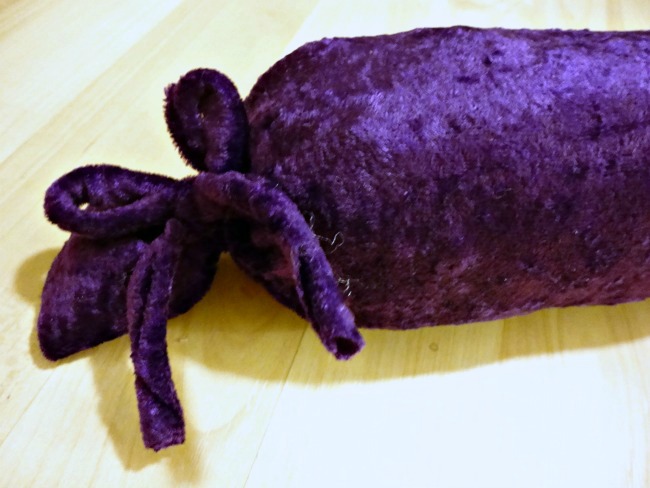 When you're satisfied with the loft of your roll pillow, tie a ribbon around the opposite end. And you'll have your brand spankin' new handy dandy DIY no-sew roll pillow!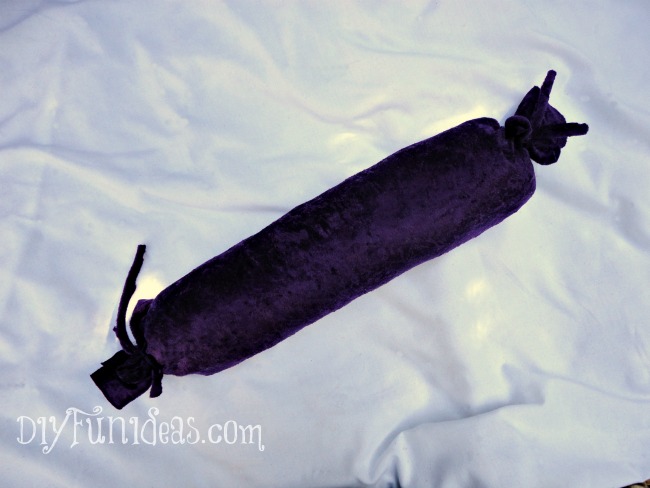 And there you have it! I hope this tutorial has inspired you to make something fabulous!!! And don't forget to check out the full DIY Princess Doggie Bed From An Old Drawer tutorial!

Cheers!
Jenise
This post linked to some of these totally fabulous blogs and here.