Hola and thanks for stopping! If you're new here, please SIGN UP FOR EMAIL ALERTS so you never miss a fun DIY! You can also follow me on Pinterest Here!
There's only ONE MORE WEEK to vote for me in the BobVila.com concrete competition. The competition has been neck-in-neck, so I could really use your vote. So before moving on to today's tutorial, please pop on over to BobVila.com and vote for my Concrete Planter Hands! You can vote once a day FROM EVERY DEVICE you have, that includes your XBOX, PS, Smart TV, tablet, Phone, etc. Please help and vote often. It only takes seconds. Did I mention it only takes seconds! You could have voted 7 times in the time it took you to read this post. Seconds! …And I will love you forever! Did I mention I will love you forever!!!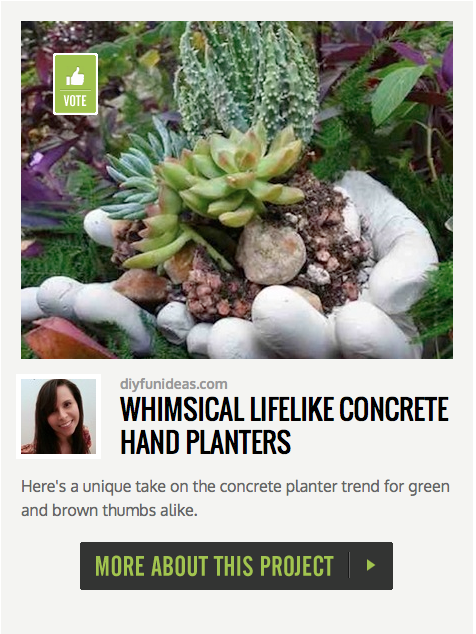 Now, onto the Princess's new throne…
My darling little pup, Lily, always ignores her doggie bed. Instead she prefers the laundry basket. It doesn't matter if it's filled with clean or dirty clothes. And it doesn't matter what room the basket is in, she will find it, climb in (it's really cute because the basket is taller than she is and sometimes she gets stuck in mid hurdle and has to wiggle her way over the hump) and dig herself a little hole. Sometimes she digs herself in so well that only her head is visible.

I have to admit that it cracks me up each time I find her like this, but at the same time it's inspired me to make her a new doggie bed. Her old one is a pretty standard fleece covered cushion. So I thought, maybe if I make her something more box-like and enclosed then she'd like it better.
I've seen tons of dog beds online that are made from old drawers and I thought the concept is brilliant…and easy. Love easy. So off I went to make her a drawer dog bed. The plan was pretty straight forward: get an old drawer, spray paint it, put a cushion in it, done… well, at least that's how it started out.
I found this drawer…
I spray painted it.
Then I thought, "hmmm, a bed needs a headboard." So my plan evolved. I cut a square out of some scrap wood to fit in the back of the drawer and then spray painted that too. I figured I'd perhaps find some great doggie graphic to transfer onto it.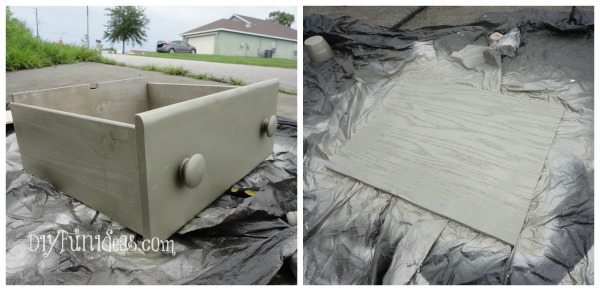 After the paint dried, I stuck the new head board into the box and stepped back to look at it and… Nope. It just wasn't doing anything for me. It seemed so plain, square, and small. So the plan evolved again. I got online and took a look at head boards. I wanted something curvy and with a width wider than the drawer.  So I came up with this…
And once again the bed evolved. After cutting my new head board to shape, I thought, "Wouldn't that look nice upholstered and tufted." I wasn't sure if I would tuft it, but just in case, I drew a little graph on the back of the head board so I could evenly space some drill holes for tufting. Then I headed out to the store and picked up some batting and fabric.
I found this fabulous crushed velvet purple fabric. I wasn't sure if it would be a little too flamboyant, but then I figured, "Eh, why not?" After all, my little one is quite the princess.
Before upholstering, I added some bolts for attaching the head board to the back of the drawer, then used a staple gun to tack the batting and fabric in place.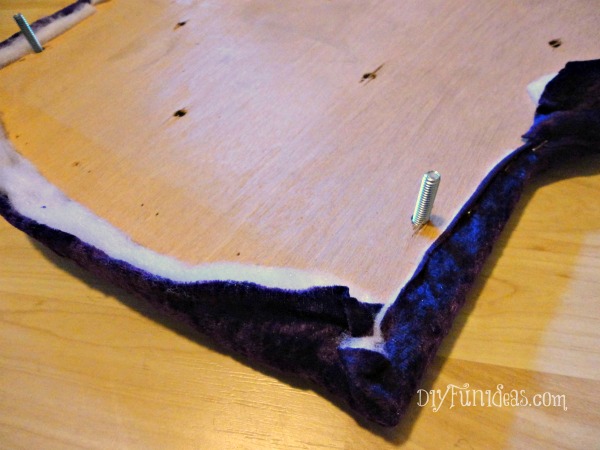 Here's the upholstered head board…
Oh, and you can see that I cut away a section of the drawer front so that Lily doesn't have to hurdle her way in.
Now, this is where the project evolved again. I thought, "boy, I really like the head board, but it made the bed look more like a high-back chair." That's when a little light went on… I'd make my girl's bed look like a high-back chair! And wouldn't it look great with some big roll arms!!
But how on earth do I make arms? I was stuck.
While pondering a solution, I caught a glimpse of the left over PVC that I had from my DIY PVC Bangle Bracelets project and I got soooo excited.
I'd make the arms using the PVC! So I marked drill holes on the sides of the drawer and on the PVC so I could bolt the arms on to the drawer…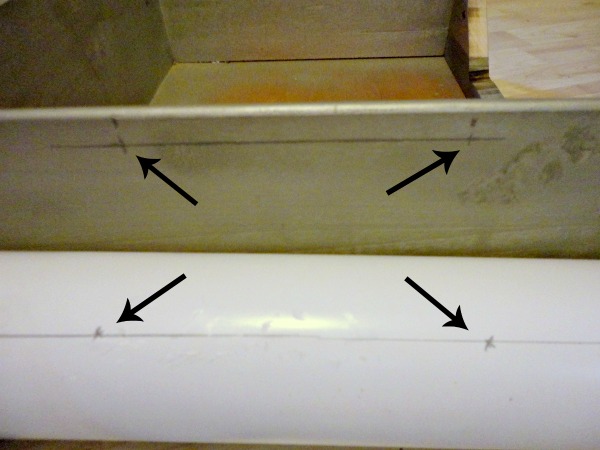 And now since the bed was becoming a chair, the entire thing needed to be upholstered. So I started stapling on the batting. Then Lily decided her new bed needed testing.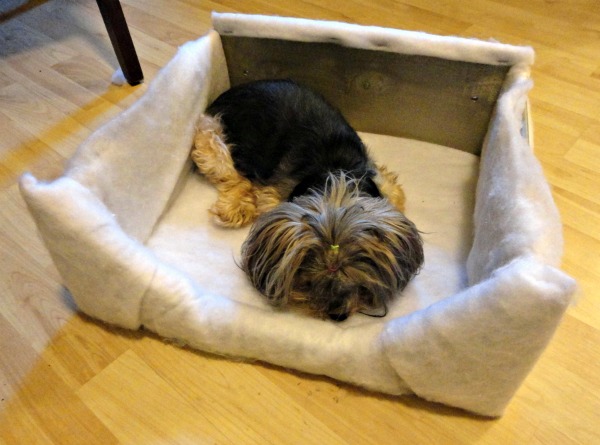 I stapled fabric over the batting.
Here you can see where I placed the bolts through the drawer side and under the batting so I could attach the arms…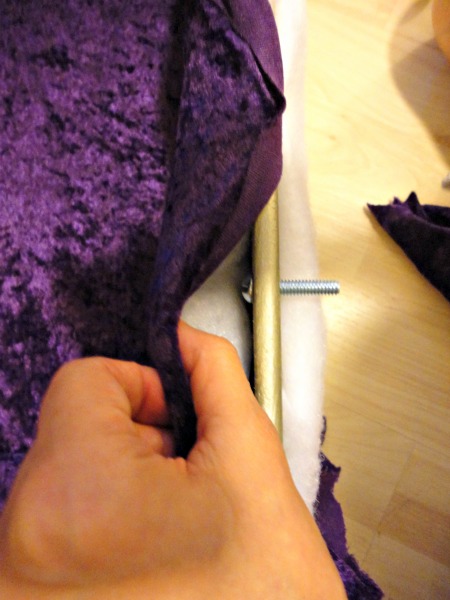 And here's a lesson learned: Don't try to drill through batting. It gets all caught up on the drill bit and is a pain in the patookus to remove.
Once I had the entire chair upholstered, it was time to attach the PVC arms onto the bolts.
But first, I heavily wrapped the PVC with batting and cut through the batting to expose the drill holes. I couldn't staple the fabric to the PVC, so I glue gunned it on straight across the entire arm, just under the drill holes.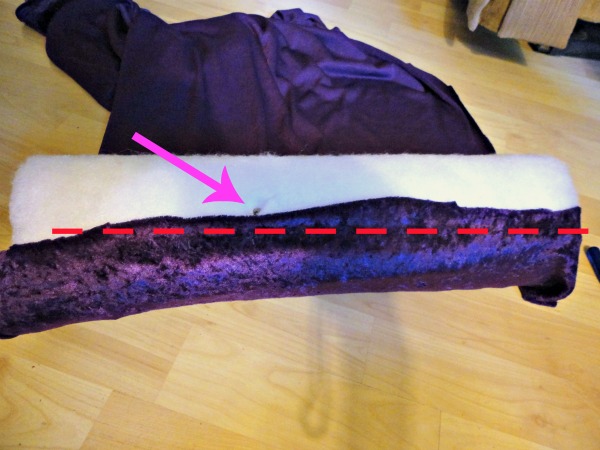 I slipped the PVC onto the bolts and stuck my hand in from the back to screw the nuts on from the inside.
At this point the glued on fabric was hanging down from the arm.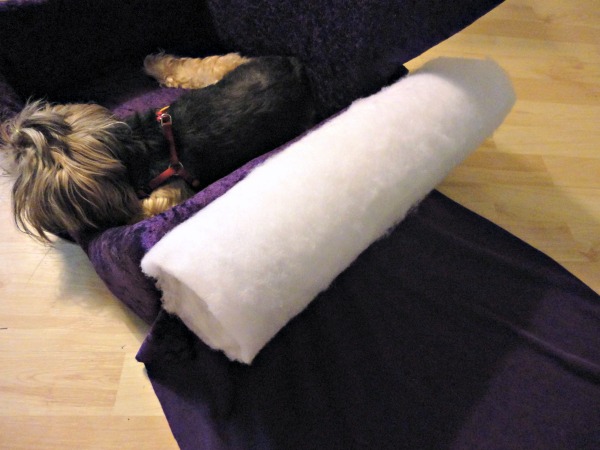 I added extra batting where the arm and drawer connected and then I flipped the fabric over the arm and stapled it into the bottom corner of the inside of the drawer.
I had to keep removing my little one from the work in progress, but she just kept climbing back in and making herself comfortable.
I repeated the same process to attach the second arm.
To close the front of the arm, I folded the fabric over and glue gunned it together making sure that no glue would show from the outside.
To close the back of the arm, I stapled the extra fabric to the back of the head board.
Next, Lily's throne needed feet. For the front feet, I picked up some glass knobs from the craft store, mounted them on to small blocks and then glue gunned the blocks to the bottom of the chair.
Had I actually planned ahead, I would have attached the feet before upholstering so that I could simply screw them into the bottom of the chair.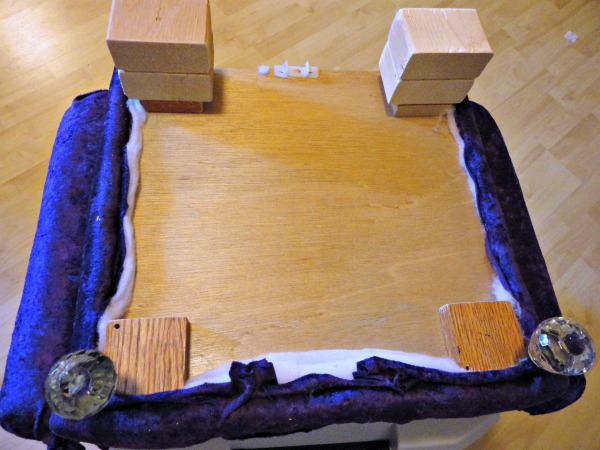 I simply used wood blocks for the back feet (since nobody sees the back feet) and painted the blocks the same color as the fabric.
Finally, I tufted the back of the chair with some pretty silver and black buttons. (Confession: I kind of borrowed those buttons from an old dress in my Mom's closet. Shhh!)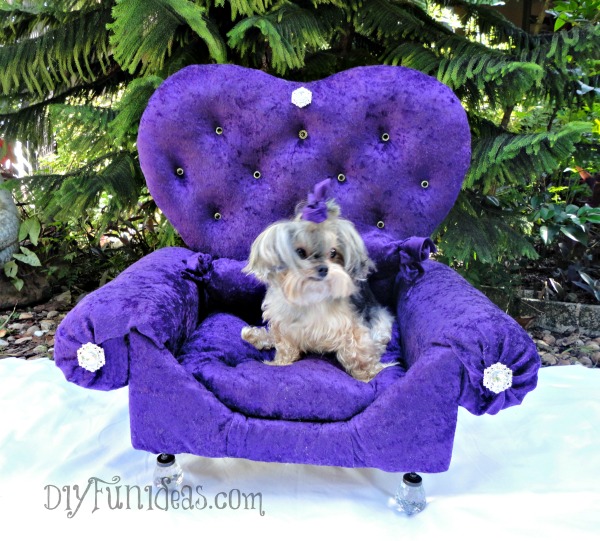 I made a fun no-sew roll pillow for the back of the chair and a super thick no-sew cushion pillow. You can check out the How To Make No-Sew Pillows In 5 Minutes tutorial right here.
I also added some sparkly jeweled embellishments to the arms and the top of the chair back.
Oh, yeah… and I added a matching ribbon to Lily's head. I don't think she was all too happy about that.
But my little princess got her throne.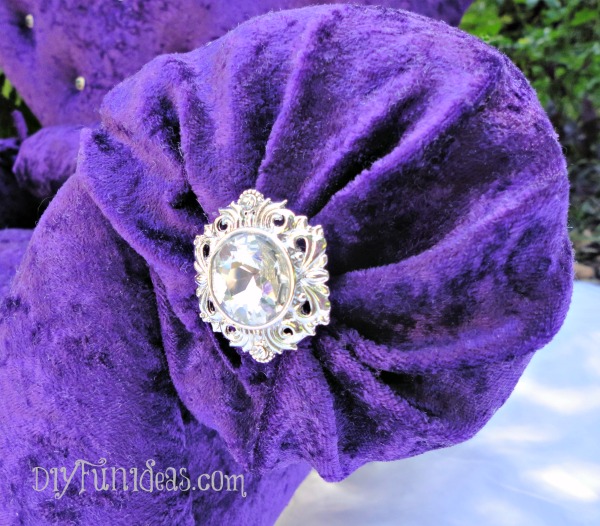 I think she may have even given up the laundry basket… At least for now.
This is the first time I've ever made any thing like this. It's also the first time I've ever upholstered any thing. It was a make it up as you go kind of project. But so are most of my projects. But my point is that if I can do it, then so can you.
I hope Lily's DIY dog bed/princess throne from an old drawer has inspired you to make something fabulous for your pampered pooch.
And if you love the chair but don't have a pup, it would make an awesome chair for a toddler's room. It would also look gorgeous in any of these Amazing Playhouses Under The Stairs!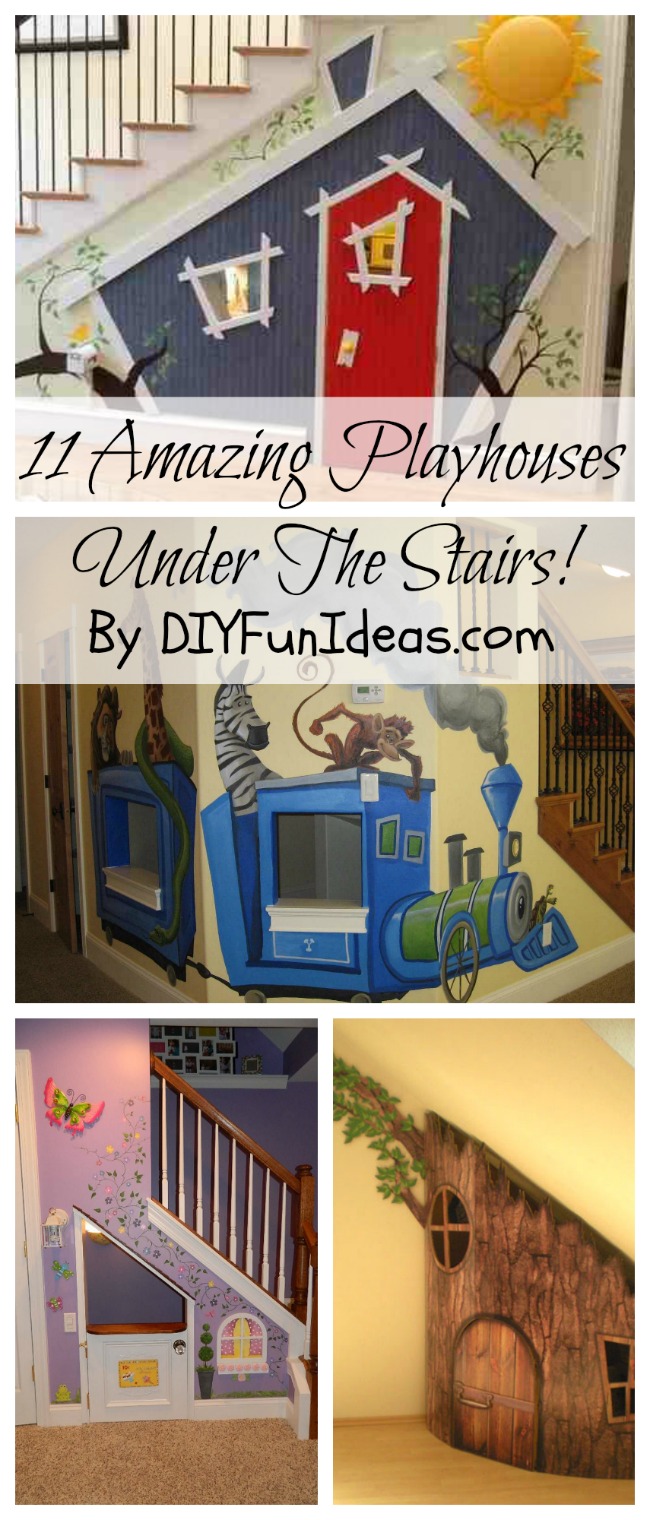 PLEASE SIGN UP FOR EMAIL ALERTS so you don't miss another fun DIY!

And don't forget to follow me on Pinterest Here!
Cheers!
Jenise
This post linked to some of these totally fabulous blogs and here.