Hi folks! Thanks for stopping by!
I've been busy fixin' stuff!
There was this crack in the concrete walkway at Mom and Pop's house that was driving me nuts, so I repaired it and thought I'd share all the super simple fix-it details with you.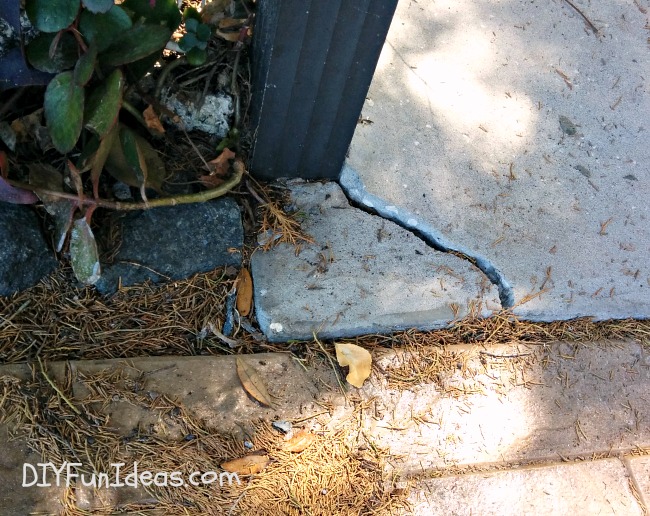 The crack had been there forever, but it only started driving me crazy recently. You see, it wasn't all that noticeable until I finished installing the new stamped concrete tile driveway…
At which point the crack, in the walk way on the left, stuck out like a sore thumb. It was very rudely screaming at me: FIX ME!
And since I don't like being yelled at, I did.
Here's a close-up of the bugger…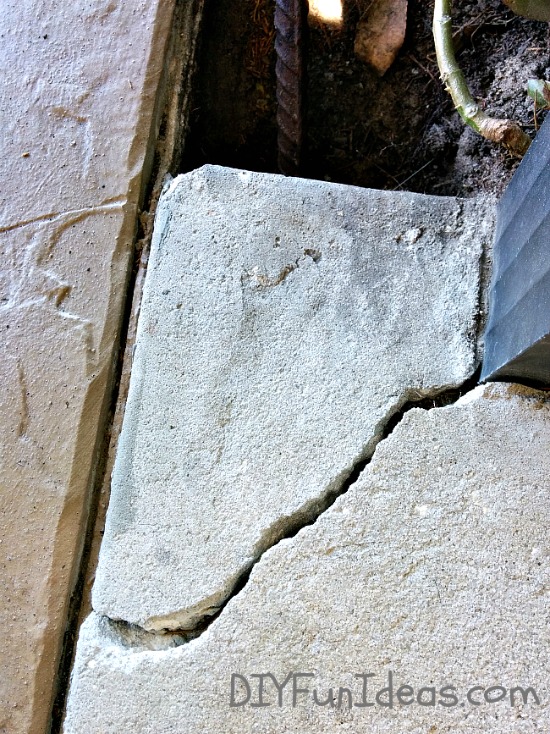 You can see how the cracked corner sits lower than the rest of the concrete slab. So my plan was to dig up the cracked end and place a layer of sand underneath it so that it sat level with the rest of the slab. But the darn thing wasn't having any part of that. As I dug out the soil on the end, I found that the piece was not only six inches thick, but it was still completely attached to the post on the right.
So I put my thinking cap on and came up with plan B: fill the crack with mortar mix and then use the mix to level out the top. And, I'm happy to say that it turned out perfect.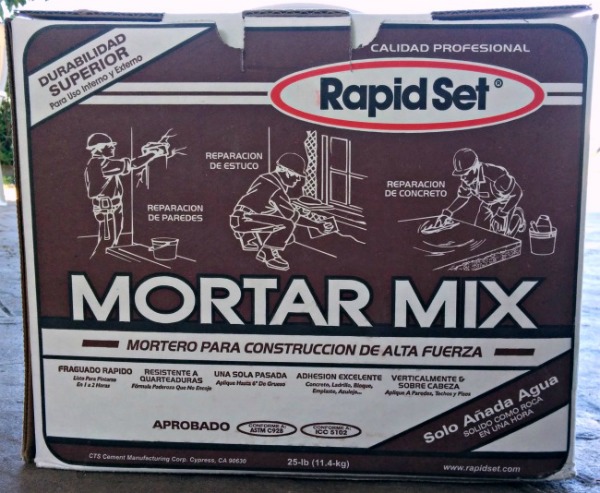 I used Rapid Set® Mortar Mix for the repair. So why mortar versus concrete? The big difference between the two is that mortar is primarily used as a bonding agent. In this case, to bond the two broken pieces together. Concrete, on the other hand, is generally used for structural applications to form something. Thus, mortar was the way to go for this project.
Also, Rapid Set® Mortar Mix, which is made of a blend of hydraulic cement and quality aggregates is super strong, super fast setting and will not shrink. So, what that means is: mix, apply, done, no worries. Oh, and did I tell you that you can find it at Home Depots across the U.S. and Canada!
Now, once you've picked up your Rapid Set® Mortar Mix, you'll need to prepare your surface for application. First, remove any loose concrete. I used a hammer and chisel to chip off any loose edges, then used a stiff bristled brush to brush away any excess.
Next, I used my chisel to create a small under-cut below the lip of each side of the crack.
Basically, your crack should look more like the image on the left above. The difference is that in the years down the road, the undercut will help prevent slippage of the repair.
Next, make sure your surface is thoroughly clean of any oils, dust, or debris.
Since my plan A (to lift the corner) was a no go and I decided to level the cracked corner from the top, I needed to create a frame so that my mix would have a straight edge.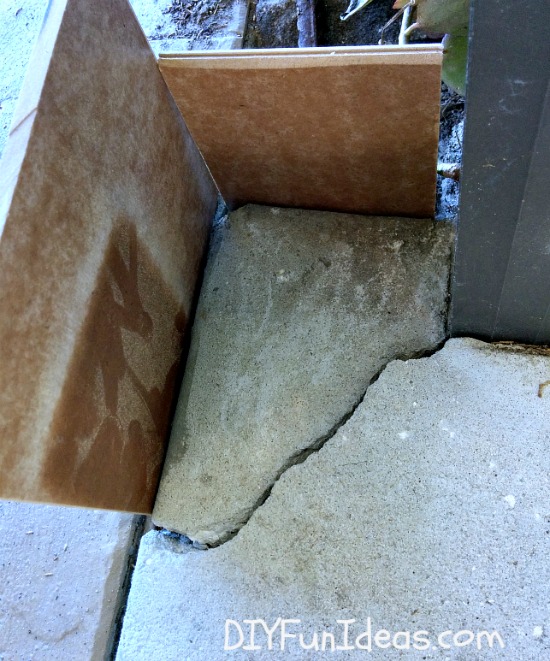 I had some scrap pieces of laminate boards hanging around from when I installed laminate flooring. So I used those along the edges.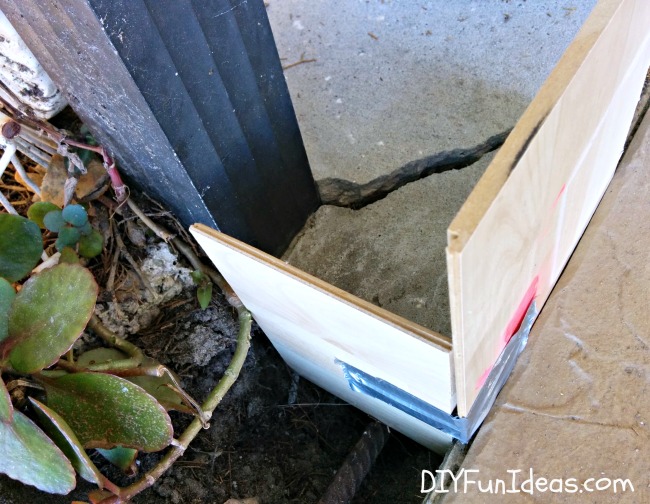 I just held the pieces in place with a strip of duct tape.
If you're working on a larger area that requires more structural strength, I recommend using a heavier material like wood and screwing the pieces together.
Lily stopped by to supervise. Can't get anything past that girl!
The next step is to mix up your Rapid Set® Mortar Mix at a ratio of 1 part water to 4 parts mix. For my small repair, I used about 4 ounces of water and 16 ounces of mortar mix.
Pour your water into your bucket first.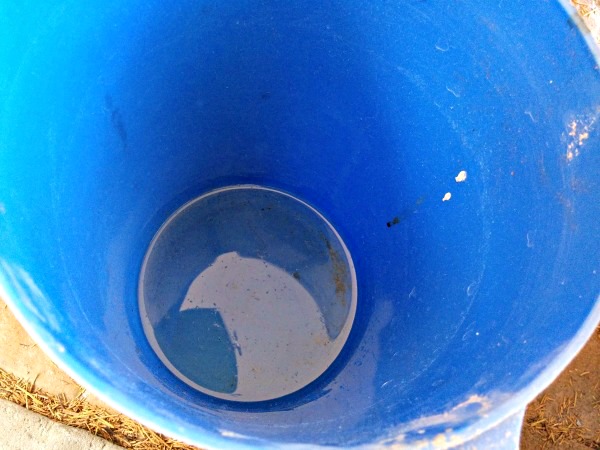 Then add the Rapid Set® Mortar Mix, mixing as you go.
I used a small garden trowel to mix it up.
The mix will be pretty thick and you want to mix it pretty aggressively until it's lump free.
Before applying your mix, throughly moisten the area to be repaired. But make sure to remove any standing water.
I simply poured some water over the area and let it run off.
Once the repair area is thoroughly moistened, press the mixed mortar into the crack.
I used both my fingers and a small mud knife to fill the crack.
Then I poured the rest of my mix over the area I wanted leveled out.
And used a trowel to flatten and smooth the surface.
Here's what it looked like all smoothed out…
Next, keep your mortar moist for the next hour or so. I used a spray bottle to moisten. You can also cover the area with some plastic after it sets to keep the moisture in.
After about an hour, when the repair was well set, I removed my edges. Even though the mortar was pretty well set at that point, I'd still recommend waiting a little longer than I did to remove any structural pieces… just in case.
I suppose I'm a little impatient sometimes.
So remember my before picture?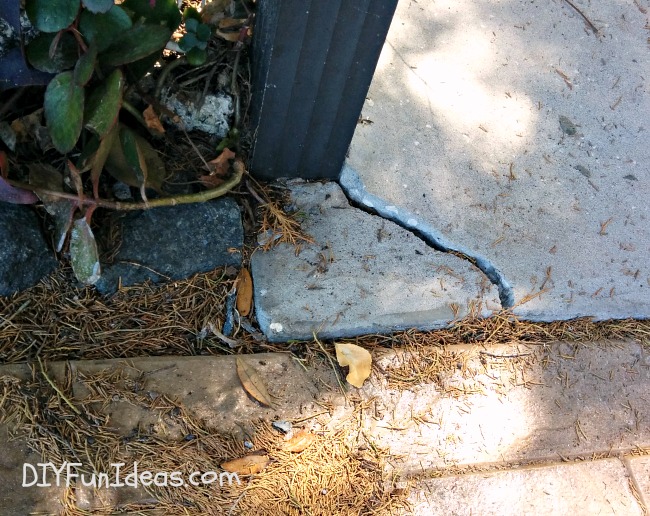 Well, here's the after…
I'm officially putting this repair under the category of "not too shabby, dude!"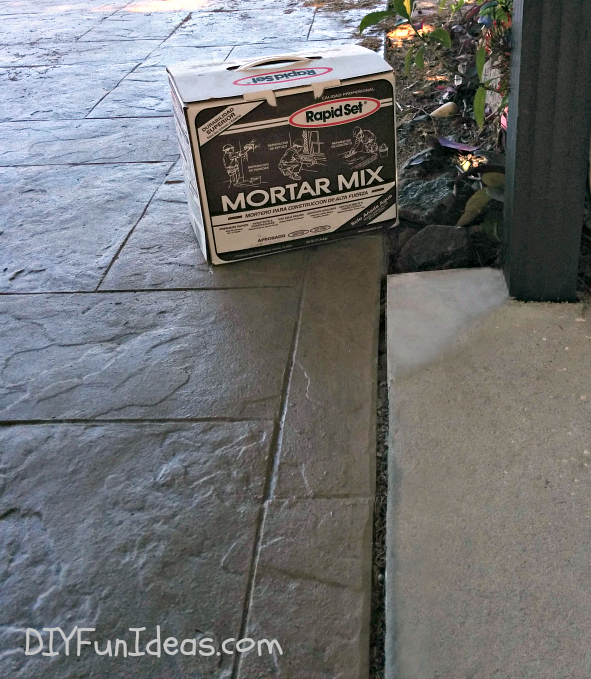 The repaired section is a little brighter than the old concrete. But once it's been exposed to the elements for a while, the difference will hardly be noticeable.
There ya go! Super easy concrete crack repair with Rapid Set® Mortar Mix!
Check out more fun Rapid Set® ideas on Pinterest!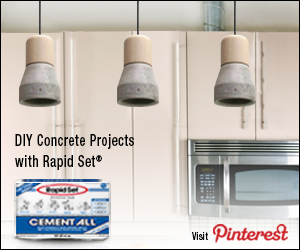 Till next time!
xo
~Jenise
p.s. This post sponsored by CTS Cement. All opinions are my own.
This post linked to some of these totally fabulous blogs and Remodelaholic.