Hi folks!
Remember when I made this fabulous under the bed rolling storage solution from an old book shelf?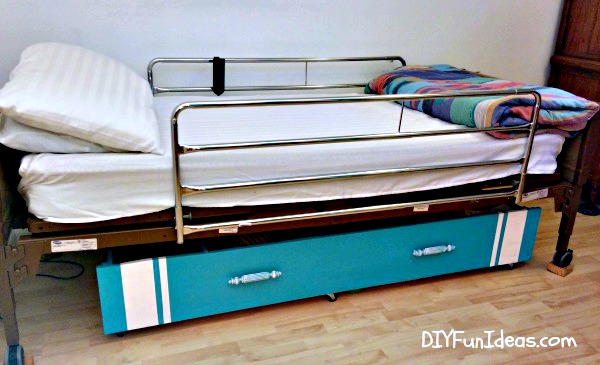 Well, I want to share with you today how I made those fantabulous drawer pulls. Okay, well, I didn't actually "make" the drawer pulls. That would take some serious skills. But I did refinish them to give 'em an awesome shabby chic antiqued look.
Here's what they looked like when I first got my hands on them…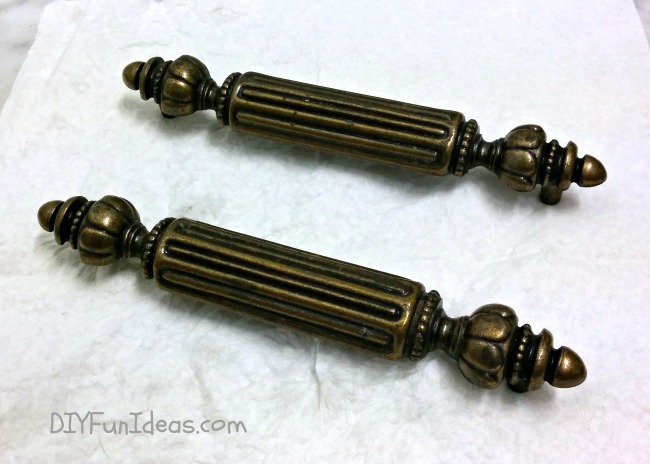 Ewe. Ugly, right?
I found two sets of these in my dad's back room storage stash. What's dad's back room storage stash? Well, there's a small mother in law apartment in the back of their house that they were meaning to fix up (yeah, I might get around to that one day after I finish all the work on the main part of their house) and all I can say about it now is that they had good intentions. But since no one was living in there, it ended up a place for my dad's stash. You see, my dad was a DIYer long before I was even a glimmer in his eye. And sometimes DIYers tend to keep stuff that they think might come in handy for a future job. It sorta used to drive my mom crazy. And it was never surprising to hear something like, "Hey, don't get rid of that! That's a good piece of wood," come out of my dad's mouth.
Before I got all into DIY-ing, I used to think my dad was a novice hoarder trying real hard to become the real deal. Now, I get it and I thank him just about anytime I need some random item, because there's a good chance I'll find it in his stash.
By the way, there is this beautiful intricately carved door in his stash that he half sanded down back in the day and it's just waiting for me to finish the job. My mouth waters every time I walk by it. My plan is that when I get to re-finishing the kitchen later this year, I'll use it as a back door. Oh, and the kitchen is another story. I just requested a quote for the electrical for the job (I don't do electrical…it scares me), so another step towards getting me ready to get that job started.
Anyway, when I needed drawer pulls for my book shelf turned under the bed storage, I had no doubt I'd find something in his stash. And I did! Only they were butt ugly. But they had some good bones to them. All those dips and curves made the ugly drawer pulls the perfect candidate for some antiquing. So the vision began.
First thing I did was give them a good soap and water cleaning and then I slapped on a coat of a spray paint primer for metal
. Then, using a small paint brush, I followed up with a coat of the same turquoise color I used for the storage drawer.
Now, you won't believe how super easy it was to finish this up. All I did next was dry brush some white paint over the turquoise and Voila!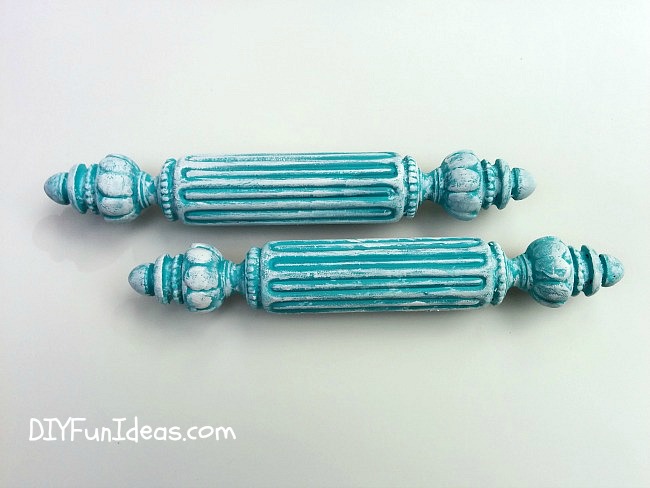 If you haven't dry-brushed before, it's simple. All you do is put some paint on your brush, wipe most of it off (I used a paper towel to wipe off the extra) and then lightly brush over your surface. So easy!
Finally, you can apply a top coat of Polycrylic
 protective finish to protect the finish and avoid chipping. I chose not to. I figured if they chipped it would only add to that shabby look I was going for. Although I've been using the pulls for a while now and there's been no chipping.
Here are some more pics of my perdy shabby chic antiqued drawer pulls…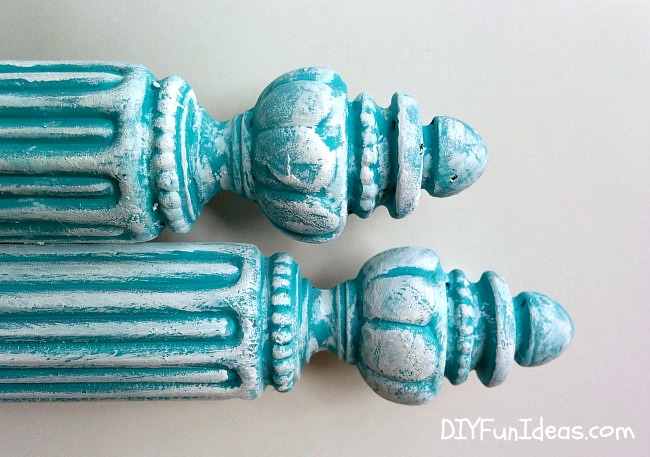 Well, that's it my friends!
I've got some really fun stuff coming, so make sure you sign up for email alerts so you don't miss any of the DIY Fun Ideas!

xo! ~Jenise
This post contains affiliate links.
This post linked to some of these totally fabulous blogs and Remodelaholic.