Hi folks!
Last week I was super busy working on my latest DIY, laying stamped concrete tiles on Mom and Pop's driveway. So let me start by telling you a little bit about it. This is a brand new decorative concrete system to get the look of stamped concrete. I'm talking' ain't no other product on the market like it. So let me back up a minute and tell you what's what.
When I was in Las Vegas back in December learning how to make these drop-dead gorgeous marbleized concrete counters…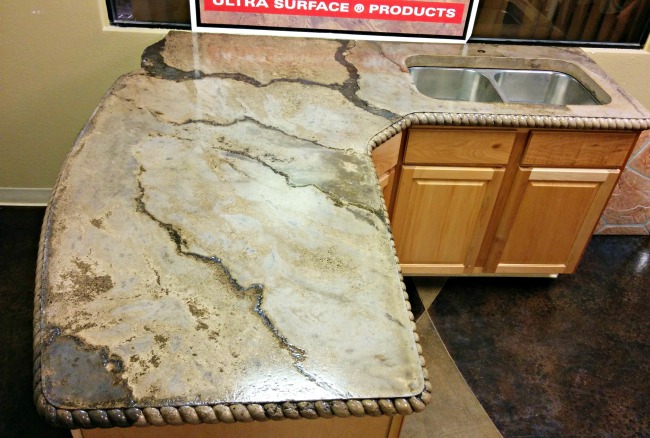 …(Yep, I worked on that counter!), I had the honor of meeting Gerry Sadleir, the inventor of 1/4″ stamped concrete and Decorative Concrete Hall Of Famer. Gerry is seriously famous in the concrete biz, and now he's taken his innovative genius a step further and invented a system of laying stamped concrete that any novice can do. And not only can a novice do it, but it's a fraction of the cost of traditional stamped concrete. Plus, traditional stamped concrete tends to eventually crack. That's simply the nature of the beast. Whereas this stamped concrete tile system will not crack. I'm talkin' ever.
Basically, what all this means is that this new stamped concrete tile system is going to revolutionize the stamped concrete industry.
And, no, I'm not exaggerating.
Now, I haven't yet put together the tutorial. That will be coming later this year. But I simply couldn't wait to start sharing this.
[UPDATE: Tutorial is now posted HERE.]
So I thought I'd give you a sneak peek of some before, during, and after shots, starting with the sad looking before pic…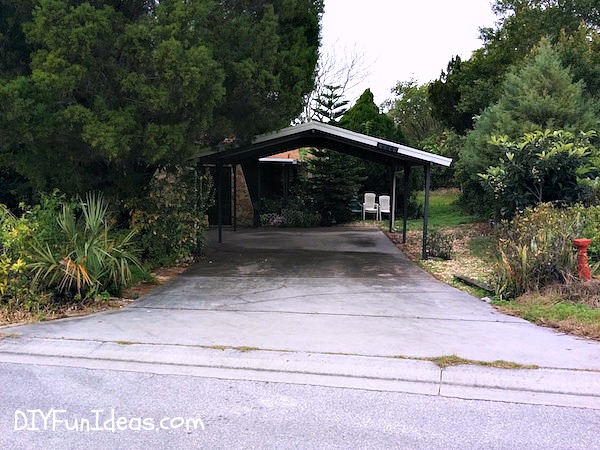 That's not a happy driveway, is it.
Now, I have to admit that this wasn't a solo job.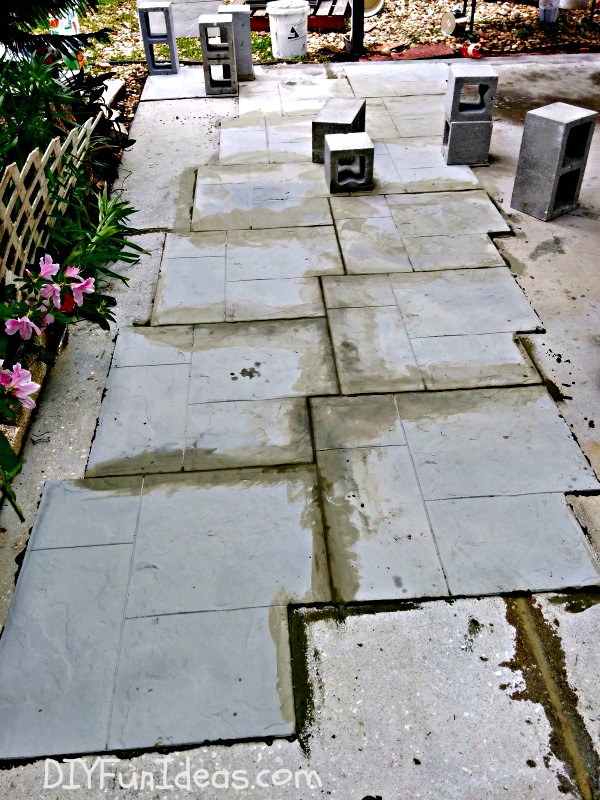 Gerry was out here in Florida for business and he worked with me, teaching me everything along the way.
And Scott Rogers, owner of Stonecrete USA, was also on site. Scott has been in the concrete biz for over 20 years and makes AMAZING decorative concrete including outdoor kitchens, countertops, fire pits, and now stamped concrete tiles. You definitely have to check out some of his work HERE.
And Scott is the only one in the Tampa Bay area (besides me) who uses the marbling technique that I learned in Vegas…. okay, well, I haven't used it yet outside of my class, but I promise you that it's coming.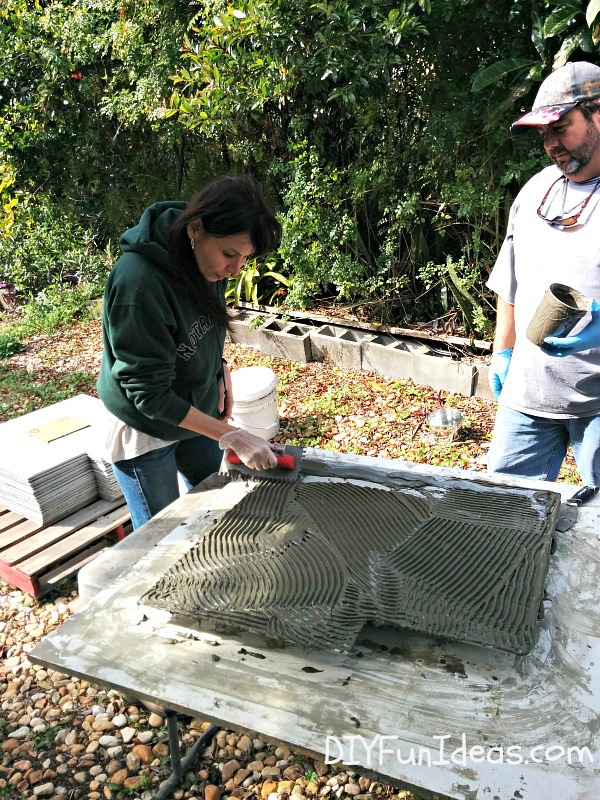 That's Scott hangin' with me. I'm teaching him a thing or two about laying concrete…um, not really.
Right about now, you're probably wondering what stamped concrete tiling would cost you. Well, first lemme tell ya that if you were to have traditional stamped concrete done, it would cost about $10 per square foot.
For a driveway like my parents', that would run you about $7,000! Are you sweating yet? Don't worry, I'm not done…
To DIY stamped concrete tiles, the cost is about $3 per square foot. Now we're talking about $2,100! …Dudes, I just saved you almost FIVE THOUSAND DOLLARS!!! …Happy dance!
Imagine how many pairs of shoes you could buy with that!!
I know, I know…Now you're saying, 'how the heck do I get this?'
This tiling system is so new that Gerry's website is still in the works, but it should be live soon.
What? You can't wait???
Alright, alright… don't get your panties all in a bunch. You can call Gerry direct at StoneCrete Systems at 619-820-9894 to order the materials to do it yourself.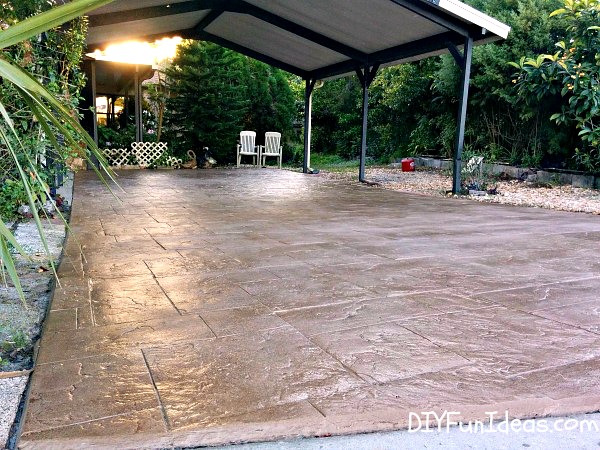 If you're in Florida, you can call Scott at 813-857-8402.
And if you prefer not to go the DIY route, Scott can install it for ya.
Oh, did I tell you that you can make your new stamped concrete tiles most any color (although I'm not promising purple).
Anywho, stay tuned for the upcoming tutorial and subscribe to the blog so you don't miss it. As I mentioned, I'll be sharing each step in video which will make it super easy to follow along. Gerry should also have his website up by then and will be offering a course on the system for those folks who prefer a hands-on learning experience.
Cheers my friends!

This post linked to some of these totally fabulous blogs and Remodelaholic.