This post written in partnership with CTS Cement, who makes my totally fave concrete!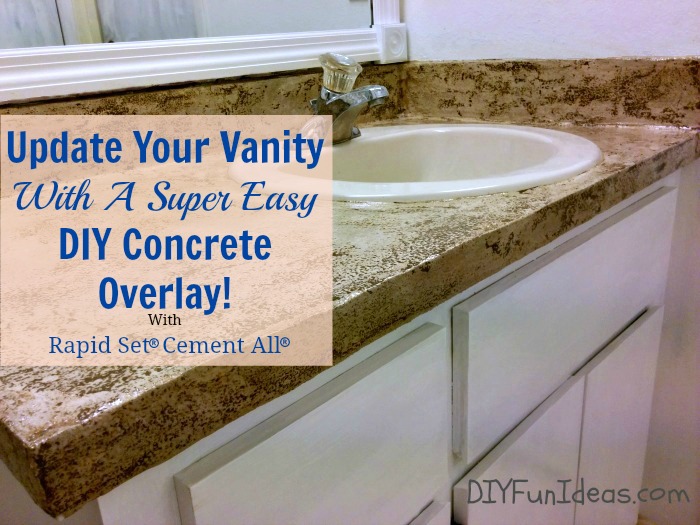 My apologies for being M.I.A. for most of April. I was out of town for the last two weeks of the month. I went to my first blogging conference and then a buddy met up with me and we went on what I've dubbed our Thelma & Louise road trip. But more on that in the next post. In the meantime, I've got this awesome concrete vanity makeover to share with you. It's actually a thin concrete coat over laminate so it's a quick and easy fix to update any old, ugly vanity or countertop. Keep scrolling down for the full tutorial, but first check out some of these countertop makeovers (click images to go to tutorials).
Marbled DIY Concrete Countertop – Full Step By Step Tutorial With Easy To Follow Pics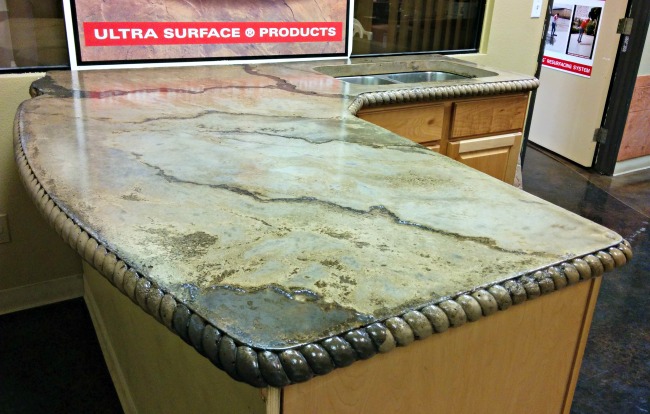 DIY Concrete Vanity Top With Integral Sink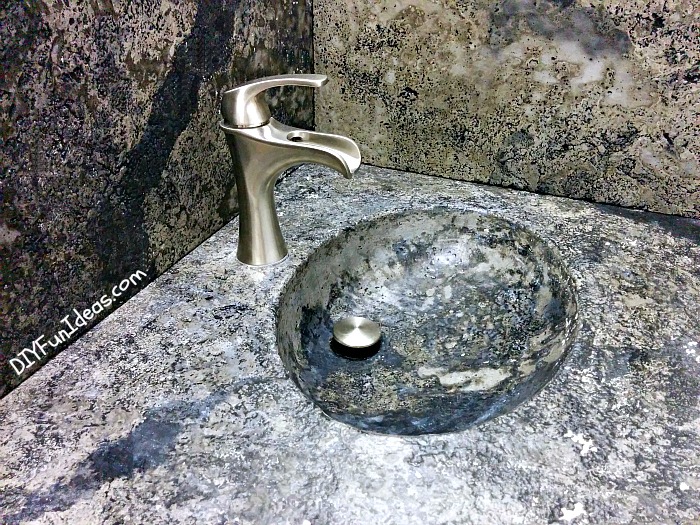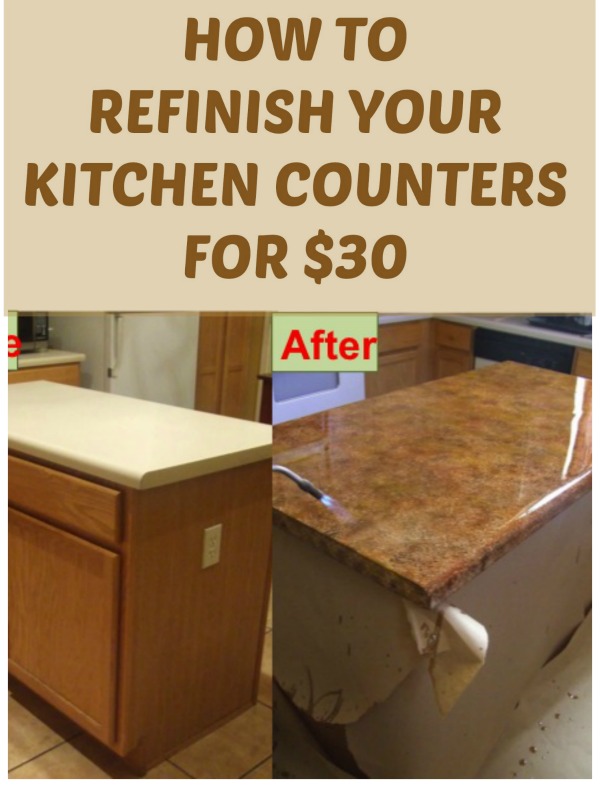 …Now back to our regularly scheduled program…
The motivation for this project came from some other projects I've seen online that use what's called a feather finish. Feather finish is basically a generic term in the concrete world that simply refers to the application of a very thin coat of concrete. The product they used did the job, but the issue was that since the product was made to be applied as a feather thin layer, it required four or five layers to get good coverage AND each layer had to be sanded before applying the next layer. Ugh! That just seemed like too much work to me for something that could be really easy. So I decided to experiment with my favorite concrete product, Rapid Set® Cement All® to find an easier way.
I have an old laminate cabinet and counter that I use as my work bench that was the perfect guinea pig for experimenting. So I mixed up a bunch of small batches of Cement All® with varying consistencies and various color pigments and applied them to the laminate surface, then sealed them. Check it out…
Cool, huh. And boy were they sturdy. I actually took a hammer to it to see what would happen. Not a crack or chip or anything. So I was all ready to go for it on the real thing: an ugly laminate vanity top at mom and pop's place.
Here it is…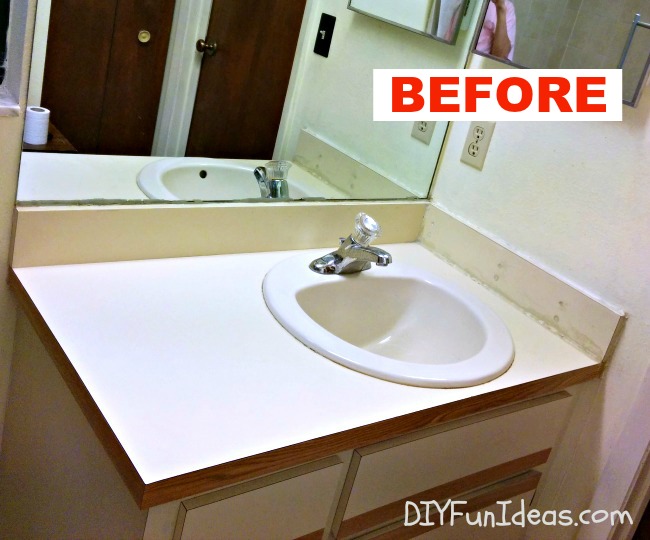 Can you say Ewee!
And here's how I made it bootiful…
Materials Needed For Your DIY Vanity Makeover with Concrete Overlay:
Rapid Set® Flow Control®
Utility knife
Pigment (optional)
Grout mix
Measuring containers
Mixing bucket
80-grit sandpaper
Concrete rubbing stone
Pre-taped plastic sheeting
Latex gloves (optional)
Water
Something to mix your concrete (either a small shovel or trowel or a drill with a mixing attachment
)
Squeegee and/or mud knife
Steps For Your DIY Concrete Overlay Vanity Makeover:
First give the countertop a quick sanding with a heavy grit sandpaper. Then use a utility knife to score the surface.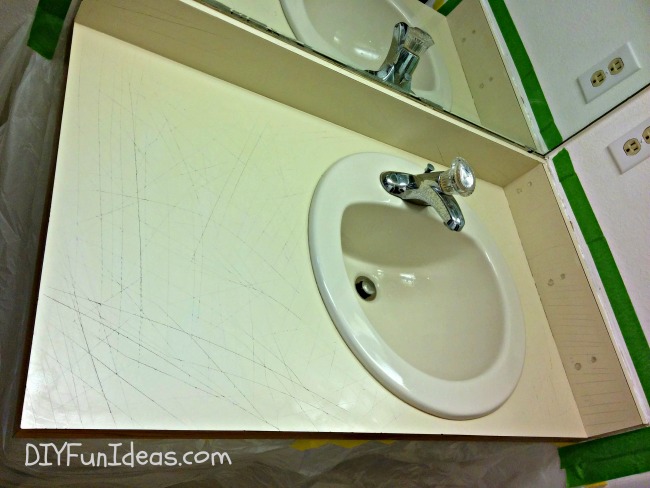 Clean off the surface to remove all dust and debris. This is going to get messy so tape off any areas where you don't want the concrete to go. I taped around the wall and then also attached a plastic sheet to the cabinet, allowing it to drape over the floor. I LOVE using pre-taped plastic
because it's so easy to just peel and stick to whatever surface you want covered. Not only should you cover the vanity cabinet, but also the nearby floor because you'll get a lot of concrete drips when applying the concrete to the side edges.
Do not mix up your Rapid Set® Cement All® until you have finished the prep work listed above since you'll want as much time as possible to work with the concrete before it starts to set.
When the prep work is done, mix up the following ingredients: Rapid Set® Cement All®, Rapid Set® Flow Control®, Rapid Set® Set Control®, pigment, and water, following the package instructions. Cement All® requires four parts Cement All® to one part water.
Always start by adding the water to your mixing container before adding the dry ingredients.
For my vanity top, I used just a bit over 64oz of Cement All® (using two 32oz containers).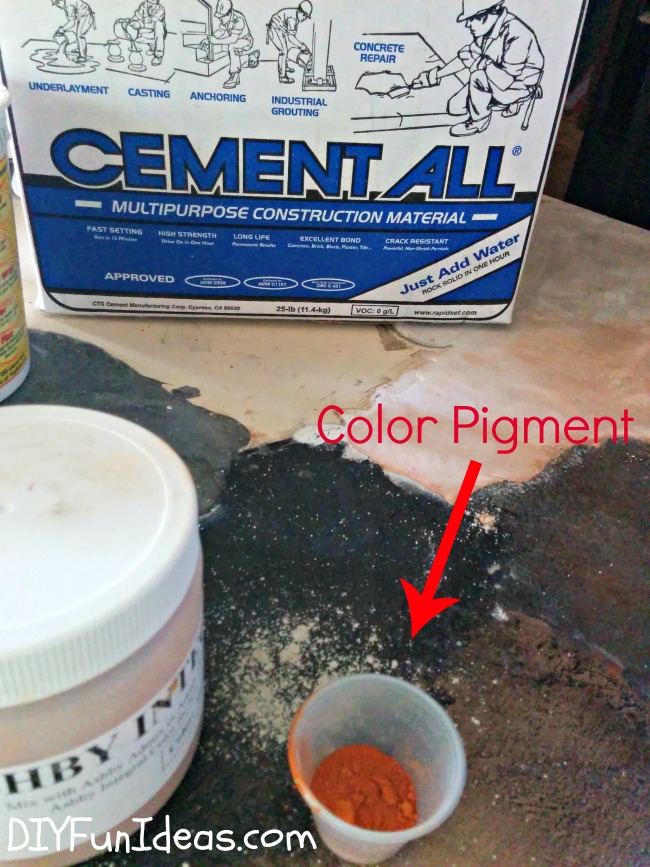 And for the pigment I used Ashby Integral color in Harvest Gold.
This is the first time I tried the Rapid Set® Flow Control® and the Set Control® and I don't think I'll ever mix up any Cement All® in the future without them. They are AWESOME! Even though Cement All® is already easy to work with, the Flow Control® made the mix super smooth (plus it increases the strength of the concrete!). And the Set Control® really helped extend the time I had to work with the concrete before it set, which was super helpful. Plus, the two packages were only a few bucks, so totally worth it!!
Remember, dry ingredients are added after the water.
If you're adding color to your mix, I do recommend mixing the pigment really well with the dry ingredients before adding it to the water to ensure that the color mixes evenly. I did not do this and ended up with some speckles of color. Lesson learned.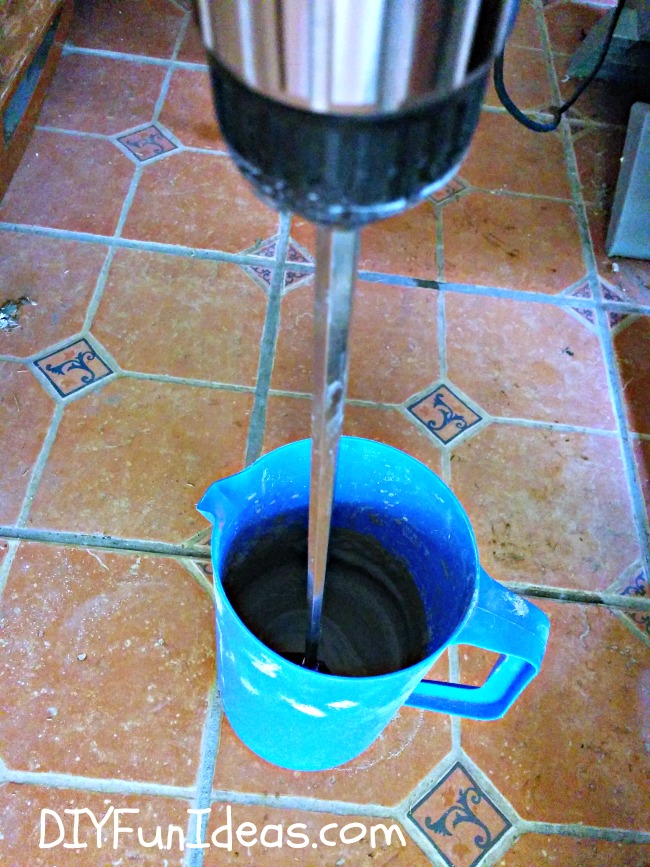 Next, mix for several minutes until smooth. I used a drill with a mixing attachment, but you can also mix by hand using a small trowel.
Here's what the consistency should look like once thoroughly mixed…
If you've added pigment (which is totally optional), don't be scared if the wet color of the concrete is not what you had in mind. The wet color will look completely different from the dry color, which will look completely different from the final sealed color. So the best way to know exactly how much pigment to add for the exact color you want is to mix up a few small batches beforehand, like I did, with different proportions of Cement All® to pigment, then seal it. You'll only know what the exact final product will look like after it's sealed.
Once the mix is ready, start packing it onto your vanity starting with the edges.
I simply poured some onto the surface and used that to cover my edges.
I do have to admit that the edges are a little tricky. Start by just packing it on. Once the concrete gets a little stiff then you can work on smoothing it out. If you try to smooth it out too soon, you'll end up just wiping off what you just put down.
As you can see, I totally used my hands to do this. I did start out with gloves on, but they came off pretty quickly which gave me more control with spreading the concrete evenly.
You will get concrete on the floor so make sure the floor is covered.
Once you have your edges all covered, start on the surface. Basically, pour and spread.
And here's a little trick I picked up… A thin bladed squeegee is AWESOME for spreading concrete!!! I found it A LOT easier to spread the concrete with a squeegee then with either a mud knife or concrete trowel.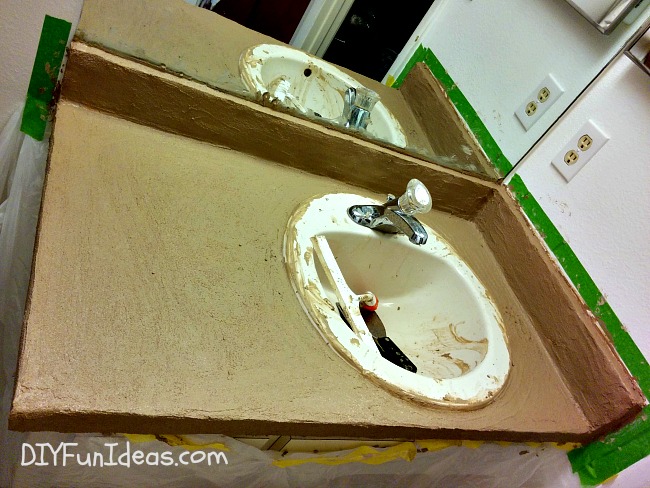 The squeegee will leave you with a rougher surface than a trowel. For this project I wanted a rougher surface and you'll see why shortly. But if you don't want as rough of a surface, then after you smooth everything out with the squeegee, you can then go over it with a concrete trowel.
And don't worry about making a mess. The excess concrete is easy to remove, just don't wait until the excess is completely dry.
To remove the excess concrete, use a scraper on the sink and surrounding areas. I also used the scraper to scrape some uneven concrete off of the surface.
After you've scraped off any big chunks of excess concrete, simply wipe a moist sponge over any remaining concrete. It should come right up pretty easily.
Once the concrete starts to set on the vanity top, take your wet sponge or a spray bottle and moisten the entire surface. You can do this a few times over the next hour or so.
Here's my finished, moistened surface…
And here's what it looked like when dried…
See what I meant when I said the wet concrete will look completely different from the dry concrete. And it will change again when I seal it.
If you have any high points on your surface, you can use a concrete rubbing stone to even it out. A rubbing stone is simply a heavy grit block, usually around 10 or 12 grit. You can find one in the concrete section of any Home Depot for about $12. With such a heavy grit, it is really easy to remove too much, so I do recommend going easy at it so you don't remove more that you want. Also, if you plan on adding a second color to your countertop, using the stone too much will reduce the pockets on the concrete where you'll want your second color deposited.
When you're satisfied with your surface, wipe it down again to remove any debris.
It's now time to apply your sealer. I used Ashby Super Seal, the same sealer used on the marbleized concrete counters I worked on back in December.
You can find sealers in the concrete section of your Home Depot. However, I've only ever used Ashby, so I can't really speak to other sealers on the market.
Follow the mixing and application directions supplied with your sealer.
My sealer goes on white, but dries clear. Here's the vanity top with the wet sealer applied…
And here's what it looks like dry…
Next, mix your grout following the package instructions. You can add a secondary pigment to your grout. I used the same color pigment that I used with the Cement All® mix, but at a higher proportion so that my secondary color remained in the same color family, yet darker.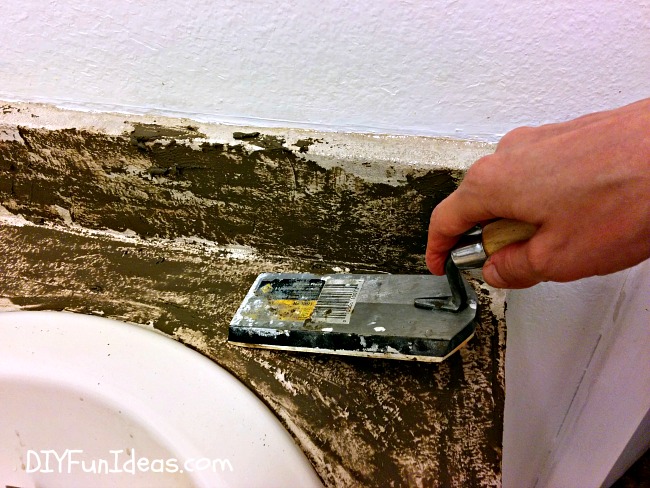 Once your grout mixture is prepared, use a float to spread your grout over the entire surface, making sure to press the grout into any surface divots. Then let the grout completely dry…
When the grout has dried, moisten a sponge and wipe away the top layer of grout leaving behind the grout deposited in the surface divots.
The more you wipe off the grout, the less secondary color that will remain on the surface. So you can choose to wipe away the grout until to you reach a point where you are satisfied with the look.
Rinse your sponge often when wiping off the grout. Otherwise, you could end up with unwanted streaks that may look like this…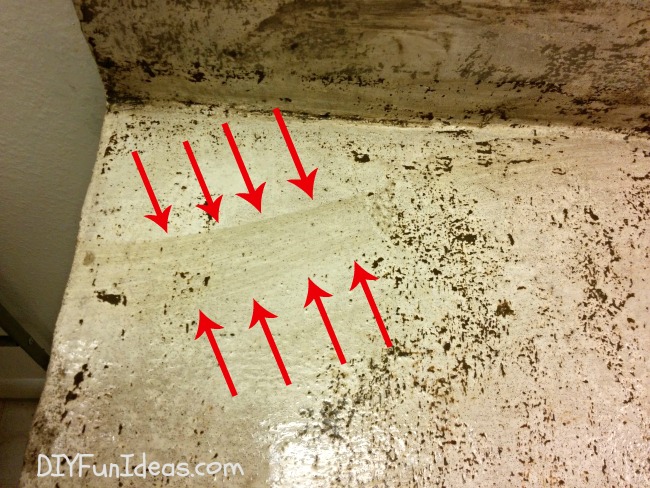 If you find streaks, simply rinse your sponge really well and go over them with your cleaned, damp sponge.
Here's what my surface looked like after I cleaned off my desired amount of grout and let the surface dry…
After your surface is dry, apply another coat of sealer.
Here's my vanity surface after the second coat of sealer dried…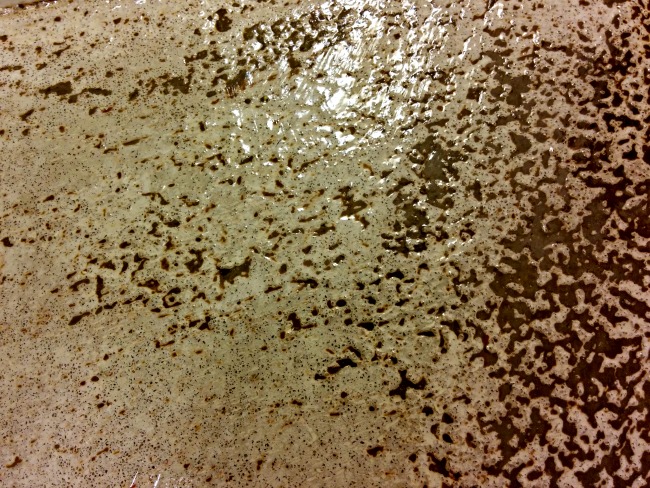 After your second coat of sealer dries, if you feel you've removed too much grout, you can repeat the last step of applying grout, letting it dry, wiping away the excess, and resealing. The process can be repeated as many times as required to get the look you want.
And here's my brand spanking new DIY concrete overlay vanity makeover!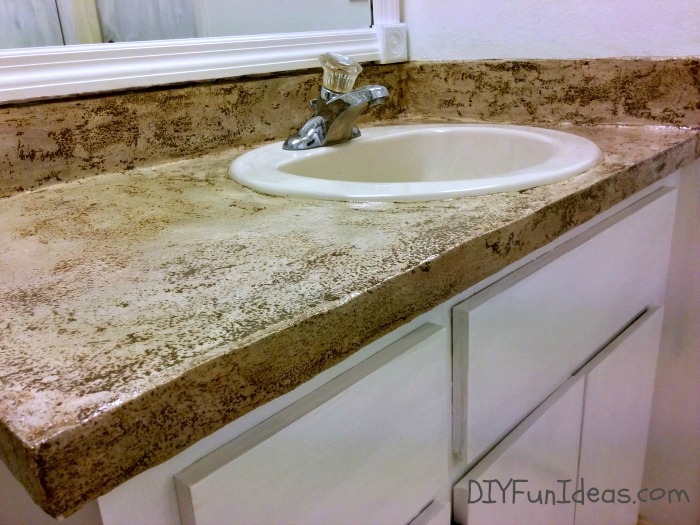 Cool, huh?
Are you ready for a close up…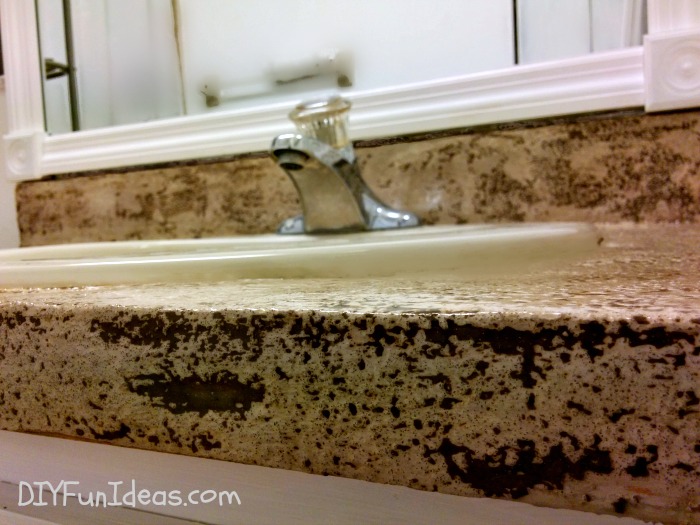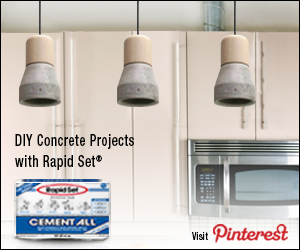 This post linked to some of these totally fabulous blogs and Remodelaholic.