Don't Miss out! SIGN UP FOR EMAIL ALERTS so you don't miss another fun DIY!
A while back I featured this lovely DIY chair bench tutorial (below) for three kitchen chairs that have been repurposed into a single upholstered bench…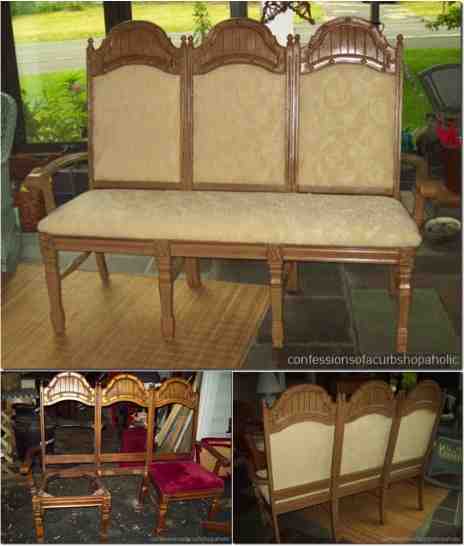 Today, I'm sharing a different twist on the DIY chair bench concept. Again, it's three chairs turned into a single bench, but I particularly like this new unupholstered chair bench version because not only can it be used either inside, but it would also be great outside to give some warmth and comfort to a front porch. I also really like the paint choice. The bright blue gives the bench a wonderful pop of color.
This lovely chair bench is the work of the Erica over at Spoonful Of Imagination blog. Actually,  Erica's husband created this DIY chair bench (see, guys can DIY too…lol), surprising Erica with his ingenuity. But Erica was there every step of the way documenting his process for us. To learn more about how this wonderful fun chair bench was constructed, check out Erica's Repurposed DIY Old Kitchen Chairs article.
Cheers,
Jenise
ENTER YOUR EMAIL ADDRESS ON THE RIGHT to keep getting all the unfiltered new fun ideas directly to your inbox! And FOLLOW ME ON PINTEREST too!