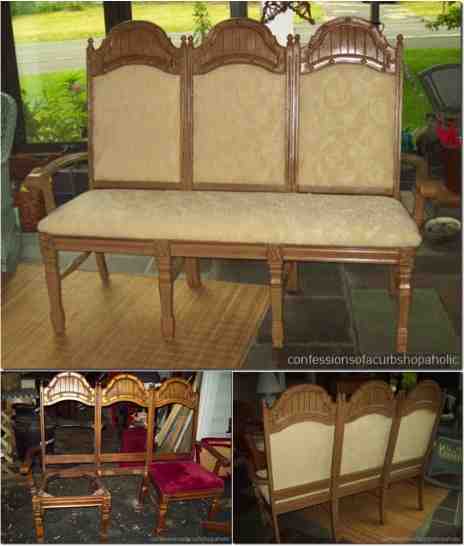 Never lose track of this project! PIN IT and 'Like' it on facebook so you'll always find it.

This amazing bench chair is a real trash to treasure makeover. Rose over at Confessions of A Curb Shopaholic blog put this together. When she came across three chairs about to be put out to pasture, she decided to scoop them up. And, being inspired by a similar project she'd seen on HGTV, Rose put out on a mission. This wonderful chair bench is the result. It's a pretty ingenious reuse of some trash chairs.
Right about now you're thinking, "hmm, that would look good in my…." So head on over to the Chair Bench Tutorial at Confessions of a Curbshopaholic to find out more about this  project and how Rose put it all together!
Cheers!
~ Jenise
p.s. Always find this project by pinning it & liking on facebook. Then stay tuned for more fun & fabulous DIY ideas and inspirations!
(Secret: There's some exclusive content on that thar facebook page…sshhh!…okay, I guess I just ruined the secret.)