[Feb 2016 Update: If you want to add an integral sink to your countertop, make sure to also check out the tutorial on how to make a concrete counter or vanity with integral sink. Here's the one I made…]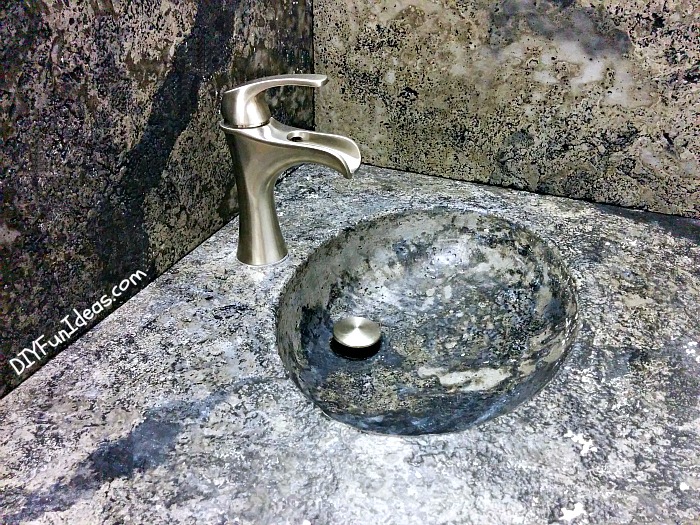 Now back to our regularly scheduled program….
If you've been following along for the last few months, then you know that I've become fascinated with creating things with cement and concrete. Okay, "fascinated" is a little understated. Obsessed is closer to the truth. So as you can imagine, I was SUPER EXCITED to spend a few days in Las Vegas earlier this month learning how to make concrete counters at Countertop Solutions.
Now, there are several places around the country where you can learn how to work with concrete. (I did my research.) But I selected Countertop Solutions for one reason. I wanted to learn "The Ashby System." What is The Ashby System? Obviously, it's a method for making decorative concrete. But there are multiple differences between the Ashby System and other decorative concrete applications. And three particular differences stood out to me. First, the system uses a proprietary method for creating marbleization within the concrete. I'm talking GORGEOUS marbleized concrete that really looks like natural stone. In many cases, it's even more beautiful. Seriously, I can't emphasize enough how freakin' amazing the final products are. And pictures just don't do them justice.
The second difference that drew me to this course is that this system does not require heavy wet sanding and polishing, which is a really messy pain in the patookus job. As a matter of fact, The Ashby System prefers that you avoid sanding/polishing. The most polishing you do is with a cotton cloth. And I don't even consider that polishing.
Finally, this technique is all about making the process easy. And easy it definitely is.
So are you excited to learn more? Well, before I get to the tutorial, I would like to introduce you to the man behind The Ashby System: Ben Ashby. He's not your typical burly-man concrete guy. Sure, he's got the burly down, but he's definitely an eclectic type. Ben considers himself more of an artist than a concrete guy. For him, concrete is simply a medium for creating art. And when he designs and builds his countertops or fireplaces or shower installs or anything else, it's his creative eye that inspires him to make something beautiful from a lump of cement and aggregate. His works are works of art.
Originally from Arizona, Ben started following his dad around job sites when he was 5 years old. At 12, he was working part-time in his dad's concrete business. As a teen, he picked up the bass guitar, joined his first band and started rockin' out with his buddies.
That's Ben on the left. Can you tell he was a child of the 80's? I have to admit that I couldn't help teasing him about his glammed out Flock of Seagulls band. Good thing he has a sense of humor.
After college, Ben joined the military and continued making music touring with a USO band. After the military he went back to what he knew best, concrete, and built a very respectful business creating his art, while at the same time experimenting with new design techniques. Through all his experimentation and trial and error, he hit concrete gold and pioneered a new formula to marbleize his concrete works of art.
These days, Ben continues to build beautiful, high-demand concrete countertops and fixtures throughout the country. And, he's still rockin' out, too. You can find his modern country band, Rail Town, playing gigs throughout the Mountain West.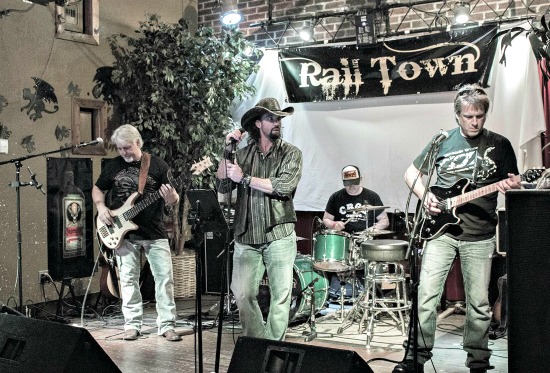 That's Ben, still on the left. Find out more about Rail Town at RailTownRocks.com and at Facebook.com/RailTownCountry.
Now, on with the tutorial…
TEMPLATING
The first step in making your amazing new countertop is to create a template. Your template will be your guide for creating the appropriate size and shape form into which you'll later pour your concrete.
As I mentioned earlier, Ben is all about easy. He makes even creating a template easy. And there's no tape measures involved. That means there is none of that "measure twice, cut once" stuff. There is only cut once.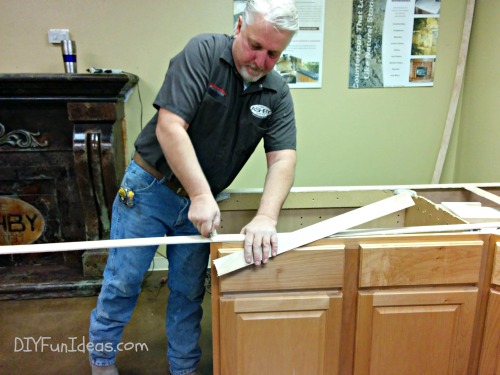 The template material is simply 1/4-inch birch or lauan plywood cut to 2 3/4-inch widths.
To make the template, simply line your plywood strips along the edges of your cabinet frame and glue together the adjoining pieces with a glue gun.
The front part of the template should line up with the outermost face of the cabinet drawers/doors (not the frame of the cabinet).
If you still have your current countertop on when templating, Ben has an awesome little super high tech tool that he DIYed for accurate measuring….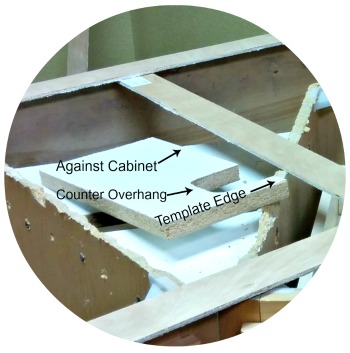 He cut this from some extra melamine board. Simply cut a rectangle out of melamine or plywood and then cut a notch in it, like you see above. To use this for making your template, simply slide the notch onto the edge of your current countertop overhang until the section below the notch is touching the outer face of your cabinet drawer/door. The part above the notch will line up with exactly where the edge of the front of your template should run.
And here is our completed template…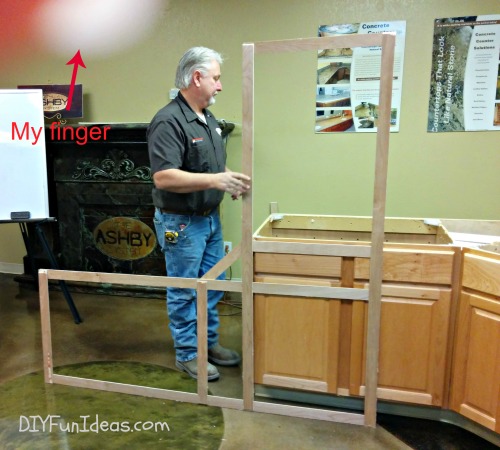 How easy was that?!!
Now depending on the size of your countertop, to make life easier you may need to create it in more than one piece and adjoin the parts when installing. If your countertop has angles, then a good place to create a joint is near an inside angle. So before you put away your template, decide where your joint will be and use a marker to indicate it on your template. Also, mark the following on your template:
– Front, back, inside & outside edges of cabinet
– Where your sink is and the center point of your sink
– If you're using a decorative mold for your edges (more on this later), when creating your form you'll need to add extra space to attach your mold, so write AFM or Add For Mold where your molds will be
– Where your decorative edge molds begin and end
– Where you may need a square edge (i.e., next to a stove)
– Where you may be adding an overhang (i.e., for a bar)
Now, here's the rule for overhangs: 3:1. Your overhang should not be more than 1/3 the length of the part of the counter that is supported by the cabinet or you risk scary bad things happening to your beautiful new countertop and to your foot that may be hanging out below when 200 pounds of concrete come crashing to the floor.
If you do want a longer overhang, that's fine as long as you add some kind of floor support to it.
Well, that's it for today folks. Next, check out Part 2 of the tutorial: how to use your template to create your concrete form!
You can also check out photos of the entire process here on my Instagram! (And don't forget to follow me while you're there.)
And if you want to add an integral sink to your countertop, CLICK HERE for that tutorial.
Till next time…hasta la vista baby!

Oh, and sign up for email alerts so you never miss a fun DIY…

[Special thanks to Countertop Solutions for inviting me to sit in on their class so I could bring you this fun tutorial!]
This post linked to some of these totally fabulous blogs and Remodelaholic.