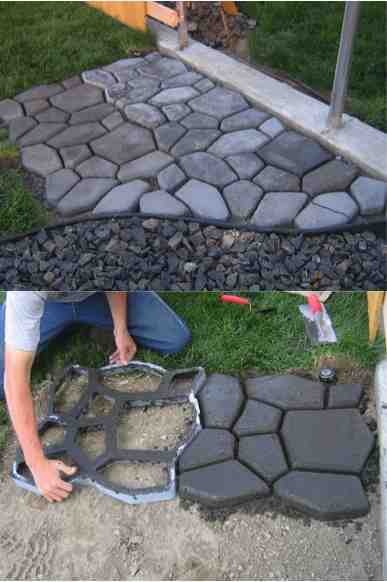 Don't Miss out! SIGN UP FOR EMAIL ALERTS so you don't miss another fun DIY!
I love easy and when I say this project is easy I'm not kidding. Here it is in a nutshell. Get yourself a concrete paver mold
. Mix up your cement. Fill the mold and flatten the surface. Pull up your mold and repeat and repeat… Let dry. Done. Seriously, did I tell you it was easy or what?? This cobblestone path is the work of Camie over at The Home Is Where They Love You blog — or perhaps I should say it's the work of her husband, but I'm sure she supervised so that counts too. For more details on this lovely and easy DIY concrete cobblestone path, check out Camie's super easy DIY concrete cobblestone path tutorial.
And don't forget to ENTER YOUR EMAIL ADDRESS ON THE RIGHT to keep getting all the unfiltered new fun ideas directly to your inbox! And FOLLOW ME ON PINTEREST too!
Cheers,
Jenise