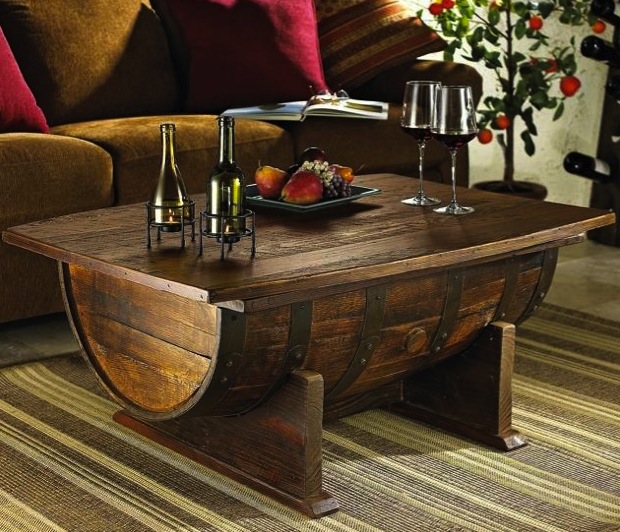 If this is your first visit, please 'Like' us on facebook and SHARE THIS PAGE with your fb friends so you don't miss out on daily DIY ideas & inspirations!

Let's start with full disclosure: the image above is actually a whisky barrel coffee table. Only problem is that the first thing I think of when I hear "whisky barrel coffee table" is: man cave. Sorry gents, but I'm making a scrunchy face right now. But if you were to say "wine barrel coffee table," I'm suddenly swept away to a chateau on the French countryside overlooking a lovely vineyard. The wind is in my hair and I'm savoring the bold flavor of a cabernet. Very civilized. So while this tutorial actually uses a whisky barrel, I'm going to pretend it's a wine barrel.
Anywho, the coffee table in the above image sells for $875. Can you say WHOA?! Over my limit. But you can make one for a fraction of the cost. And so that you don't have to go searching high and low for a barrel, I found the the following wine barrel here
 straight out of Napa for $99. (Sorry, couldn't find a whisky barrel. I suppose that means the gents will have to continue with civility.) ;-)
Follow the link below for the full tutorial on how to make your own whatever-you-want-to-call-it coffee table, including a short video how-to. And if you want to tell your buddies its a whisky barrel, I swear I won't tell.
And don't forget to follow and share DIY Fun Ideas here on our facebook page so we can continue bringing you fun & fabulous DIY ideas and inspirations!
Cheers!
~ Jenise