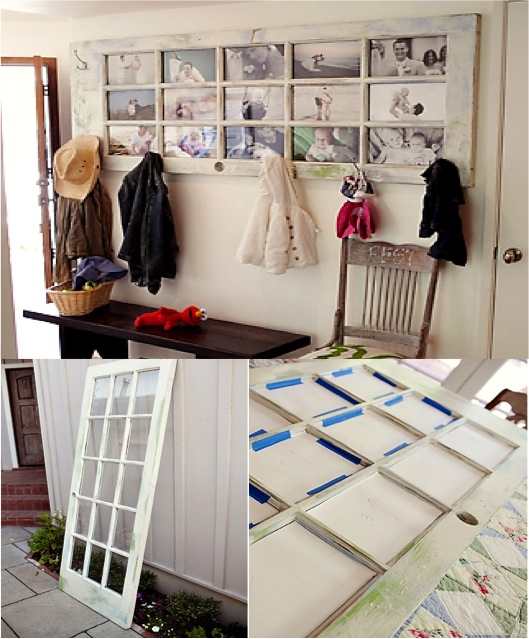 Yesterday, I posted a tutorial on how to Repurpose An Old Door Into A Beautiful Table…
Today, I have an entirely different way to repurpose an old french door and it's super cool. Try using that old door to display family photos! Love it. Kind of reminds me of those photo room divider panels
. But I actually like this idea better because I really like that aged look that you get from an item that has been genuinely weathered over time. Of course, a good faux finish can also bring glamour to any piece.
And you're not limited to hanging your picture door. Try leaning it up against an empty wall. Or you can always attach several together with hinges and still have your dividing screen. All you do is place back to back photos on each window panel and sandwich them in with a second piece of glass that you caulk onto the door.
Or, simply do what Mary Jane at Photog Mommie blog did with her old french door… add your favorite family memories, hang it in your entryway or mudroom and attach some hooks for the kids to throw their coats onto. Not only is it utilitarian, but it makes a beautiful display piece and is a total conversation starter. For more info and a tutorial on Mary Jane's cool french door picture frame, follow the link below and enjoy…
Cheers!
~ Jenise
p.s. Always find this project by pinning it & liking on facebook. Then stay tuned for more fun & fabulous DIY ideas and inspirations!
(Secret: There's some exclusive content on that thar facebook page…sshhh!…okay, I guess I just ruined the secret.)