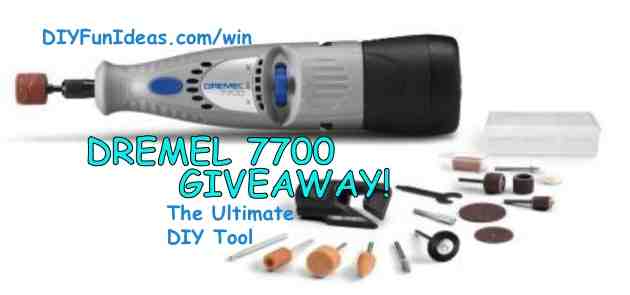 I'm giving away TWO so there's TWO super easy ways to enter & win…
WIN AN AWESOME DREMEL ROTARY KIT
EMAIL ENTRY:
1. Visit www.DIYFunIdeas.com.
2. On the right margin of the page enter your email address and subscribe for email updates.
3. When you receive your first update forward it to [email protected].
If you already subscribe, no problem. Just forward your latest update.
PINTEREST ENTRY:
1. Follow me on Pinterest at http://www.Pinterest.com/DIYFunIdeas1.
2. Pin 6 of your favorite DIY Fun Ideas pins.
3. Email me at [email protected] with your Pinterest name.
If you already follow on Pinterest, no problem. Just follow steps 2 & 3.
AND FOR TWO MORE ENTRIES (one in each category: email alert; pinterest):
For an two more chances to win, follow me on BlogLovin. Then send at quick email to [email protected] to let me know.
Giveaway ends May 1st at 11:59 p.m. EST. The next evening I will announce random winners (my brother will literally pick the names out of a hat); one from the email entries and one from the Pinterest entries. So please enter both! GOOD LUCK MY FRIENDS!
 ——————————————————————————————-
The Dremel is my favorite DIY tool in the entire universe and a must have tool for the do-it-yourselfer. And I'm giving away TWO of them. Here's the deal. For those of you who follow me on facebook, you're likely aware of my frustration with the new algorithms that filter what you see in your newsfeed. Currently, I have over 11,000 facebook fans and growing everyday (not too shabby for a 2-month old blog…but I am extremely grateful for all the folks that visit and enjoy this content). Two weeks ago, the number of fans who were "talking about this" site was almost 9,000. Today, due to the new algorithms the number is around 1,400. As my dad would say, "it's all shot to hell."
These changes mean is less traffic to the blog which then means total sadness because I love doing this. But it's no fun if nobody sees it. And I've really loved the facebook community. Every time someone liked or shared a post it felt like I just hit a jackpot. Perhaps it's some kind of validation high for me. Don't know.
A few days ago, I shared this article on facebook about their new algorithm strategy and I paid to promote the post only to my page fans. Facebook cancelled the promotion with this note: "Your Post wasn't boosted because it includes an improper reference to Facebook in the text or an image of a Facebook brand asset. Ads for Facebook pages, groups, events and apps may make limited references to "Facebook" in titles, ad text or images for the purpose of clarifying the destination sites. The post remains published, but it is not running as an ad."
Big brother is definitely watching! …BTW, I follow Anne Rice's page (my favorite author) and she had posted the article first. That's where I first saw it. Anne's been talking about having the same problem, likes are up & interactions are down.
Anywho, I can no longer depend on facebook as a way to communicate with my wonderful community so I'm hoping this giveaway encourages all of you to follow me in other ways including through email updates and on Pinterest, Twitter, and Google+. So I'm giving away TWO AWESOME DREMELS, my unsurpassed favorite DIY tool. Just follow the entry details above!!
Cheers!
~Jenise