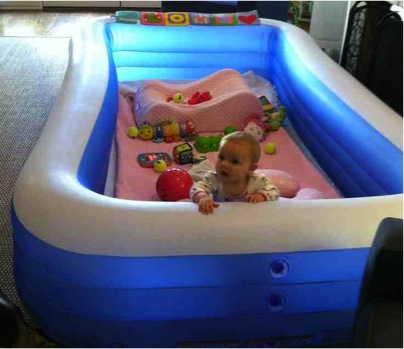 Never lose track of this project! PIN IT and 'Like' it on facebook so you'll always find it.

This is a genius idea for those of you with squirmy little rug rats. This brilliant use of an inflatable pool for a play pen comes from Lauren Simmons who says it was the "best money spent all summer." Not only does it keep the little ones in lock down so they stay safe and you don't have to worry about them getting into any trouble, it's like a great big bouncy house for your infant. No hard corners. And they're not expensive at all. I found this very affordable inflatable pool
on Amazon…
And when you're not using it as a play pen, take your pool outside of a little fun in the sun and enjoy.
Cheers!
~ Jenise
p.s. Always find this project by pinning it & liking on facebook. Then stay tuned for more fun & fabulous DIY ideas and inspirations!
(Secret: There's some exclusive content on that thar facebook page…sshhh!…okay, I guess I just ruined the secret.)