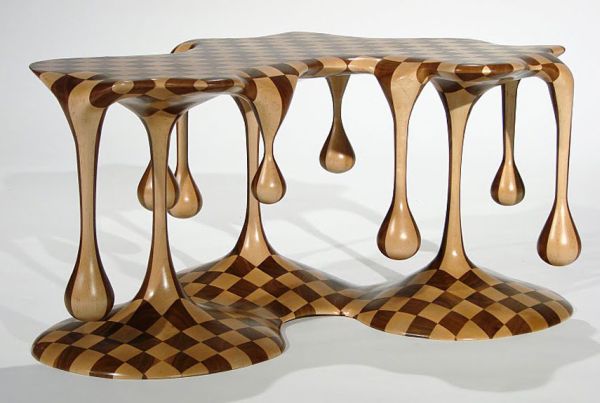 Never lose track of this project! 'Like' it on facebook and PIN IT so you'll always be able to find it.

Whoa! If you turn it upside, it's still a table. Double whoa! I think I'm tripping out. This crazy-amazing table is the work of design student, Adam Kessler. The piece is inspired by the works of Salvador Dali, particularly: The Birth of Man, The Disintegration of the Persistence of Memory, and The Persistence of Memory. It is made with black walnut and maple woods and the checker board pattern is made to enhance the illusion of melting. When you turn the table upside down, the drips, now suspended upward create a sense of anti-gravity. All I can say is… man, is that cool or what? Surreal in 3-D is even more surreal.
Cheers!
~ Jenise
p.s. Always find this page by pinning it & liking on facebook. Then stay tuned for more fun & fabulous DIY ideas and inspirations!
(Secret: There's some exclusive content on that thar facebook page…sshhh!…okay, I guess I just ruined the secret.)
(adsbygoogle = window.adsbygoogle || []).push({});>