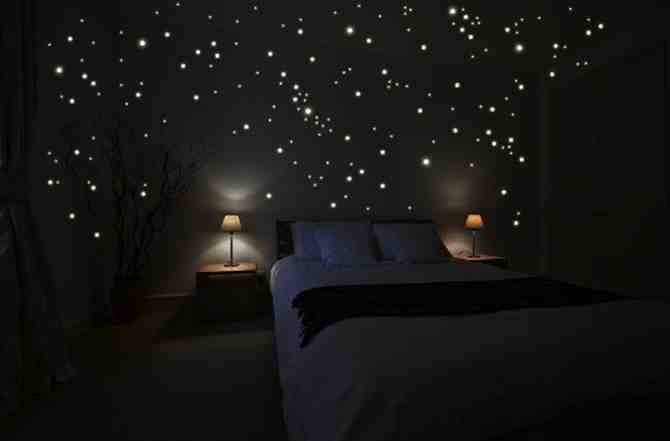 Never lose track of this project! PIN IT and 'Like' it on facebook so you'll always find it.

A million years ago.. I mean, uh, back when I was in high school… my best friend worked at a place called Star Magic in Greenwich Village. It's kind of a new age version of Brookstones with funky novelties like holograms, kaleiescopes, and all kinds of glow in the dark stuff. That's where I first heard of glow in the dark stars. She got a whole bunch of them and stuck them to her bedroom ceiling. When I slept over, the last thing I saw at night before falling off to dream land was those glowing stars. Totally loved them. So I thought I'd share the idea here. Luckily, you don't have to travel to New York City to get some. I found a bunch of different kinds of glow in the dark stars right here
 (Gotta love Amazon!).
Once you get your stars, you can either stick them on the wall randomly or make it a learning opportunity with the kids and follow a star map pattern. Either way, your kids will love them and so will your kid-at-heart.
And for more starry skies, check out this DIY Twinkle Curtain…
Cheers!
~ Jenise
p.s. Always find this project by pinning it & liking on facebook (Don't forget to hit the "Get Notifications" button so facebook doesn't filter us out of your newsfeed!). Then stay tuned for more fun & fabulous DIY ideas and inspirations!
(Secret: There's some exclusive content on that thar facebook page…sshhh!…okay, I guess I just ruined the secret.)