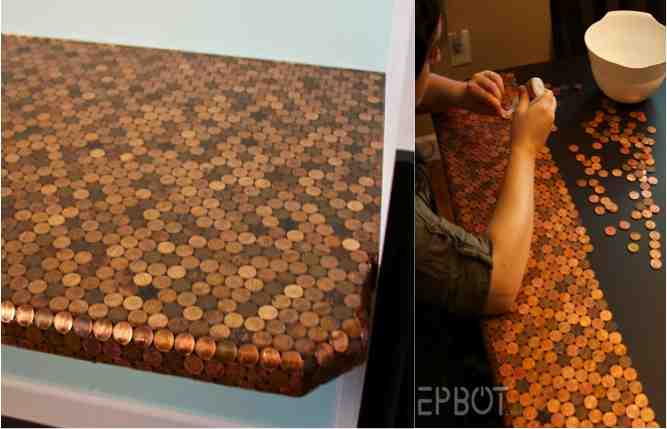 Never lose track of this project! PIN IT and 'Like' it on facebook so you'll always find it.

This desk is so money! Am I lame for that reference? (If you don't know the reference, see the movie Swingers.) Well, it is pretty cool. I've seen a number of different penny mosaic projects around the web, from penny floors to bar stools and this desk. So it's time to share.
This penny covered desk is the work of Jen over at Epbot blog. The quick tutorial version is that you glue your pennies down to your surface then pour clear resin over it. But Jen's got a number of tips on getting it right. She chose to bend her pennies to cover the edges. I've seen projects where they've cut pennies in half for a straight edge. And when the resin is laid you have to use a small blow torch to get rid of the little air bubbles. All in all, it's not a hard project, just a little tedious. But well worth the amazing end result. For all the details on how to lay your own penny tile mosaic, check out Jen's DIY Penny Mosaic Tile Desk Tutorial.
Cheers!
~ Jenise
p.s. Always find this project by pinning it & liking on facebook. Then stay tuned for more fun & fabulous DIY ideas and inspirations!
(Secret: There's some exclusive content on that thar facebook page…sshhh!…okay, I guess I just ruined the secret.)