Never lose track of this project! PIN IT and 'Like' it on facebook so you'll always find it.

This amazing coffee table, made from a dough bowl, is the work of Lindsey over at
The White Buffalo Styling Co. blog. If you're anything like me you may be asking what the heck is a dough bowl. I had to google it and it's exactly what it sounds like. It's a bowl used for mixing dough. Well, that was its original use. These days they are often used as ornamental pieces. Take a look at these…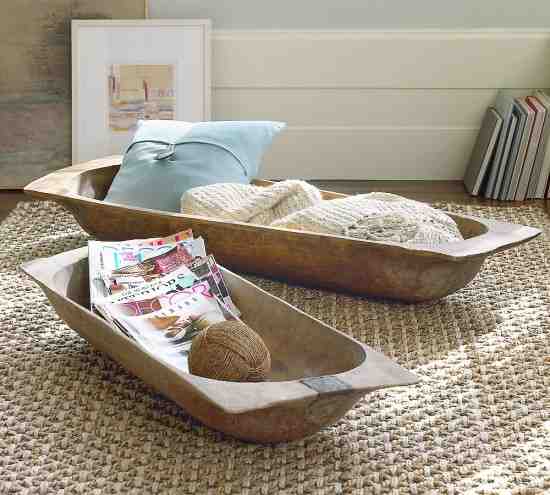 Rachel picked up a vintage industrial sized five footer at an antique yard. After all, who could resist that hand carved beauty. She was inspired to do something with it, but wasn't quite sure what. Then the idea came to her: a coffee table. Genius. She found some really cool legs to match the bowl's vintage style and a coffee table was born. To find out more about Rachel's inspiration and how she put this table together, plus some of her other projects, check out the DIY Dough Bowl Coffee Table at thewhitebuffalostylingco.com.
Cheers!
~ Jenise
p.s. Always find this project by pinning it & liking on facebook. Then stay tuned for more fun & fabulous DIY ideas and inspirations!
(Secret: There's some exclusive content on that thar facebook page…sshhh!…okay, I guess I just ruined the secret.)