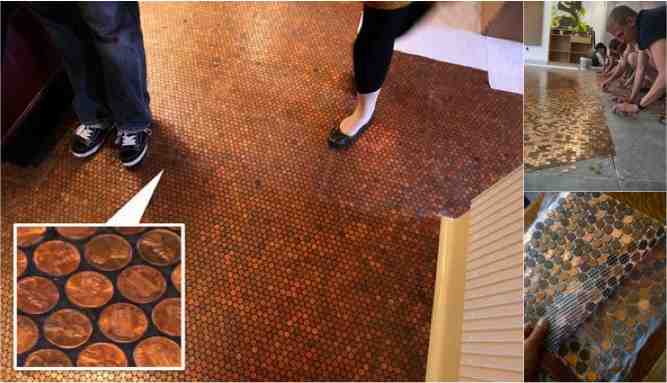 Never lose track of this project! PIN IT and 'Like' it on facebook so you'll always find it.

These floors are money! No, seriously they're made of money. Last week I shared an amazing DIY Penny Tiled Table Tutorial…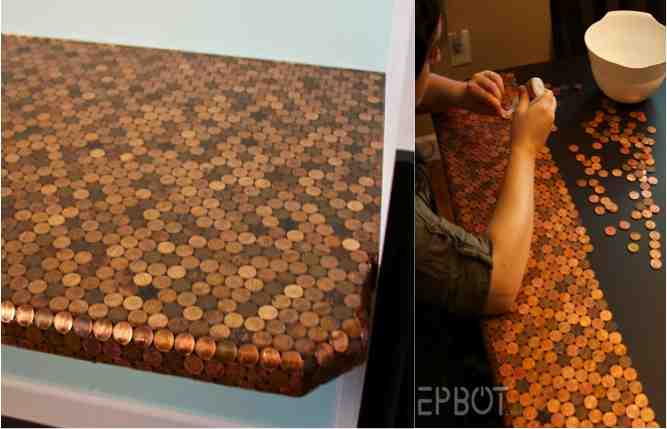 I thought that was as cool as cool comes, but once again I'm glad to be wrong because if you thought a penny table was cool then you're going to think penny floors are astronomically out of this world. And they are!
The technique for the floors is very similar to the table. First, glue down your pennies. On the table, a clear resin was applied over the pennies. On the floors you apply a polyurethane over them and done. And if you don't want to deal with crouching on the floor for three days gluing your pennies down, then try gluing them to mesh first and then glue the mesh sheets to the floor. Ah, my back feels better already.
For a dozen more money floor ideas, head on over to Penny Floors at A Detailed House.
Cheers!
~ Jenise
p.s. Always find this project by pinning it & liking on facebook (Don't forget to hit the "Get Notifications" button so facebook doesn't filter us out of your newsfeed!). Then stay tuned for more fun & fabulous DIY ideas and inspirations!

(Secret: There's some exclusive content on that thar facebook page…sshhh!…okay, I guess I just ruined the secret.)

Image source: Portland Press Herald