DON'T MISS OUT!!! Enter for a chance to win one of TWO FREE Dremel Kits, the must have DIY tool! DETAILS HERE.
I came across this hanging handrail grill (right) on Pinterest. It's called the BBQ Bruce Handrail Grill and it's sold out of Germany for 59 Euros (with today's exchange rate that's over $80 US dollars). It's a great idea to use for small patio spaces. But the price is a bit exorbitant for a tiny coal burning barbecue. So I started looking for alternatives and found this rectangular metal rail planter (left) from CB2. It's much more reasonably priced at $21.95. Then all you need is to place a metal grill over the top and you'll be good to go.
I've also got the best idea for starting your charcoals. Check out the Easy Egg Carton BBQ Fire Starter. There is a little something more you'll need to know to get your fire started so make sure to visit the page for full detail.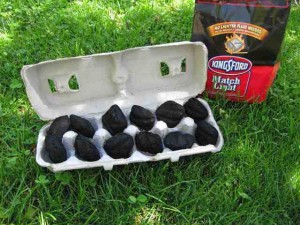 There you have it. Enjoy your new DIY handrail barbecue grill!
Cheers!
~ Jenise
p.s. Don't forget to ENTER YOUR EMAIL ADDRESS ON THE RIGHT for all the new fun ideas! Then FOLLOW ON PINTEREST & PIN THIS PAGE so you'll always find it. You can Like us on Facebook too! Then stay tuned for more fun & fabulous DIY ideas and inspirations!
(Secret: There's some exclusive content on that thar facebook page…sshhh!…okay, I guess I just ruined the secret.)

Cheers!