Hola! Thanks for stopping by today! If you're new here, please
SIGN UP FOR EMAIL ALERTS so you never miss a fun DIY! 
Just a quick announcement before we move onto the wall gallery… I'm thrilled to let you know that my concrete planter hands are right now, this very minute being featured on the

BobVila.com Thumbs Up Blogger Competition!

 Yes, you heard me right…that Bob Vila!!! …Excuse me while I pick my jaw up off the floor…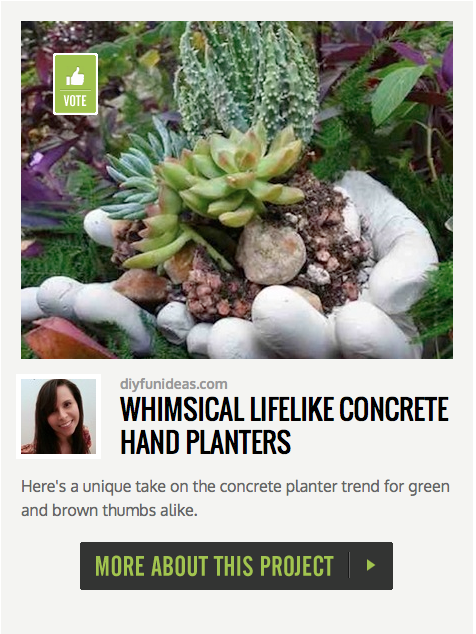 My "hands" are competing against five other concrete projects until August 31st. Please pop on over there to vote for my Concrete Planter Hands! You can vote once a day FROM EVERY DEVICE you have, that includes your XBOX, PS, Smart TV, tablet, Phone, etc. Please help and vote often. It only takes seconds. Did I mention it only takes seconds! You could have voted 7 times in the time it took you to read this. Seconds! …And I will love you forever!
Now, back to our regularly scheduled program… I just finished decorating the wall in my parents' family room. I painted the room a few months ago and the walls have been bare ever since. So it was finally time to put a little purdy up.
It took me a while to figure out what to do with the wall. My biggest parameter was to keep it budget friendly and I did just that by shopping the house. My parents had a whole bunch of frames and unhung framed pictures in the garage and the clocks were pulled from other rooms. The entire makeover cost me about $11. Not bad, eh?
Let me start by telling you a little story about the clocks. My dad used to collect clocks…lots of clocks. We had coo-coo clocks, grand father clocks, and all kinds of pendulum clocks. I can't even tell you how many pendulum clocks we had in the house when I was growing up. And here's the thing about pendulum clocks: they chime. They chime every freakin' hour and half hour. Now keep in mind that it's nearly impossible to set multiple clocks to the exact second so that they all chime at the same time. What that means is that when you have a bunch of pendulum clocks in every room, the chimes in the house can go on for several minutes every single half hour. It drove my mom so crazy that one day she went around and stopped all the clocks. Dad=Sadness. But I guess sometimes couples need to compromise. My dad got to keep his clocks and my mom got to keep her mind.
Anyway, here's what the blank canvas looked like…
I started with these frames…
I spray painted the frames with Krylon nickel brushed metal in satin.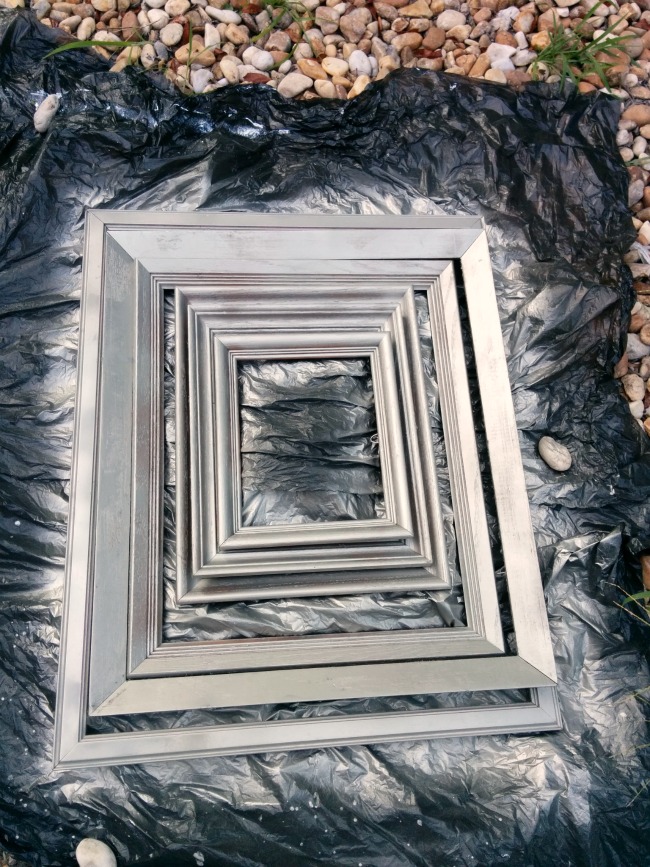 Next, I measured the wall, used some painters tape to mark the size of the wall on the floor, then laid out my frames. I had to play around with them to get a look I liked. Good thing I had my little girl there to help.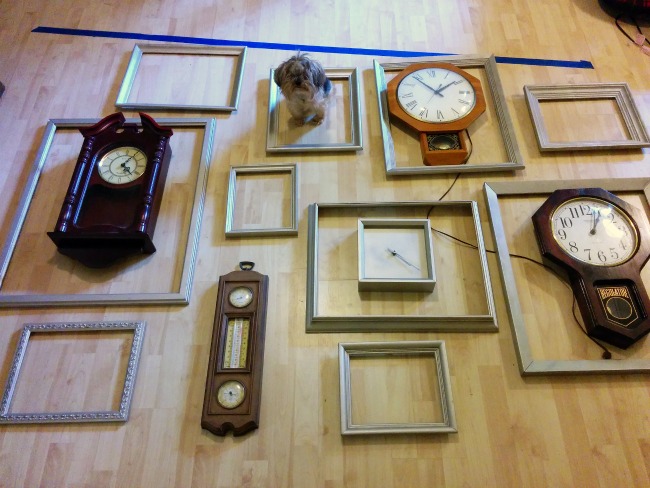 Once I had a layout that I liked, I transferred it to the wall.
I have to admit that I haven't restarted the clocks because the ticking and chiming drives me a little batty too.
A few more views…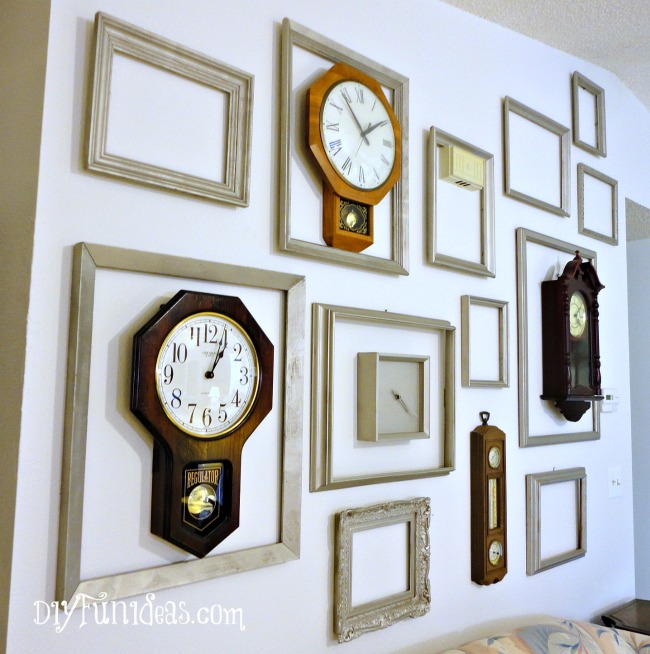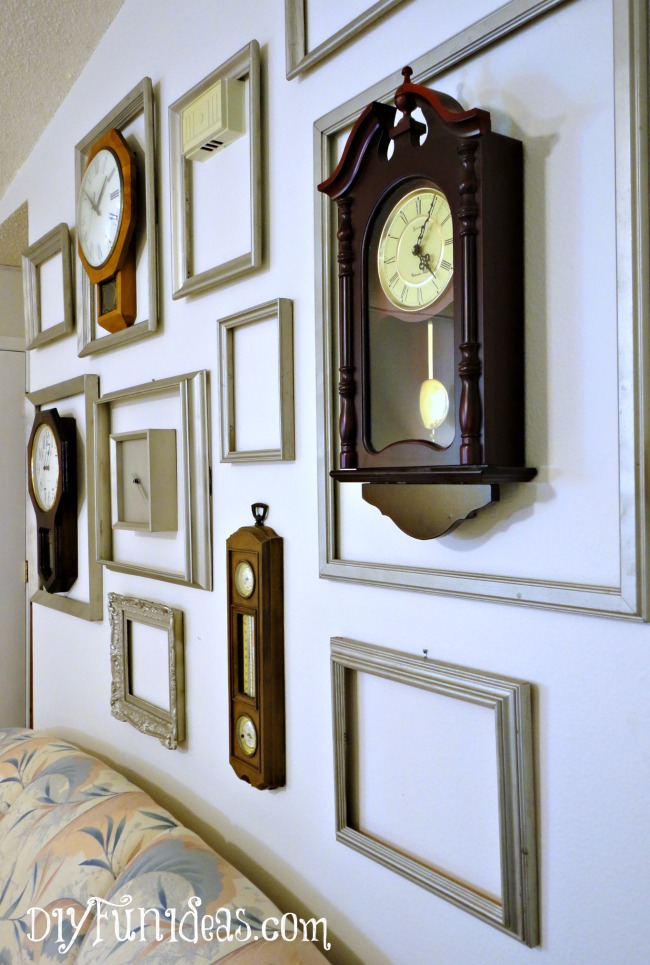 This one is my favorite…
This clock actually had a wood frame, but I ended up spray painting it to match the picture frames.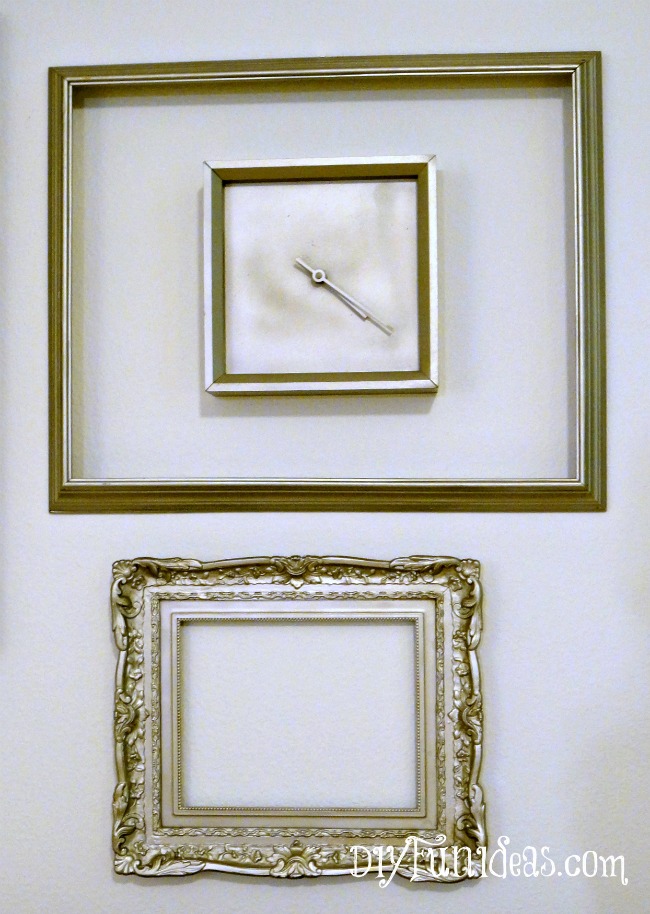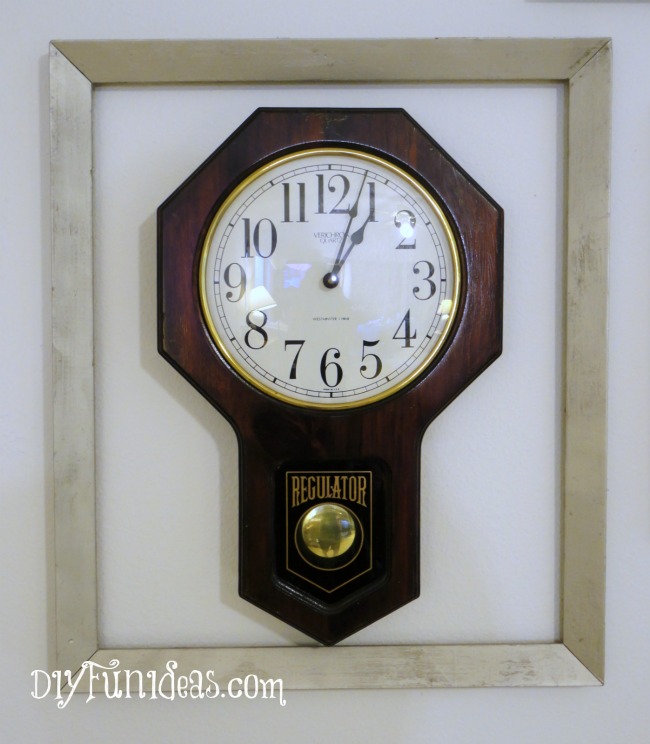 My little one was helping me here too…
I don't know if I could have gotten all those frames straight without her help!
There you have it. Mom and Pop's new clock and frame gallery wall. Hope it's inspired you to create something fabulous in your home!
And don't forget to SIGN UP FOR EMAIL ALERTS so you don't miss another fun DIY! (Make sure to add jenis[email protected] to your contacts so I don't go to spam!)
Cheers!
Jenise
This post linked to some of these totally fabulous blogs and here.