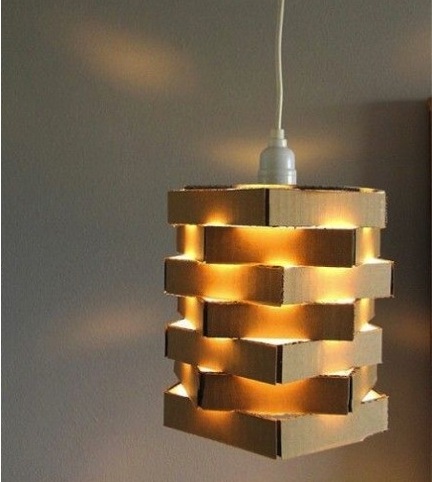 If this is your first visit, please 'Like' us on facebook and SHARE THIS PAGE with your fb friends so you don't miss out on daily DIY ideas & inspirations!

I love finding new creative ideas for old things. Take this hanging lamp for example. The lamp shade is made out of cardboard, of all things. But what I really like about it is the geometric pattern. I imagine it would look great in your kid's room or even a dorm room.
I found this on a foreign language site (weibo.com) and I don't have an exact translation, but as they say, "a picture's worth a thousand words"….
From these images it looks like we're working with a five sided cardboard piece. If you don't a five-sided one then I'm sure a regular square box would work too. Just keep the layers off center. Either that or fold some cardboard into a five-sided shape and glue closed. Then use a glue gun to put all the pieces together. They painted the inside white and left the outside alone, but I think it would look really cool to give the outside a bright red finish. Then string a wiring kit through the top covering piece. I found some lamp wiring here
 for $7.99.
Now go light up your world. And don't forget to follow and share DIY Fun Ideas here on our facebook page so we can continue bringing you fun & fabulous DIY ideas and inspirations!

Cheers!
~ Jenise