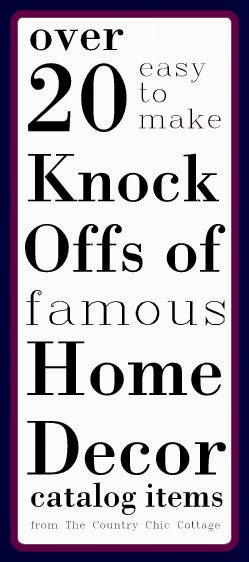 If this is your first visit, please 'Like' us on facebook and SHARE THIS PAGE with your fb friends so you don't miss out on daily DIY ideas & inspirations!

Here's a do-it-yourselfer's dream… The folks over at thecountrychiccottage.net have put together tutorials on how to make a whole bunch of decorative items from famous home decor catalogs. You want specifics? I got it… There's Pottery Barn candle stick holders, Restoration hardware shadow boxes, Anthropologie monograms… The list keeps going on. So head on over and check it out by following the link below…
And don't forget to

follow and share

DIY Fun Ideas here on our facebook page

so we can continue bringing you fun & fabulous DIY ideas and inspirations!



Cheers!
~ Jenise