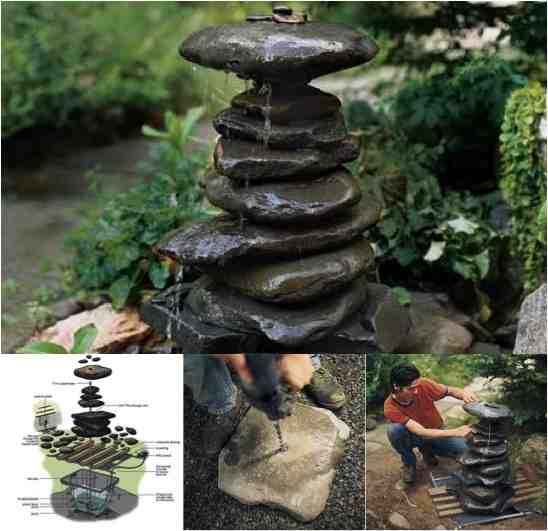 STOP FACEBOOK FROM DECIDING WHAT YOUR SEE! Sign up for email alerts and get all the DIY Fun Ideas right in your inbox!!!
I love water fountains. There's something very tranquil about the sounds of trickling water that brings a sense of peace. The only problem is that outdoor water fountains can be sooo expensive. We're talking hundreds of dollars. Yet you can DIY for a mere fraction of the cost. This beautiful stone fountain is made from found stones (i.e. free), so making a similar one would be at minimal cost.
While building a fountain may seem like a complicated process, it really is not. You basically start with a water proof base, such as a plastic basin, for the water reservoir. Within the water reservoir, you place a submersible water pump which recirculates the water. Include a screen to keep debris from flowing through the pump and jamming it. Next, attached a pipe or hose to the pump to circulate the water to the top of the fountain. The body of this fountain is stone. To run the water through the stones, a hole was drilled through each stone to create a channel for the water flow. That's basically it. See, it's not really that complicated. For more details on how this beautiful DIY water fountain is put together, check out the How To Build A Fountain tutorial. You'll be on your way to your own private zen garden.
And for more fountain ideas, check these out…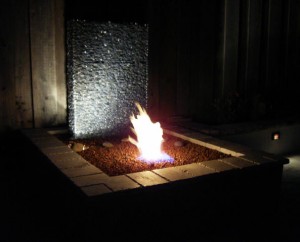 Lovely Back Yard Fountain & Pond
Gorgeous DIY Waterless Fountain
Cheers!
~ Jenise
ENTER YOUR EMAIL ADDRESS ON THE RIGHT to keep getting all the unfiltered new fun ideas directly to your inbox! And FOLLOW ME ON PINTEREST too!