Never lose track of this project! 'Like' it on facebook and PIN IT, so you'll always be able to find it.

This post comes by special request via one of my facebook followers who is looking for a good way to bring some old plastic flower pots back to life. So I went scouring the web to find some cool refinishing techniques. The first technique is to give it a faux cement finish. Second transforms it with paint. And the third creates a beautiful mosaic. Take a look and at the bottom I've added some additional ideas, along with a planter that I refinished.
Tutorial 1 ==> How to Faux Finish A Plastic Flower Pot | DIY Home Staging Tips
Tutorial 2 ==> Painting Plastic Planters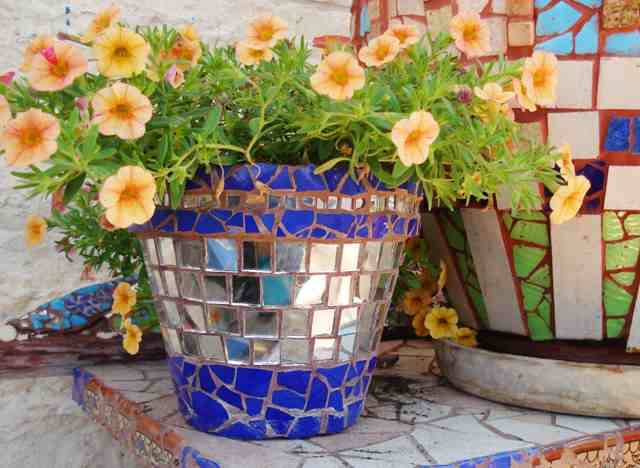 Tutorial 3 ==> Make Gorgeous Mosaic Pots Now To Enjoy Outdoors In The Spring! – creative jewish mom.
Here's the pot that I refinished a few years ago. Sorry I don't have a full photo of it. This picture is a few years old and I got rid of the pot shortly after I killed the plant.
I re-finished this plastic pot using Testor enamel paints
that I had laying around. I love Testor paints. They're usually used for painting models (ie, model planes, cars, etc). Their colors are so rich and brilliant colors. The rug in this room is red so I thought a red pot would do well. Too bad the plant didn't do quite as well.
My final idea for refinishing a planter is to use Rust-Oleum Stone Creations spray paint
. This paint is really cool. It goes on with a grainy stone-like textured finish. I used it once on a book shelf that got a lot of compliments.
There you have it. Enjoy your new planters.
Cheers!
~ Jenise
p.s. Always find this project by pinning it & liking on facebook. Then stay tuned for more fun & fabulous DIY ideas and inspirations!
(Secret: There's some exclusive content on that thar facebook page…sshhh!…okay, I guess I just ruined the secret.)