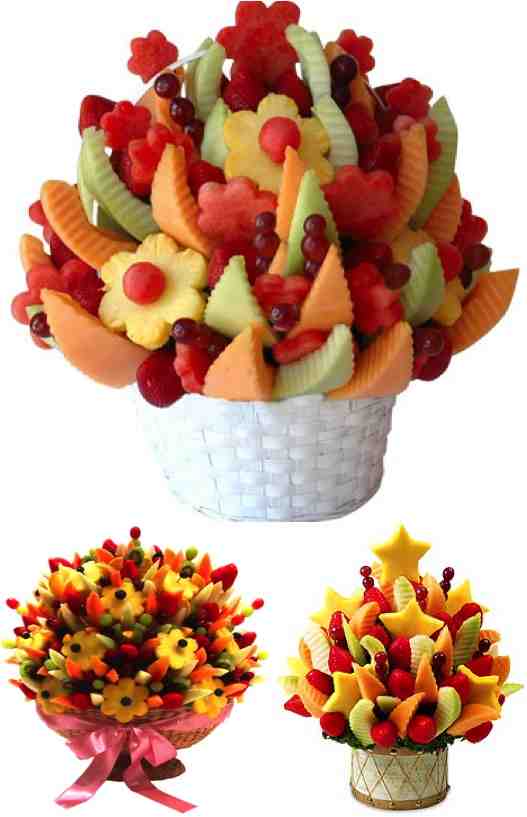 DON'T MISS OUT!!! Enter for a chance to win one of TWO FREE Dremel Kits, the must have DIY tool! DETAILS HERE.
Have you heard of the now very popular Edible Arrangements retailer who makes edible fruit bouquets? Fruit bouquets are a really fun idea to give as a thank you gift or even create for a dinner party or barbecue. But the cost of purchasing one of these edible arrangements is, well, kind of ridiculous. A fruit arrangement about the size of the ones shown above costs around $70. That's a lot of money for $10 or $15 worth of fruit. So why not do it yourself? (You knew I was going to say that, didn't you?)
You can easily make your very own DIY edible fruit arrangement. Basically, what you're doing is placing a piece of floral foam at the bottom of your basket or container. Skewering the fruit pieces and then sticking them into the foam so they stand up. You can view a 6-minute video tutorial here or a quick and easy picture tutorial here.
Your edible fruit bouquet will make a great table setting for upcoming Memorial barbecues! Bring one as a gift or make one for your own table.
Cheers!
~ Jenise
p.s. Don't forget to ENTER YOUR EMAIL ADDRESS ON THE RIGHT for all the new fun ideas! Then FOLLOW ON PINTEREST & PIN THIS PAGE so you'll always find it. You can Like us on Facebook too! Then stay tuned for more fun & fabulous DIY ideas and inspirations!
(Secret: There's some exclusive content on that thar facebook page…sshhh!…okay, I guess I just ruined the secret.)